As a member of the #VzwBuzz influencer team, I receive devices with line of service from Verizon. All opinions remain my own.
I received a surprise package yesterday afternoon that I just HAD to share with you!
I was sent a Motorola Droid Turbo!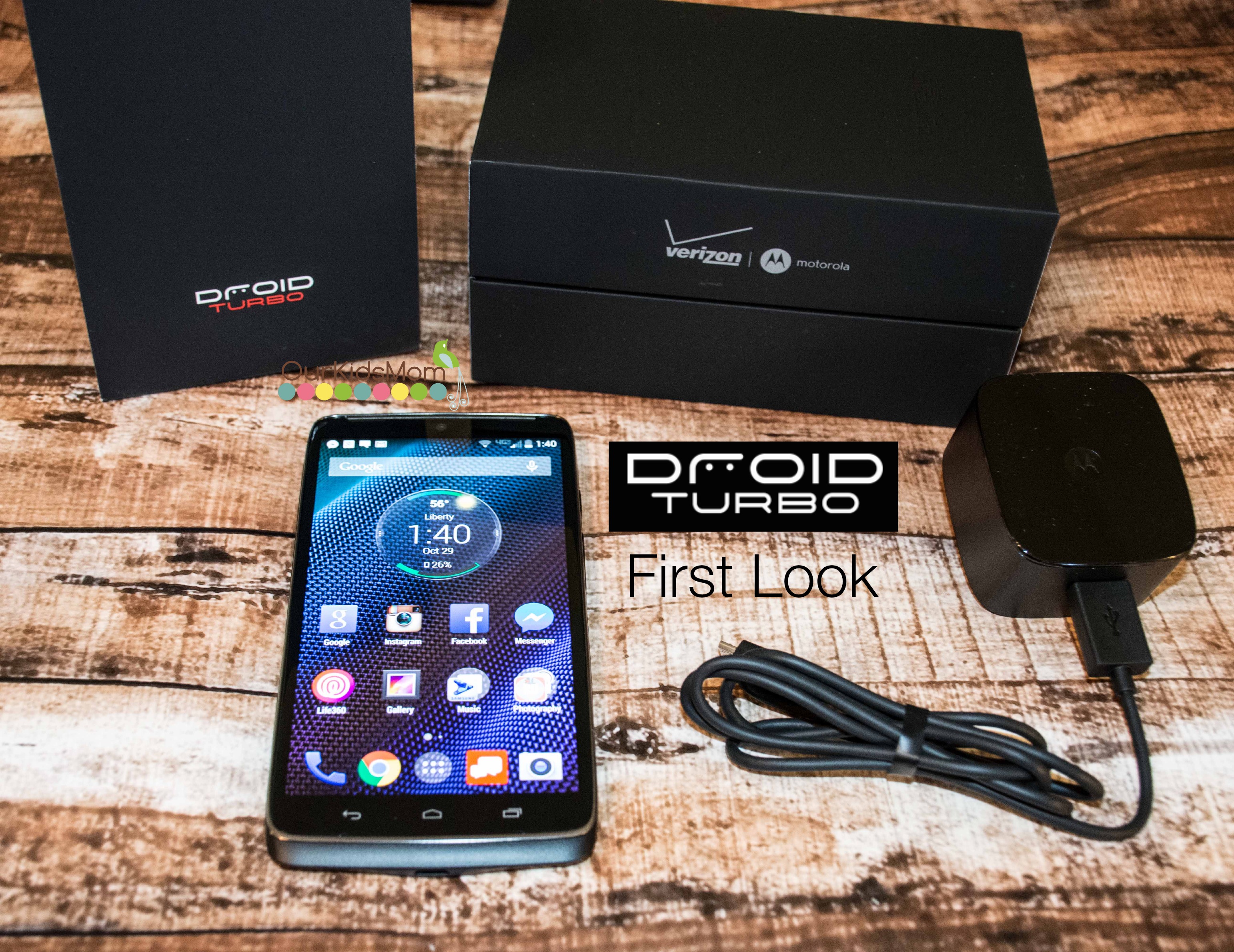 Fresh on the market you can get a sneak peak at your local Verizon store today and purchase them on Friday 10/31/2014.
Why am I so excited about this particular phone?
It's TURBO!
As a smart phone power user, I rely on my phone heavily to not only keep me connected, but to not bog down while I am flipping back and forth through multiple applications.
Check out these amazing specs:
The Screen:
The 5.2″ Quad HD display has a stunning 565 ppi, so image details pop, videos look sharp, and even the smallest type is easy to read. The results of my eye exam yesterday confirmed that I indeed need help reading smaller type.
The Camera:
Can you hear me squeal as I type 21 MP camera!? As a mom and a blogger, the camera on my phone is a very important feature.
Launch the camera with a simple flick of the wrist.
Take a selfie with a voice command.
Capture 4K videos and replay them on your phone or a 4K TV.
Automatically create a video collage of pictures and videos set to music using highlight reel. Then share with friends.
Take better photos in low-light settings thanks to f2.0 aperture and dual LED flash.
Choose up to 64 GB* so you have plenty of room for your pictures and videos.
The Processor:
The Turbo features a powerful Qualcomm Snapdragon 805 quad-core processor. No more lag, now you can switch seamlessly between apps, enjoy richer graphics, and keep up with it all with increased RAM and memory bandwidth.
The Battery:
Up to 48 hours of battery life folks! Yes… two whole days!
Go two full days with your DROID Turbo without stopping to recharge. It has the largest battery of any smartphone.
Charging via Turbo Charge:
Get 8 additional hours of power in just 15 minutes with the Motorola Turbo Charger (included).
This is fabulous news for me! During outings and blogging trips I constantly carry a backup battery for quick charges. Now they can REALLY be quick charges!
The Construction:
A water-repellent nanocoating protects your phone from the inside out against an unexpected downpour or everyday spills
The new premium ballistic nylon offers texture but remains lightweight and feels great in your hands. And it offers great durability.
The metalized design offers a rear cover that is reinforced with a layer of Kevlar® fiber and has a smooth, reflective finish that sets it apart.

Easy Sharing:
The fastest and easiest way to share, brought to you exclusively on DROID devices at Verizon. Share among DROIDS, another Android phone or an iPhone.*
*Downloadable from the Google PlayTM Store or the App Store.
Interact with voice and gestures:
DROID Turbo simplifies life by letting you interact more naturally and learning your preferences to anticipate what you need. Just speak to ask questions or get things done. Use simple gestures to respond to your phone. And receive updates that don't disrupt what you're doing.
Noise cancellation:
Motorola's advanced noise cancellation technology helps eliminate background noise, improving both call quality and voice recognition. Be confident that you'll come through loud and clear.
Any parent will realize the gold in that statement. I am constantly shushing my children because I'm worried the person I'm chatting with will be bothered by the background noise.
Everything about this phone screams Turbo. I hope to have some fabulous updates and thoughts as I try her out and take her on a blogging trip the end of November.
For now, I'm very impressed!
Want a little more in depth information? Check out the rest of the specs:
Specifications at a Glance
Processor
2.7GHz Qualcomm Snapdragon 805 (quad-core)
Adreno 420 GPU (600MHz)
Motorola Mobile Computing System
Natural Language Processor
Contextual Computing Processor
RAM
3GB (LPDDR3)
Storage
32GB (Black Ballistic Nylon, Metallic Black, Metallic Red)
64GB (Black Ballistic Nylon)
Display
5.2-inch AMOLED
2560×1440 Quad HD
565ppi
Corning Gorilla Glass 3
Battery
3,900mAh
Mixed usage up to 48 hours
Supports Motorola Turbo Charger
Qi wireless charging
Rear Camera
21MP (3936×5248) in 4:3
15.5MP (2952×5248) in 16:9
f/2.0
4K UHD vidoe capture
4x digital zoom
Slow motion video
Auto HDR
Panorama
Tap to focus
Front Camera
2MP + 1080p HD video
Connectivity
Micro USB, 3.5mm headpset jack, NFC
Bluetooth
Bluetooth 4.0 LE
WiFi
802.11a/g/b/n/ac (dual band capable), mobile hotspot
Speakers
Front-facing (top)
Networks and Bands
CDMA/EVDO Rev A (850, 1900MHz)
LTE Cat 4 (bands 2, 3, 4, 7, 13)
Carrier Aggregation (B4+13)
GSM/GPRS/EDGE (850, 900, 1800, 1900MHz)
UMTS/HSPA+ (850, 900, 1900, 2100MHz)
Dimensions
Ballistic Nylon:  143.5 x 73.3 x 11.2mm
Metalized Fiber:  143.5 x 73.3 x 10.6mm
Weight
Ballistic Nylon:  176g
Metalized Fiber:  169g
Water Repellency
Yes
Software
Android 4.4.4 KitKat
Base Colors
Black Ballistic Nylon
Metallic Black
Metallic Red