When Sleepys offered to let me review the Tempur-Pedic Medium Neck Pillow I was curious. I have heard so many people declare that a Tempur Pedic bed made the difference in their sleep. I wondered if a pillow could help that much, too?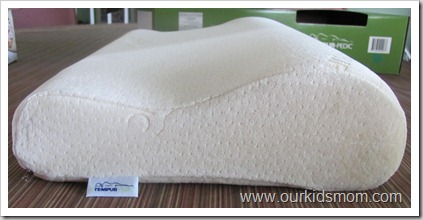 The pillow arrived and I eagerly removed it from the box. I was surprised at how substantial it was in weight. The contour was evident and after feeling how squishy it was, I had to do the handprint test. The pillow gave way and formed to my hand. I can't begin to find the words to describe how it feels other than squishy but firm and giving but supportive.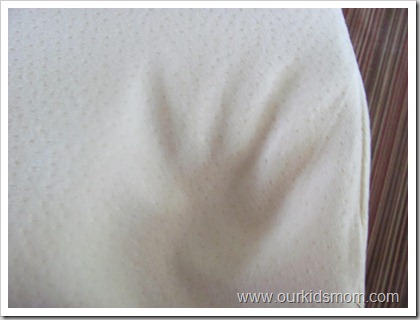 I had been researching ways to get a better nights sleep. We have an old mattress and it is difficult for either of us to get a decent nights sleep. A mattress is not in our budget, though. I found these tips on Sleepys site that I am going to try:
10 Tips For a Good Night's Sleep

A better night's sleep means better health for both the mind and body. All it takes is eight straight hours to feel more energized, more refreshed, more alive than ever before. Here are tips to help you get the restful sleep you need and deserve.

1. Stick to a schedule
Biologically, we are creatures of habit. Getting to sleep at the same time every night and getting up at the same time every morning will keep your body wired for restful sleep.

2. Keep the bedroom about sleep
Train your body to associate your bedroom with sleep and sleep alone by keeping TVs, computers, and other sleep distractions outside.

3. Limit caffeine and other stimulants
If you can't avoid caffeine, alcohol, and nicotine completely, try to limit your intake too close to bedtime. You may be surprised at how long they stay in your system.

4. Exercise early and often
In addition to sleep problems, an endless number of health concerns can be helped with regular exercise. Just avoid hyping up your body with a workout too close to bedtime.

5. Consider your mattress
A supportive and comfortable mattress could be the key to unwinding. If you wake up to aches and pains, or if your mattress is 5 to 7 years old, it may be time for a replacement.

6. Avoid eating too close to bedtime
When we eat before bed, our bodies remain active in digestion and produce energy when we are trying to sleep. Save your sleep with earlier snacking.

7. Adjust the temperature dial
Cooler temperatures tend to help us drift off, mirroring the drop in body temperature that occurs when we sleep. Ideal temperatures vary from person to person, so find a temp you are comfortable in.

8. Ritualize your sleep
Just as going to bed at the same time each night will help your sleep patterns, performing the same actions right before bed, such as reading or taking a bath, will help signal your body for restful slumber.

9. Make time for sleep
In our busy lives, sleep is too often sacrificed. Moving sleep higher up on the "to-do" list will result in a healthier, happier, more productive you!

10. Get your doctor involved
If you try these tips and are still having trouble getting to sleep and staying asleep, don't take it lying down. Consult your doctor to target the problem and explore further options for healthy sleep.
The first night I gave the new pillow a test drive. I probably didn't use it as intended because I am a propped up sleeper. What's that? I put three pillows behind me and sleep at an angle. I started this over ten years ago when I was much heavier and I snored. It was the one snoring remedy that helped (didn't work completely, but helped). I have tried to sleep flat since losing weight (and the snoring stopped), but I just can't get comfortable.
So I propped my regular pillows and instead of the fluffy pillow I usually put behind my head I used the Tempur Pedic pillow. I tried sleeping on my back first. I first noticed how firm the pillow felt. I am used to a big fluffy pillow wrapping around the sides of my head. This was supportive, firm, but soft. Does that make sense?
I quickly fell asleep (I usually do though). During my regular middle of the night waking (bad mattress tends to wake me several time to flip and turn and find a comfortable spot) I turned to my side. To be honest, the Tempur Pedic wasn't very comfortable for me when on my side. I gave it a good college try, though. After about an hour (and not being able to fall back asleep) I grabbed my old fluffy pillow and drifted off to sleep.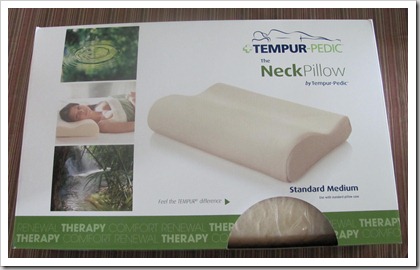 The second night my husband gave the pillow a test drive. The next morning I asked him if he liked it. His reply… "Eh." He then mentioned that maybe we could let my 19 year old, Kaytlin, try it. I agreed, but left the pillow on our bed. He tried it again that night and I decided not ask him about it for another day or two. He's been using the pillow for four nights now and this morning I asked him if he still wanted to give it to Kaytlin. His reply was that he likes the pillow now and has found multiple uses for it.
My husband is a "flat" sleeper, so he is using the pillow as intended. He does use it while on his back, but he has also found that it works well underneath him. You see, we have a sagging bed and the pillow supports his back. Not an intended use, but I thought I'd share! He also mentioned this morning that with the contour in it, it made a nice between the legs pillow as well.
My final thoughts… Although the pillow did not suit my needs (because of the way I sleep), my husband found multiple uses for the pillow. It took a few nights of trial and error, but I can't get him to part with it now… which is a good sign.
BUY IT:
You can purchase a Tempur Pedic Medium Neck pillow at Sleepys for $99.00
WIN IT!
One OurKidsMom reader is going to win a Tempu Pedic Medium neck pillow!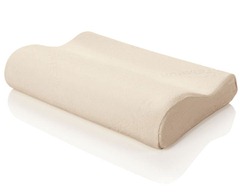 HERE'S HOW TO WIN!
MANDATORY entry (1 entry):
You must do both actions for this entry and then leave one comment that you did so. This entry is required before any others will count.
* Visit Sleepys and tell me something you like, learned or want
Additional Entries! You may do any or all of these in any order after the mandatory entry above has been completed. If you have already completed these actions let me know you did! If I allow 2 entries for a particular action, please leave 2 separate comments.
[tweetbox width=500 height=50 label=Retweet! content="#WIN a Tempur Pedic Medium Neck Pillow RV $99 from @Sleepys @ourkidsmom ends 5/19 %u "]
1 entry – Enter to win a Tempur Pedic pillow at

A Mom's Take

(until 5/12)

1 entry per giveaway entered- Enter any of my current giveaways and leave a comment here

2 entries- Grab my button and leave the direct link to where I can find it

3 entries- Blog about this giveaway with a direct link to this giveaway. Come back and leave a direct link to your post so I can see it.

1 entry each- Share this on Facebook, Digg, Stumble, Google Buzz, etc (you can find the buttons at the bottom of this post labeled with "share the love")

1 entry each- Share this giveaway on a blog hosted giveaway linky and leave the direct link to the post below. Please double check that you are not double posting. (This can be done 1x a day for 1 bonus entry per day).
If you enjoy my blog and my giveaways I would love a vote on Top Mommy Blogs. It only takes 1 click and you're done! (allowed once per 24 hours)
Rules:
You do not have to be a blogger to enter/win. An email address is required to enter. The winner will be chosen via a the WordPress plugin "and the winner is…" and contacted via email.  A reply to the winning email is required within 48 hours before a new winner is chosen. One entry per household. This giveaway is open to US only.
This giveaway ends at 11:59PM EST on May 19, 2011.
Disclosure:
This post was written me and was not edited by anyone. The opinions expressed in this post are entirely my own and have not been influenced in any way. I received a sample for review purposes only. I was not compensated for this post. Your experience with the product may differ from mine. The sponsor is responsible for prize fulfillment and will be shipping the winner(s) their prize(s). For more information please read my disclosure policy.