Floral gifts are always cherished on birthdays as they convey heartfelt emotions and reflect joy, happiness, and growth. Also, in this era of materialistic things, flowers as a gift reflect real feelings and emotions. And you might even feel the pressure of choosing gifts at the time of the birthday of your loved ones, so how about giving them versatile flowers with a modern and creative touch?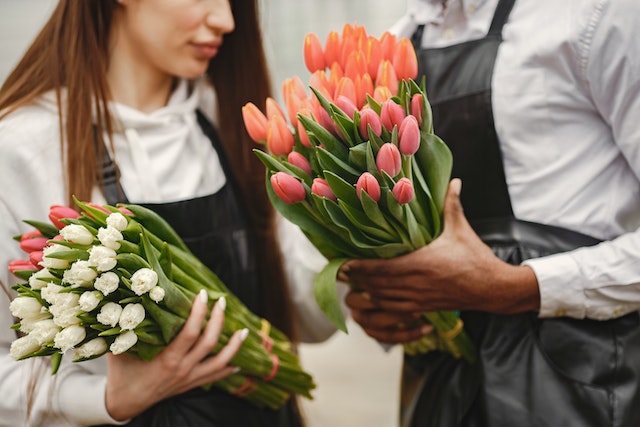 Here we will discuss some creative ideas to wish happy birthday with flowers to your loved ones. 
Beautiful Bright Color Roses Arranged in Heart Shape

 
Arranging red roses in a heart shape is a romantic and classic gesture; indeed, it can be a creative birthday gift idea. Also, flowers symbolize beauty and love; arranging them this way will make your partner feel more loved. So, if you want a creative way to surprise your beloved and convey your heartfelt feelings, just say it with flowers. 
Moreover, life partners share love, intimacy, and trust. Thus, it is important to express your emotions to them. And your partner's birthday is the best occasion for showering them with your love.  
Tulips are always known for their simplicity and elegance, and there are a variety of bright colors in tulips that reflect cheerfulness and excitement. Also, Tulips symbolize love and care. For this reason, they are considered best as birthday gifts. 
Furthermore, arranging them in a vase will give a touch of simplicity and reflect your feelings more naturally. Also, you can add a thoughtful note with happy birthday wishes. 
A Bouquet of Mixed Flowers

 
Giving someone a bouquet of mixed flowers shows them your intentions. There are different colorful flowers present in a bouquet; which can make their special day more cheerful and colorful. So, gifting a bouquet of mixed flowers from Bloomsybox is one of the best ways to surprise your closed ones.  
Additionally, Whimsical pink roses, yellow gerbera daisies, and vibrant green fillers are considered the best celebration flowers.  
A Combination of Flowers With Chocolates 

 
Delicious chocolates with beautiful and colorful flowers can make anyone's birthday special. Also, flowers with chocolates reflect a sweet and overwhelming gesture and make your loved one feel special. 
Furthermore, you can choose flowers like lilies, roses, orchids of different colors to combine with chocolates. But it would be better if you choose flowers and chocolates according to the preference of your loved ones. Also, It would be best to choose the birthday flowers delivery to make your partner feel special. 
Looking for a gift that lasts longer and is unique? Consider dried bouquets! These dehydrated flowers can be used for home decor and preserving memories. They make a great alternative to traditional gifts like chocolates and roses. Dried bouquets are sustainable, eco-friendly, and can create a charming effect. You'll be pleased to know that they can last for 2 to 3 years. And the good news is that you can conveniently by sending flowers online. 
Conclusion 
Happiness always lies in the smallest of things and giving someone the gift of flowers is among the most special gestures one can make for their loved ones. There are different ways in which you can give the gift of flowers. This will show your interest in your special ones and they will forever cherish these special moments in life. Bloomsybox offers some of the best flowers that you can order for different occasions. Make sure to choose a good one and let your love speak for you and express your heartfelt gratitude and sentiments towards your loved ones.