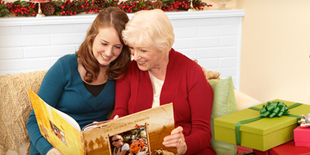 I have a couple of people on my gift list that are incredibly difficult to buy for. They tend to buy what they want/need when they want/need it. One thing I know I can get for them that they don't have but will appreciate are personalized gifts like photo books and calendars.
 Mixbook is the easy and fun way to make completely customizable photo books, cards, and calendars on the web. With Mixbook, you aren't limited to static pre-designed templates , their powerful design software gives you the freedom to lay out and design your creations to your heart's content. This would be a perfect creative Christmas gift!!
I like to make the calendars for the grandparents. My Dad likes to have one at his desk in the office and my in-laws like to have one on the wall in the living room. The photo books are perfect momentos for vacations, a memoir of the past year, or make a joint gift with the entire family and fill it will all of the grandkids.
I made a photo book for Emma and Ethan with the title "Who Loves ___" and their picture on the front. I filled it with pictures of our extended family and gave them to the kids for a gift. These books have become one of their favorites and it's fabulous to help younger kids feel more comfortable with family that they don't see often. When we get together with extended family the kids know names and aren't as shy.
Mixbook is a great place to make these personalized gifts. They are affordable, their software gives you creative control and the quality is great!
This post brought to you by Mixbook. All opinions are 100% my own.