Sample received. All opinions are my own.
MINIONS arrives on Digital HD November 24th and Blu-ray & DVD December 8th from Universal Pictures Home Entertainment.
Minions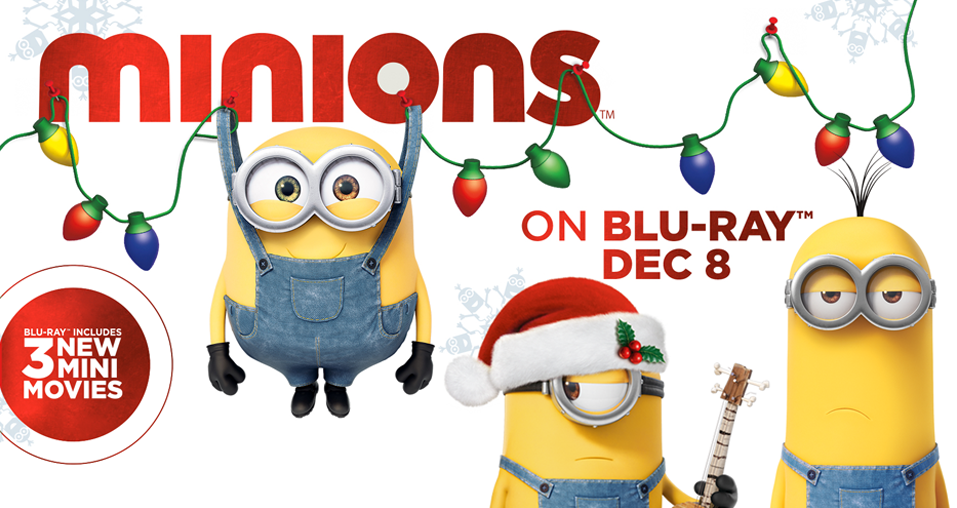 GET THREE ALL-NEW MINI-MOVIES ON BLU-RAY OR DIGITAL HD  
         
BLU-RAY™ COMBO PACK, DVD AND ON DEMAND DECEMBER 8, 2015
FROM UNIVERSAL PICTURES HOME ENTERTAINMENT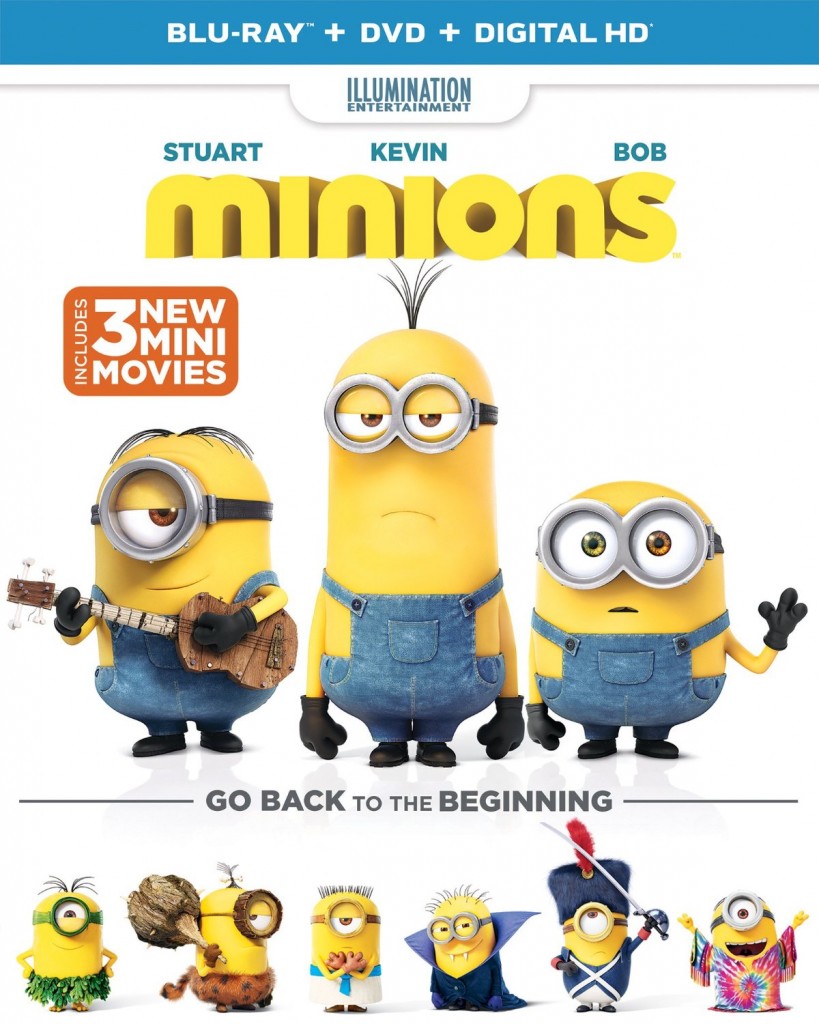 "Minions are back and even better!" – Dave Morales, FOX TV
The story of Universal Pictures and Illumination Entertainment's Minions begins at the dawn of time. Starting as single-celled yellow organisms, Minions evolve through the ages, perpetually serving the most despicable of masters.  Continuously unsuccessful at keeping these masters—from T. rex to Napoleon—the Minions find themselves without someone to serve and fall into a deep depression. But one Minion named Kevin has a plan, and he—alongside teenage rebel Stuart and lovable little Bob—ventures out into the world to find a new evil boss for his brethren to follow. The trio embark upon a thrilling journey that ultimately leads them to their next potential master, Scarlet Overkill (Academy Award®-winner Sandra Bullock), the world's first-ever female super-villain.  They travel from frigid Antarctica to 1960s New York City, ending in 'mod' London, where they must face their biggest challenge to date: saving all of Minionkind…from annihilation.
 Our family fell in love with the Minions at first site. They have always been one of our favorite characters in Despicable Me, so when this movie was released we had to see it. We laughed so hard at the dry humor and silliness that always follows the Minions. This will be on "repeat" in our house for months to come I'm sure.
Connect with Minions:
Official Website: http://www.minionsmovie.com
Facebook: https://www.facebook.com/minions
Twitter: https://twitter.com/minions
Instagram: https://instagram.com/minionnation/
YouTube: https://www.youtube.com/illumination
Pinterest: https://www.pinterest.com/minionnation/
Tumblr: http://minionnation.tumblr.com
Hashtag: #Minions
WIN IT:
TWO OurKidsMom readers are going to win a copy of Minions on Blu-Ray/DVD!
This giveaway ends at 11:59 PM EST on December 22, 2015.