Mila Kunis Interview | Theadora From Oz the Great and Powerful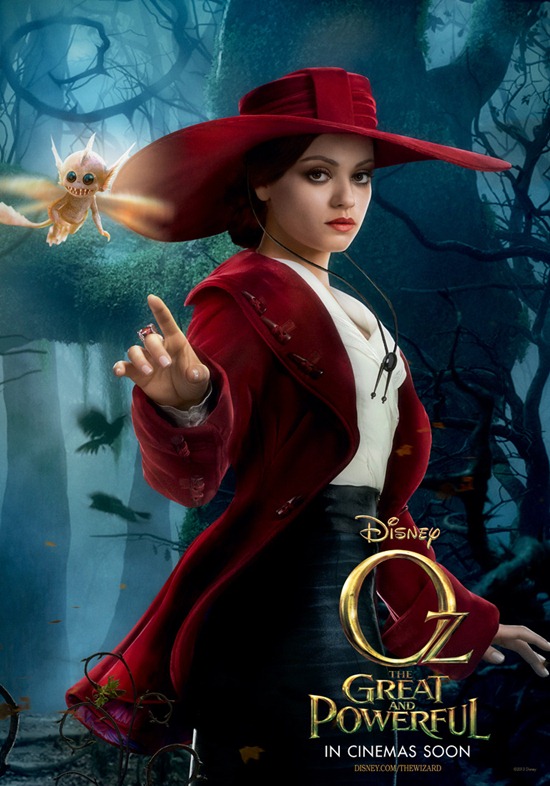 *** Spoiler Alert ***
Please do not read if you wish to keep the mystery of "Which Witch" before seeing the movie. See it, then return to read! 🙂
I have been a huge fan of Mila Kunis for years. My older two drew me into her television shows, which later drew me to a few of the movies she's done. Let me just say, though, that her role in Oz The Great And Powerful has exceeded all of these in my book. Now that I have been apart of this interview with her, I am a total fan through and through. She is witty, confident, funny as all get out and beyond beautiful.
Our quick banter back and forth before the interview began gave us a little insight to her personality and sense of humor… it is actually (partially) my favorite part of the interview:
Mila: Can somebody explain to me when did this start happening, this Mommy Blogger thing?
Answer: We've been working with them 2, 2 1/2 years.
Mila: This is the first time I've ever had this.
Answer: You've never done family films.
Mila : I've never done a family film. This is very true. Oh, touche. I've never done a non R rated movie.
Answer: So get used to us.
Mila: This is the sweetest thing I've ever seen. Come on ladies, first question!
I hope you enjoy the rest of the interview as much as I enjoyed being apart of it.

photo courtesy of Jeanne Eschenberg Sager and insideoutmotherhood.com
 
Q    :    Which witch do you like playing more, Theadora or the Wicked Witch?
 
Mila :    Truth is I do find that it's the same character, I really do.  I think it's just a woman scorned and it's a character that goes through a transformation, an emotional transformation of a heartache and just so happens to transform in color but I think that the deep rooted aspect of it is just, you know, a broken heart so I think it's the same thing.  It was fun to play both, for sure.
 
Q    :    How was the makeup?
 
Mila :    I think the beginning process was four hours and by the end a little under two. Putting the makeup on, not a problem.  Taking the makeup off, every night it makes your face swell. Like it legitimately puffs it up.  If you imagine ripping your skin every day, that's what it does and it's a full prosthetic piece.  I had two pieces and it's the bottom part and then the nose and the eyebrows.  And it doesn't matter how gently Howard did it and Howard — the special effects is a beautiful job, you rip the skin. You're constantly pulling at your skin every single night so it does, it makes it — wherever Tracy is. (Asking Tracy) It puffs it up a little bit, right? Tracy did all the makeup for all my films on a normal basis.  But like the prosthetics, I don't know what to say…  like you take it off…
Tracy: It's like a burning…
Mila: It's awful. It's awful. It's not even pleasant and the smell of something called Snappy G which is the gluing adhesive.  They glue it with like a cement type glue to your face. I think that if I had to smell it today it would probably make me cry.  Like that would be my natural reaction. I'd be like oh my god.  It's not pleasant.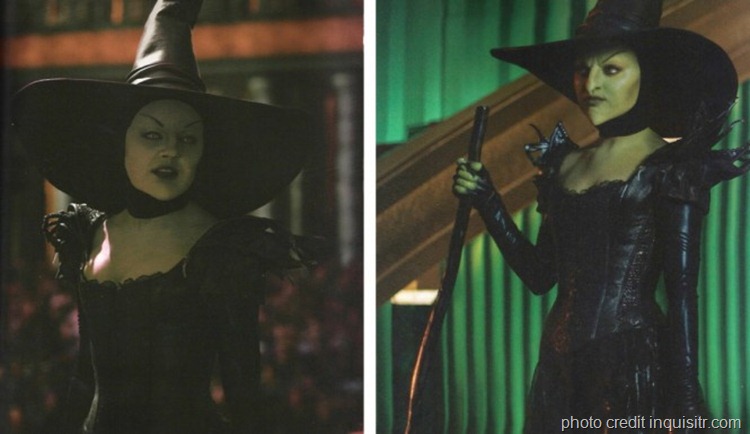 photo credit http://www.inquisitr.com/
 
Q    :    What was your experience with Oz as a kid?
 
Mila :    The first book — I came to America when I was seven and a half in 91.  I think the first book when I was nine years old, full length book in English that I read was Return to Oz.  And I've spoken about this completely independent of this movie prior to ever being attached to this film that as a kid the first movie that I remember seeing that resonated with me was the Wizard of Oz.  I think just visually the color spectrum of it and how fantastical it was and how much you wanted to live in that world, for a nine year old was so magical and so grand so I have the greatest, fondest memories of it.
 
Q    :    How did you feel getting into this sinister evil character? How did you get into that role?
 
Mila :    Nothing different.  I mean, you know, she's a young, naïve girl who gets her heart broken and then grows a nose.  Like everything kind of happens independent of me, just adds on to the fantastical element of it.  I think truthfully it's just a girl who gets her heart broken like I said earlier. I really don't find her to be any different. You can put her in a romantic movie, you can put her in a non-romantic film.  A girl gets her heat broken. This one has a negative side effect. She takes a bite of an apple and things go wrong.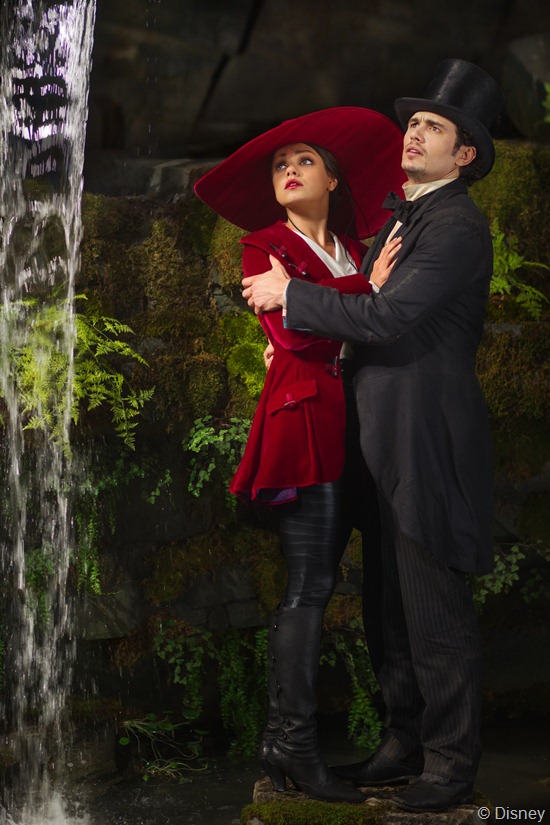 Q    :    So this is your first venture into the family genre.
Mila   : Apparently…
Q     :   How are you experiencing this differently?
 
Mila :    Well I'm in a room full of mommies so let's be clear, this is new.
 
Q    :    Do you feel a different responsibility in promoting and talking about this movie?
 
Mila :    Yeah, I can't curse.  The truth is… oddly enough here's what I realized.  I though the questions would be a little bit more demure, like from not you guys but from other (press)and they're not. They're just as obnoxious and awful as when you do an R rated film so I learned nothing changes.  You can do a movie for Disney or not.  People will still ask you inappropriate questions.  So in order to answer it, do I feel like there's a difference in promoting it?  Apparently not.  They still put you in a room with these people that apparently have no difference whether you're making a family driven film or otherwise.  But I do realize, it's very sad to me.  This is the first film that I've done that's not R rated. It's a really weird connection, yeah.
 
Q    :    What was your favorite scene to act out?
 
Mila :    What was my favorite scene to do?  Uh, it wasn't the waterfall sequence I'll tell you that 'cause it was dirty. But my favorite?  I think appearing in Glinda's castle was really fun for me just 'cause it was an extra ten days to shoot. It was long days.  Hindsight 20/20, it was really fun.  If you asked me while I was there I probably would have been miserable but it was really fun to do 'cause I got to… you know, Michelle and I never had anything to do other than that one scene and we really wanted to work with one another and that was our one and only opportunity to do it.
 
 Q    :    Did you like the technical aspects of the film (animation & flying)?
 
Mila :    You know what? It actually wasn't so hard. I mean I think people prepared me for like a lot of green screen.  I didn't have a lot of green screen.  They build most sets.  Glinda's castle was tangible, Emerald City was tangible, the forest, the woods was tangible, the cemetery, everything was there. So it's not like I had to imagine things and as far as wire work goes, I had fun with it.  The next project that I'm doing is a lot more wire work so I'll let you know after that one but in this one it was really fun, yeah.   
 
Q    :    Do you feel that this puts you in a different place with fans?
 
Mila :    I hope so. I don't know.  I'll let you know when it comes out. I really don't know. I come from television where I feel like I'm in people's living rooms every day so it's not crazy for me to think that like a ten year old would know, but, I don't know.
 
Q    :    Do you have the doll?
 
Mila :    I do.
 
Q    :    Do you play with it?
 
Mila :    I just got it two days ago. It's still in his box. I won't lie.  I've shown it to everybody that walks into the house because let me be clear. It's not just a doll, it's a Disney doll.  Like that's a whole of me, like not of me green, of me like the early part.  I'm like hey you guys, have you seen this? Check this out?  See this.  Everybody that walks into the house.  Like I don't even care.  I'm like bring the doll because it's a Disney doll. It's insane. It's insane. Oh, yeah.  But no it's still in its box.  I think you can buy it at Target.  Not to say that I know these things but I think you may, yes.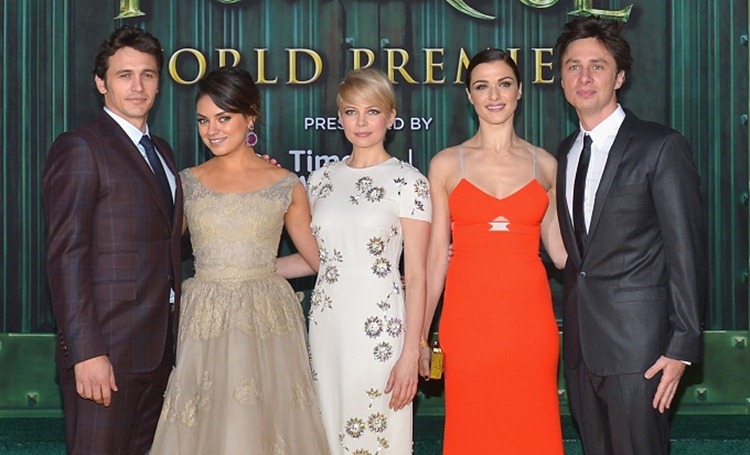 photo credit http://www.redcarpetnewstv.com/
 
Q    :    How was it working with the rest of the cast?
 
Mila :    James and I, it's our eighth movie together, eight project together so he doesn't count.  We're stuck with one another.  Rachel and I had a fantastic time. We had so much fun… and Michelle and I literally get to do one thing together and are dying to work more. So we all had a great time and Detroit was really fun, FYI, in case anybody wants to go to Detroit.  I loved it. I did.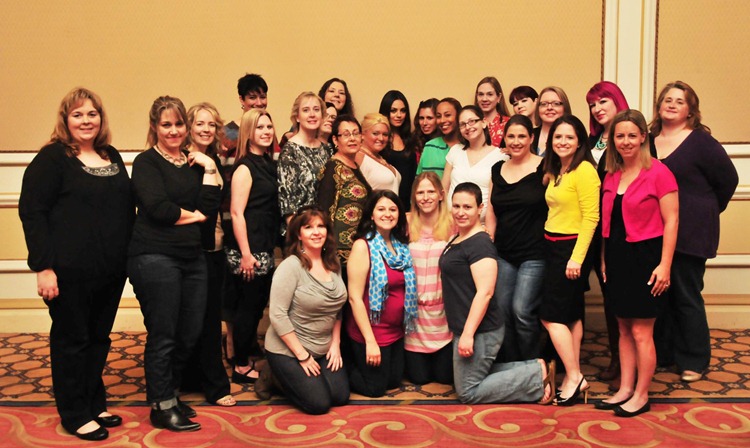 Q    :   If you would take a group photo that would be great.
 
Mila :    Yeah, with the mommy bloggers!
After the photo, Mila and her team left along with our Disney rep. When he returned he said that Mila enjoyed our interview and said that there should be Mommy Bloggers at every press junket!. Gotta love her!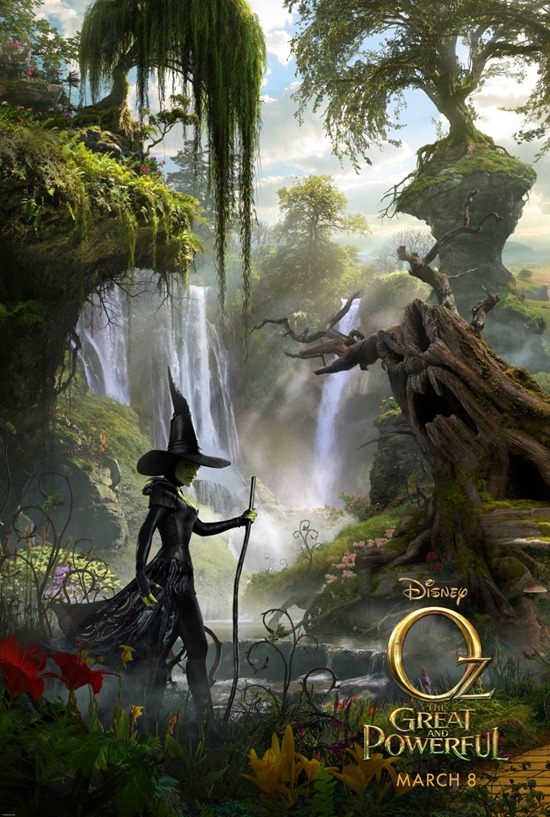 If you haven't had a chance, check out the rest of the cast interviews!
Michelle Williams | Glina the Good
#DisneyOz
Disclosure: I attended this press trip as a Guest of Disney. All opinions are 100% my own.