I am posting as part of the Windows Bloggers program. All opinions are my own.
I'm incredibly excited to share these Black Friday deals from the Microsoft Store this year! I have several techies on my list to shop for and I've found a few fabulous deals to save a chunk of change!
Whether your shopping for a gift or ready to gift yourself… I'm sure you'll find something to excite you!
The Black Friday deals include: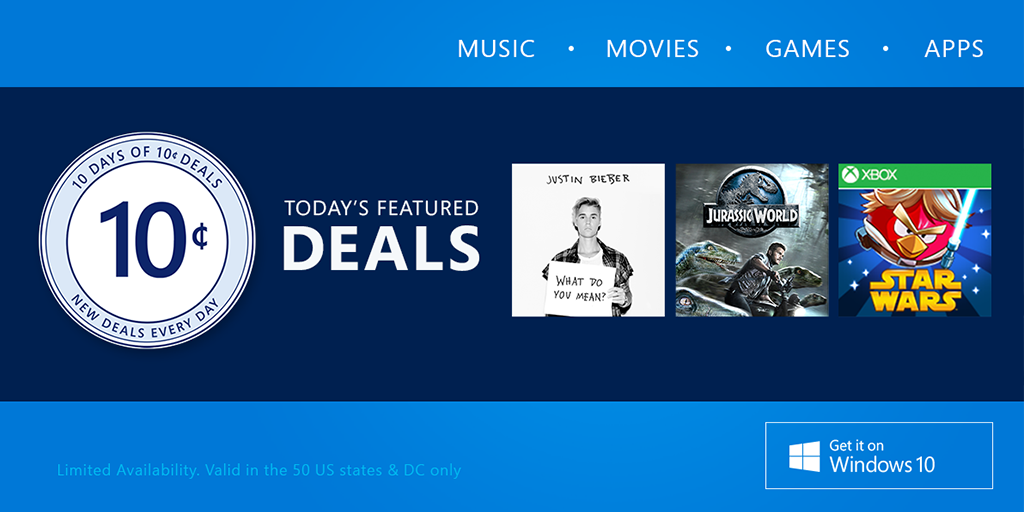 ·         Microsoft gives thanks for reaching 110 million Windows 10 devices by offering 1,000 pieces of 10 cent content (movies, music, games and apps) available for 10 days on the Windows 10 Universal store
o    Day one 10 cent deals include: Jurassic World, Terminator Genisys, Hunger Games Mockingjay Part 1 for rent, Angry Birds Star Wars, "What Do You Mean" by Justin Bieber and "All of Me" by John Legend
o    10 cent deals begin today, Friday, Nov. 20 and run through Sunday, Nov. 29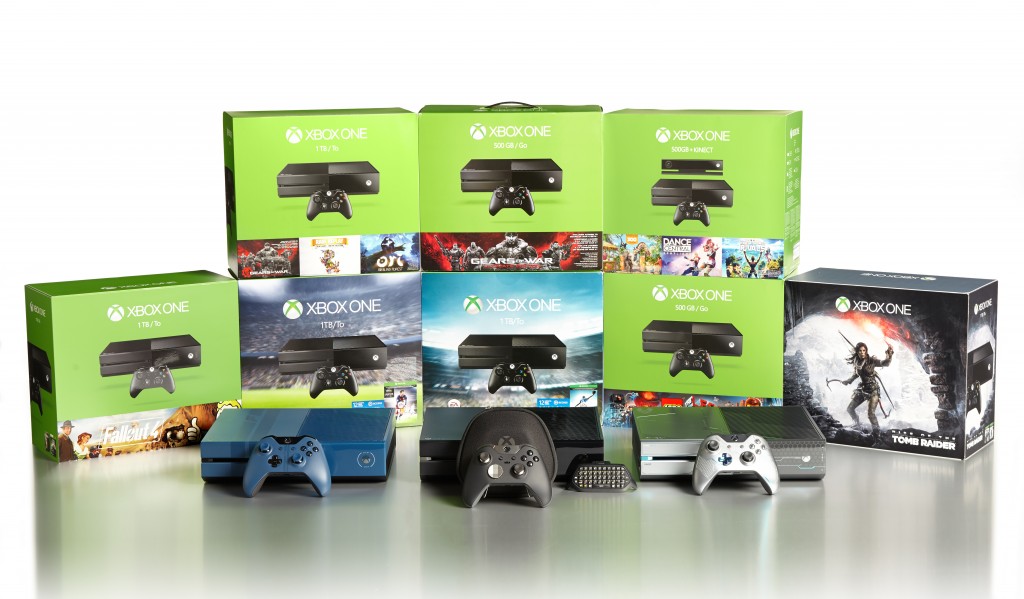 ·         Xbox One for $299
o    $50 on any Xbox One holiday bundles including the Xbox One Limited Edition Halo 5: Guardians Bundle for $449
o    Xbox One Elite Bundle for $449
o    Xbox One 1TB Holiday Bundle for $349
o    Xbox One Gears of War: Ultimate Edition Bundle for $299 and the Xbox One Rise of the Tomb Raider Bundle for $349.
·         Microsoft Lumia 950 XL
o    FREE Display Dock with purchase at Microsoft stores
o    $39 at AT&T
o    Microsoft Lumia 640 ATT Go phone for $29.99
o    AT&T offering up to $200 off a Microsoft Surface 3 LTE with purchase of Microsoft Lumia 950 or 640XL.
·         Work & Play Bundle for $149
o    Includes a one-year subscription to Office 365 Home, Xbox Live Gold, Skype Unlimited World, unlimited Wi-Fi, Assure Software Support, plus a $60 promotional gift card for entertainment content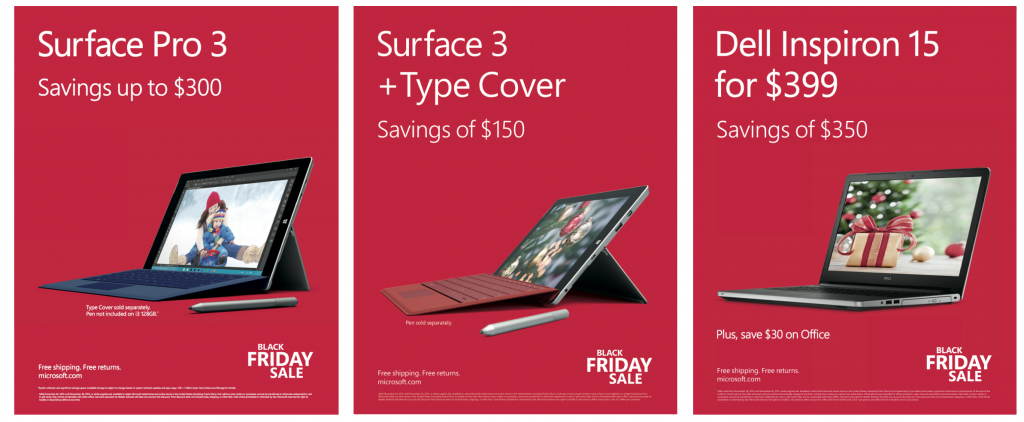 ·         Microsoft Store (begin online Wednesday, Nov. 25 at 9 p.m. PT)
o    Savings of up to $200 on the Surface Pro 3
o    $399 for the Dell Inspiron 15
o    HP Pavilion 15 for $549
o    ASUS TP200 for $229
o    Lenovo Ideacentre Computer Stick 300 for $69
o    Great savings on select Dell Monitors of up to $500
·         Microsoft Edge (available on Friday, Nov. 20)
o    More than 100 retailers including Macy's, Target and Toys R' Us will offer Cortana Coupons in the URL when browsing their site
·         Partner Deals
o    HP Pavilion 23-inch, All-in-One Desktop PC for $499.99 and Toshiba's 15.6-inch Satellite Fusion laptop for $499.99 at Staples
o    HP Envy 15.6-inch Touch-screen laptop for $479.99 at Best Buy
o    Toshiba Satellite CL45 14-inch laptop for $119.99 at Office Depot
o    RCA 10.1-inch Cambio W101 V2 Windows 10 2-in-1 for $128 at Wal-Mart
o    Dell's Alienware 15 laptop for $1,199.99 and Alienware X51 gaming desktop for $1,249.99 at Dell.com
o    Acer Aspire R13 for $1099; Acer Aspire Switch 11V for $499, The Acer Aspire R3-131T-P3BM for $299 on Acer.com
All fans have to do? Check Microsoft News Center for a full run-down of Microsoft Black Friday offerings and the Windows blog for the deal of the day over the next 10 days!