Emma and Ethan have been very interested in everything transportation related… cars, trucks, boats, planes, motorcycles and especially trains (or choo choos as Ethan still calls them). So when I recently found out that I was chosen along with 19 other blogs to be a Chuggington Conductor… well, I was giddy!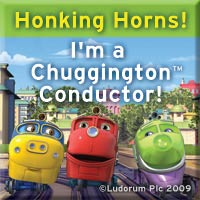 This means I will be bringing you traintastic news, updates and product reviews (with some awesome giveaways!) over the course of the year. Our first one is for the Mega Bloks Chuggington Construction Jet-Pack Adventure, Chuggington Roundhouse Racing and Chuggington Repair Shed.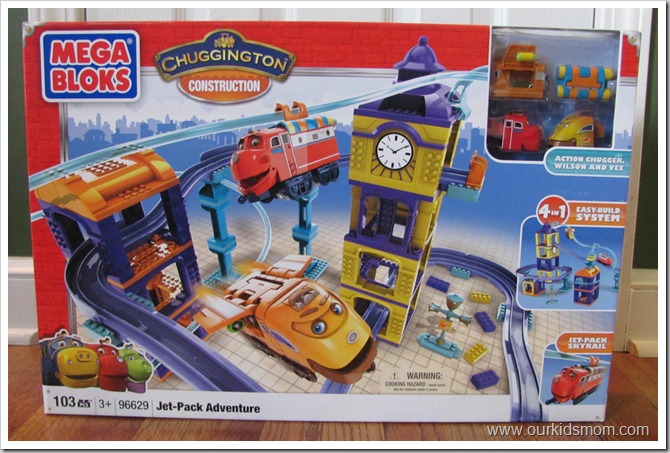 The Jet-Pack Adventure is a huge 103 piece set that makes a traintastic railway with a skyrail!
Build and rebuild the iconic Clock Tower and Chuggington depo for loads of exciting action. Build the tracks through the buildings & ride the rails up to four levels high. See Action Chugger and Wilson race by attaching Wilson's Jetpack and fly him down the buildable sky-rail to see who will land first. Blast-off to hours of chuggersonic adventure with Wilson and Action Chugger, with over 80 buildable pieces included in the set, the building possibilities are endless!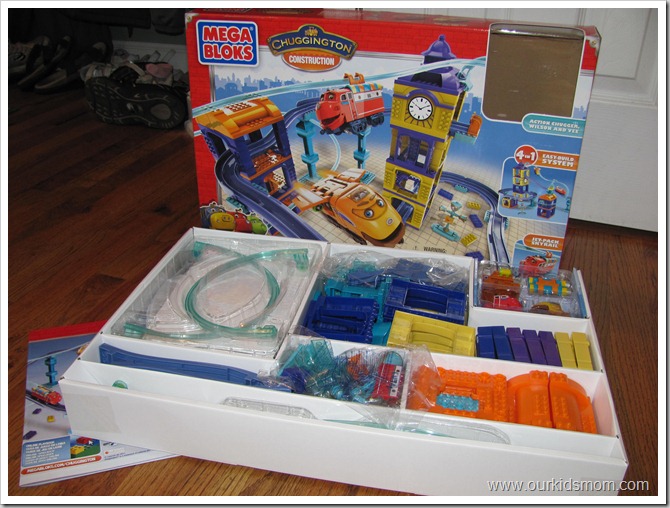 Some notable points are:
Includes 4-part buildable Vee and 2 Chuggers: 8-part buildable Wilson and Action Chugger, both with mouth-movement for lots of fun!

Cool buildable Jet-Pack for the Chuggers to fly through the customizable Sky-Rail!

2-in-1 Build and rebuild possibilities with a 4-story Clock Tower and a 3-level train station!

Build lots of different track configurations included in the playset!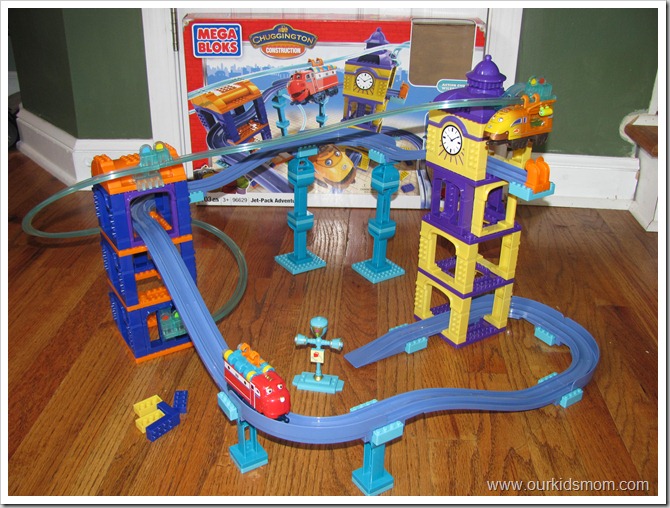 SO I did it. It took me quite a while and my rump was numb from sitting on the hard floor but after about 40 minutes I had the set assembled. I'm sure with repetition it will be quicker, though.
The pieces assembled quickly and the structure seemed pretty sound. The details were adorable and this particular set is a great way to start your Chuggington set collection. It comes with a booklet with detailed photographic instructions for assembly, but you can really arrange this in any configuration you'd like.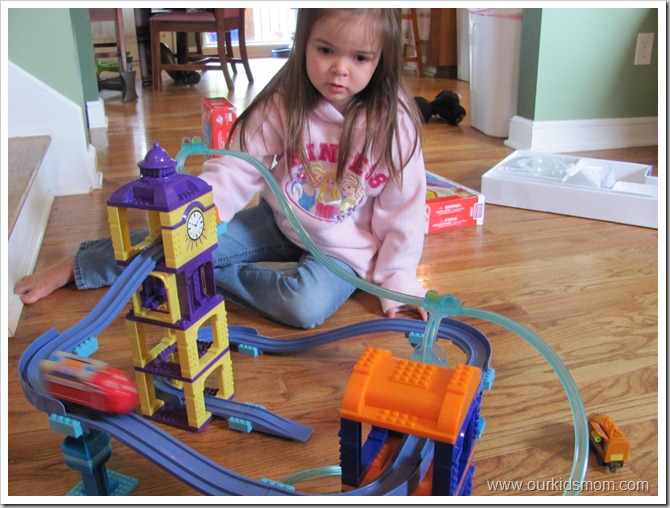 With a tiny push from the top of the rail, Wilson and Action Chugger glide down the four stories to the center of the tracks below. I have to say, though, that Emma and Ethan's favorite feature of this set is the unique Skyrail that twists and winds from the Clock Tower down.
Both trains come equipped with a hook on their back (that flips up or down). Flipped up you can slide them easily onto the rail and give it a tiny push… down they spiral.
I am impressed by the flexibility of this set. The instructions show 3 configurations, but your limits are really your imagination. For $49.99, you can purchase this set from Amazon.com.
The set can easily be added on to… with something like the Roundhouse Racing set!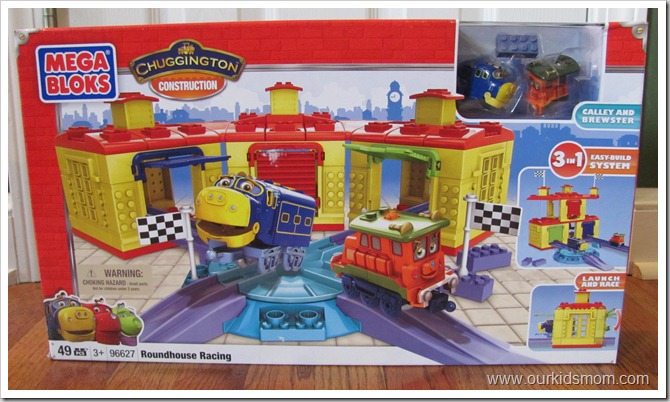 Ride the Rails and return home to the Chuggington Roundhouse by Mega Bloks! Launch both Brewster & Calley at the same time out of their Roundhouses for side-by-side racing, or build & play with the turntable, as the Chuggers arrive and depart from their Roundhouse. Discover even more building possibilities, as you rebuild the Roundhouse on 2 or 3 levels! With over 45 pieces, the Chuggington Roundhouse Racing Set guarantees endless hours of fun!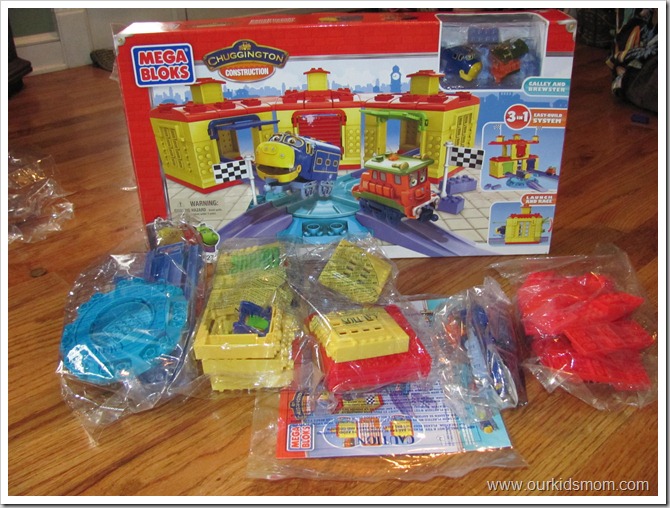 With 49 pieces, this set was a little simpler to assemble and went together fairly quickly. Some notable features are:
Includes 5-part buildable Calley with flashing light and 8-part buildable Brewster with mouth-movement for lots of fun!

Tracks, racing flags and 2 cool launchers for racing action!

3 buildable Roundhouses with opening doors and a turntable for when it is time to say goodnight!

2-in-1 Build and rebuild possibilities.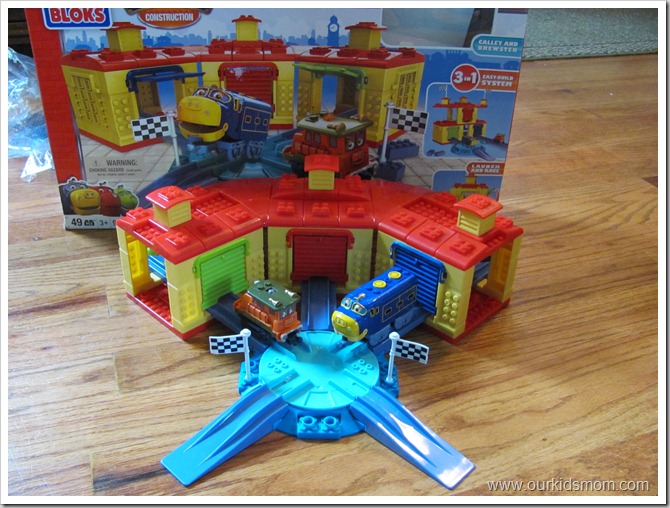 The roundhouse has a functioning wheel in the center that was easy for both Emma and Ethan to manipulate. They both had fun garaging the trains. After "nighttime" was over they used the one fingered launch mechanism on the backside to push the trains out of the garage to get them ready for the day.
You can purchase the Roundhouse Racing set for $29.99 at your local Toys R Us and soon to be on Amazon!
Last but not least, we got to play with the Chuggington Repair Shed.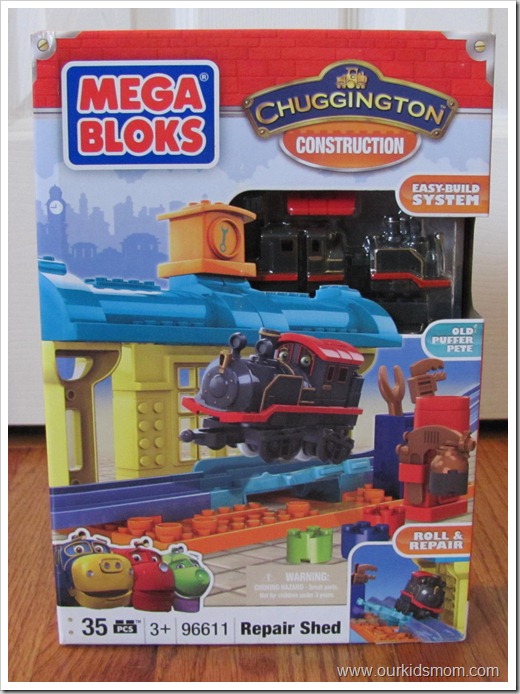 Build the Chuggington Repair Shed by Mega Bloks and fix up all the Chuggers from Chuggington. Old Puffer Pete needs repairing from time to time. Chug Pete down to the shed, turn the rotator, fix Pete and keep him rolling. Includes tools, paint-gun and over 25 pieces… endless hours of Repair Shed fun!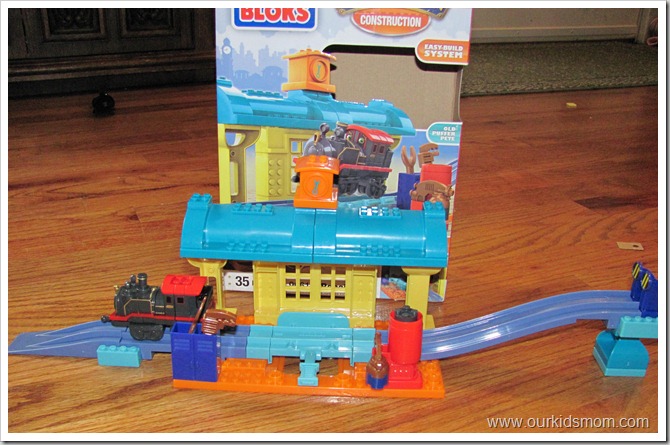 We all need a little repair at some point (doctor's visit) and trains aren't exempt from it! The Repair shed comes with cute little tools and a lift to get in there and figure out what's wrong with your chugger. Both kids had fun playing fix-it shop.
The Repair Shed features:
Includes 8-part buildable Old Puffer Pete with spinning spectacles.

Attachable tracks to get your chugger repaired safely!

Rotator and 3 cool garage tools to fix your chuggers: a paint gun, a wrench (spanner for UK and international) and a pipe wrench.

2-in-1 Build and Rebuild possibilities!
You can purchase the Repair Shed at your local Toys R Us for $14.99 and soon on Amazon.com!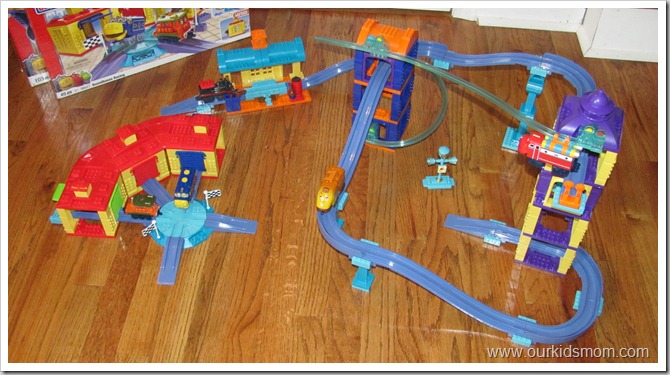 Having the three sets out at once really helped with our current "I have to have what you have or it isn't fair" stage. Both children found parts of the train system they wanted to play with and I actually had a good chunk of quiet time as they chattered quietly and actually shared!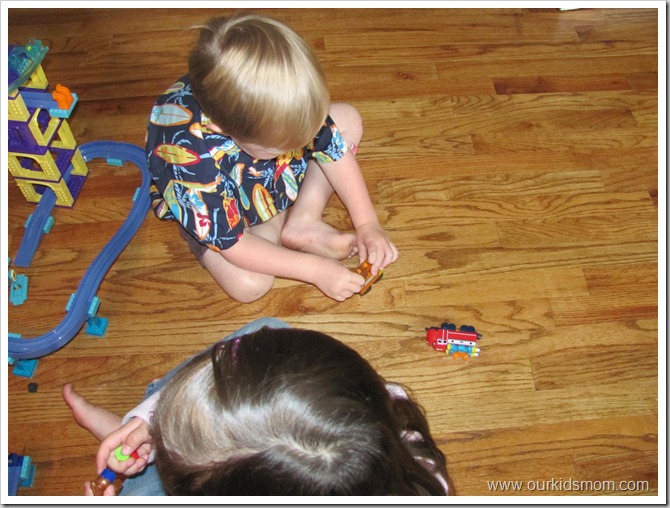 You can see them both above repairing their engine and getting them rail ready again. The Repair Shed comes with a couple of wrenches to add to the imaginative play.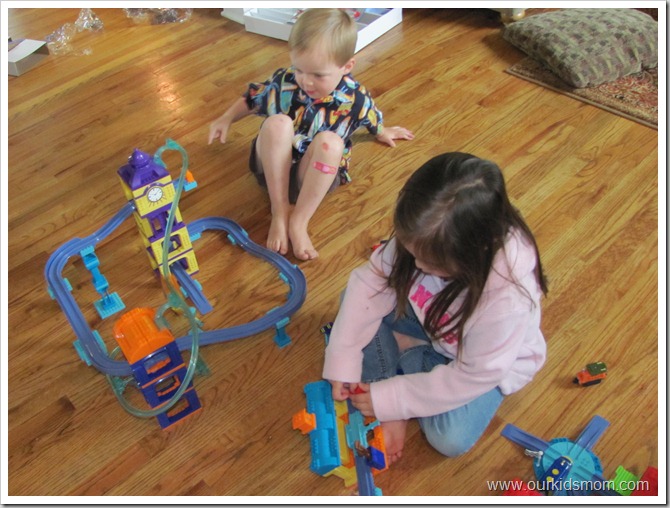 Ethan likes to give the trains on the Skyrail a little shove and sit back to watch them glide down. All three sets add to the expandability in configurations and I can't wait to see what new ways they will set this up in the future!
WIN IT:
ONE OurKidsMom is going to win all three sets RV $95!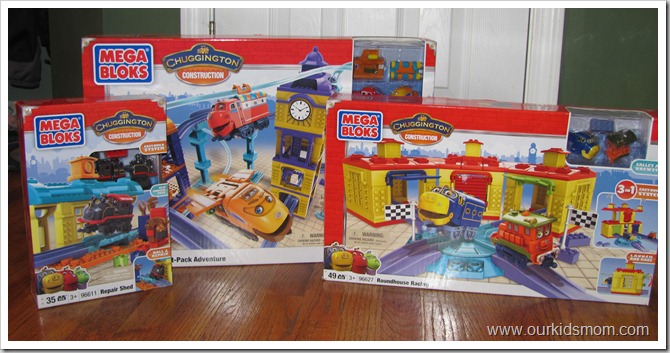 Do you enjoy OurKidsMom and the giveaways?
Please take a second to vote for us on Top Mommy Blogs! One click on the banner below and you're done…
Thank You!
This giveaway ended at 11:59 PM EST on May 3, 2012.
Disclosure of Material Connection: I received one or more of the products or services mentioned above for free in the hope that I would mention it on my blog. I only recommend products or services I use personally and believe will be good for my readers. I am disclosing this in accordance with the Federal Trade Commission's 16 CFR, Part 255: "Guides Concerning the Use of Endorsements and Testimonials in Advertising." The opinions expressed in this post are entirely my own. Your experience with the product may differ from mine. The sponsor is responsible for prize fulfillment and will be shipping the winner(s) their prize(s). For more information read my disclosure policy.