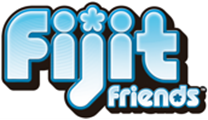 The commercials are starting and the kids were getting excited to try Mattel's newest "hot" toy, Fijit Friends. The story of where Fijits friends come from is cute:
The Fijit Friends™ were created when a gooey science experiment was brought to life by the power of music! The Fijit Friends™ love to laugh 'til their sides hurt, dance 'til they're dizzy, and just be themselves with their one true bestie!
Our Fijit friends Willa and Sage arrived just in time to join us for Ethan's 3rd birthday party. The kids had a great time talking to them and getting them to dance and tell them jokes. They were a little frustrated at first because the background noise in the house was loud enough that the Fijits had a hard time hearing. Things finally settled down a little and I found a couple of the older kids nestled in a corner in the lower living room alone with Willa and Sage. A couple of times I even found them trying to bring them into the backyard where the water festivities were going on. The Fijit friends were not lonely during this long afternoon of partying!
The first thing I notice about the Fijit friends while wrestling them out of their boxes was their "skin". It is a cool stretchy rubbery substance that reminded me of the gooey sticky toys you toss on the wall and they "crawl" down. Willa and Sage aren't sticky though… just very stretchy and cool to the touch. I've had to correct Ethan a few times because I will catch him stretching the skin out far enough that I'd expect it to rip or snap.
When we got them loaded with batteries and turned them on I immediately noticed their voices. I had expected cute "kid" voices and was hit with a vibrato autotune. At first it was endearing, but as the night wore on it was a little irritating to the adults involved. The kids didn't mind taking them to another room to play, though, so it all worked out LOL.
Willa and Sage both like to tell you jokes, dance and chat with you about the weather. The music cd that was sent didn't function in our cd player, so we asked the Fijit friends to dance to their tunes. You can see Willa dancing in the video below. Emma and Ethan quickly figured out that if they sing their own songs loud enough the Fijit friends will dance to those as well! They think that is hilarious and love to play for extended times with this mode.
Our overall experience with the Fijit friends was fun! Emma has claimed Willa and she now is rooming with her in Emma's bedroom. Although these are geared towards children 6 and up, Emma at 4 1/2 is very interested and refuses to give up her new bestie!
Connect with Fijit Friends… play games and learn more about each Fijits personality!
"I wrote this review while participating in a campaign by Mom Central Consulting on behalf of Mattel Fijit Friends and received product samples, a party kit, and a promotional item to thank me for taking the time to participate."