Matilda Jane Children's Clothing … an unpredictable clothing company

Denise DeMarchis is founder and CEO of Matilda Jane Clothing (MJC), a kitchen table startup that quickly grew into a national children's clothing business. Since the age of 12, Denise has held a passion for art and design and spent a decade showcasing her painted furniture and clothing line at regional art fairs before launching MJC with its core values of heart, loyalty and extreme generosity. Denise was recently named one of Fort Wayne, Indiana's Top 40 Under 40.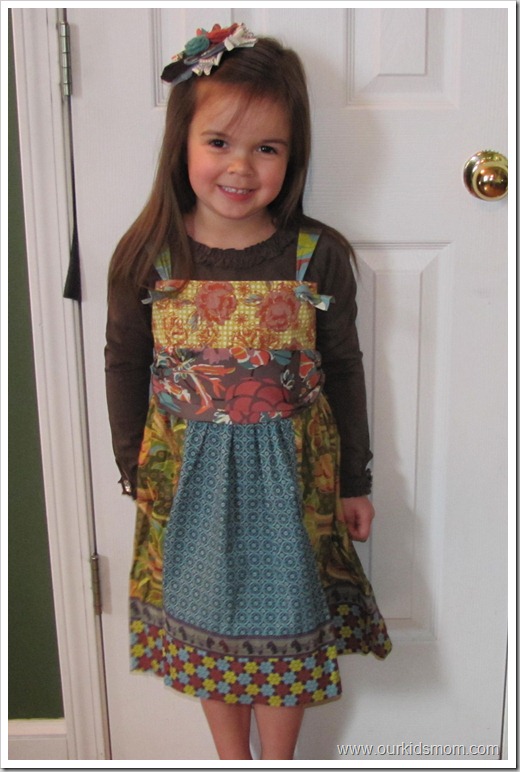 I have a weak spot for incredibly cute children's clothing. My children can have a closet bursting with clothes and I will still purchase an item because it is just too darned cute. I am trying to be a good girl though, so when Matilda Jane offered to let Emma review one of their outfits I decided to think ahead and get an outfit for Kindergarten this fall.
We picked the Leona Knot Dress ($56.00) and a coordinating Ginger Brown Tee ($28.00).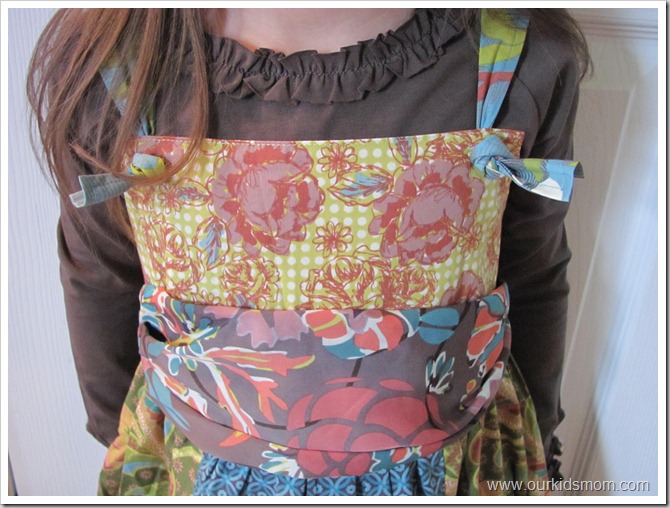 The Leona Knot Dress is described as:
Warm orange, dusty pinks, joyful golds, deep purple, brilliant sapphire, a hint of brown, and that much-needed green—we pretty much captured the whole spectrum when putting Leona together. She reminds us of some of the best parts of fall: pumpkin spice, crunchy leaves, summer's leftover greenery that fades so beautifully, and the last few blue-sky days of the year. The finished product gives a feeling of absolute harmony. Leona's peacefulness and playfulness are sure to complement those qualities in your little girl. And the finishing touch? We topped Leona off with a ribbon-trim hem, featuring a neat little row of Scotty dogs.
Made with love in China.
The Ginger Brown Tee is described as:
You walk home from school through the crunchy leaves, so excited to show your family the stunning A plus you got on your spelling test. That's three in a row! You walk in the front door and the comforting smell of home surrounds you, but today you detect the faint scent of something sweet in the air. Turn the corner to the kitchen and Mom is pulling a fresh pan of spicy ginger snaps out of the oven. Sugar, spice, and everything nice.
We tried to capture some of that happiness and comfort when creating the adorable yet basic long-sleeve ginger tee. Made of a super-soft jersey knit, this tee is comfortable enough and cute enough to wear every day of the week. We really can't decide what we like best about it: the rich ginger-brown color or the delicate ruffle detail at the neckline and cuffs.
Made with love in China.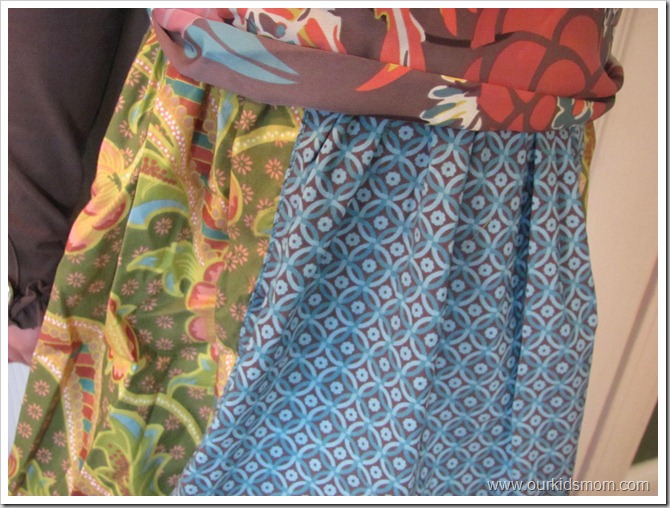 I couldn't agree more. The tones in this dress scream fall to me, but yet are still great for summer. With Emma's skin tones it looks fabulous on her and makes her glow. I love how Matilda Jane is daring and mixes materials that you would never guess would look good together. They are all along the same color family, but yet the patterns would never suggest "put us together". Matilda Jane does… and makes it work.
The Ginger Brown Tee is made of a soft jersey knit that is fabulous for sensitive skin (no itchies). The deep brown does remind me of the warm comforts of fall. It isn't just another t-shirt either. Matilda Jane has spiced it up a bit with an adorable ruffle neckline and keyhole cuffs allowing you to dress things up a bit but still be comfortable.
I have never had the pleasure of owning a knot dress. It reminds me a bit of an overalls style, but instead of a clasp you pull the strap through the hole and knot it. This allows greater adjustability and a perfect fit. The materials used are a nice quality and definitely feel like they aren't going to tear the first time Emma heads to the playground. The dress flows when she walks and when Emma spins (yes… it's the ballerina in her)… well, take a look below.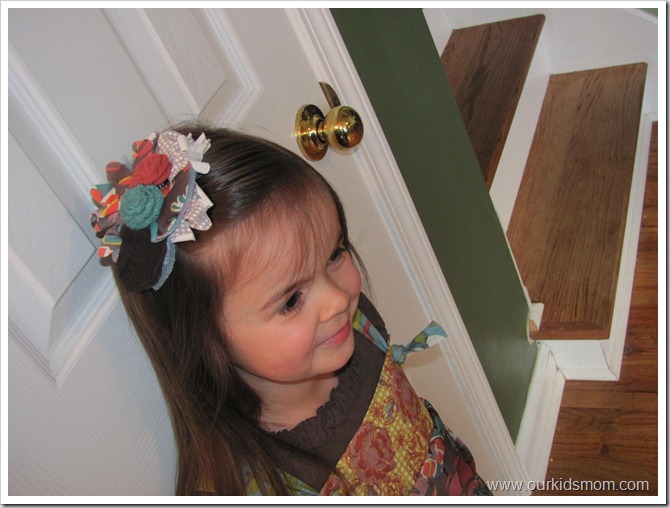 The cherry on top is this adorable hair clip made from the same material as the dress with some crocheted flowers for accent. We like to make hair pretties at our house and I never would have had the foresight to know that all of that put together would be as cute as it is. As you can see from Emma's face… she loves it too.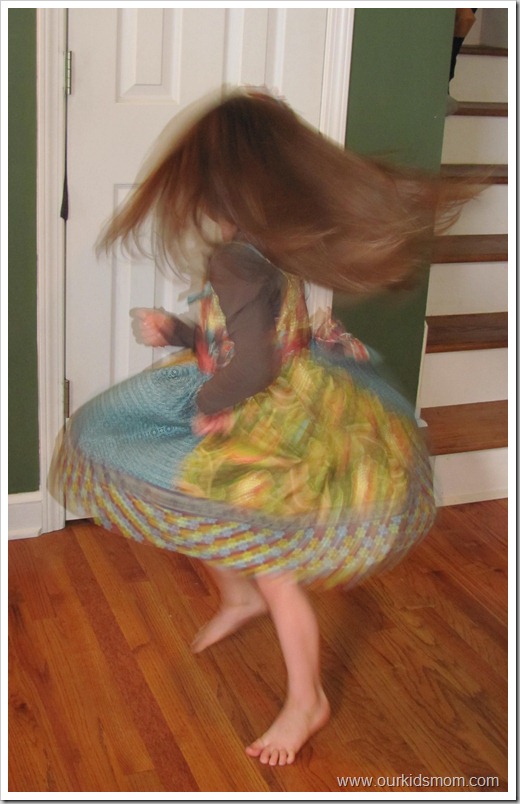 Emma loves everything about her new Kindergarten outfit as much as I do. She especially loves that the skirt has a bit of flow to it so she can spin. I can't say enough about Matilda Jane… I wish Emma's closet was full of their clothes!

 OurKidsMom loves companies that give back

A key guiding principle at MJC is the company's strong focus on "extreme generosity" and random acts of kindness.  As an extension of MJC's desire to give back (such as to various children's charities and orphanages, or the company's pledge with Habitat for Humanity to build a home for a deserving family), the company also actively involves its customers in ongoing charitable giving efforts – most recently, MJC asked customers where to donate in its "Spread the Love" initiative.  The annual campaign involved surprise giveaways to 100+ deserving families, as well as smaller giveaways to 300 individuals, a $50,000 expression of MJC's heartfelt thanks to its loyal customer base.
WIN IT:
ONE OurKidsMom reader is going to win a $75 gift certificate to Matilda Jane!
This giveaway ended at 11:59 PM EST on May 25, 2012.
Disclosure of Material Connection: I received one or more of the products or services mentioned above for free in the hope that I would mention it on my blog. I only recommend products or services I use personally and believe will be good for my readers. I am disclosing this in accordance with the Federal Trade Commission's 16 CFR, Part 255: "Guides Concerning the Use of Endorsements and Testimonials in Advertising." The opinions expressed in this post are entirely my own. Your experience with the product may differ from mine. The sponsor is responsible for prize fulfillment and will be shipping the winner(s) their prize(s). For more information read my disclosure policy.