Mary Poppins 50th Anniversary Edition Coming to Blu-Ray December 10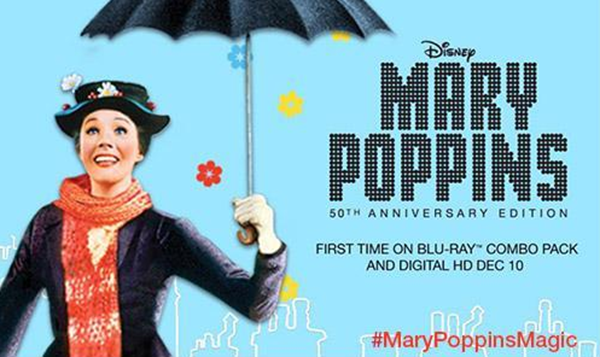 Mary's back!!!!
Growing up, I had seen bits and pieces of Mary Poppins through clips… mostly her most famous songs like "Spoonfull of Sugar" and "Supercalifragilisticexpialidocious". I knew the basic concept of the movie, so when I was asked if I wanted to receive an advanced copy of the new Blu-ray version to review I couldn't say no!
Julie Andrews (Mary) has always been a favorite of mine, and Dick Van Dyke (Bert) always made me laugh on his television show. Little did I know they were fabulously talented in another way! Mary and Bert had many experiences up their sleeves for us. 
I sat down to watch Mary Poppins with my children ages 5 & 7 for the very first time… for all of us! The kids were antsy and kept asking all kinds of questions about the movie as it began, I think they thought I was trying to trick them into watching a dull boring adult show.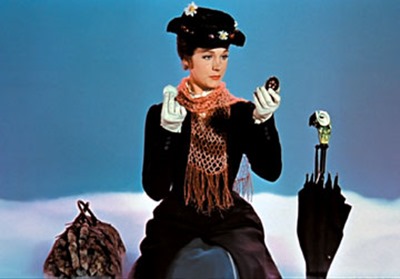 As soon as they saw Mary floating on a cloud with her carpetbag and umbrella slowing sinking down they were surprised, excited and full of questions. I loved to see their eyes get wide as Mary floated down from the sky holding an umbrella, the facial expressions of surprise as the neighbor shot his canon off his roof and wonder as Mary began pulling item after item out of her carpetbag, even though the children had just checked it and it was empty. I could see the wheels turning in their heads as they saw Mary and the children slowly sliding down the bannister and I had to quickly inform them that it was not real and they would probably fall and hurt themselves if they tried.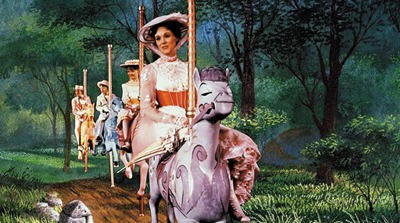 I was pleased to see that my children still had enough imagination to enjoy and believe that Mary, Bert and the children could jump into the sidewalk chalk drawing and have a grand old time in the countryside. For days after our viewing Ethan would bring up situations like "What if we could jump into a picture and be on a roller coaster!?".
I think the most animated conversations we had with the children during the movie, though, was during the chimney sweeper scene. My kids could not get over how easily they were dancing around on roofs and how scary it must really be! Many times they asked "Are they really DOING THAT?!".
Mary Poppins reminded me to embrace my children's childhood and enjoy their innocence, their wonder and their imagination. Because according to them… maybe this story really could happen… maybe!
Connect with Mary Poppins:
BUY IT:
You can purchase Mary Poppins 50th Anniversary Edition Blu-ray Combo Pack and Digital HD here http://bit.ly/1cCsBVe
WIN IT:
TEN Lucky readers are going to win a copy of Mary Poppins restored and remastered 2-Disc 50th Anniversary Edition!
There is also a grand prize of $100 Amazon GC!
This giveaway ended at 11:59 PM EST on December 20, 2013.
This blog post is part of a paid SocialMoms and Disney Mary Poppins blogging program. The opinions and ideas expressed here are my own. For more posts on this topic, click here.