I wrote this post while participating in a blog tour conducted by Clever Girls Collective on behalf of Claritin®. I have been compensated for my time commitment to the program.
My family and extended family suffer from various forms of allergies ranging from cat dander, dust, and seasonal. When choosing items to decorate my living space, although my main focus is functionality and aesthetics… in the  back of my mind I am also thinking "allergy friendly/free".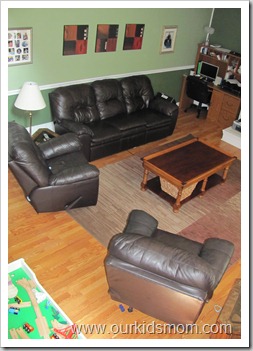 When we moved into our current house, we went from one living area to two. I was able to start fresh… from ground zero. The living room we had at the time was functional, but yet our more fancy/formal room. I wanted to make the new living room more relaxed, comfortable, lived in, and inviting. I also was thinking ease of cleaning (which in hindsight is fantastic as our family grew from four to six in a matter of years).
One major tip I have for decorating towards a more allergy friendly/free room is to get rid of the carpet. Have you ever torn up existing carpet? The ick you find underneath has been there for ages and has made you sneeze, wheeze and maybe even sick. We had intended to put in hard wood, but soon came to realize that since the base floor is concrete we had to switch to laminate. We still have the wood look and the carpet is gone. If wood floors are a bit cold for your toes, try an area rug. You can still vacuum them, take them outside and beat them, shampoo them or easily replace them when they get gross (or your mood changes).
My next tip would be to choose furniture that is easily cleaned. Either a fabric piece with removable covers (but "ick" can still cling to the foam inserts) or a leather/leather-like fabric. We chose a  leather-like sofa and two rocker recliners for the area. This gave the inviting, relaxed and comfortable feel I was looking for. This type of furniture is great for my extended family with cat allergies to relax in as I can wipe the surface down easily before they arrive and they are exposed to less cat dander during their visit.
My last tip is to reduce the clutter/dust catchers (knick knacks) for ease of dusting. If it's easier to do, you will do it more often. I suffer from dust and seasonal allergies. With fewer dust catchers (aka knick knacks) around the less I sneeze. Seriously, how often do you pick up each individual item you have out and give it a good thorough wipe down? Me? Not often. I tend to pick them up and dust around and under them. When I de-cluttered I decided to keep mine to a minimum with only the major "mean something to me" pieces left to dust.
I hope these tips have helped you in brainstorming a more allergy friendly/free environment for your family and friends.
Connect with Claritin: 

For tips on making your home and garden more beautiful, functional and allergy-friendly visit www.Facebook.com/Claritin. I was selected for this sponsorship by the Clever Girls Collective, which endorses Blog With Integrity, as I do.