Sample received. All opinions are my own.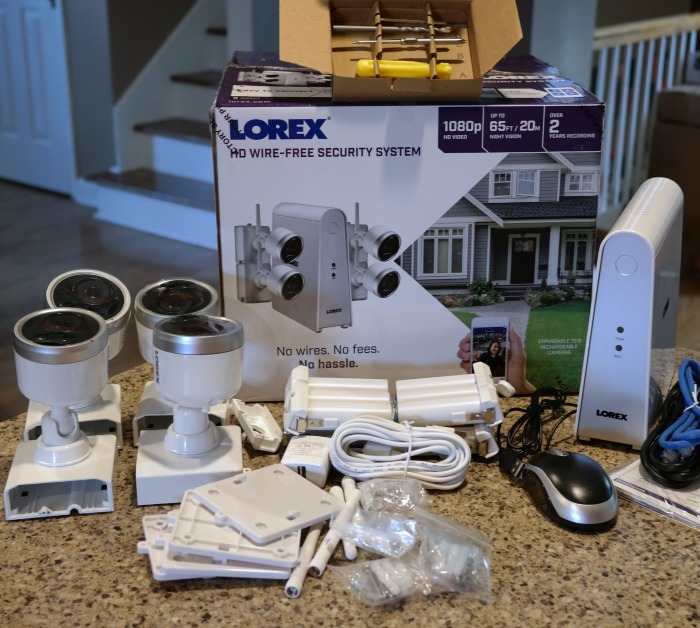 I've often considered a home security system, but have never really dove in because I wasn't interested in paying a monthly fee with a monitored company and the home systems I had considered had monthly storage fees and they seemed costly, complicated and overwhelming.
Then I found the Lorex HD Wire Free Security System. This system is ideal for someone like me that wants to take their security seriously, but wishes to avoid complicated installation/cabling and extra monthly fees.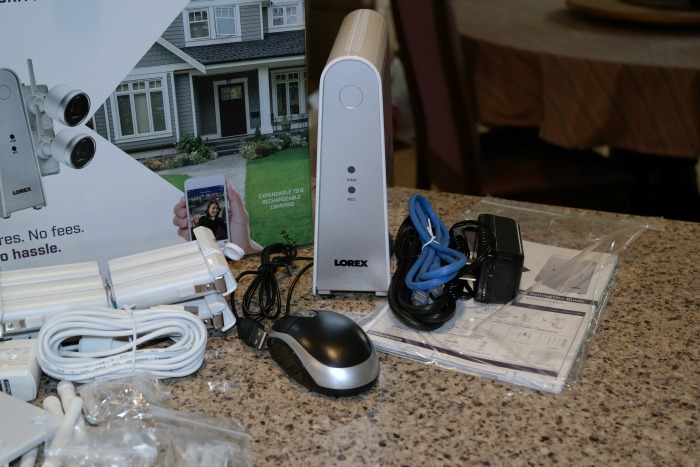 One of the main components of this system that caught my eye was a security grade Digital Video Recorder (DVR) with a 16 gigabyte microsSD card. This eliminates the "hidden fees" and monthly subscriptions … all of your data is saved locally in your home!
This DVR will support up to 6 wire-free cameras and all are viewable remotely on a secure Lorex app! That means you have 24/7 access to both live and recorded events. With H.264 video compression your bandwidth requirements are reduced making for efficient data storage.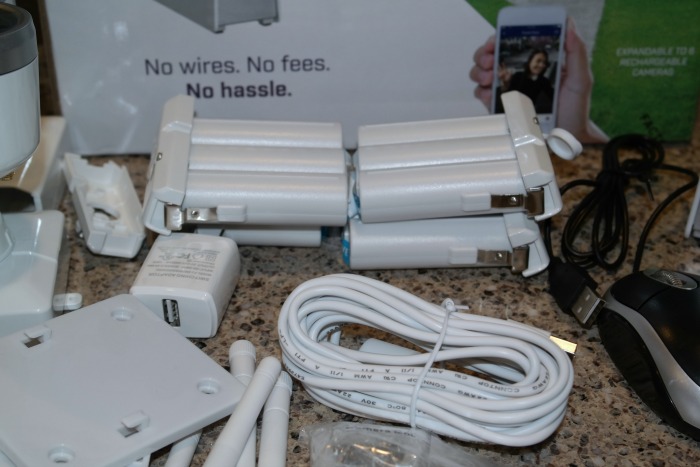 One of my concerns was how the camera were powered. We had a system once upon a time that "ate through" batteries like they were going out of style, and they weren't cheap to replace. This particular wire-free system came with four two-cell rechargeable lithium-ion battery power packs, one for each camera.
Rechargeable batteries were a HUGE plus… but then I wondered just how often I would have to charge them. I'm happy to report that these batteries are incredibly powerful, long lasting, and easy to charge. In fact, these are actually the same type of batteries they use in electric cars! So far my experience has been amazing. Six days of active recording and all four cameras are still on full "green" indicators! Lorex quotes that you can expect up to four months before you have to recharge them, which is incredible to me!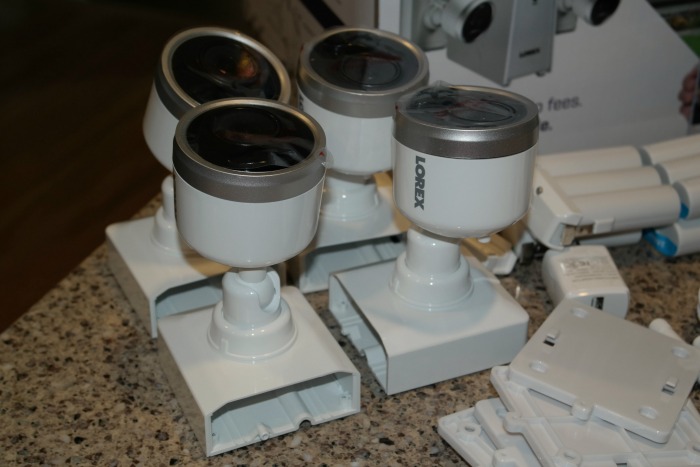 This system came with four wire-free cameras.
These feature full 1080p HD recording resolution, crisp infrared night vision, advanced motion detection and weather resistant housings to ensure the highest level of wire-free security available.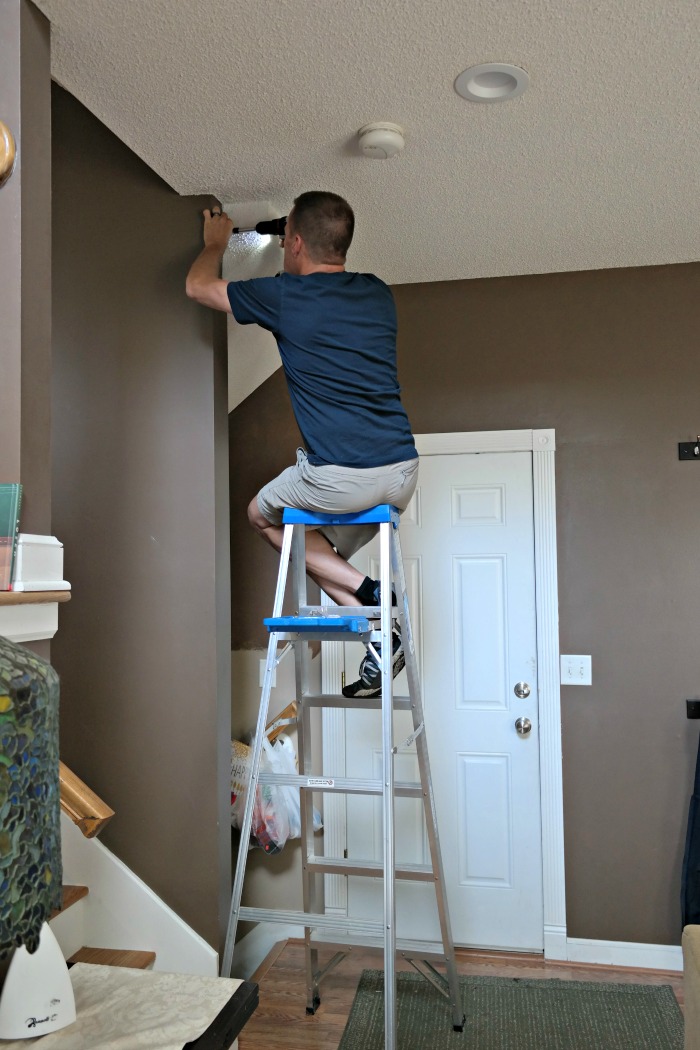 Setup was incredibly easy. I installed the app, scanned the QR code on the hard drive and followed the directions on the app. The most time consuming part was actually installing the cameras.
Why was that time consuming? Mainly because we had no clue where we wanted to place them. We popped the batteries in the cameras and went for a walk around the house holding the camera in different places. Once we were happy with the placement, my husband used his electric drill to install the mounting plates. With no wires to worry about we were able to place these anywhere we wanted.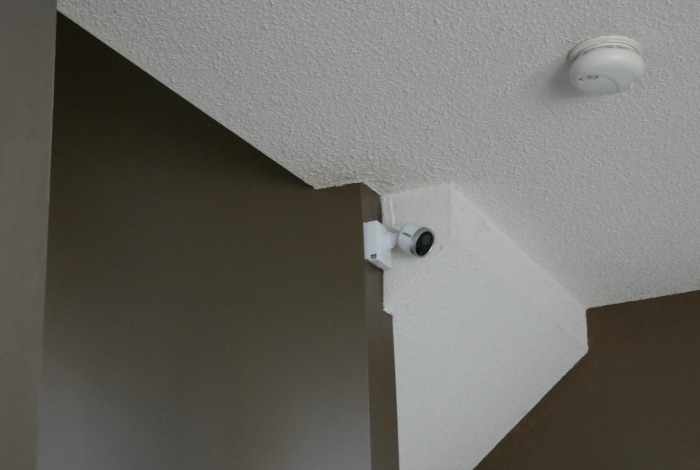 We found that the higher up the better … with an 88° wide angle lens we are able to view wall to wall in almost all four directions, getting the vital areas like the pathway from door to door. (see photo below)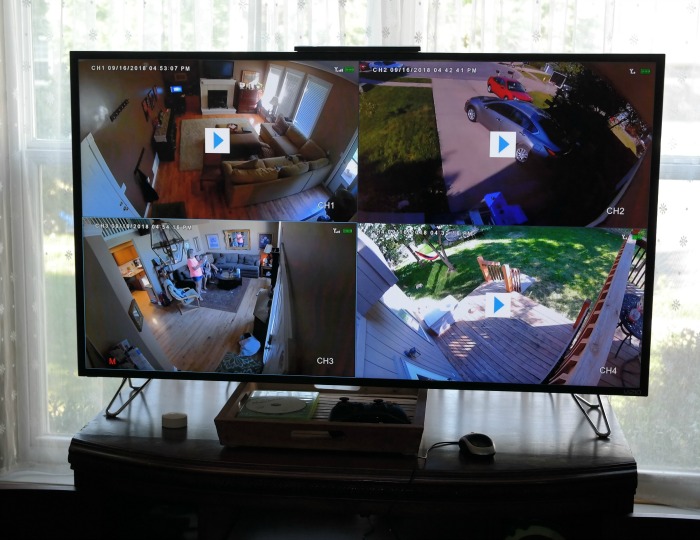 As I mentioned earlier, you can view live and playback through the Lorex app … but you can also hook this up to a PC or Mac for constant viewing as well.
We thought we'd try to go a step further and try our television. Because our television is actually more of a large monitor (it does not have a tuner, just pre-installed "smart tv apps", we were able to connect and view on our large screen "tv". We then plugged in a wireless mouse and were able to maneuver through the screens for playback, viewing and other details like motion detection.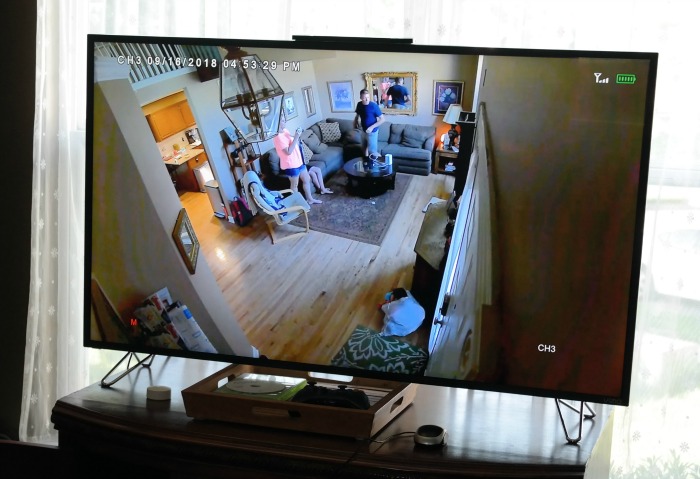 The clarity of the videos/pictures just blew me away. To read "full 1080p HD" is one thing … seeing made me a believer. Even the videos shot with night vision, I could see incredible detail.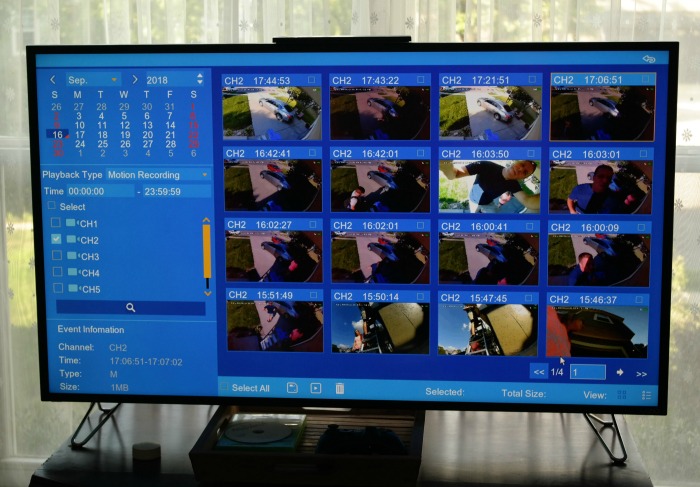 Being able to play back videos with clear details and accurate representations of important events is what home security is about. The lens on these cameras gives you enough of a wide angle to see more, but also accurately represent real-life/undistorted images. Think vital details such as facial features or license plate numbers!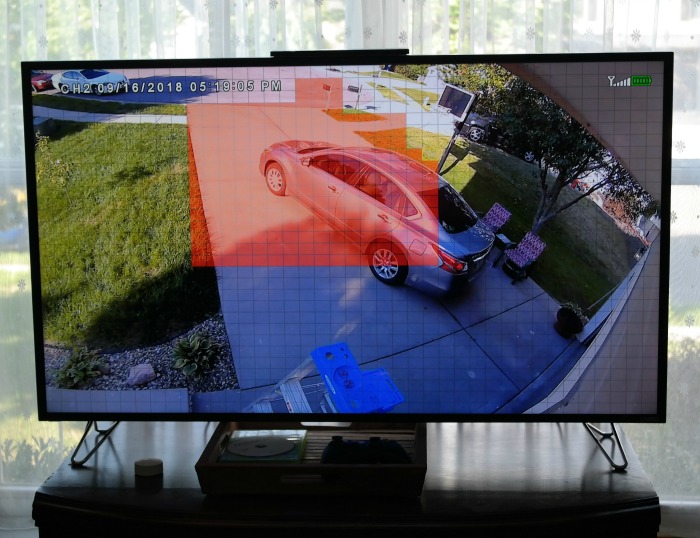 Lorex wire-free security cameras are triggered by Passive Infrared (PIR) sensors that detect motion. That basically means that heat from moving objects such as people, animals, or vehicles will cause the cameras to turn on and record.
For larger areas like our driveway, we are able to create a field of detection. Because we've had issues with our mailbox, we made sure to include that area as well as the area of the driveway that often has a vehicle parked overnight. This is helpful for the inside cameras as well. You can make the field fairly small and only have the cameras triggered by the doors, or make a bigger field to include the seating areas etc. Personalization is a huge plus!
There are so many pros and I haven't run into a single con for this system!
See more detail with full 1080p resolution video

Capture only the most important events with motion recording

PC and Mac compatible

24/7 pre-installed security grade HDD or microSD card for reliable recording and secure storage of motion based events

Accurate time stamps on video

Record a month of motion-based video with no monthly fees (expandable up to 128GB for longer record times)

Easy connect and setup for iOS and Android Devices

Stay connected and get motion alerts sent right to your mobile device

Up to 450ft wireless signal range provides many placement options1

Get up to 4 months of battery life without having to recharge the Power Pack2

Receive low battery notifications through the Lorex Secure app (on compatible DVR)3

DSSS (Direct-Sequence Spread Spectrum) technology greatly reduces conflicts with competing signals

Don't pay a professional. Cameras are easy to install by yourself.

Night vision up to 40ft (12m) or 26ft (8m)4

Weather-resistant (IP65) battery-operated cameras go almost anywhere5

Built-in PIR camera motion sensor alerts you on the Lorex Secure app when activity is detected (on compatible DVR).
But best of all, two of my favorite pros …
There are no hidden fees or monthly subscriptions with this wire-free security system!
Securely view your wire-free cameras from virtually anywhere in the world using the free Lorex Secure app for your mobile device.
I look forward to sharing more of my experiences with you in the near future. For now all I can say is this was the most user friendly security system I've had my hands on!