Little Tikes Cupcake Kitchen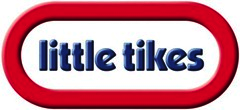 I found out years (and years and years… oh wait, does that tell you how old I am?) ago that kids of all genders love playing with pretend kitchens. I've had two girls and two boys and there hasn't been a difference in interest. When Little Tikes offered to let us review the Cupcake Kitchen I knew we had to.
This play kitchen is perfect for any little girl. And, if they like cupcakes – even better! This pretend kitchen is just the right size for any bedroom, play room or family room. Working doors and plenty of accessories provide hours of fun. Large enough for multiple kids to play together.

Features:
    • Knob for stove burners makes "clicking" sound
• Real working drawer and oven doors
• Storage space for plates and accessories
• No batteries required
• Accessories included:
* 1-Cupcake tray
* 1-Pot with lid
* 1-Spatula
* 2-Plates
* 2-Forks
* 2-Knives
* 2-Spoons
* 2-Spice shakers
* 4-Cupcakes
The first thing I noticed about this kitchen was the size of the box it arrived in. I am so used to play kitchens being oversized, bulky and space hogs. I was very intrigued to see how much fun they could pack into a small package.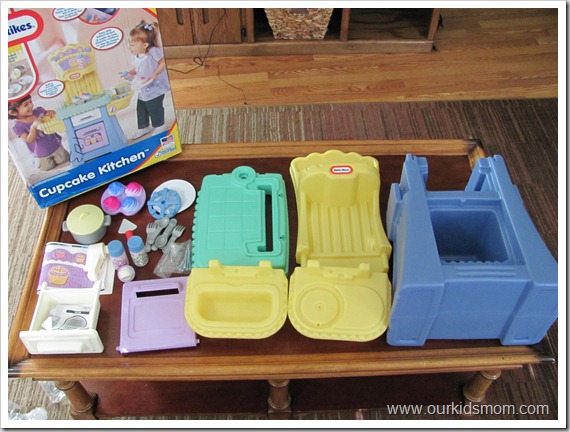 The contents hinted to me that this was going to be an easy assemble. I was thankful for this… my last assemble job took me nearly 2 hours! I was thinking what a joy this would be for "Santa" to assemble Christmas Eve… leave it set up in the living room and let the fun begin immediately. No burning the midnight oil putting this together… once out of the plastic bags and covers it took maybe 15-20 minutes total. The screws take a little effort and time… one together the stickers were a breeze and viola! you are done!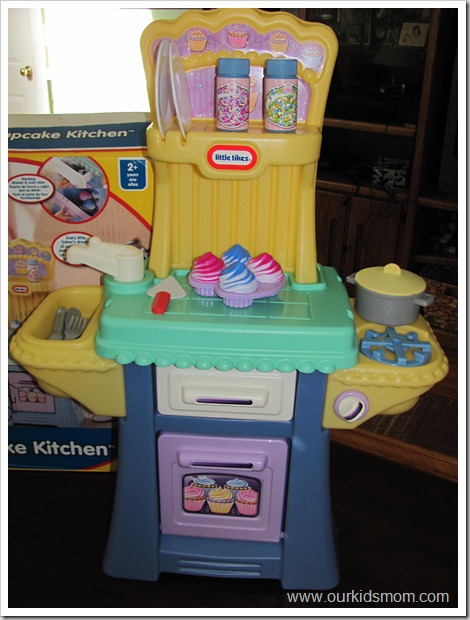 The kitchen's finished dimensions are 24.25″L x 10.65″W x 32.50″H. It definitely has a small footprint, but look at all the fun to be had! I think that sometimes the bigger kitchens overstimulate the kids. I remember back with Kaytlin and Josh we could only afford a simple and to the point kitchen. They would spend hours playing with it. When Emma and Ethan received their first big over the top kitchen, they played with it for a few minutes and walked away. I firmly believe that less can be more.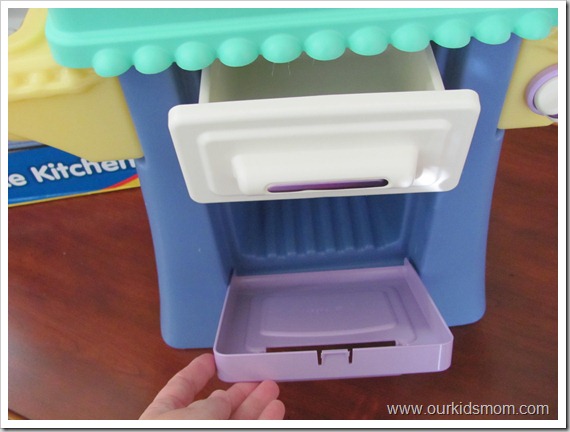 The cupcake kitchen has a working oven door to bake your cupcakes in and a drawer for the utensils. I've seen kids spend an enormous amount of time putting food in the oven, closing the door, opening the door, and putting the food on the counter. It's a culinary hide and seek!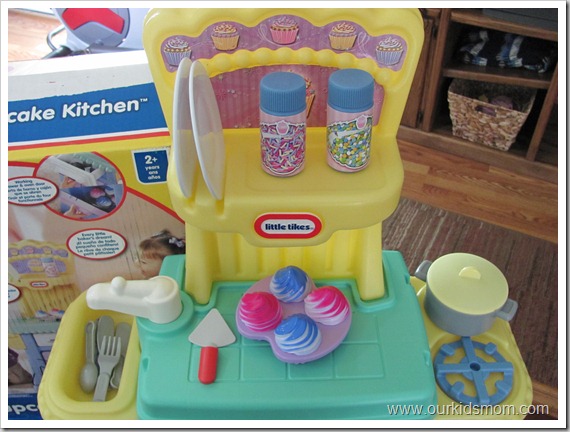 The upper portion of the kitchen features a sink with faucet, a side burner with an included pot and lid, an ample countertop and a shelve with two slots for your plates. The cute little sprinkle containers store nicely on the top shelf and are available for a quick sprinkle when needed/wanted.
I would recommend this adorable kitchen(ette) especially if you are tight on space and need all the punch you can get from an item. The price point is affordable, but yet you still get the high quality and long lasting durability you expect from Little Tikes toys. I can foresee Santa being quite busy assembling this set for many lucky girls and boys this holiday season!
BUY IT:
You can purchase the Little Tikes Cupcake Kitchen for $39.99 at Amazon.com
Be sure to check OurKidsMom tomorrow for your chance to WIN ONE!
Connect with Little Tikes:
[tweetbox width=500 height=50 label=Retweet! content ="Little Tikes Cupcake Kitchen Review @LittleTikes @ourkidsmom %u"]