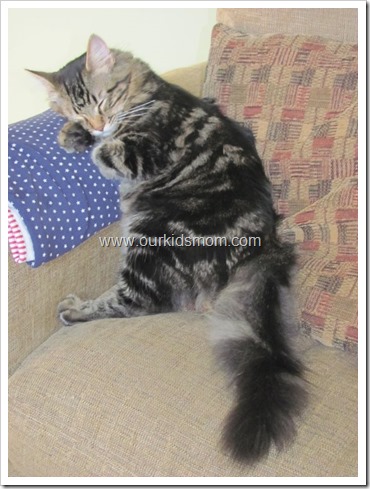 Does You Have to Lift Weights to Lift Cat Litter?
We have two crazy big fur balls in our house named Mocha and Jasper. They are a joy to have around… for entertainment, companionship and I simply enjoy petting and snuggling with them (funny how relaxing it is!).
I enjoy just about everything about them…. except the cat litter.
Cleaning it out… gag. Stinky, messy and gross.
Buying it? Oh, don't get me started.
Purchasing cat litter is a huge chore for me. To buy enough to handle these two big guys I should be (or should hire) a weight lifter to carry it in. I tend to purchase it at a "club" to get more bang for my buck… but moving 40 or 50 pound boxes around is not easy for me. I get around this by having my 16 year old son carry in the boxes…
but what if there is another alternative?
Tidy Cats heard our "cry"… they have a new litter called Tidy Cats Lightweight Litter.
Check out  Walmart.com.
All the strength, half the weight™
The lightweight revolution is here! Introducing new Tidy Cats® Lightweight 24/7 Performance® Litter, available at Walmart!
Tidy Cats® Lightweight 24/7 Performance® Litter is 50% lighter than the leading scooping litter. All the strength & half the weight.™
Watch real customers take the blind weight test and more at Walmart.com