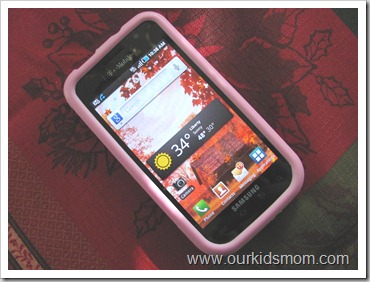 After only 3 months (attached at the hip) with my smartphone I now wonder how I got through the day without it. Before, my phone was just that… a phone. I was still using separate gadgets for everything… a phone, camera, camcorder, iPod, computer and electronic organizer. My smartphone is all that… in one.
Why is it so important? It's my connection to just about everything. As a blogging mom, I have to use my spare time wisely. Staying 0n top of Facebook, Twitter, email and my life without neglecting one or the other is a delicate balance. I don't want to spend my entire day, every day, in front of the computer… but you have to be on top of things or you may miss out on the opportunity of a lifetime. Time can be of the essence in the bloggy world. If you don't hop on it, another blogger will!
Since my switch I have been able to stay more organized. I can be a total airhead sometimes. I will make a paper grocery list and walk out the door without it. Brilliant, huh? I now make my lists on my smartphone and it's nearly impossible to forget them.
Let's not forget the apps. Oh my heavens, they can be life savers. I have an entire page on my phone for kids apps. These are my distractors for Emma and Ethan. I've used them in the dressing room while I am trying on clothes, at my older sons soccer games (usually the last part of the game when their attention wanes) and at the doctor's office when I need them to be quietly distracted. I also have plenty of mommy apps. I have a couple of games, but mostly I have apps for things like shopping, social networking, Groupon and more.
I can't imagine going a day without my smartphone. I know I could if I had to… but I don't want to. It's nice to have on days that I have decided to spend the day away from the computer. I can hop on my phone for a minute to check and respond to email, cruise on over to Facebook and check my wall, hop over to Twitter and check my DMs and put the phone away. My smartphone makes me one smart mom!

If you're looking for an Android-powered smartphone at a great value, be sure to check out U.S. Cellular. They have the highest satisfaction rating of any national carrier and you earn rewards points to use on things like accessories and upgrading your phone sooner. Learn More
Disclosure: Compensation was provided by US Cellular via Glam Media.  The opinions expressed herein are those of the author and are not indicative of the opinions or positions of U.S. Cellular®