Cruise courtesy of Royal Caribbean. All opinions are my own.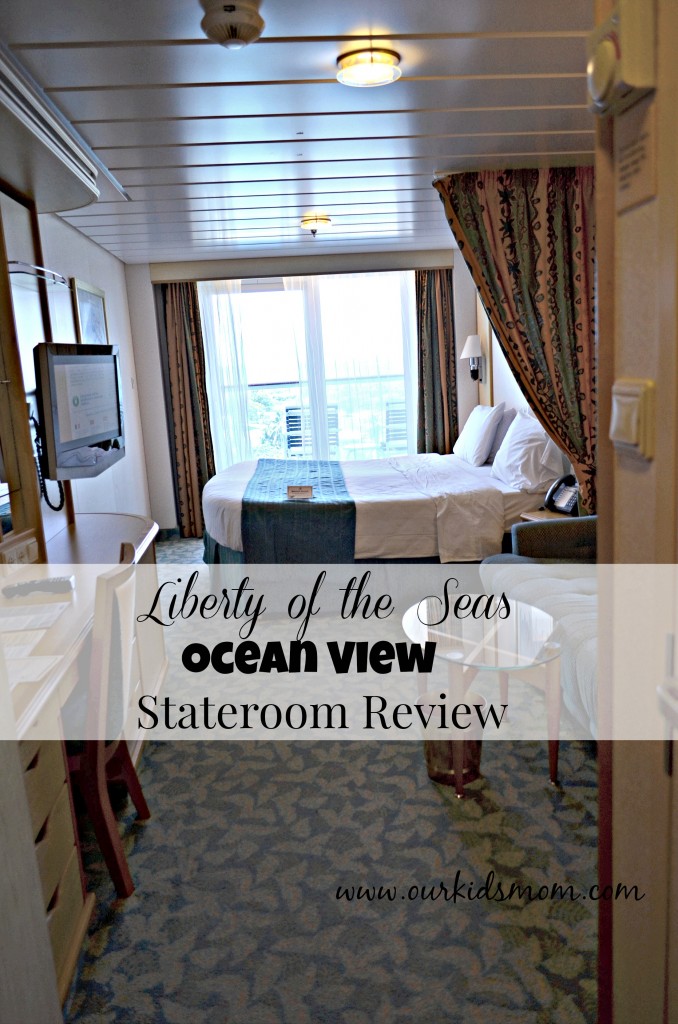 Royal Caribbean's Liberty of the Seas is the third largest ship on the water. With 1,817 staterooms, there are enough rooms to literally host all the NFL, MBL and NBA players and coaches in one single sailing.
The question is, though…. which room is right for you? I am going to give you a run down of the features and my thoughts from my recent cruise on 4/3/14 – 4/7/14.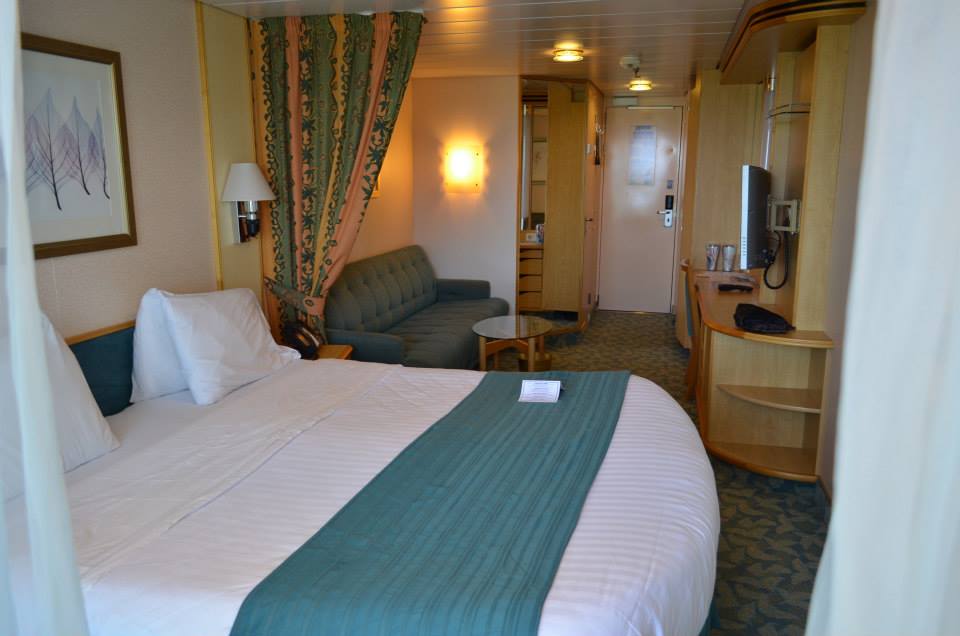 I was fortunate enough to stay four nights in stateroom 7364 which is a Deluxe Ocean View Stateroom with balcony and approximately 199 square feet of space. Balcony staterooms feature two twin beds that convert to a Royal king bed. The picture above is how we found the room upon our arrival.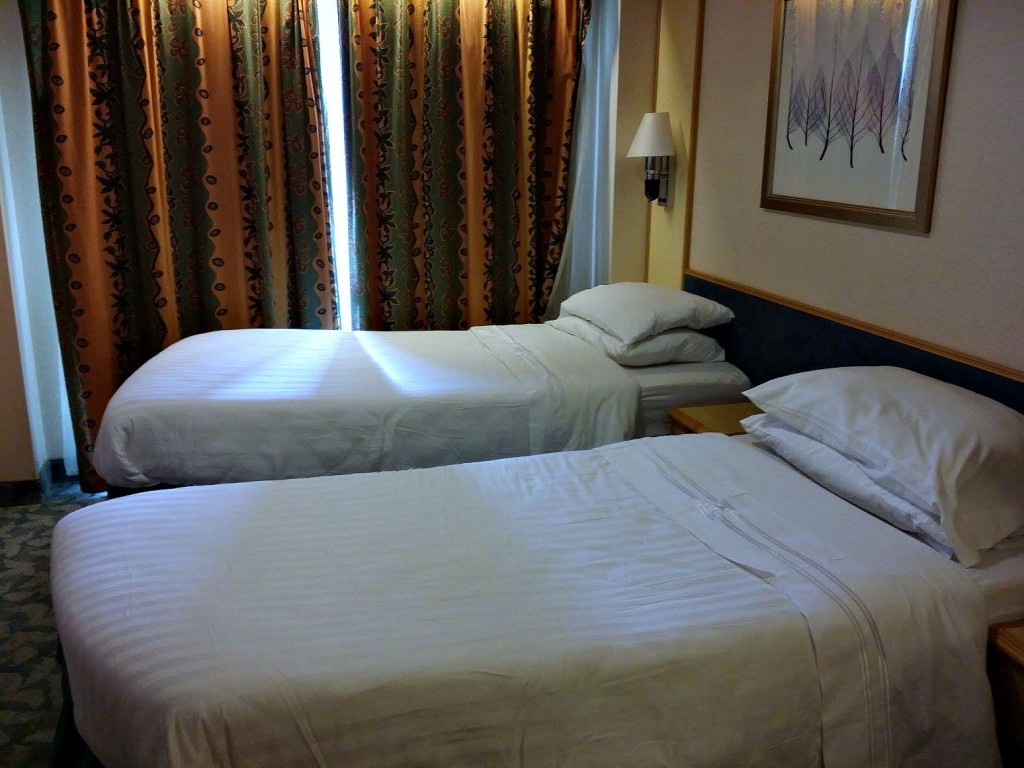 The card on the bed mentioned pulling the beds apart, which we requested. I had worried about the amount of room we would lose when separating the beds, but there really wasn't a space issue at all. The bedside table that was near the sliding doors just shifted over to go between the beds.
One thing I wanted to note about the beds was that they were not just a typical mattress. We were sleeping on an egg crate type foam topper. To be honest, I wondered how well I would sleep with something bumpy under me but soon found it to be a non-issue. The foam helped soften the bed, which is a good thing because I am a soft bed kind of girl.
I am also a soft pillow person and the pillows that were on the bed were a bit stiff for my liking. Luckily my roommate mentioned something to our stateroom attendant who brought us feather pillows instead.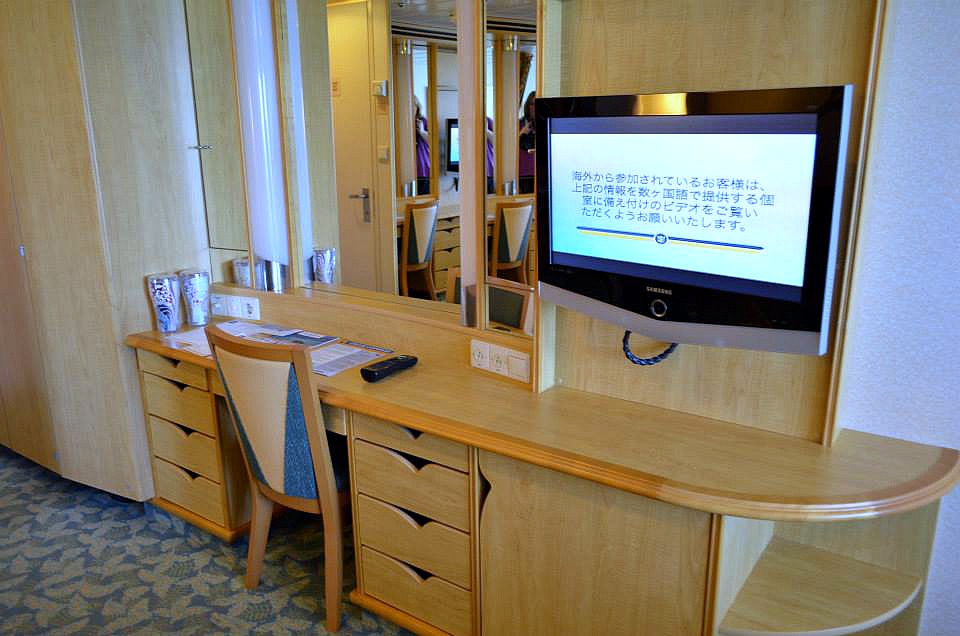 I was pleasantly surprised with how much space the living area offered. I was bunking with a blogger that I had never met before, so I expected it to be cramped and possibly a little uncomfortable with a new person in a small space. I am happy to report that both my roommate and I were very comfortable during the time we spent in the room together.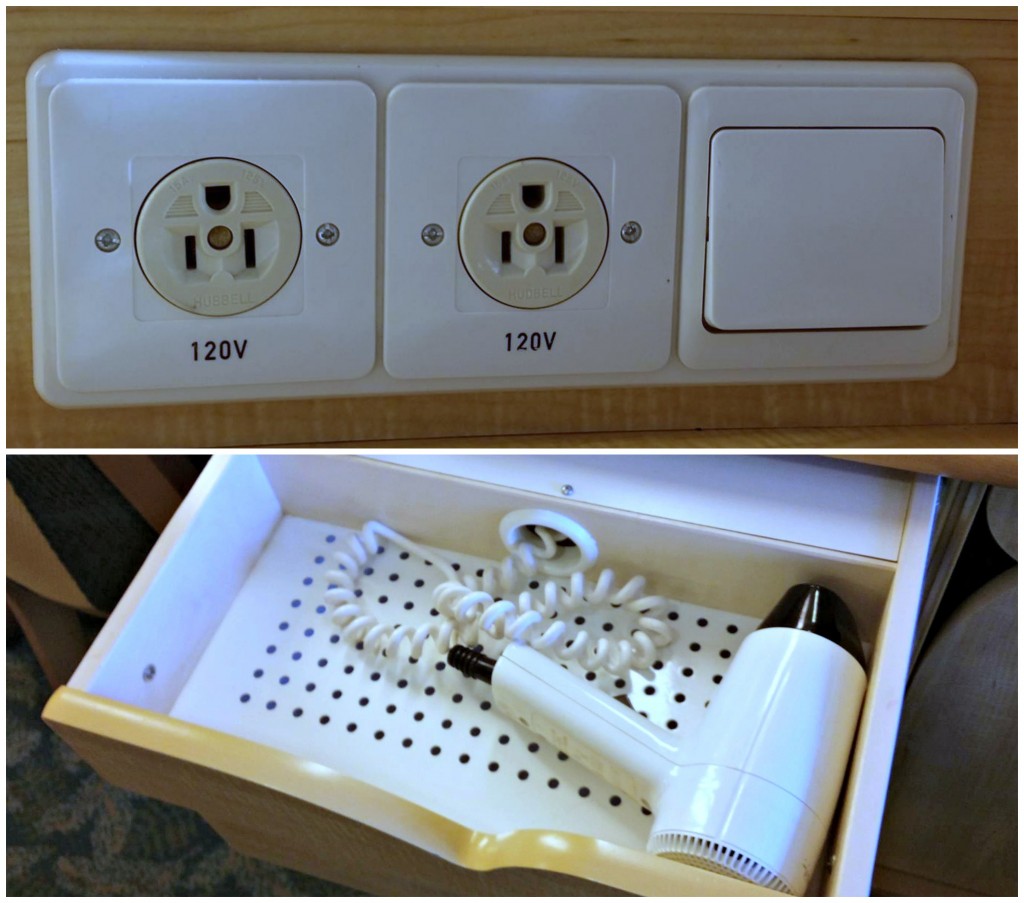 One feature of the living area I wanted to point out was the vanity. This was my central station in the mornings. The nice bright light was perfect to put on my makeup and there were electrical outlets to plug in a curling iron and hair dryer (if you brought your own).
These were the only two outlets I could find in the room, so if you have multiple items to plug in try to stagger when you need to charge/use them. The hair dryer provided was found in the top drawer and performed much better than I expected. I plan to leave my hair dryer home on my next Royal Caribbean cruise.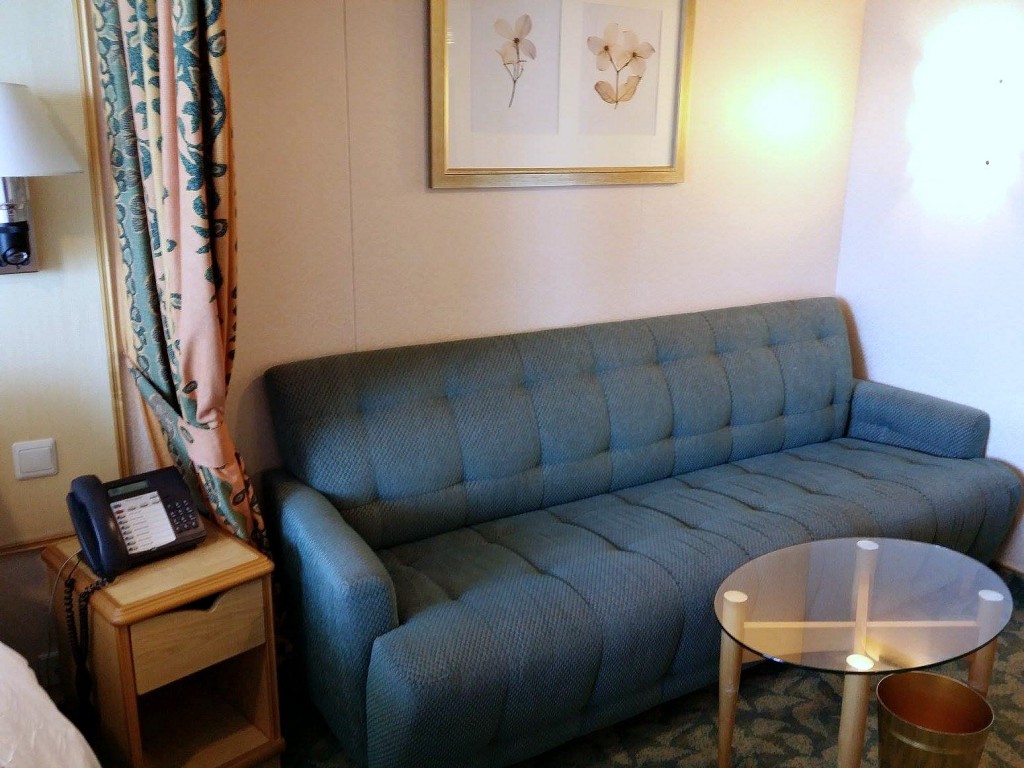 The living area included a desk, drawer space, vanity, sofa (some rooms have a Pullman bed and/or sofa bed) and a coffee table. Each stateroom also has its own flat-screen television, thermostat controlled air-conditioning, internet access (at a fee), direct-dial telephone, mini bar (at a fee), and 24 hour room service.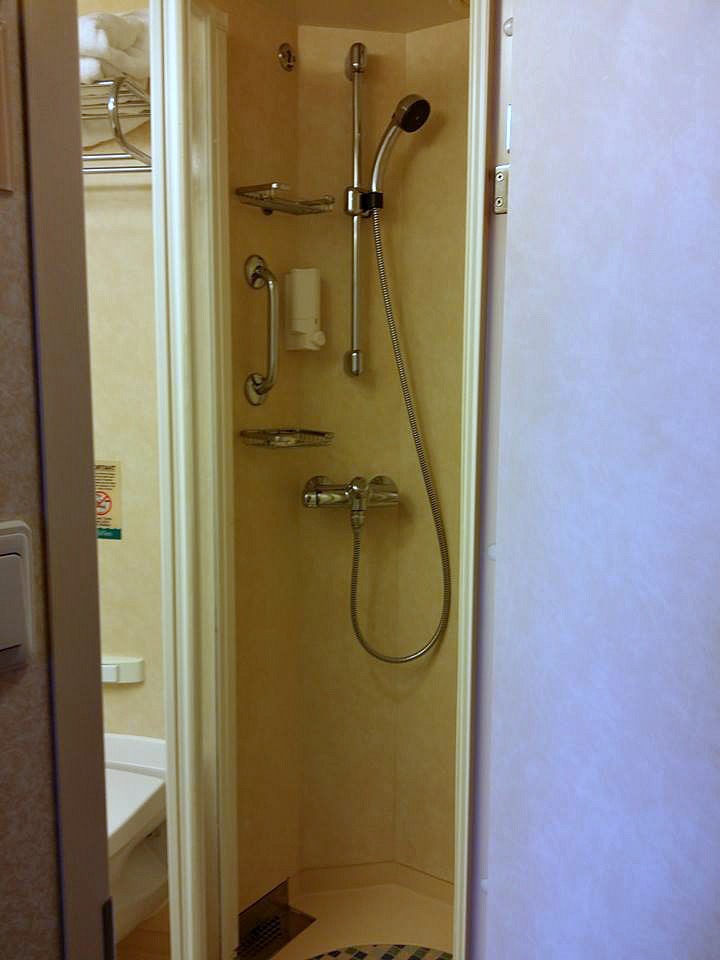 The bathroom accommodations were as to be expected for a small space. I was a bit concerned when I saw the size of the shower, but once inside there was actually plenty of room to wash up. I typically put my feet on the wall at home to shave my legs. In this shower I just bent over and left my feet on the floor. The adjustment wasn't really a big deal and I didn't feel cramped.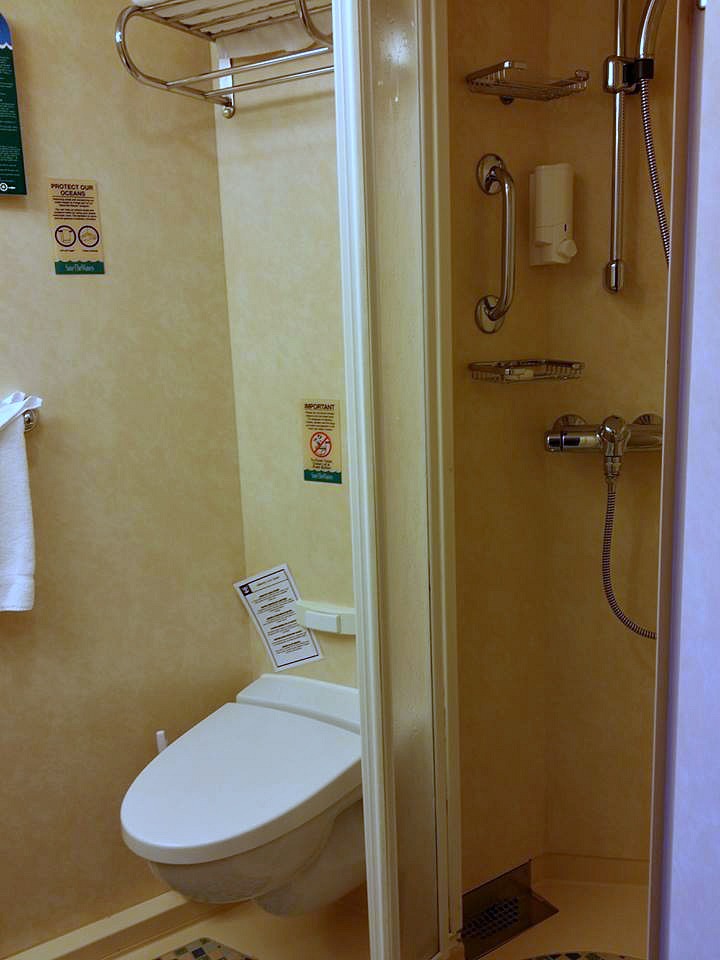 The toilet sets right next to the shower, which I found to be just a little tight. I am a bigger girl, so I run into this issue quite often though. The public restrooms around the ship seem to have a lot more room so if you need to take care of business and the room is a little tight, that's where I'd go.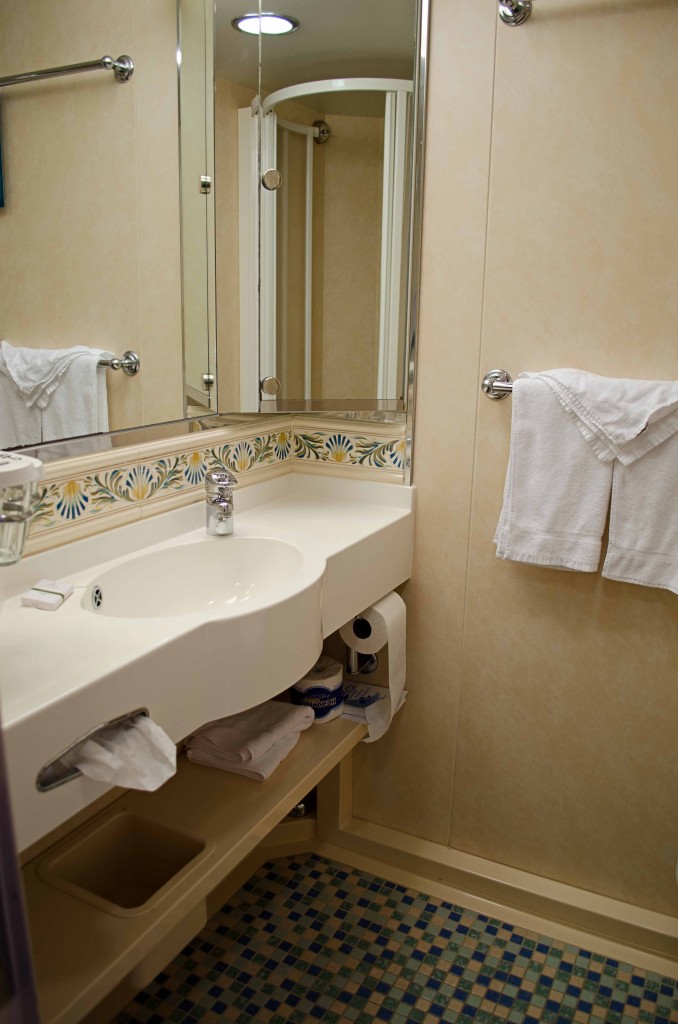 I was pleasantly surprised at the amount of counter space the bathroom offered. Unfortunately without an electrical outlet in the bathroom (there is one up high but it was labeled shavers only) I really didn't need the counter space to get ready in the morning. The mirror offered a hidden medicine cabinet that we used to store our toothpaste, toothbrushes and smaller hygiene items.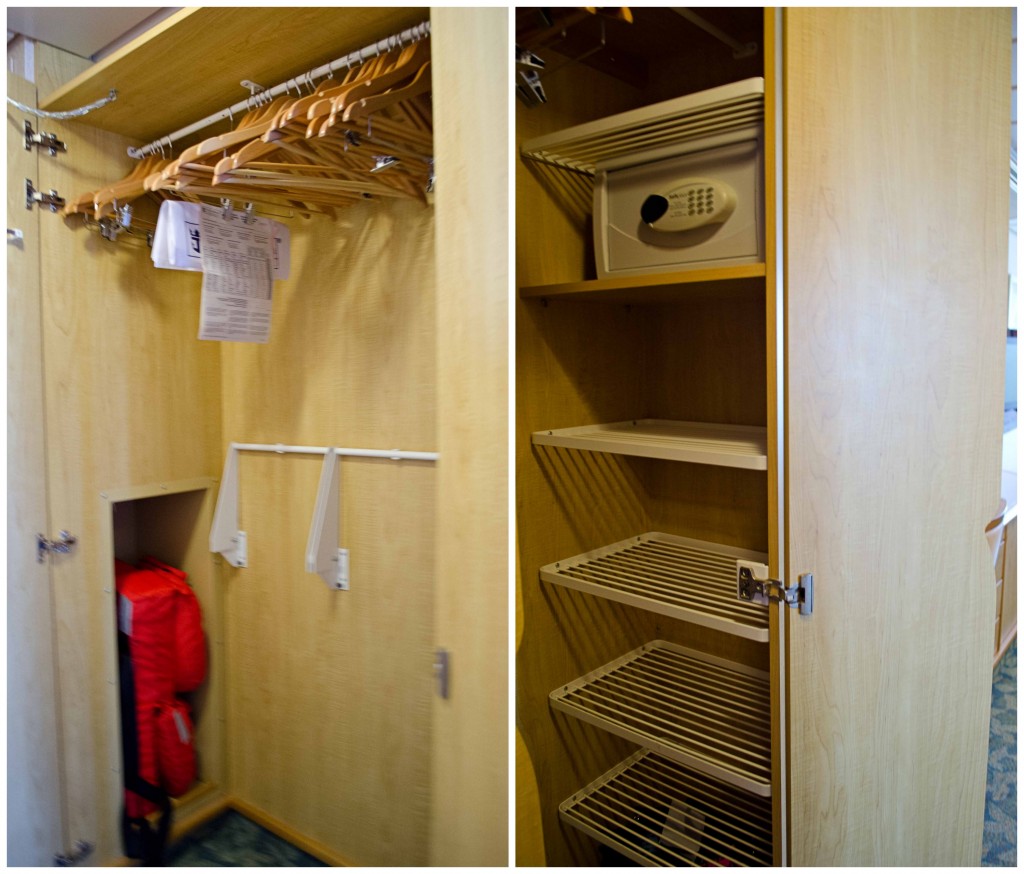 I was impressed by the considerable amount of closet space. The life vests are tucked into a cubby, so you have to try not to block them in, but with two girls traveling on the heavy side with multiple changes of clothes (I went home with 2 dresses and 3 outfits I hadn't even worn) there was more than enough room to empty our luggage.
Besides the shelves going up the side, there is also an individual safe for you to tuck your valuables into like your jewelry, passport, cash… things of that nature. It is not large enough for a laptop but possibly a camera or a tablet.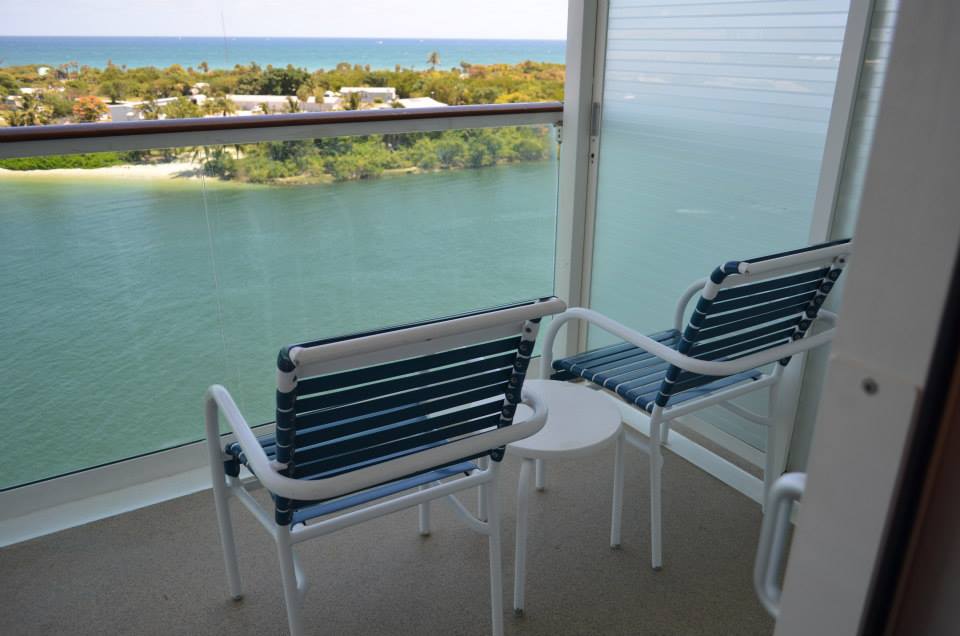 The floor-to-ceiling sliding glass doors lead to a private balcony that is approximately 65 sq. feet. If you are traveling as a group you can request to have the dividers opened so that you can all enjoy the scenery together. Believe me, you will want to spend some time out here.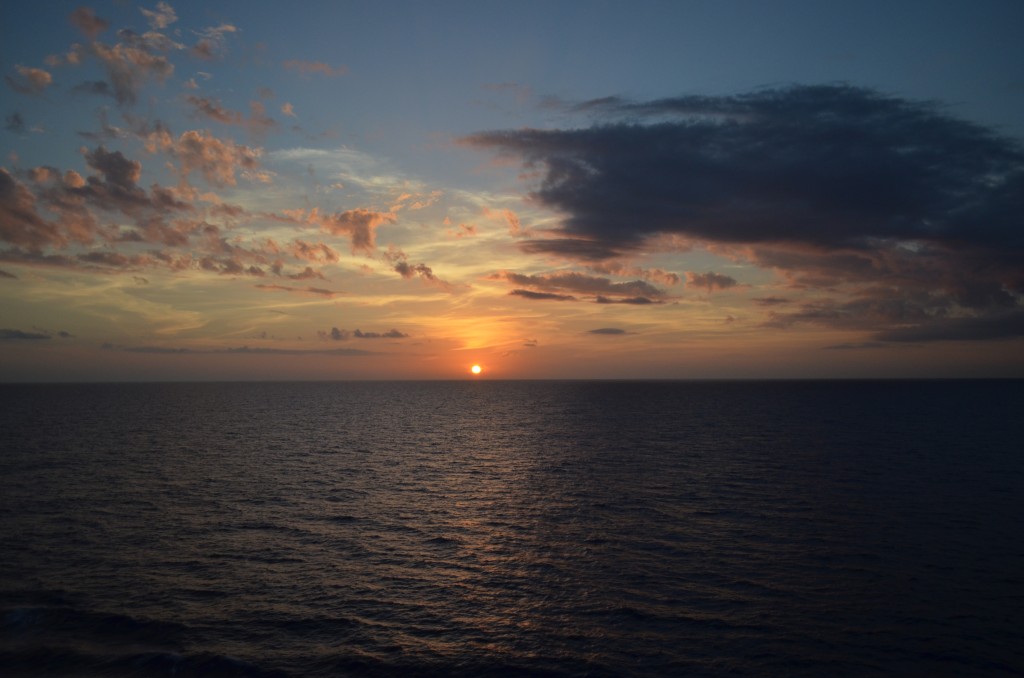 I have taken a six night cruise in an inside stateroom, and I will probably never do it again. The ocean view balcony offers a place to decompress, meditate, and just take in the beauty of the sea. The natural lighting helps wake you gently in the morning, sipping a relaxing cup of coffee brought by room service is a great way to wake up and the sunlit room just seems cheerier. Evenings offer you a peaceful personal sunset like the one I caught above. They are seriously that beautiful… no filter and no editing at all.
Want a better perspective of the room? Check out my walkthrough video below!
Planning your cruise?
Be sure to check out my Beverage Packages and the Food Options post
What would 

you

look forward to in an ocean view room with a balcony?