LG Electronics TrueSteam Dishwasher Review
Up until very recently I was under the assumption that a dishwasher was a dishwasher. I knew that some looked a bit fancier than the others and some had a few more "bells and whistles", but they all washed the dishes… the. end.
Then… LG Electronics asked me to try their integrated TrueSteam dishwasher. Not only does it have a TrueSteam generator, but it has a feature I have never seen anywhere… a flexible EasyRack Plus system. I was intrigued enough to say yes.
With a family of six, we go through a good amount of dishes. Sometimes loading the dishwasher feels like a game of Tetris, turning the dishes in every way possible to get the best fit and use of the space. At the end of our stacking game there are always a few odd ball items that just don't make the cut and end up in the hand wash pile. This beautiful dishwasher offered me a way to fix this problem.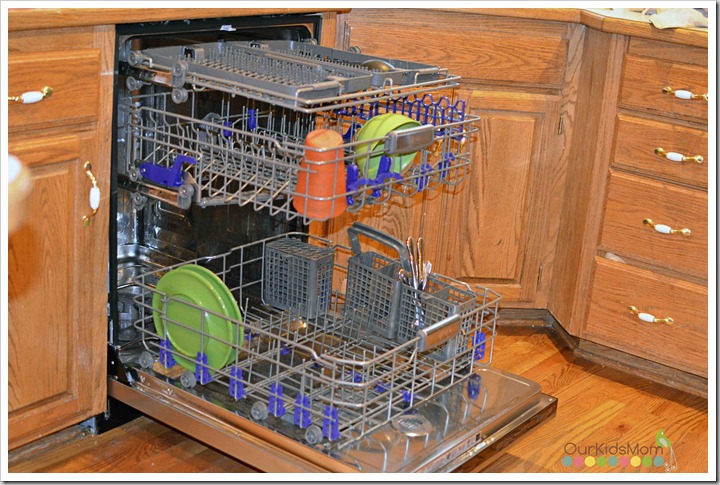 I mentioned above that LG's TrueSteam Dishwasher features an Easy-Rack™ Plus system with a height adjustable third rack. The tines (the metal dividers that help divide the dish rack) have always been my biggest frustration when loading a dishwasher. Some evenings I would love to load my pots and pans in with the dishes, but they usually end up in the hand wash pile because we just can't make everything fit into the same load.
The LG TrueSteam Dishwasher makes loading all your dishes easy (watch a video about it here). The tines are adjustable (meaning you can lay them flat or keep them upright)! Not only can you adjust the tines, but the third rack is adjustable up and down making more room where needed for larger items like pots and platters. The very top row is great for smaller cups, serving utensils, sippy cup lids, or nicer silver that you would rather not knock into each other… all the small things that would not have a "place to be" in a typical dishwasher.   At last, you can fit it all in!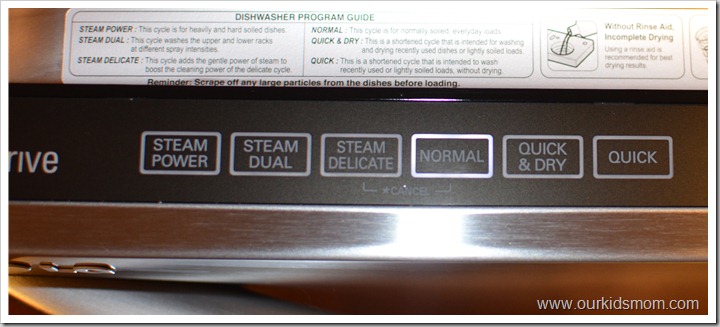 The LG TrueSteam Dishwasher offers a unique cleaning cycle that virtually eliminates the need to pre-wash your dishes using steam. Even if your dishwasher doesn't run every day and your dishes sit and dry out, the steam power rids your dishes and silverware of caked-on stains, crusted on food gunk and more – without adding more noise to the cycle. Watch a video about the TrueSteam cycle here.

Speaking of noise, you can barely hear this dishwasher running! My husband almost opened it yesterday while it was running because he didn't hear it on! The  Direct Drive™ Motor reduces noise and also improves overall energy efficiency. Its dual-steam spray options allow users to customize the water pressure for each rack, and the dishwashers are 20 percent more efficient than the rigorous ENERGY STAR® standards.
Notable Features
(view all features here):
CAPACITY
12" Upper Rack Dish Height Limit

14" Lower Rack Dish Height Limit
RACKS AND BASKETS
EasyRack™ Plus System: Foldable Tines

EasyRack™ Plus System: Height Adjustable Upper Rack

3-in-1 Detachable Baskets
STYLE AND DESIGN
Electronic Controls: Hidden SmoothTouch™ Controls with LED Display

SignaLight™ Cycle Indicator Lights 4: Wash, Rinse, Dry, Clean

Tub Material Stainless Steel
FEATURES
LoDecibel™ Quiet Operation

Slim Direct Drive Motor : 10 year limited warranty

120°F Inlet Water Capability

3-Stage Filtration System

Delay Start Up To 19 Hours
PERFORMANCE
Wash Cycles: Steam Power, Normal, Quick & Dry, Quick Wash, Rinse Only, SteamDelicate™, Steam Dual

Dual Spray Intensity Feature

Variable Spray Intensities: Strong/Medium/Soft

Hybrid Condensing Drying System
So after all of that…. what are my overall thoughts? I will admit it took us about a week to get the tines set for a standard load for our family. Once we figuring out the best loading style for us, loading the dishwasher is a breeze and very space efficient. We used to run our old dishwasher on a daily basis. With the LG TrueSteam dishwasher, we are able to load more dishes and now run a load about every day and a half now. Not only are we saving water and energy this way, but because it's Energy Star qualified it already saves nearly 5,000 gallons of water a year versus hand washing!
Having such a wide variety of wash cycles including steam helps ensure I have a clean load… every wash. Between the sleek looks, the quiet cycles, the hidden control panel, the child lock and the ability to run a sanitary cycle I am beyond sold on the LG TrueSteam dishwasher.
This video gives a great inside view to the LG TrueSteam dishwasher….
BUY IT:
Check here for a location near you.
Disclosure of Material Connection: LG provided their TrueSteam dishwasher for review purposes only. They will also be providing a trip to NYC, all expenses paid by LG Electronics, to compete in a Loading Challenge and Wine & Food Tweet Up. All opinions remain 100% my own.  I only recommend products or services I use personally and believe will be good for my readers. I am disclosing this in accordance with the Federal Trade Commission's 16 CFR, Part 255: "Guides Concerning the Use of Endorsements and Testimonials in Advertising." Your experience with the product may differ from mine. The sponsor is responsible for prize fulfillment and will be shipping the winner(s) their prize(s). For more information read my disclosure policy.