Leapfrog Mr. Pencil and Creativity Camera | App Learning Toys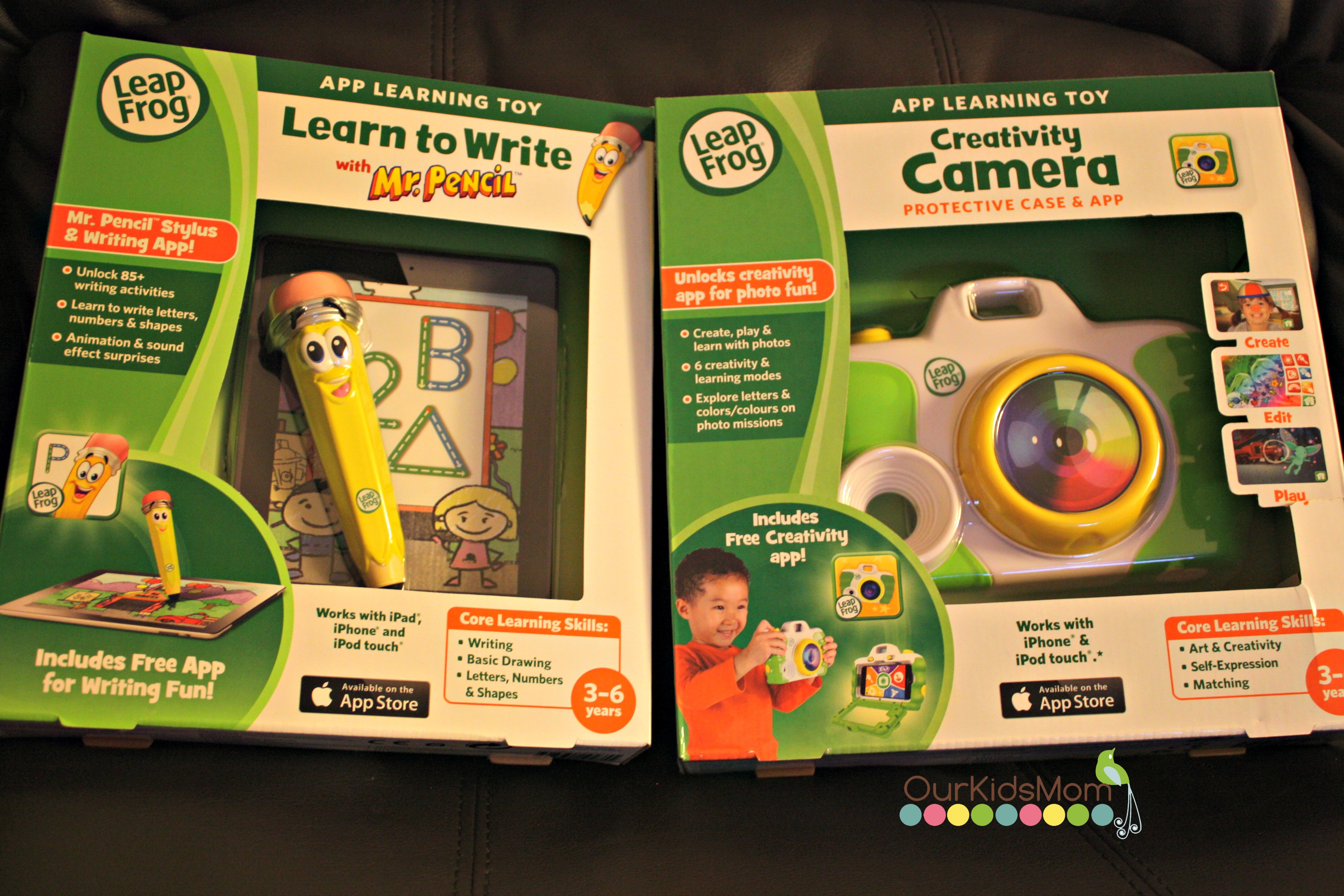 I have a 5 year old son who has started kindergarten this year and has really taken a liking to writing his letters and learning their sounds.


LeapFrog has developed a new app / game called Learn To Write with Mr. Pencil. Before I received Mr. Pencil I went online and downloaded the free app and let the kids play around. They had so much fun playing on the app using just their fingers to trace the letters, numbers and shapes I was excited to see how they liked it with Mr. Pencil. Without the pencil it is just a trial version and you are unable to unlock more of the town. When you purchase Mr. Pencil you are able to unlock the full version. My kids were so excited to get the whole version and be able to continue on more with the app.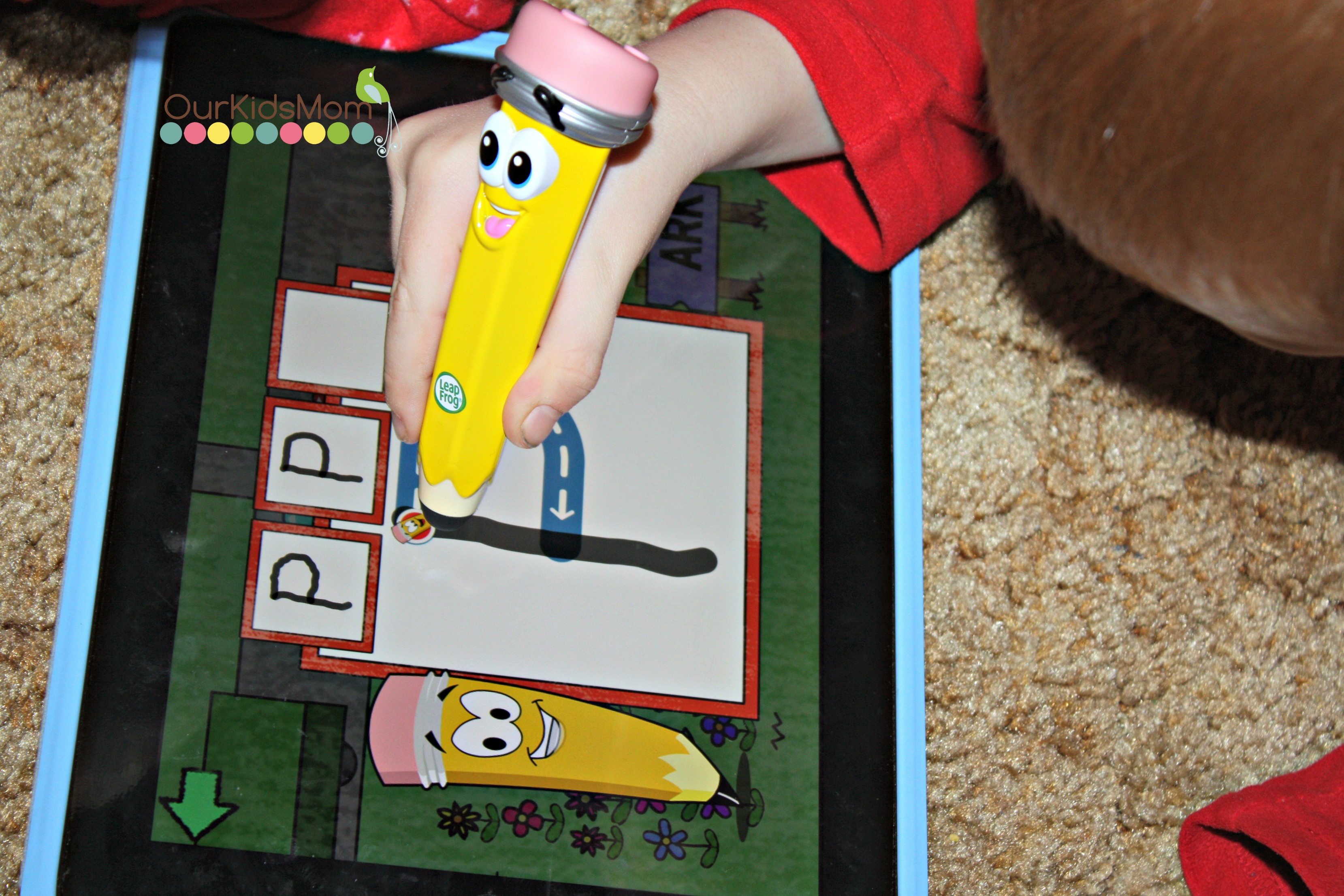 My 5 year old knows his whole alphabet but is still learning how to recognize his letters. When you click on your item to learn how to draw your letters, numbers or shape, Mr.Pencil comes on and talks to you about what you are going to be drawing. I like how Mr. Pencil will tell the kids if it is a upper case or lower case letter, along with what the letter is called.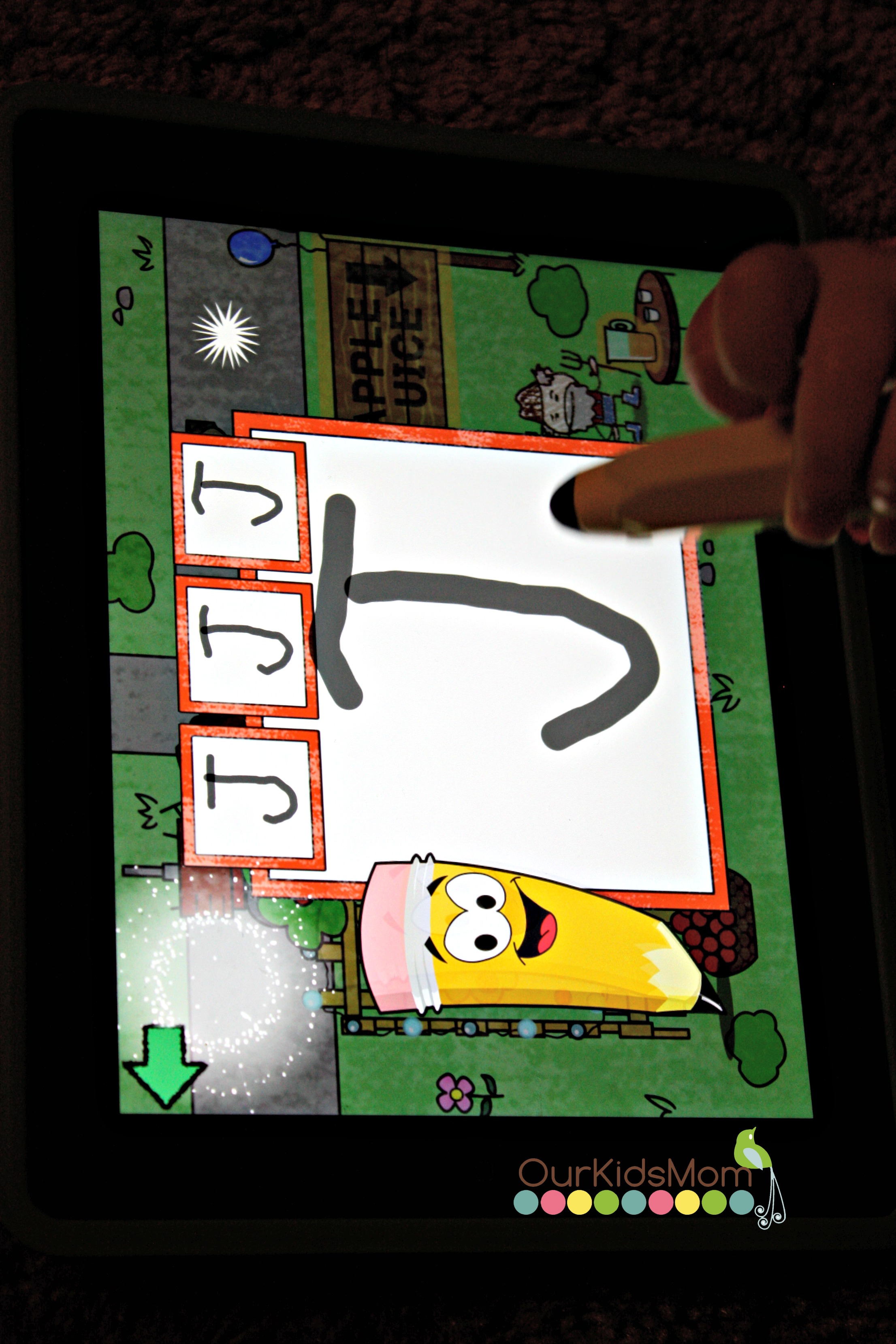 The kids are to trace the letter 3 times. First they are shown how to trace the letter with a guide line that traces it and then it asks the kids to trace it. If they leave the line then it asks them to try again. Mr. Pencil is very encouraging when you get it wrong. My kids love the fireworks that they complete all 3 tracings.

There is over 85 writing activities to unlock and so many different animations and sound effect surprises to discover. The age is recommended for 3-6 years and I would have to agree that  it is a very accurate range. My 3 year old finds it challenging enough that she has to really practice at it. My 5 year old can trace everything pretty easily, but yet is learning to recognize his letters.
I wish Mr. Pencil would include more of the sounds that the letters make. I also wish the Mr. Pencil Stylus was a bit narrower so that my kids could hold it like a normal pencil. Since it is bigger and bulkier they tend to hold Mr. Pencil a little higher up which doesn't give them as good of control with it.

This is a great learning toy for your kids who are just beginning their letters and learning to write. The Mr. Pencil stylus is designed with a very soft tip to keep your ipod, ipad, or iphone screen safe from any scratches when being used. I do recommend that you use it on the iPad for the bigger screen for the kids. 
 You can purchase your Learn to Write with Mr. Pencil on www.amazon.com for an affordable $11.29

Leapfrog has also come out with a Creativity Camera Protective Case & App, which turns your iPhone or iPod into a kid-friendly camera and creativity center. The camera is a nice big and easy to handle camera for their little hands.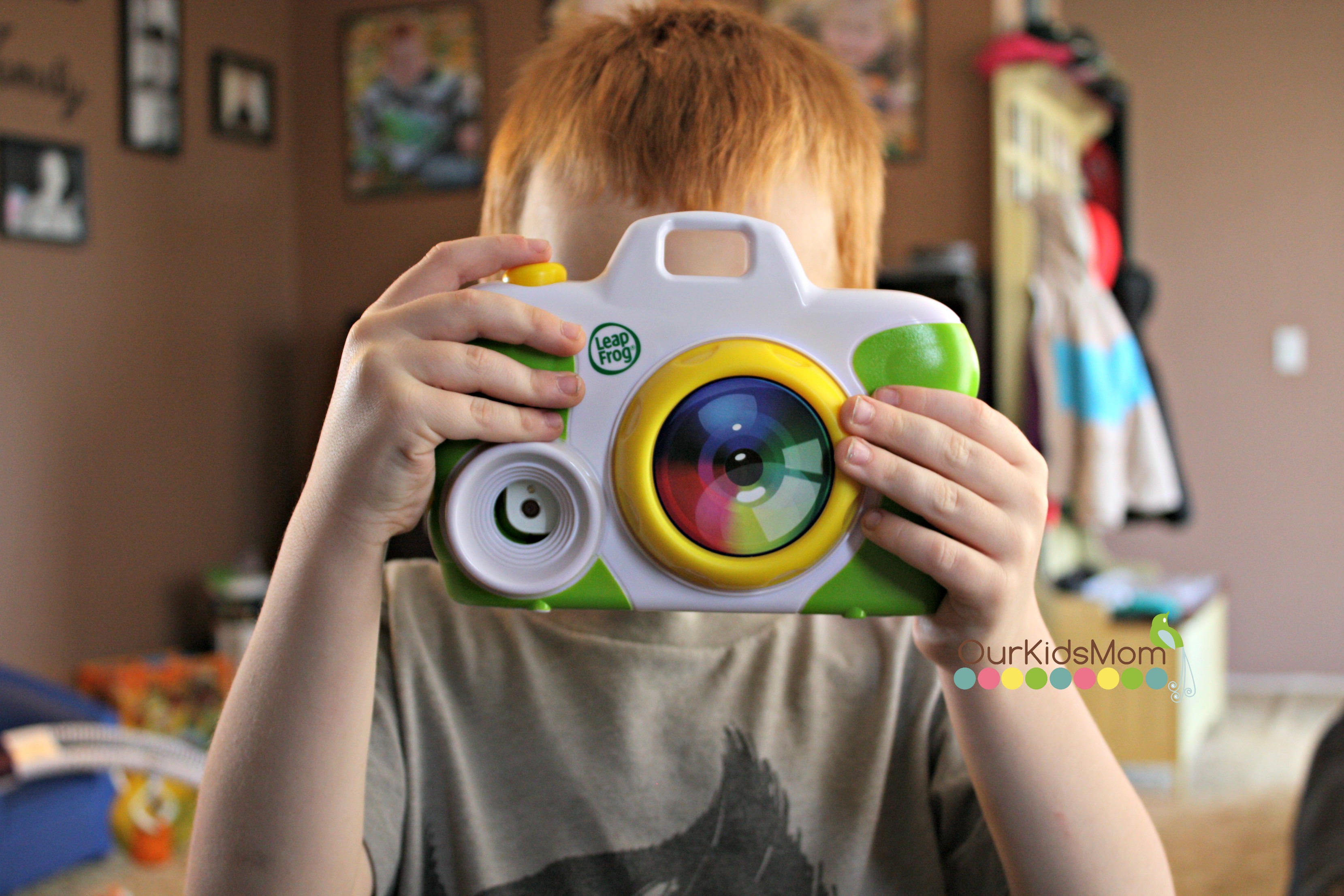 My daughter loves to take pictures with my phone all the time, so I knew this would be right up her alley. Simply download the app, scan the QR code that is included in the camera case that will unlock the full version of the app for you. You can play around with the app without the camera but you wont have the full version.
The Camera case gives your budding photographer the feel of being able to use a real camera while being able to see the picture on the "back screen" (your iPhone or iPod) that  gives that "Digital Camera" feel for them.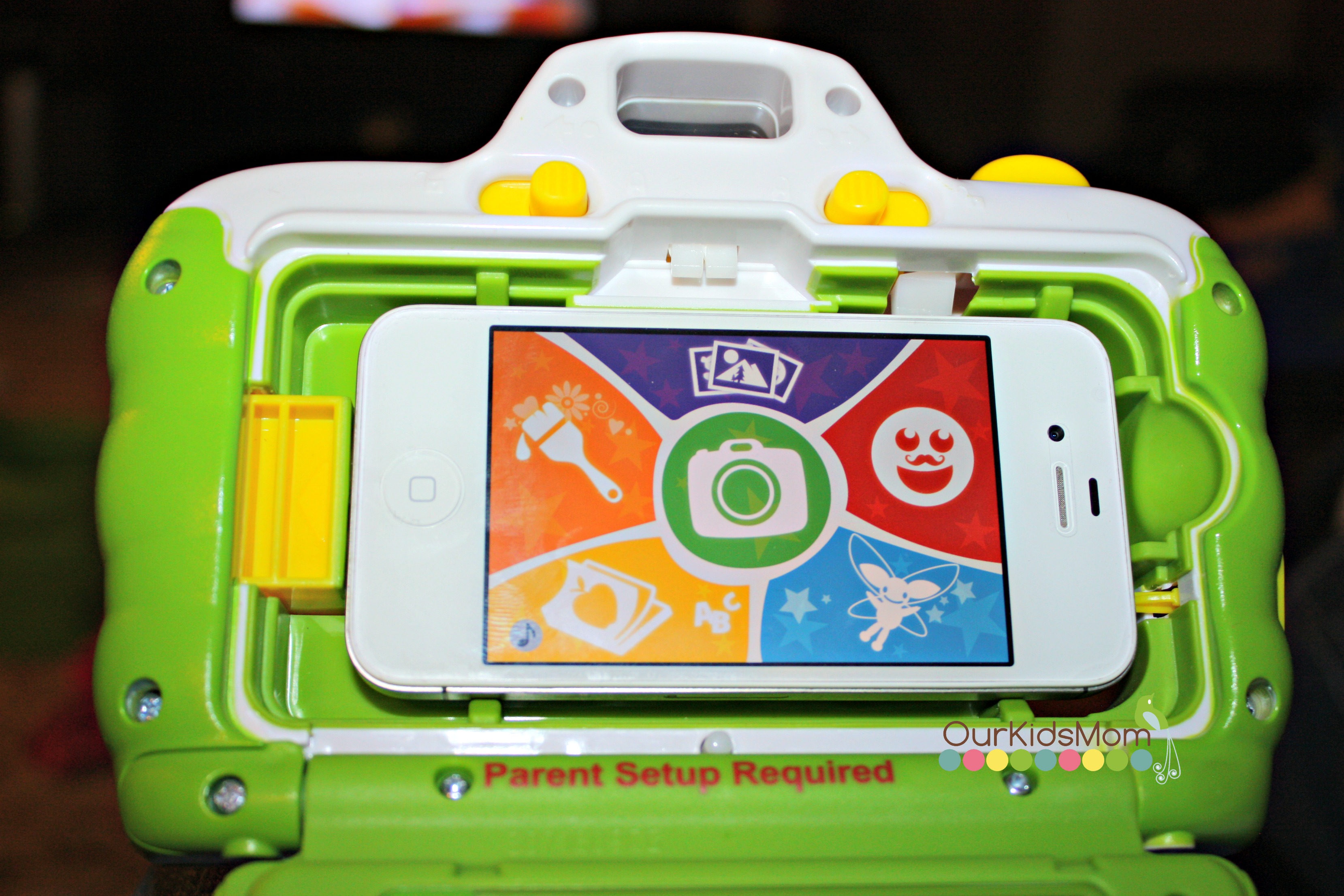 You simply place your iphone or ipod inside the camera case and it locks into place. There is a protective screen that covers your iPhone or iPod screen to keep it protected during use.
I do like that the kids can not take your iPhone out of the camera case by themselves. It is locked in there well and you need to press down and slide out on 2 sliders to get your device out. Also when your iPhone or iPod is in the camera case the home button is covered so there is no getting out of the Creativity Camera app and into anything else without you knowing.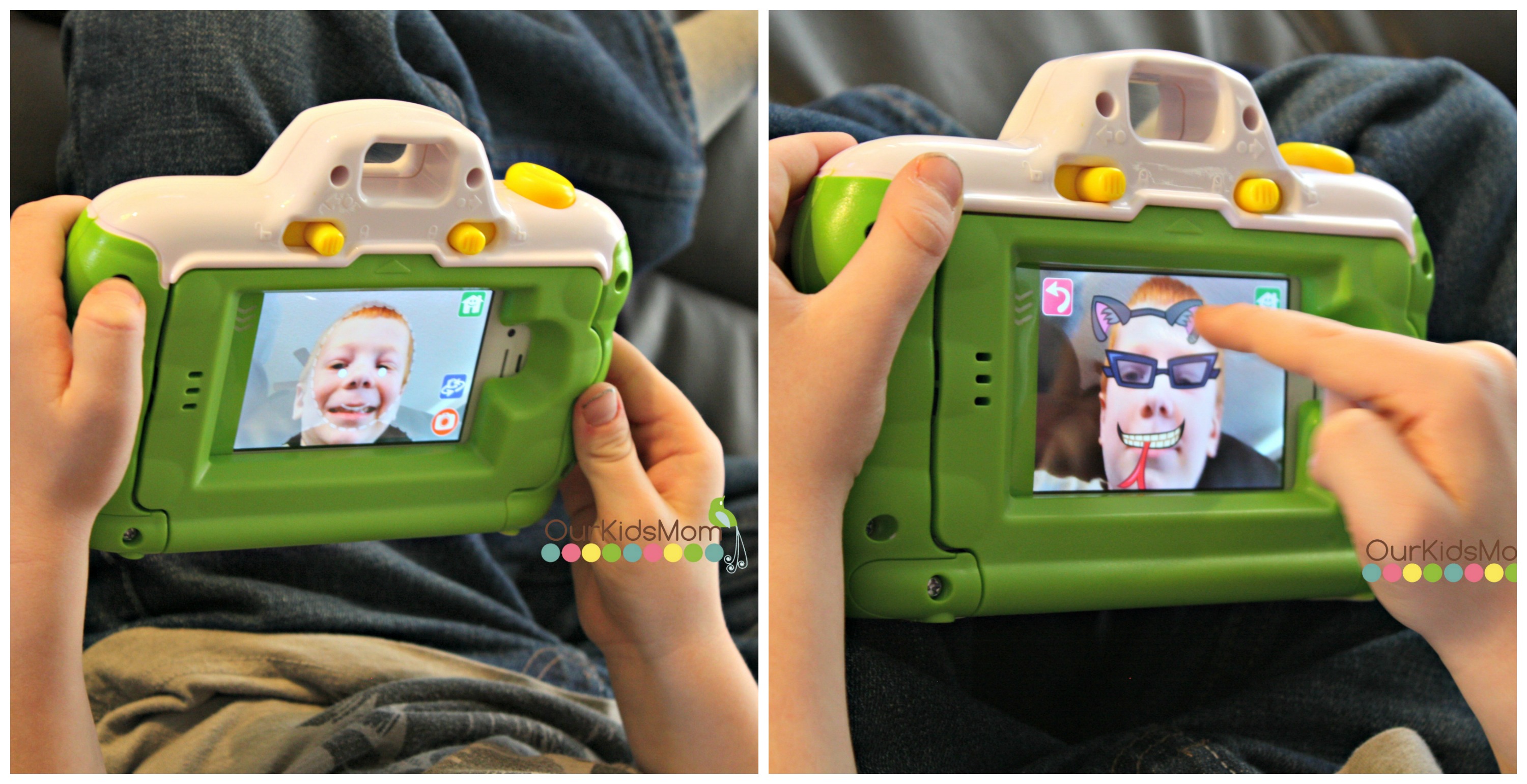 The Creativity Camera app is a lot of fun. Once you take a picture the creativity is endless with the app. There are stamps, boarders, funny faces, tint, morph and much more to add to your pictures.  You can edit and save your pictures.

My son LOVES that you can go on a photo mission, where you have a photo album that gives you a shape, color, or emotion and asks you to take a picture of something that matches whatever was given. Is this picture he was asked in the "Emotions" album to take a silly face picture.

Worried about them filling up your phone? In the options there is a option to turn on a "Cap photo storage at 30mb". I like this feature so that your memory card isn't filled with all their pictures. The other feature I appreciate is that the pictures they take stay in the app and do not go into your phone picture album. I have found that I prefer to put the kids iPod in the camera rather then my phone, because once my phone goes into the camera I wont get it back for a LONG time.
This is a great affordable gift for that budding photographer you can purchase it on www.amazon.com for a great $14.99
Connect with Leap Frog:
      Disclosure of Material Connection: I received one or more of the products or services mentioned above for free in the hope that I would mention it on my blog. I only recommend products or services I use personally and believe will be good for my readers. I am disclosing this in accordance with the Federal Trade Commission's 16 CFR, Part 255: "Guides Concerning the Use of Endorsements and Testimonials in Advertising." The opinions expressed in this post are entirely my own. Your experience with the product may differ from mine. The sponsor is responsible for prize fulfillment and will be shipping the winner(s) their prize(s). For more information read my disclosure policy.