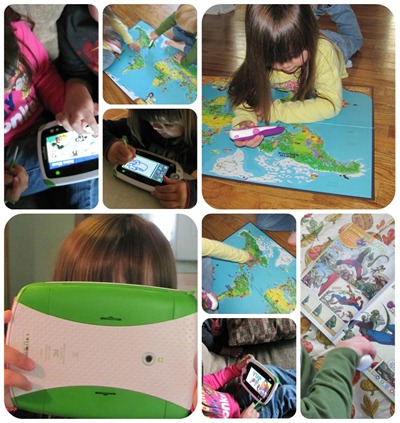 As a former elementary school teacher and a Parents as Teachers home educator, I knew that children learn through play. When researching toys for the kids I try to remember that the "coolness factor" isn't the only variable that I should be looking at. With two children close in age, I try to focus on flexibility/individualization, educational value, durability and then the "coolness factor".
With four children ranging in age from 19 down to 3, we have enjoyed Leap Frog products for years. From experience, I trust Leap Frog products to be flexible and customizable, educational, durable and "cool". From the learning toys, activity tables and Little Leaps as babies and toddlers to the Tag reading system and now our new favorite, the LeapPad for my preschoolers. Leap Frog products have measured up to my expectations and made the rounds through 3-4 children before being passed on to family members.
During one of our playdates we had an impromptu Leap Frog party. The kids were able to try a variety of learning toys including the following:
  Tag reading system (available for $39.99)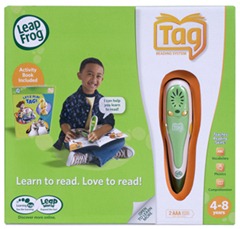 Tag brings stories to life with each touch to the pages of specially printed storybooks. Words talk, pictures come to life and stories live out loud, engaging children's senses to make reading a rich, fulfilling experience.

Now re-sized to better fit little hands, the Tag Reader holds audio for up to 10 titles at a time from our library of 40+ books and games! Simply connect the Tag Reader to your computer with the included USB cable, download the audio for your Tag books and drag-and-drop up to 10 of your child's favorite stories and games onto your Tag Reader.

And parents can see details of their child's play and learning with the LeapFrog® Learning Path.
The Tag reader has become one of our favorite toys.  When giving this as a gift, keep in mind that it needs initial "programming" before the kids can enjoy playing with it. In just a few minutes you can go ahead and set up your child's account and download the audio for the books you have purchased (downloading the audio is always free). It was fairly easy to get the reader pen back into the box still in giftable condition (and the kids won't be antsy waiting for you to program their new toy).
Both my kids (ages 3 and 5) can enjoy this toy at their own level. Emma has progressed enough that she doesn't need every word read to her. She can give it her best guess and then Tag will give her the correct word when touched on the page. I love that when you connect the reader to your computer the Learning Path gives you a play and learning report with things like what skills they have been working on.
The skills involved with the Tag Reader include:
Listening and Reading Comprehension As children develop comprehension of books read aloud or independently, they explore the uses and functions of written language. They begin to construct meaning, eventually applying critical skills to make inferences and draw conclusions. Vocabulary The larger their vocabulary, the easier it is for children to comprehend what they read and hear and communicate with others. Phonics skills To read independently, children must understand the relationship between the sounds in spoken words and the letters that represent those sounds. Word recognition With repeated exposure to commonly used words, word recognition grows and becomes more automatic. Book and Print Basics A child's early experiences with books greatly influence his ability to learn to read. Reading together helps a child learn how to turn pages one at a time and that text moves from left to right. Advanced readers learn how to use books for research. Phonological Awareness Along with learning language and letters, phonological awareness – the ability to pick out and play with sounds in words (such as syllables and rhymes)- is essential for learning to read. Consonants There are more consonants sounds than there are consonants in the alphabet. A consonant digraph is a pair of consonants that stand for a single sound (ch, sh, th, wh). Vowels Spelling begins with regular short vowel sounds (cap) and long vowel sounds (with silent e, cap becomes cape). Finally, children learn the rules and patterns of vowel pairs (ee), digraphs (ai in train), dipthongs (oi in boil) and r-controlled vowels (farm, bird)
Tag Learn to Read Starter Bundle (available for $34.99)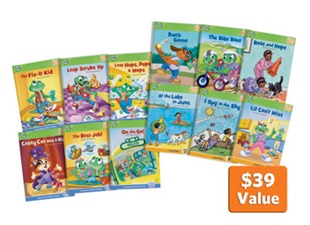 The Tag Reader comes with a sample book, but you will want a library for your kids to enjoy, right? This is a great set to begin with. With stories like The Fix-It Kid, I Spy in the Sky, Lil Can't Miss, and Leap Hops, Pops and Mops (just to name a few of the 12 books in this set) the kids will have hours of enjoyment while unknowingly learning in the process.
Short Vowels and Learn to Read Book Set 2: Long Vowels, Silent E and Y.

The Tag Learn to Read Series combines fun stories with rich audio to help children identify letter sounds and hear how they come together to form words:

Learn to Read Phonics Book Set 1: Short Vowels –  This six-book set explores short vowels. Teaches short vowels, phonics skills, sight words and rhyming.

Learn to Read Phonics Book Set 2: Long Vowels, Silent E and Y –  This six-book set explores long vowels.  Teaches long vowels, phonics skills, sight words and rhyming.

Parents can follow their child's play and learning progress on the LeapFrog® Learning Path. (Books are designed for use with the LeapFrog Tag Reading system.  Tag not included.)
Tag World Map (available for $19.99)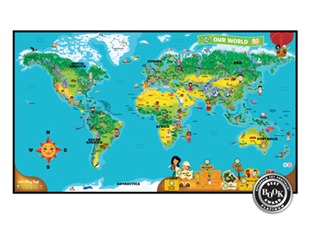 2011 Winner of the Oppenheim Toy Portfolio Platinum Book Award!
This was Emma and Ethan's first exposure to any sort of map. They both took to it quickly and Emma enjoyed comparing how far the children on the map (that you touch on and they tell you about where they live) are from where we live in the center of the United States.
All of the children noticed the "map children" saying Hi in a different language. Emma picked up on "hola" and has been greeting people that way for days.
Soar into an around-the-world adventure as you learn fun facts and play games with the two-sided Tag™ World map.
• Teaches map skills, world geography and world languages.
• Meet kid characters from around the world and learn how to say "hello" in their languages.
• More than ten interactive games bring fun characters and map facts to life.
• Parents can follow their child's play and learning progress on the LeapFrog® Learning Path.
• Play in LeapWorld™, a safe, online learning world with more games and rewards to expand the fun.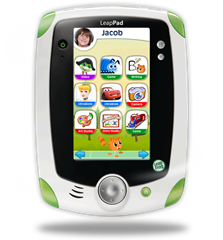 LeapPad (RV $99.99)
Let me just say this first… the LeapPad stole the show. Many of the children playing have used mom/dad's iPod Touch, iPad, or some sort of touch screen phone/device. With that knowledge underneath them, they had absolutely no problems getting the LeapPad to do what they wanted.
Once Emma had the LeapPad to herself she spent nearly two hours fiddling around with the games. She loves to use online drawing games so the art studio was a hit for her. I had downloaded the Disney Princess e-book which occupied another huge chunk of her time.
Emma didn't stop there, though. She is an explorer. Because of having to share the LeapPad at the "party", she didn't have time to dig deep into it's abilities. She quickly found that the LeapPad also takes photos and videos.
There went the rest of the afternoon
 !
Once the newness of the photo/video option wore off, she began to explore some more. One of her favorite apps allows her to make a story about "me". At the age of 5, she is story/autobiography writing and I am thrilled!
Like the Tag Reader, the LeapPad requires a little setup online before the child can use it properly. If giving this as a gift, simply connect it… set up the child's account… while you're there add a few extra apps on for good measure and it's ready to go. 
Introducing LeapPad™ Explorer, the personalized learning tablet just for kids with:
• A library of 100+ cartridge games, apps, digital books, videos and flash cards
(sold separately, also works with all Leapster Explorer™ games and apps).
• Includes a built-in camera & video recorder, 5″ touch screen for use with finger or included stylus.  Also includes 4 apps (Pet Pad, Story Studio, Art Studio and one app of your choice).
• 2GB of memory, enabling it to host a robust suite of apps including: innovative book apps that provide a fully interactive, cinematic reading experience with word-by-word support and state-of-the-art gameplay; a Story Studio to combine art, audio and writing; Art, Animation and Photo studios to inspire imaginations.
• A broad curriculum including reading, mathematics, science, geography, art, music, language and culture, health and more. Plus, skill levels automatically adjust the challenge to match each child's pace and remember progress from game to game and book to book.
• Access to see learning progress through the online LeapFrog Learning Path. Parents can also share their child's achievements, artwork and creations with loved ones.
• Limitless learning and endless play for children ages 4 to 9 years.
• Requires 4 AA batteries (not included)
Leap School Reading (available for $24.99)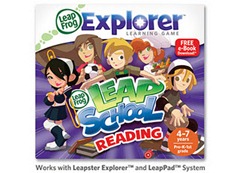 Emma is turning 5 next week, which means she wasn't able to attend kindergarten this year. Although I am glad to have my baby girl home another year with me, she is chomping at the bit to learn.
One of her biggest longings is to read. She has begun learning letter sounds and knows how to spell a few of the typical beginning words like cat, dog, mom, and dad. Leap School reading it right up her alley. It's fun, keeps her attention and she is slowly picking up skills needed to string letters together into words.
Meet the kids from the coolest school in the world in this fun reading adventure!
• Complete quests and treasure hunts while building reading skills in 26 games.
• Guide characters to the word with the correct spelling.
• Help each of your friends build a yearbook page.
• Teaches early reading skills, spelling and logic skills. Appropriate for children ages 4 to 7 years (grades pre-K to 1).
• Cartridge game works with Leapster Explorer™ and LeapPad Explorer™ (systems sold separately)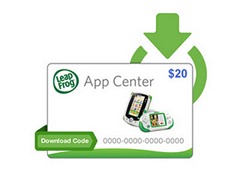 With our download card we chose the Disney Princess premium e-book for Emma.  There is a wide variety of books and games to choose from from $10 on up. I loved that I could chose to purchase a digital copy (instead of the cartridge from the store) … no more lost cartridges!
Choose from 50+ LeapFrog learning apps and download your own learning and fun! The LeapFrog® App Center offers even more ways to play and learn, with apps that reinforce–then take learning fun beyond–school skills. Use this code to download learning games, digital books, videos and more to your Leapster Explorer™ or LeapPad™ systems. Code value is $20 USD. Appropriate for children ages 4 to 9 years. Leapster Explorer and LeapPad systems sold separately.
Every child involved had a great time with the "toys" Leap Frog sent us. There was a little bit of jealously and fighting over who got to control the gadget, but once that subsided everyone had a great time. Everyone from 3 through 8 was able to manipulate and enjoy both the Tag Reader and the LeapPad.
Our sweet Emma fell in love with the LeapPad. She was told in the beginning that we had to send it back when we were done reviewing it. The day before she had to "send it back" she was weeping mess. We reminded her that her birthday was next week and she could ask for it… but she didn't want to see it go. THAT is how much my (almost) 5 year old enjoyed it!
Connect with Leap Frog:
[tweetbox width=500 height=50 label=Retweet! content ="Learning w/LeapFrog LeapPad and Tag Reader Reviews @LeapFrog @ourkidsmom %u #LeapFrogParty"]
I received all products above from LeapFrog through Mom Select for review purposes only. All opinions remain 100% my own.