This is my first time using Laken water bottles and was happy to have a chance to review them as I like having a good water bottle that will last. I was sent the 25 oz Thermo Classic bottles in Green and Orange, two 15oz kids water bottles with the Neoprene insulation sleeves, and a 50oz narrow mouth water bottle.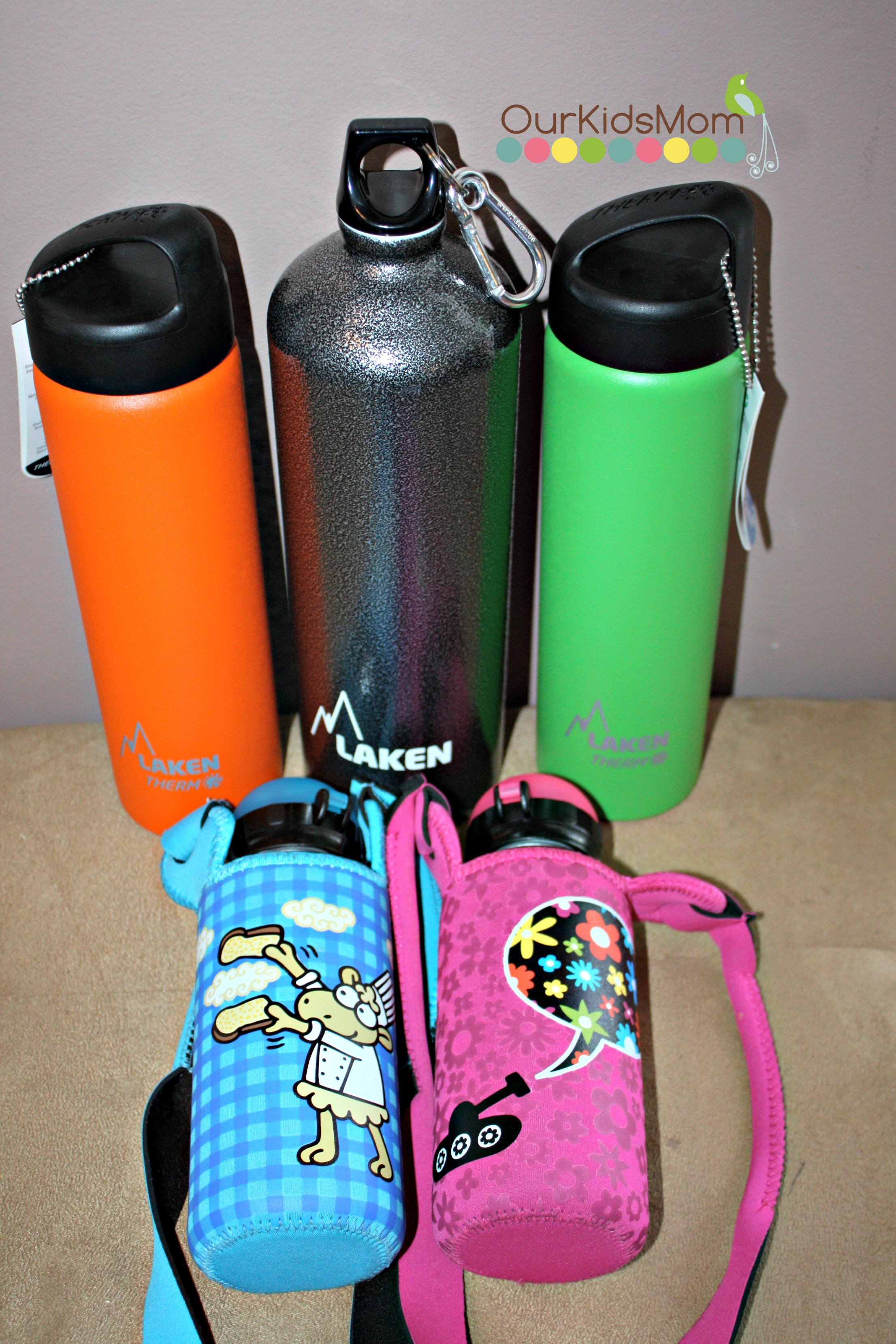 "Laken is a Spanish company operating for over a 100 years, that specializes in environmentally friendly bottles and containers for drinks and food. Laken has lots of experience and knowledge that has been applied to making the excellent, well thought out and environmentally friendly products for you. Today Laken provides a huge selection of drinking bottles, thermoses,flasks and food containers made of certified and guaranteed safe materials, including food grade stainless steel and aluminum"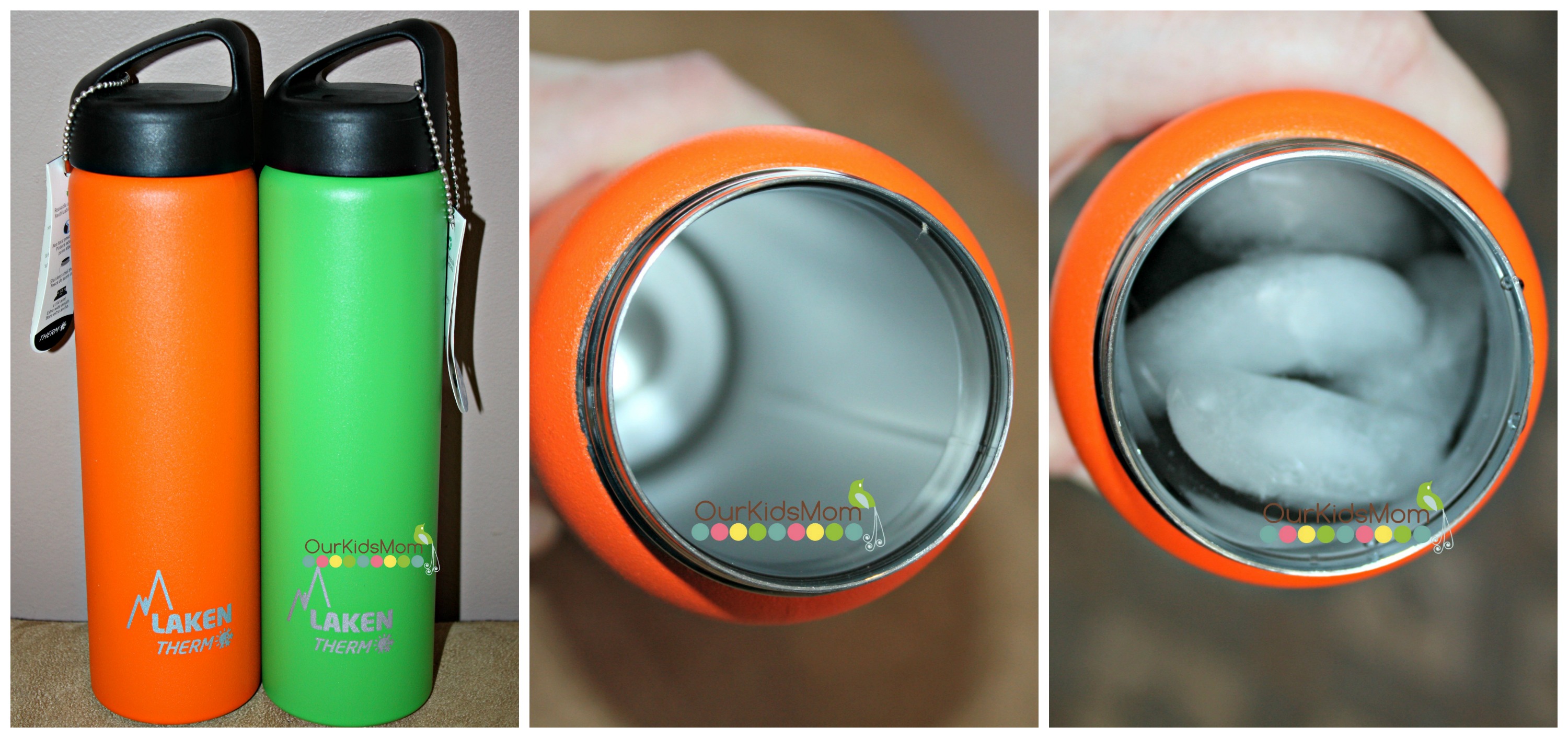 The 25oz Laken Classic Thermo Vacuum Insulated Stainless Steel Water Bottle with Wide Mouth and Loop Cap was my top pick for coffee on the go. What interested me in these insulated water bottles was that they keep your hot drinks hot for up to 10 hours and your cold drinks cold up to 20 hours (ice cubes are recommended for the best result).
These bottles do just that, my coffee stays hot for an entire road trip. Other mugs I have don't keep my coffee hot and by the end of my drive I'm drinking cold coffee…. yuck. With a high performance vacuum between doublet layer stainless steel walls keeps me happy as it keeps my coffee hot right to the last drop.


The 15oz Kids Wide Mouth Water Bottle with Hit Drinking Cap and Neoprene Insulating Sleeve was a choice picked out for my oldest son and daughter. I have a hard time getting my daughter to drink water, she prefers to drink milk or juice. When I opened up the package and showed the kids their new bottles they were both so excited they had to wear them out that night to show their grandma and grandpa their new water bottles at a restaurant. Neither one wanted their normal treat of sprite as a drink, they both wanted water for their bottles.
Days after receiving them and it's all I can do to take them off for bed time. With the Neoprene insulator with attached neck strap they can carry the bottles around their neck comfortably, as they do all day long asking to refill the bottle as soon as they run out of water.

The 50oz Futura Water Bottle Narrow Mouth Screw Cap with Loom and Carabiner was also one that I thought would help with my water intake. I get headaches if I don't drink enough water. So with this big bottle I thought I can fill it in the morning and make sure I drink the whole thing by supper. Its works great as I can keep it with me around the house, or take it with me on the go. This is a aluminum bottle that is built to last, even the exterior finish is powder coated for durability.
Laken water bottles have taken the place of many others I had up in the cupboard. I appreciate the hard work Laken has put into coming up with a big variety of water bottles and thermoses. Laken also offers flasks, canteens, and cookware as well… great for the outdoors and camping.
All of these (and more) can be purchased at www.lakenusa.com.