Sample received. All opinions are my own.
It seems that just about everyone you know has some sort of video monitoring device these days. I've actually been through a couple myself. I've found that most are fairly effective, but sometimes you just don't have what you want in frame… it's like it's just a teeny bit out of reach.
Then I found the KODAK Video Monitor CFH-V15. This beautiy lets you keep an eye on your home and valuables (even your DOG!) with instant HD color streaming video, night vision and two-way audio (to soothe or correct your pooch) through any smart phone or device.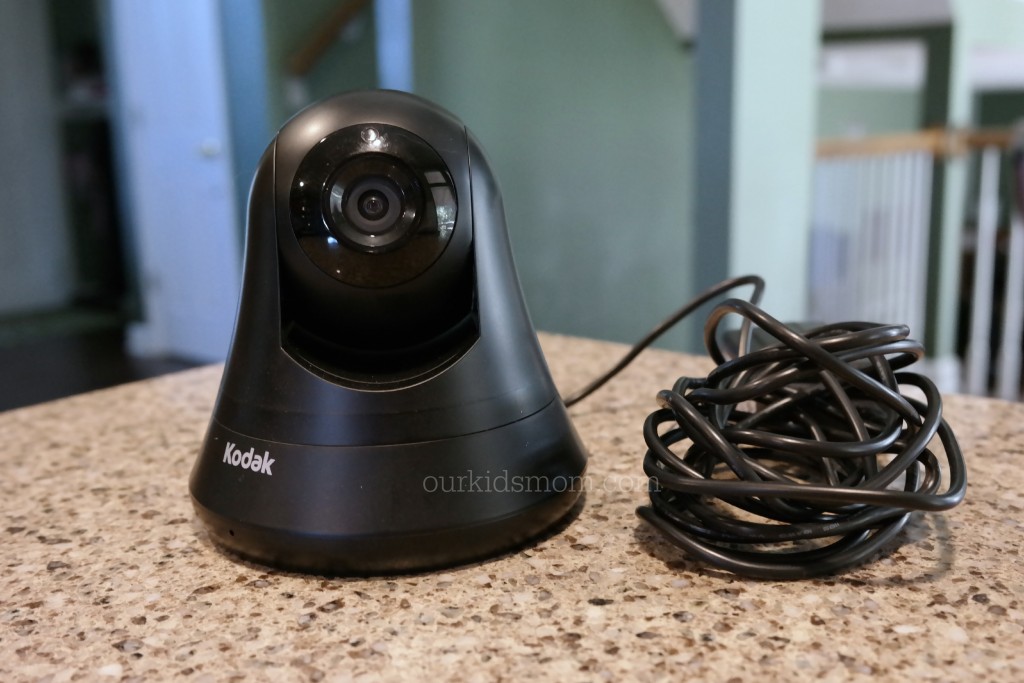 Not only can you talk to whomever is in the room, you can also pan pan 350° left and right and tilt 105° up and down to so you get a complete view of the space. All of this is all controlled via a free app for Android and iOS.
You will probably laugh at me, but the first thought that came to mind when I received this camera was not home security. It was finding out how my dog was escaping the back yard fence.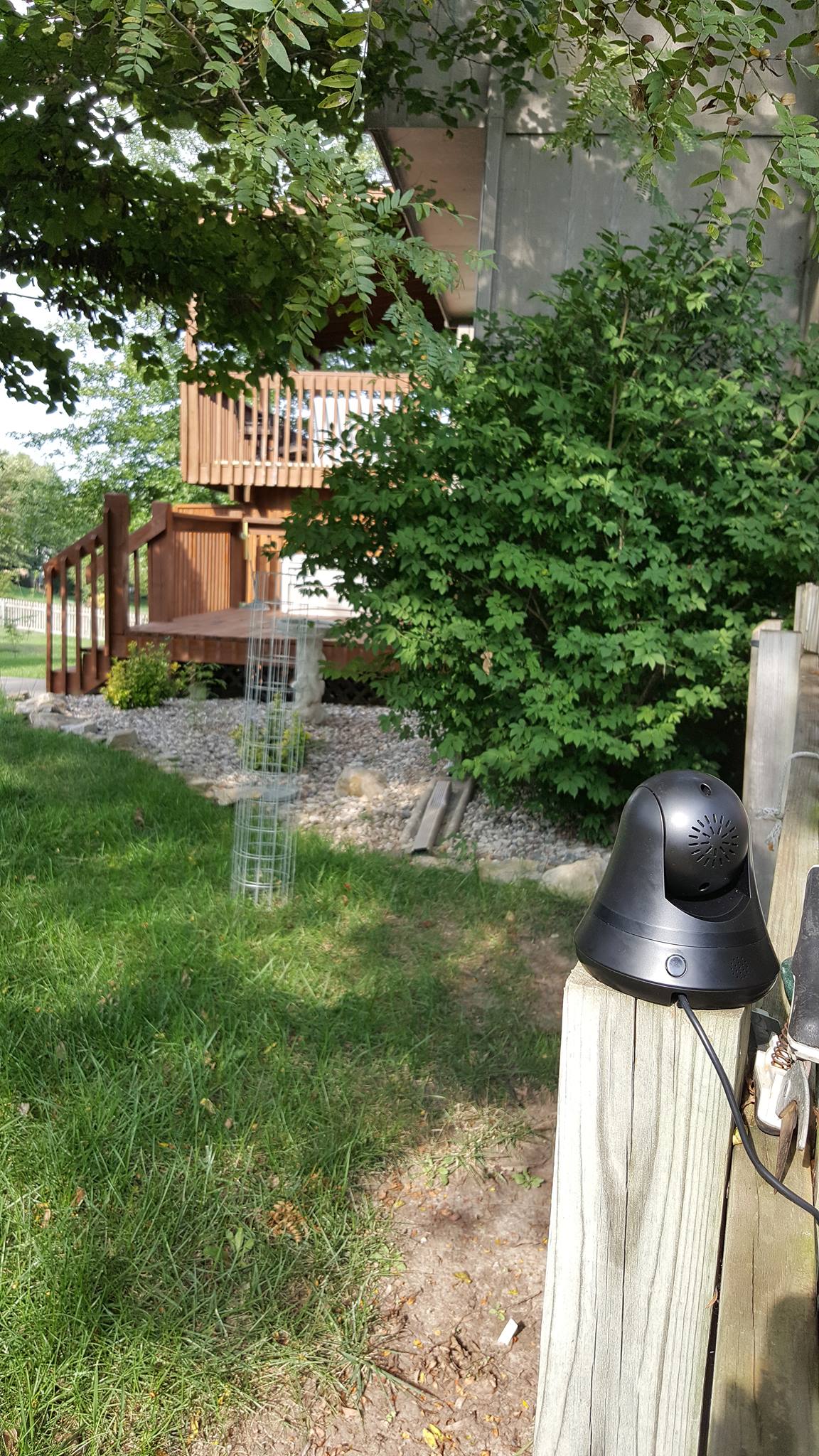 It was a beautiful day outside so we went ahead and set the camera up so we could view the yard and fence. There aren't any installation CDs and complicated user manuals for this camera… no hassles at all! All we did to get the CFH-V15 up and running is download the free iSecurity+ app to our mobile device. You don't even need a computer or laptop to install this!
Once we were set up and connected to our home wifi we took the camera outside. We actually tried putting the camera in a couple of positions to find the best angle. With the more than generous power cord we were able to position it just about anywhere we wanted to. But of course, this was the day our Zoey decided to be good and stay in the yard.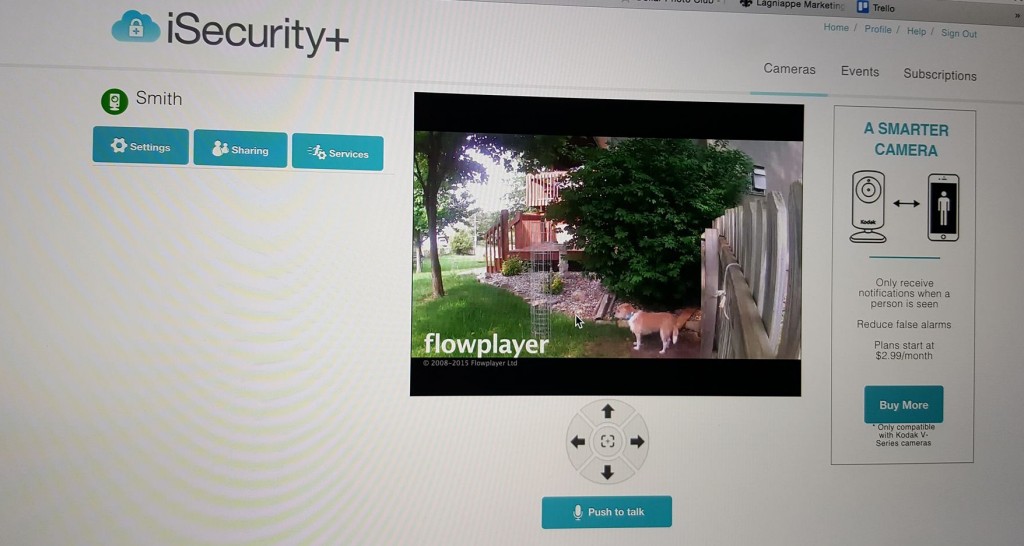 My husband viewed from his smart phone in the front yard while I watched from inside on the iSecurity+ website.  If you are unable to watch live, the camera comes with lifetime free 1 day cloud storage so constant viewing isn't mandatory for you to be able to capture something. If you are worried that 1 day is not enough, iSecurity+ also offers 14-Day or 30-Day Cloud Storage plans with Smart Detection for purchase to help reduce false alarms.
Are you an IFTTT user?
Now with the availability of the IFTTT (If This Then That) iSecurity+ Channel, users can connect their CFH-V15 WiFi camera with other devices or apps for added automation. More than two dozen iSecurity+ "IF" and "DO" Recipes let consumers configure automatic triggers or actions, such as motion, people and activity detection, or send commands to the camera remotely, such as aiming the camera in a new direction, or enabling or disabling motion detection. The iSecurity+ Channel supports the entire line of KODAK V-Series Video Monitors.
So we ran the camera for the day with little to no luck. In the end, my husband enticed our sweet Zoey by calling her from the front yard. She has been getting out for months now and it's been driving us crazy fixing what we thought were her escape routes.
Here is the video we captured of her escape…
Now that we know how she's escaping, our next "dog" use for the camera will be to help train her to not get so upset when we leave. With the two way audio and the ability to pan and tilt, we should be able to view what she is doing and correct or soothe her.
Of course, this video camera is fabulous for home security as well. The video quality is superb and with the added audio we know for sure what is really going on at the moment. Recently we have had it set it up in our front window aimed at our driveway for added security at night. With car break ins happening in the area we will hopefully capture images of the thieves if it happens to us. The portability of this camera is fantastic. You can screw it down to mount it somewhere, but if you like to bounce around and monitor different areas it's a quick move.
Whether in a different room or away from home, everyone has a moment when they're concerned about what is going on in their most important space – their home. The KODAK Video Security Monitor with Two Way Voice, Pan and Tilt helps eliminate those concerns.
You can purchase the KODAK Video Monitor CFH-V15 on Amazon
What would YOU use a video monitor like this for?