"Kinectimals Now with Bears"  
Released October 11, 2011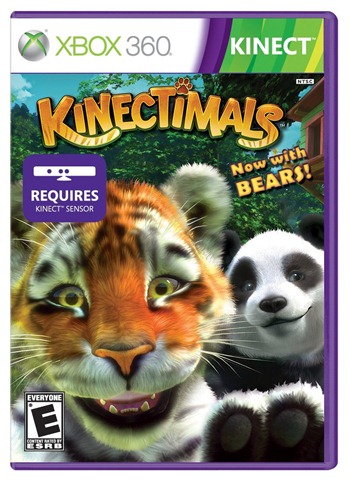 A wide-eyed Bengal tiger cub cocks its head to the side and playfully peers at you. Memories of  your first pet come rushing back and you wistfully wish you could adopt this cub, too. Through  the magic of Kinect for Xbox 360, that furry tiger cub, along with four other adorable feline species and five new bear species in "Kinectimals Now with Bears" is in your living room and about to become your best friend.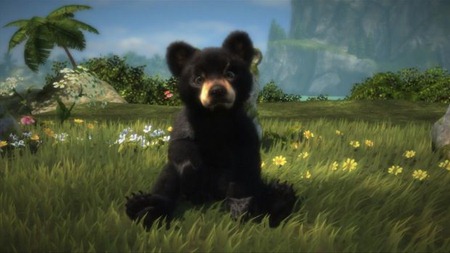 "Kinectimals Now with Bears" invites children, their parents and animal lovers of all ages to  build lasting friendships with some of the world's most exotic creatures. Just like real pets,  your "Kinectimals Now with Bears" cubs and bears will come running when they hear your  voice; respond to commands,* such as "jump," "roll over" and "play dead"; and purr with joy when you scratch them behind their ears. With your brand new pet and your loveable guides, Bumble and Lina, you will embark on two journeys across mysterious islands and build a heartwarming bond with your feline and bear cubs while exploring the islands' many secrets. Along the way, you and your pets will discover hidden treasure, ancient ruins, unexplored caves and a land frozen in ice. With your cat cub, you'll solve the mystery of the Legend of Felis Aurum on the island of Lemuria; with your bear cub, you'll play through the Fiddler's Quest on the island of Mira. On both islands, you'll be able to unlock hundreds of collectibles to personalize your gameplay experience.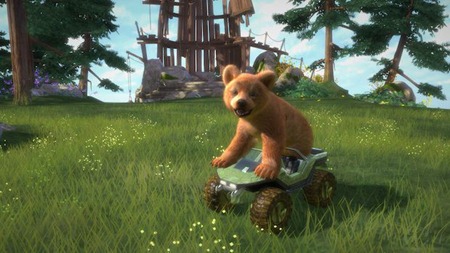 "Nice to meet you." Your journey begins when you adopt and name* one of five playful cats — Lion, Royal Bengal Tiger, Cheetah, Leopard or Panther — or one of five adventurous bears — Black Bear, Grizzly Bear, Cinnamon Bear, Panda Bear or Polar Bear. Discover the lush environments on the islands as you journey with your cub to unlock 10 more animals during the course of your journeys to solve the Legend of Felis Aurum and the Fiddler's Quest, including Glacier Bear.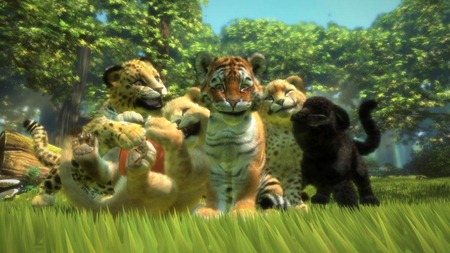 Create memories that last a lifetime. From the first time she recognizes her name to when she learns to roll over, your cub will grow up as your sidekick and friend, eager to discover the environment around you. Use your voice* and body to teach your pet new tricks and build a bond that grows.
The fun never ends. Train your pet to perform tricks, such as fetch; play activities, including jump rope and juggling; and even master agility courses with hops, stops and balancing acts. Of course, there is always time to care for your pet by feeding, bathing and grooming,
too.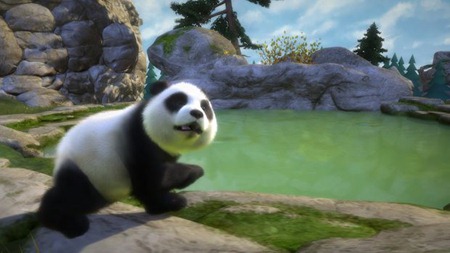 Get Competitive. Engage in challenges with your pet to earn Achievements and improve your Gamerscore, or team up and compete with friends and family members and their pets to see who can score the highest. Plus, win cool rewards for your Xbox 360 Avatar.
Collect and customize. Travel far and wide to collect hundreds of different treasures and toys. You can customize your pet and decorate your home, plus use the in-game store to shop for items to nurture and care for your new best friend.
*****
We have had the original Kinectimals game for quite some time now. The kids were excited to find that they could adopt more animals and have different experiences with them. My 11 year old niece was glued to this game for hours when they visited. Her favorite parts are playing games with them animals (catch etc) and petting them. The look on her face is so intent when she is trying to scratch between their ears and down their back… way too cute! I have to admit hearing them pur and coo when you pay attention to them makes me want to jump in and interact as well. When you are finished with the one on one, travel the island and explore. This game is never boring and kids from Ethan's age (3) and up have been entranced with it at our house. Better yet, purchase a few of the plush for even more interaction and fun!
BUY IT:
You can purchase Kinectimals Now With Bears for Xbox 360 at Amazon.com for $49.96
Connect with Xbox & Kinectimals Now With Bears:
Disclosure of Material Connection: I received one or more of the products or services mentioned above for free in the hope that I would mention/review it on my blog. I only recommend products or services I use personally and believe will be good for my readers. I am disclosing this in accordance with the Federal Trade Commission's 16 CFR, Part 255: "Guides Concerning the Use of Endorsements and Testimonials in Advertising." The opinions expressed in this post are entirely my own. Your experience with the product may differ from mine. The sponsor is responsible for prize fulfillment and will be shipping the winner(s) their prize(s). For more information read my disclosure policy.