We've been slowly making over every area of our home to help reduce clutter, organize and just update the looks of the room. Ethan's room was one of the last rooms to receive attention, but it was finally his turn.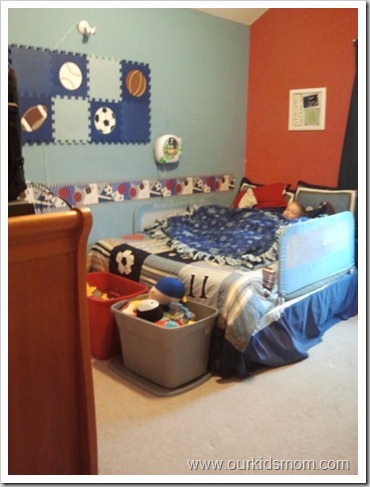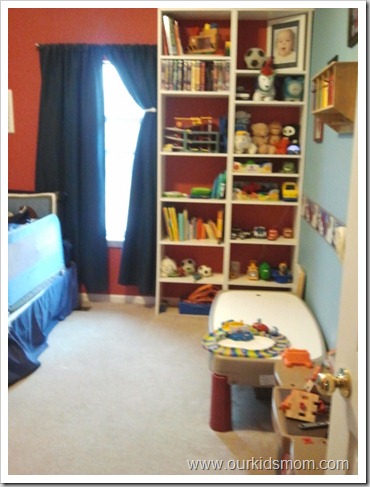 Ethan moved into this room when he was 2. Before he occupied it, it belonged to his big brother Josh. Josh was into sports for the longest time so the décor was balls… lots of balls. Although Ethan has always liked balls, he really loves trucks. His interest ranges from construction trucks to trash trucks but his main love is FIRE TRUCKS. We decided it was finally time to make this "Ethan's room".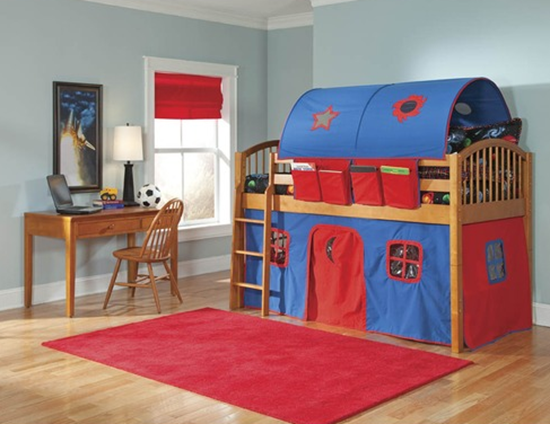 We decided that the full size bed that was currently in Ethan's room was just too large for the room. We wanted to keep his toys in his room, but he just didn't have the room to play. After a little searching, we found a great selection of low loft beds at Wayfair. I picked the Alaterre Mansfield Junior Loft Bed because it seemed to be just the right size and the color of the wood matched the dresser Ethan already had. We felt this particular loft was a great choice for Ethan to create more playable floor space, but yet not have a full height loft bed that might be a little dangerous for a younger guy.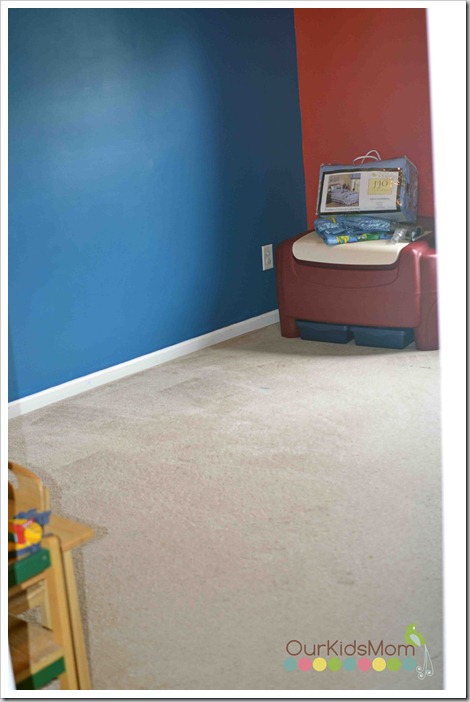 We started by clearing out the old bed and then we gave the walls a new coat of fresh paint (we went a little darker with the blue this time).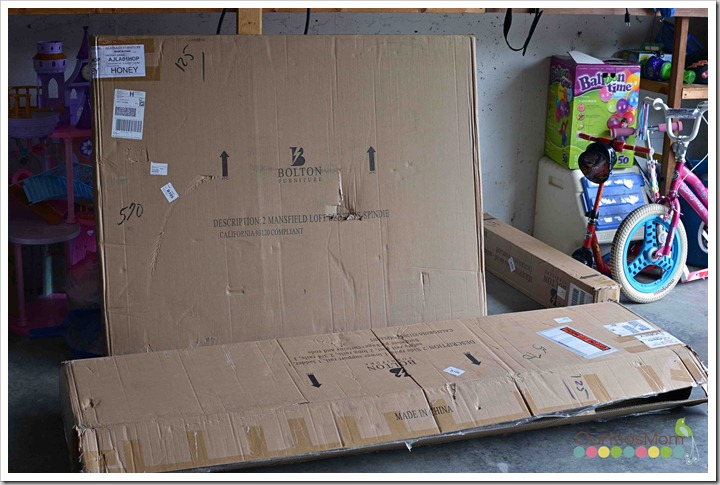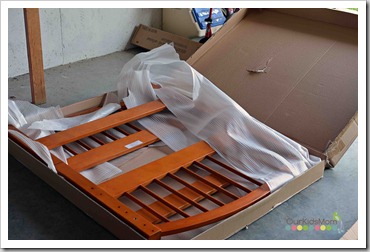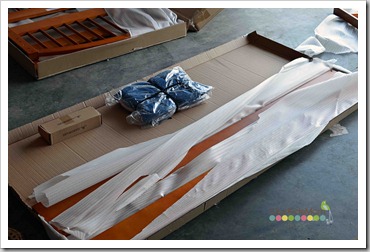 Then it was time to open the boxes and take inventory. We've learned the hard way in projects past that sometimes a necessary part might be missing or damaged. Doing this beforehand makes sure the assembly goes smoothly. Everything was packed neatly and padded perfectly.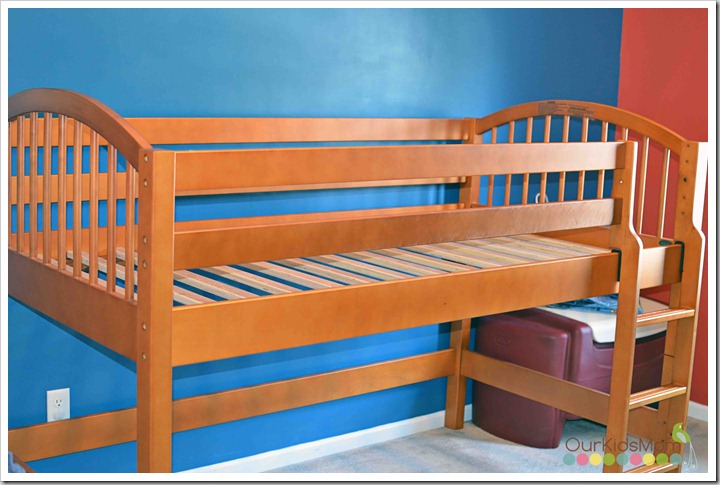 With Kaytlin's help we had the bed together quickly. I didn't time it, but I think it took us less than an hour total. The instructions were detailed and accurate and the pieces were all pre-drilled correctly.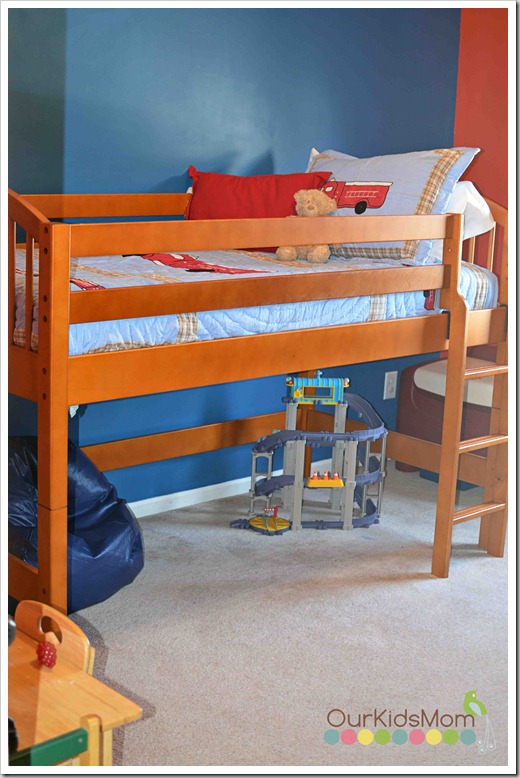 The bed looks amazing, don't you think? The height is about to my shoulders (I'm 5'9") which still makes it easy for me to change the sheets/make the bed and not have to climb up the ladder. It is high enough off the ground to give Ethan a little more playing room on the floor.
What did Ethan think?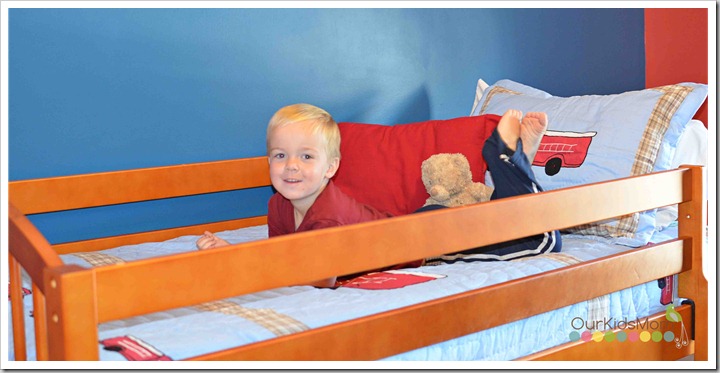 He couldn't wait to climb up into his new bed! Ethan knew we were painting his walls, but he had no idea we were replacing his bed with a loft. I'm sure he felt like a big boy!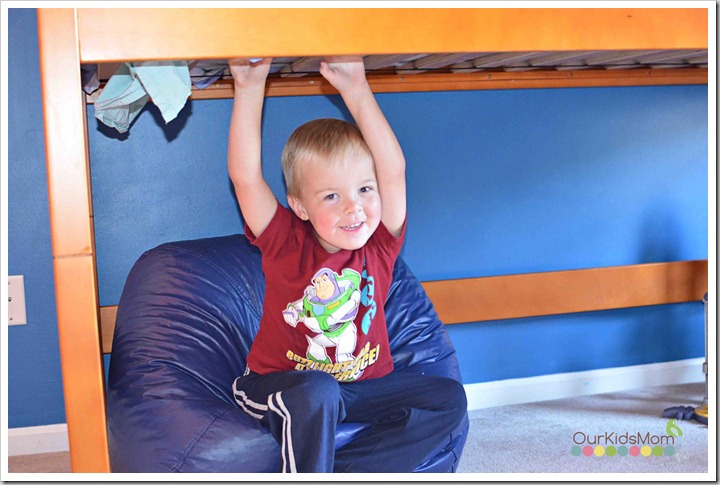 After he was done checking out the view up top Ethan went underneath the bed to check out his new play area. He had just received that blue bean bag from his grandparents for his birthday and was excited to have a place to put it/use it. He can now snuggle in and read a book or get down on the floor and play his train.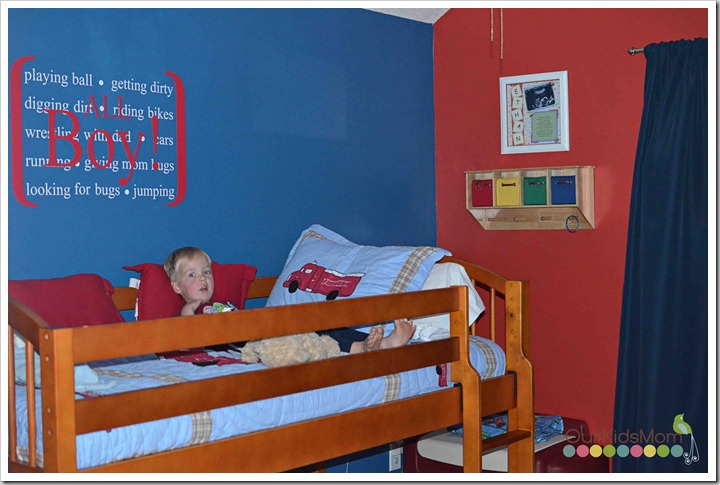 Here is Ethan's final room reveal. I snuck in while he was watching a movie in the dark to take this picture. He is kicked back and enjoying his new space! Below is a 360 of the room (don't laugh at the Hello Kitty humidifier! If you know where I can get a fire hydrant or Dalmatian one PLEASE let me know!). I must say the masterpiece of the entire room is the bed!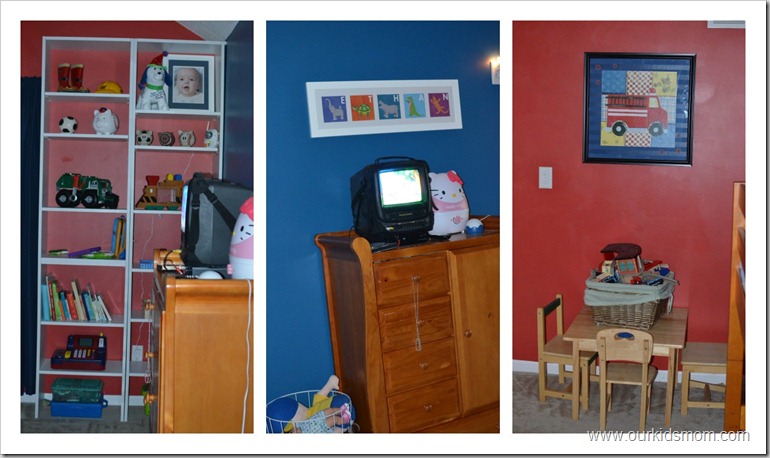 We only have one other loft to compare this to, but I must say Ethan's loft is much more stable with far less sway when wiggled. The pieces are solid and the side rails have far less give. I would highly recommend the Alaterre Mansfield Junior Loft Bed to anyone! If this particular loft isn't what you are looking for, Wayfair has a nice wide variety to choose from… from low loft for the little guys to full size. Their site was easy to navigate, they had a huge variety of quality items to choose from and after ordering our bed arrived within the week!
Connect with Wayfair:
Disclosure of Material Connection: I received one or more of the products or services mentioned above for free in the hope that I would mention it on my blog. I only recommend products or services I use personally and believe will be good for my readers. I am disclosing this in accordance with the Federal Trade Commission's 16 CFR, Part 255: "Guides Concerning the Use of Endorsements and Testimonials in Advertising." The opinions expressed in this post are entirely my own. Your experience with the product may differ from mine. The sponsor is responsible for prize fulfillment and will be shipping the winner(s) their prize(s). For more information read my disclosure policy.