The VTech product, gift card, information, and additional gift pack have been provided by VTech.
Toys have come such a long way since we were kids. While we once played with sticks, balls, and pull toys, we now have tablets, loads of electronics, and so much more! Oh to be a kid today!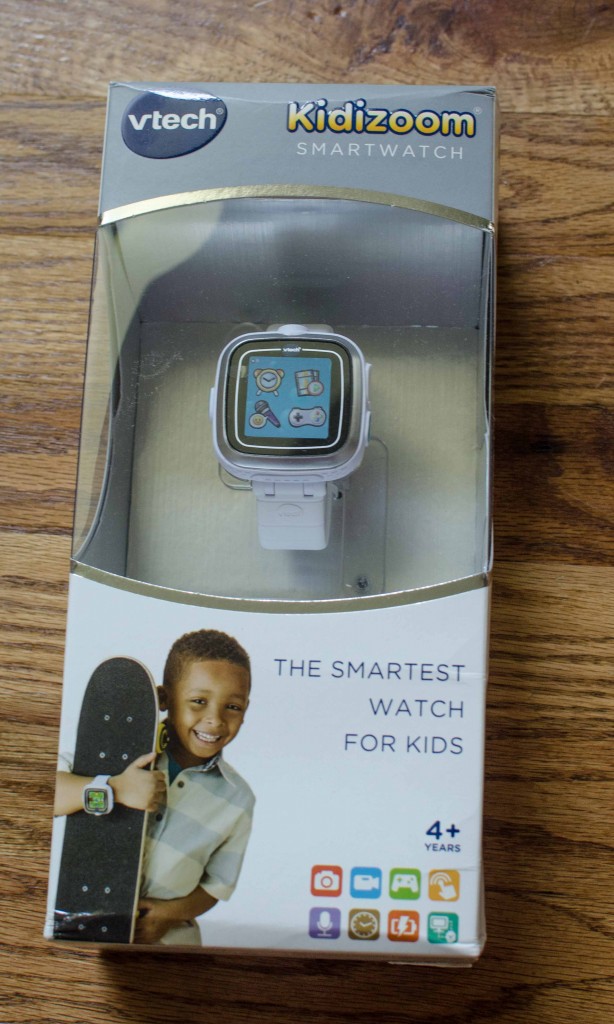 I was asked to review the Kidizoom Watch by VTech.
This watch isn't just a watch, it does so many things!
Kids can capture photos, add photo effects, record videos and play built-in games for learning fun on the go. Complete with an easy-to-use 1.4'' color touch screen, as well as more than 50 digital and analog clock displays, the multi-functional Kidizoom Smartwatch is perfect for kids learning to tell time. The Kidizoom Smartwatch also boasts a rechargeable battery, alarm clock, timer, stopwatch, voice recorder with funny voice changing effects and parental game controls.
Now, I know that we don't want our kids playing mindless video games, but the mini-games on the Kidizoom Watch are educational, so they can think they're just playing a game when they're actually learning. Sort of like hiding veggies inside of their mashed potatoes, but we'll keep that one to ourselves!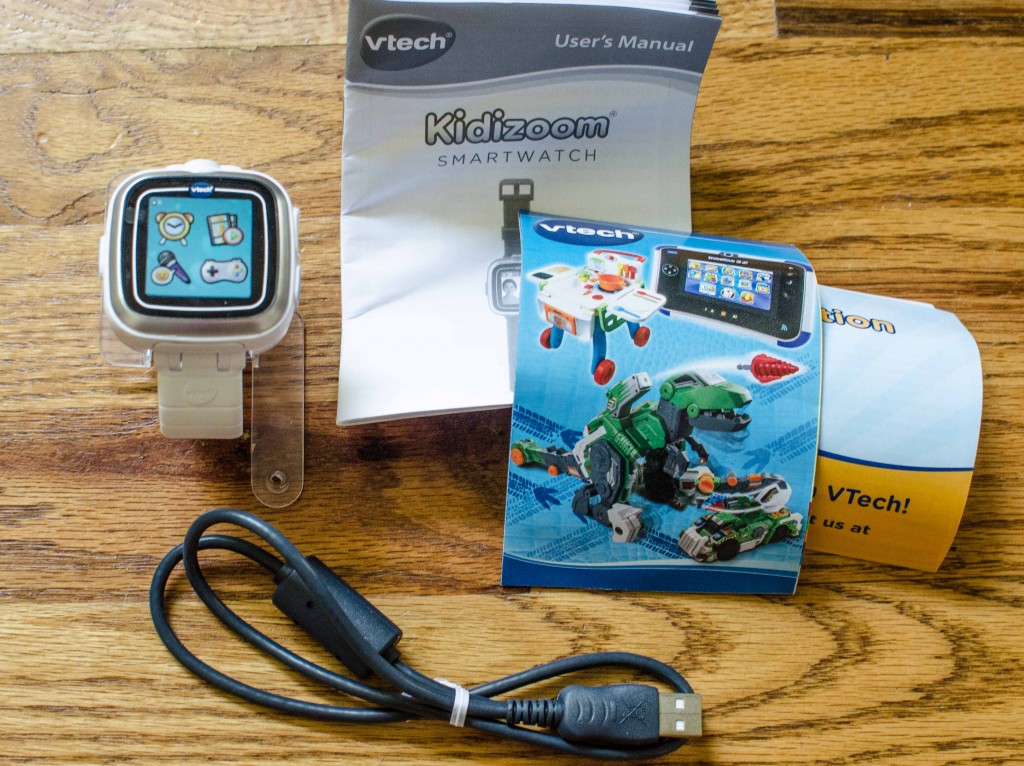 Kidizoom® Smartwatch (Ages 4 years and up; MSRP: $59.99) features include:
·         1.4 inch color touch screen
·         Camera for taking photos and recording videos
·         Voice recorder with 5 voice changing effects
·         Special effects including customized photo frames, color filters and distortion effects; fun video frames
·         4 fun games, included: Super Detective, Rotating Puzzle, Finger Dance, and Time Master
·         Kid-durable design to withstand drops and bumps
·         Splash proof and sweat proof
·         Alarm clock with fun tones and animation
·         Timer and stopwatch in kid-friendly themes
·         50+ digital and traditional analog displays
·         Rechargeable battery
·         4 vibrant colors: blue, pink, white and green
·         Micro USB cable for data transfer and battery recharging
·         Access to Learning Lodge app store to download more games and watch displays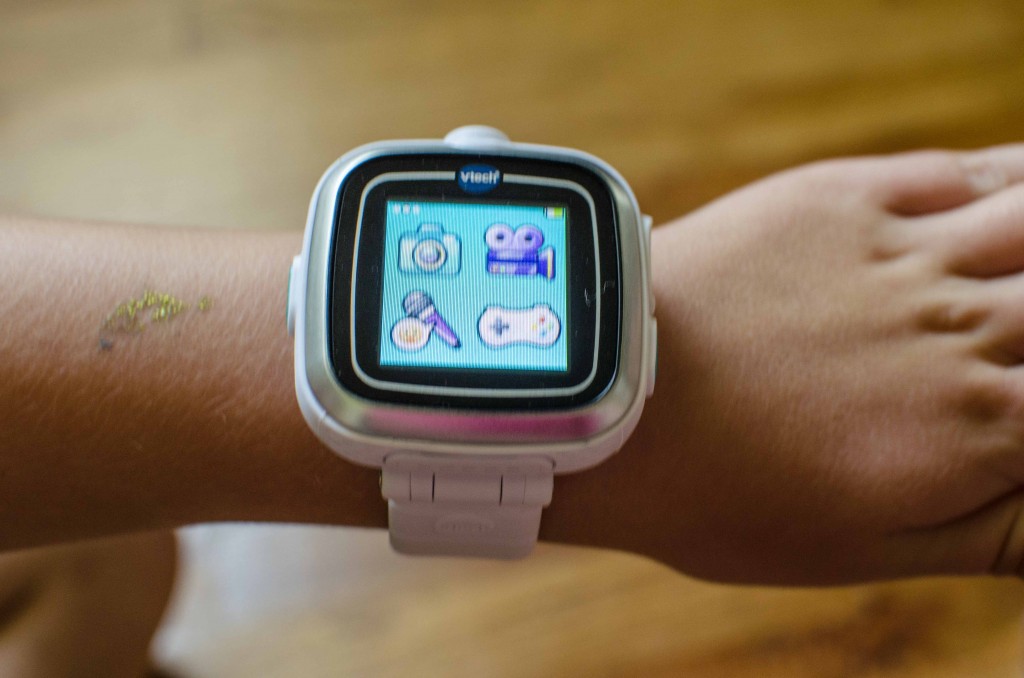 When your child tires of the games that are provided, you can go to VTech's Learning Lodge, and purchase new mini-games. With 50 different watch faces to choose from it's like a new watch every day!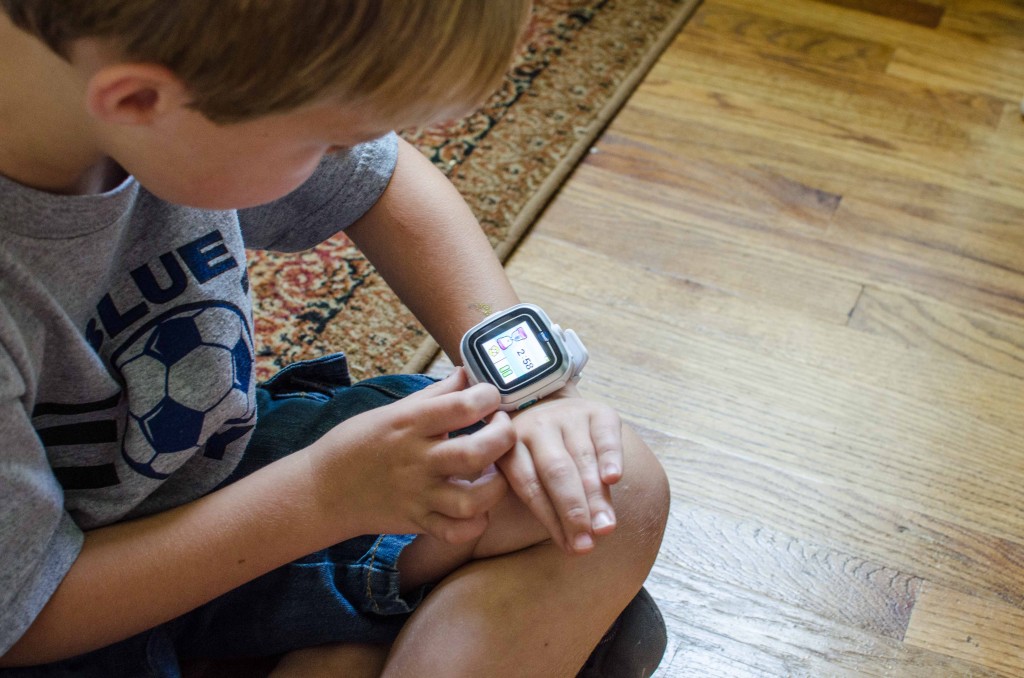 The Kidizoom Watch is splash proof (but not water resistant so please remove before bath or shower time), so everyday play (or hand washing for Ethan) will not get in the way of your child's new watch. This is good news because Ethan has worn this watch for 4 days straight now including to bed.
Ethan loves that he has a watch to see what time it is, a timer because he likes to "test" to see how long things take, a camera to snap photos and a video camera to embarrass his sister (in that order). The games are secondary to him, but I love that he can play a game or two in the car and not be bored.
You can connect the watch to your computer to download more mini-games, and the battery is rechargeable, which means no buying loads of batteries, which will save you money!
Connect with Vtech:
BUY IT:
You can purchase the Kidizoom Smartwatch at Amazon.com
WIN IT:
ONE OurKidsMom reader is going to win a Kidizoom Smartwatch!

This giveaway ended at 11:59 PM EST on September 10, 2014.
Have you tried out the new Kidizoom Watch by VTech? Do you normally purchase VTech toys? Let me know in the comments!