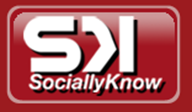 Facebook can be a very scary place for parents of teens. SociallyKnow is doing something about it. There's a tool that can help you address the dangers that lurk behind the screen.
SociallyKnow, the cutting-edge site launched in mid-2011 to monitor teens' social media activity, today unveiled an upgraded user interface designed to streamline site navigation and improve subscriber service.  The company is offering a FREE 30-day trial so parents everywhere can experience the benefits.

"We listened to our customers and made the enhancements they requested," said Betsy Dawson, co-owner of Dallas-based SociallyKnow.  "They told us they were very pleased with the functionality of the system, in particular the way it alerts them to areas of concern on Facebook; but they asked us to improve the way the site is laid out and to make it more user-friendly."
SociallyKnow gives parents the tools they need to protect their teen's online safety and reputation.  The site (www.SociallyKnow.com) monitors the child's social interactions in real time, sifting through the clutter to flag key words, phrases and photos that merit attention.  Parents receive an email or text any time their child sends or receives messages that are sexually explicit, bullying, physically or verbally harmful, vulgar or suicidal in nature.  Alerts are likewise sent any time their child receives a new "friend" request, posts or is tagged in a new photo, and where they "check in" on Facebook.
"Our subscribers tell us they love the fact that SociallyKnow sifts through all the chatter on their teen's Facebook pages to pinpoint the areas of greatest concern," said Dawson.  "Very few parents are interested in 'spying' on their kids.  They just want to know when there's a potential for harm, before it's too late."
Today's teens are often oblivious to the dangers they face online from friends both real and deceptive.  SociallyKnow arms parents with the information they need, allowing them to decide how, or even if, to address the issue with their child.
About SociallyKnow™
SociallyKnow helps good parents parent better.  The site monitors social interactions in real time, sifting through the often-voluminous clutter to flag key words, phrases and photos that merit a parent's attention. The site is platform-independent, can be accessed from any device and is not dependent on the device used to access social media (e.g., cell phone, laptop, PC).  It does not capture keystrokes, but rather monitors messages and photos posted to and from a child's Facebook page. For more information, or a FREE 30-day trial, visit www.SociallyKnow.com.
Connect with SociallyKnow: