Keep The Kids Entertained 
Product received. All opinions are my own.
With the warm weather here, families are looking for ways to keep kids entertained AND active during the summer.
Here is a short list of easy and fun activities to keep the kids busy on a long summer day.
1) Paint the driveway. This can be as simple as a paintbrush and a bucket of water or take it up a notch with crushed sidewalk chalk mixed with a touch of water to make sidewalk paint. The kids will have fun painting and they can get a little active with a game of 4 square or hop scotch.
2) Water guns. Water guns are fun, no matter how simple they are. From the low end $1 model to the expensive blasters my kids have fun chasing each other and getting each other wet. Don't have a water gun? Take an empty water bottle and punch a couple of holes in the cap. Fill the bottle with water, replace the cap and squeeze.
3) Flag Tag. It's tag with a flag. Have you heard of flag football? Same concept. Instead of tagging (and possibly pushing) the person they are chasing, they have to grab their flag. Flags can be simple wash cloths hanging from their waistbands.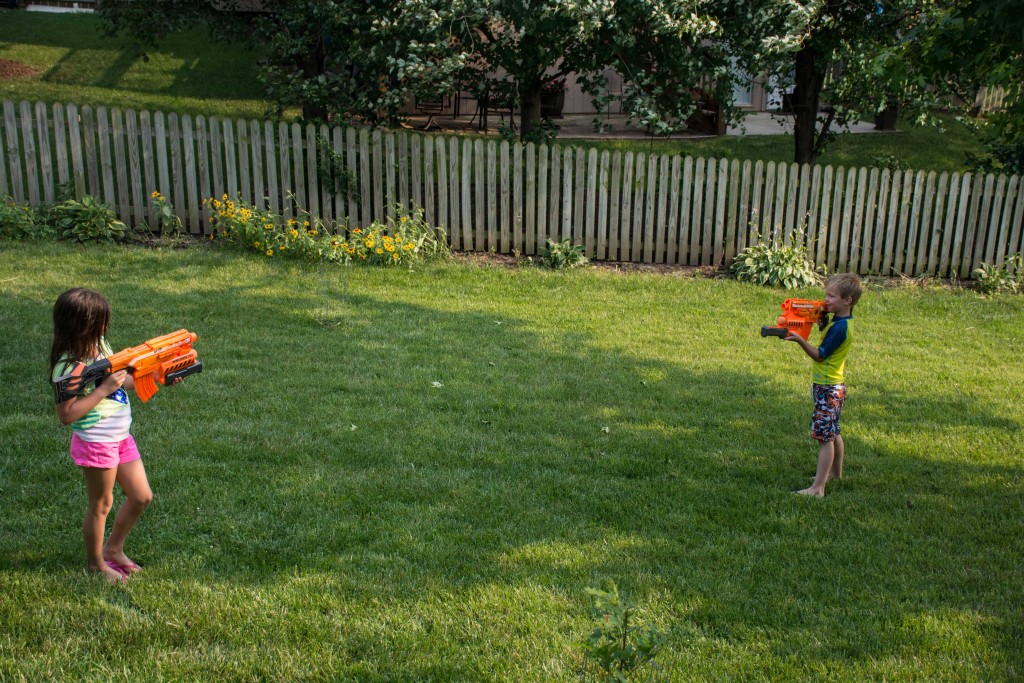 4) Nerf guns. I let my kids take out their extra aggression towards each other in a more civil way.. Nerf guns. Ok, that's not really civil, but it sure is fun. We make boundaries (like the back yard) and they hunt each other down. Sometimes the neighborhood kids will team up with their Nerf guns, too.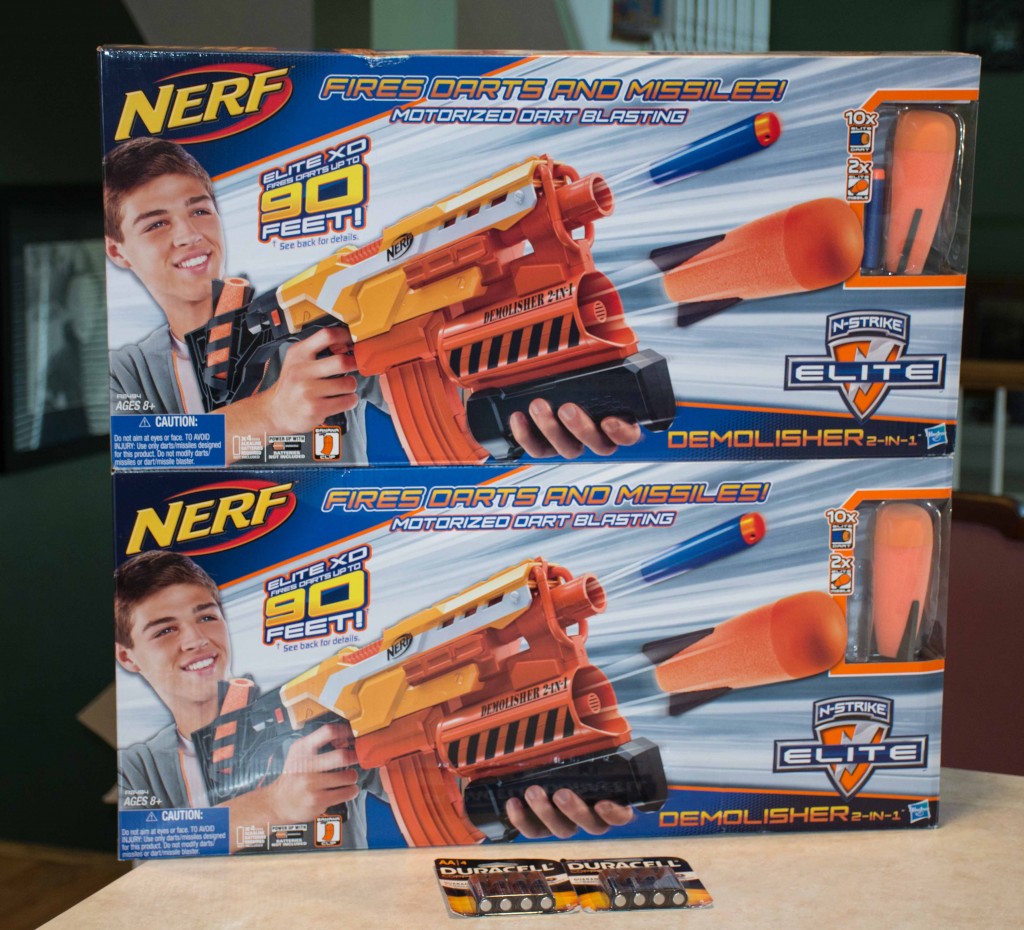 We found the Hasbro's Nerf N-Strike Elite Demolisher 2-in-1 Blaster at our local Toys R Us store. My kids love them because:
·         It launches two types of ammo and has a maximum impact whether you're blasting big missiles with pump-fire action or unleashing a powerful barrage with motorized blasting.
·         Pump-fire missiles and motorized blasting can be fired at ones to truly demolish the competition!
·         Missiles can be stored in detachable stock for easy access.
·        Ammo clip holds 10 rounds for quick fire!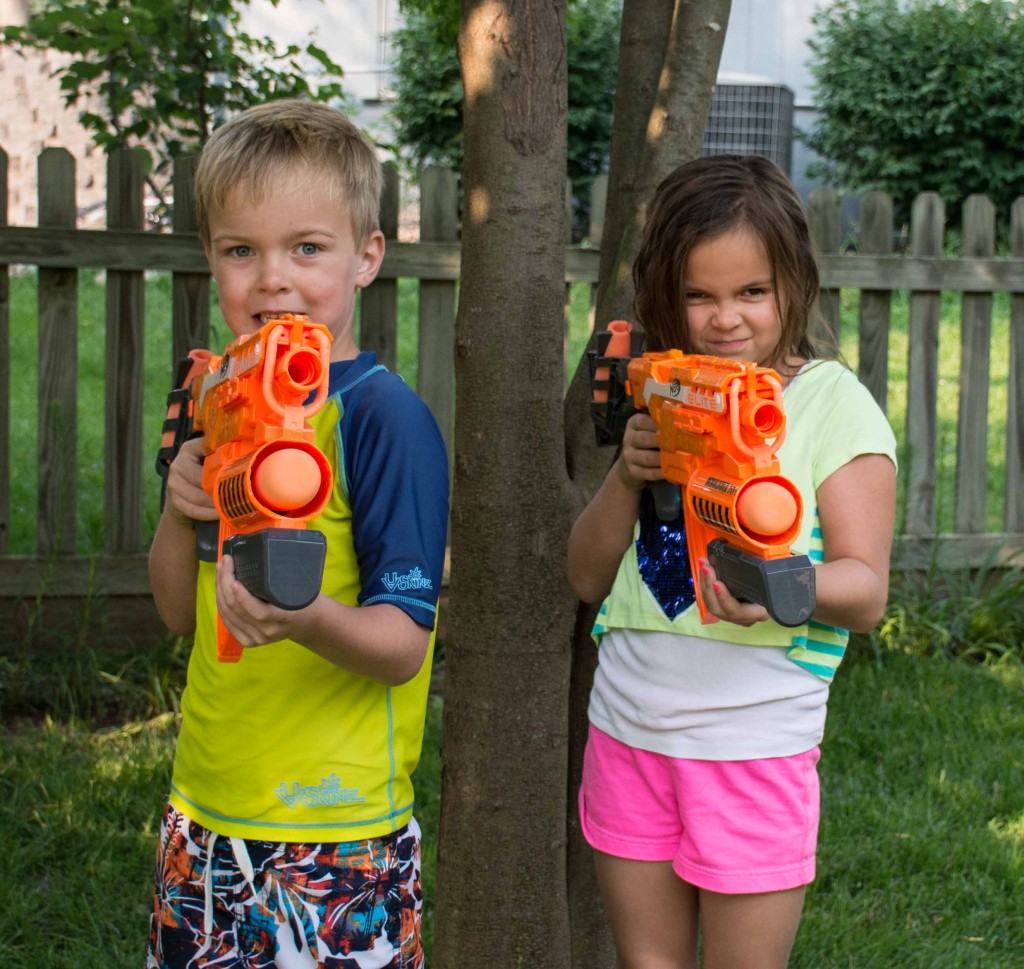 Toys "R" Us is the perfect one stop shop to pick up your favorite summer games.  When you're at Toys "R" Us, don't forget the batteries though! They're often required, but not included with the toy, so you'll want to have plenty of fresh Duracell batteries on hand.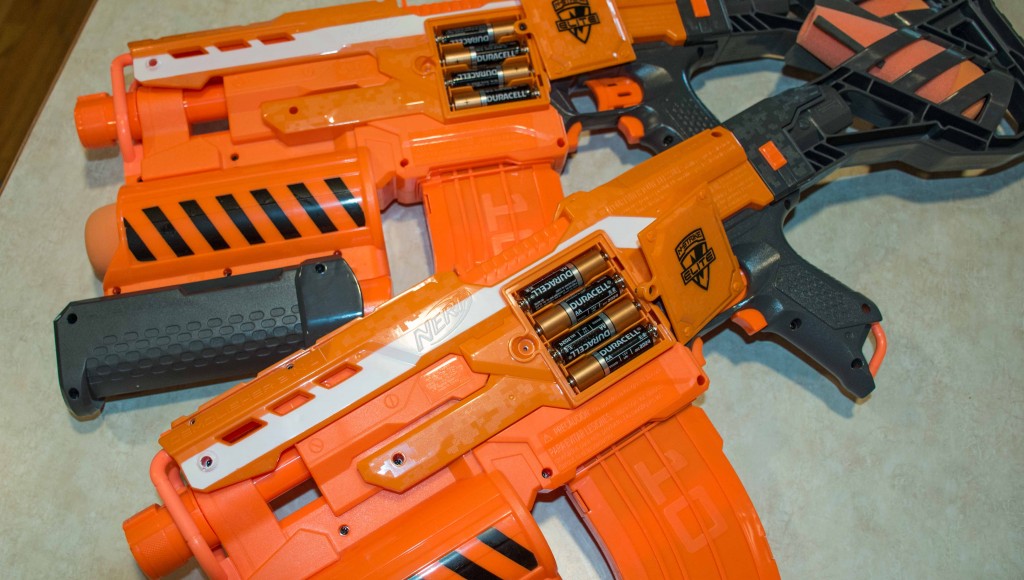 We prefer Duracell because:
•       AA Coppertop offers up to 15% longer lasting vs. leading competitive brands.
•       Duracell Quantum batteries last up to 35% longer vs. the next leading competitive brand.
•       Guaranteed to protect devices from damaging leaks.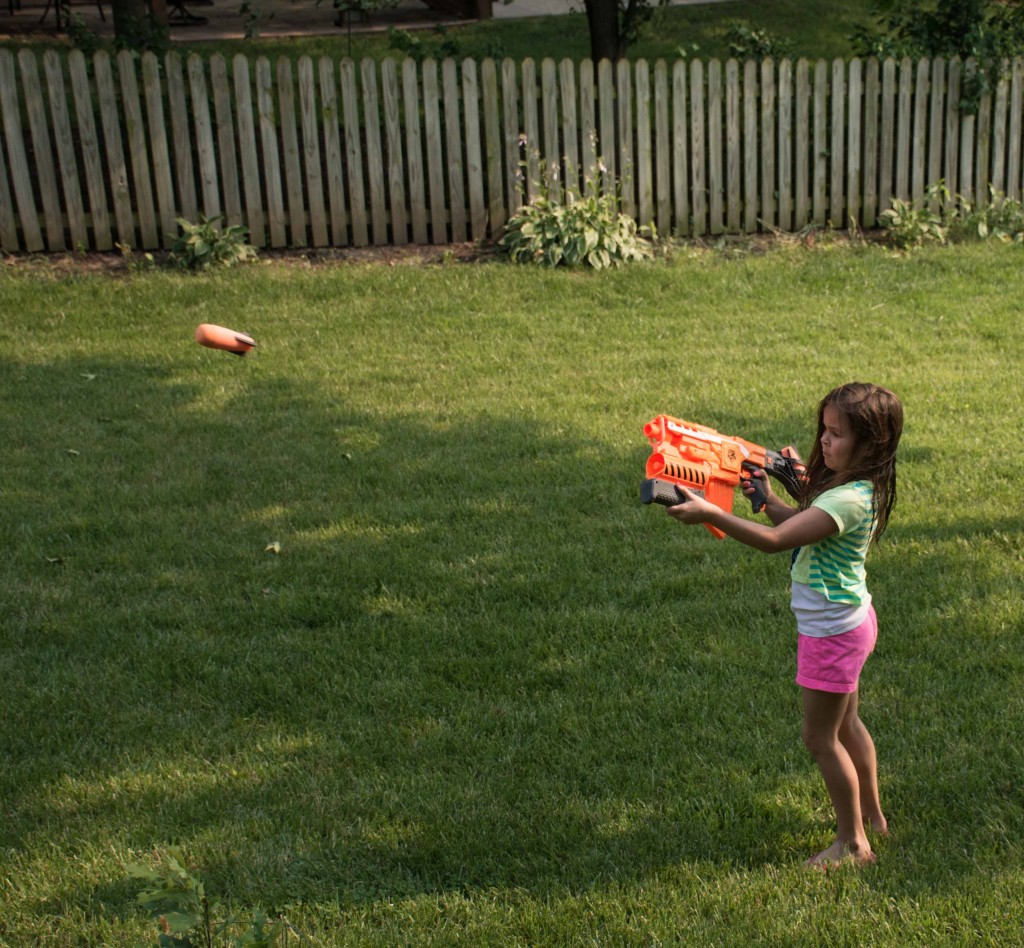 BUY IT:
You can purchase theHasbro's Nerf N-Strike Elite Demolisher 2-in-1 Blaster & Duracell batteries at your local Toys R Us store.
WIN IT:
ONE OurKidsMom reader is going to win a $50 Toys "R" Us gift card and two packs of 4 AA Duracell Batteries!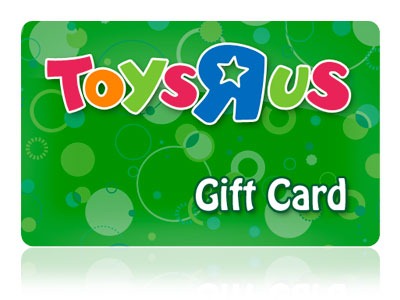 This giveaway ends at 11:59 PM EST on July 17, 2015.