My oldest just turned 6 in April, and the theme he picked for his birthday party was Lego.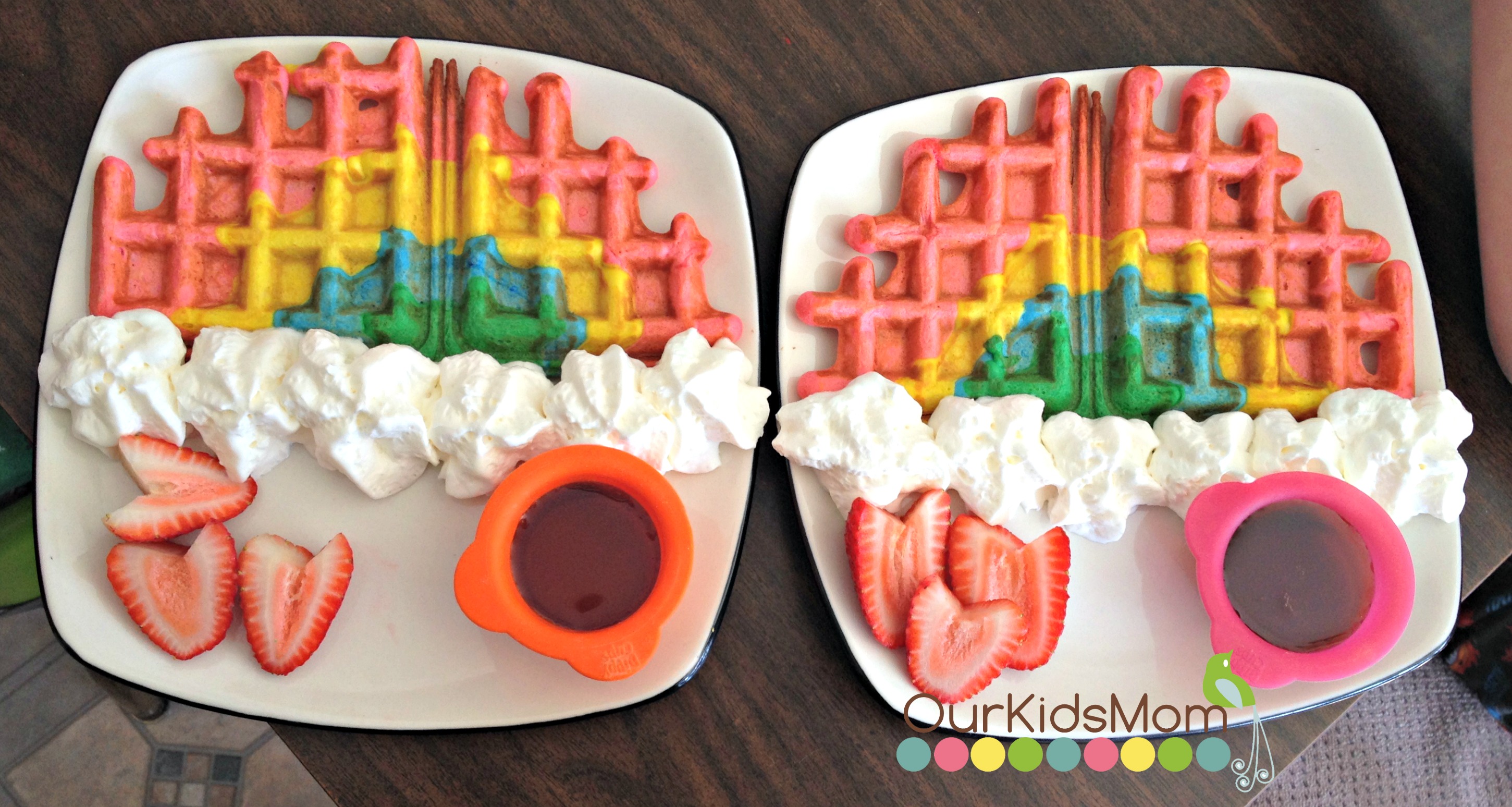 We started out his birthday morning with some rainbow waffles that I found on www.youtube.com.
It was so simple to do…
Make your waffle mix as normal, split your batter into 4 ziplock bags and then add food coloring. (I used green, blue, yellow and red. Squish and mix the color all in.)
When your waffle maker is heated up and ready snip a hole in 1 corner of each bag.
Start with a little dab of your first color and then a ring of your next color around the center dot. Continue with the rest of the colors.
Close the lid and wait for it to cook. If your waffle maker has a heat control then turn it down so that it doesn't tint the color of your waffles.( My maker doesn't have a dial so I just had to be careful that I didn't over cook them.)
Once cooked I cut them in half to make the rainbow, added some whip cream for clouds (or you can use ice cream) and a little cup of gold at the end of the rainbow (syrup).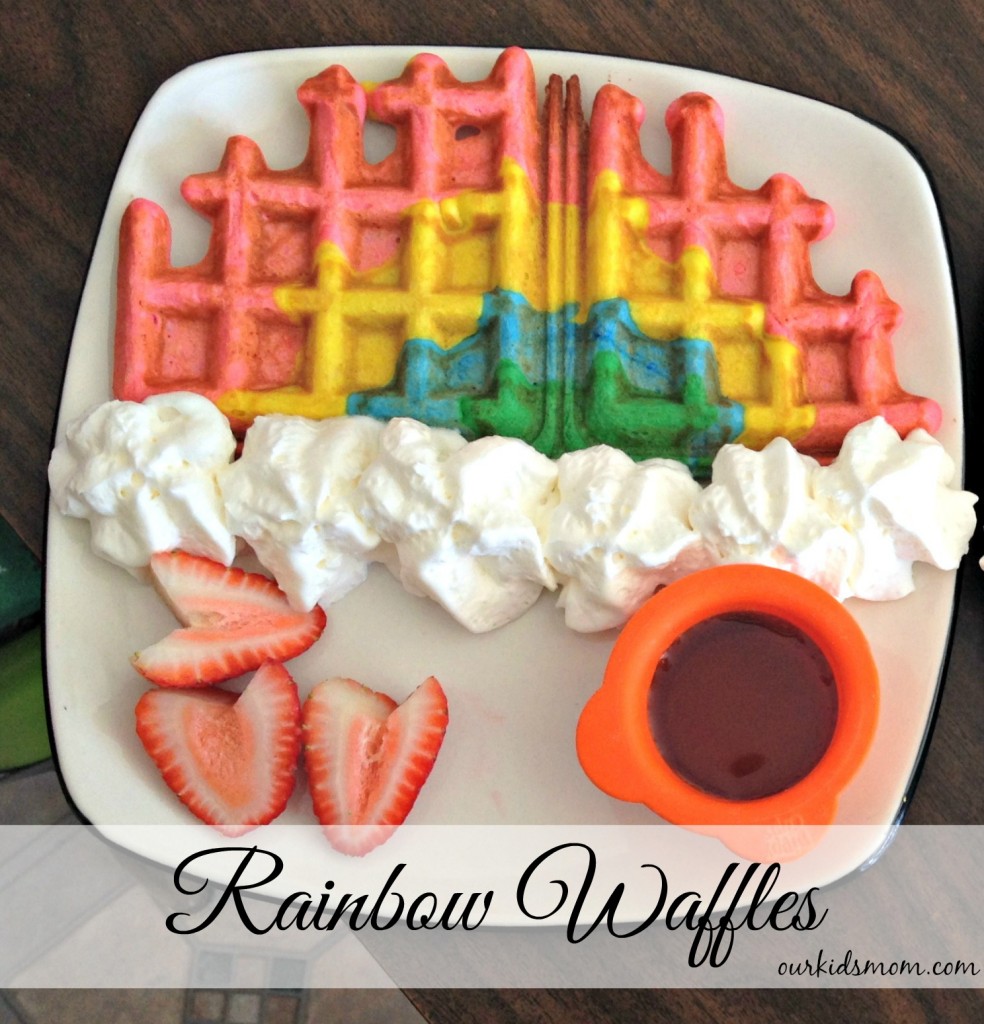 These were a huge hit with the kids. I will say that it was super easy to do, but I think I cut my hole in the bag too big and it did get messy. Lesson learned… don't cute the hole too big.


I grew up with my mom making my birthday cakes so I like to make my kids cakes. I found a couple Lego themed cakes I liked and took ideas and created my own Lego cake.
I wanted to try making marshmallow fondant, but was a little scared to try something new. Well, I did it any way and it was so easy, simple to color and easy to use!
I cut out rectangles to make all the lego bricks, and to make the top of the cake look like top of Lego bricks I used a round icing tip to punch out  little circles and placed them on the top.
I used real Lego men to make the cake look like the Lego men were making the cake.
It took about 7 hours to create this cake and I loved the way it came out! My son was so excited to see this cake come to life as he helped me put the finishing touches on and place the Lego men in their spots.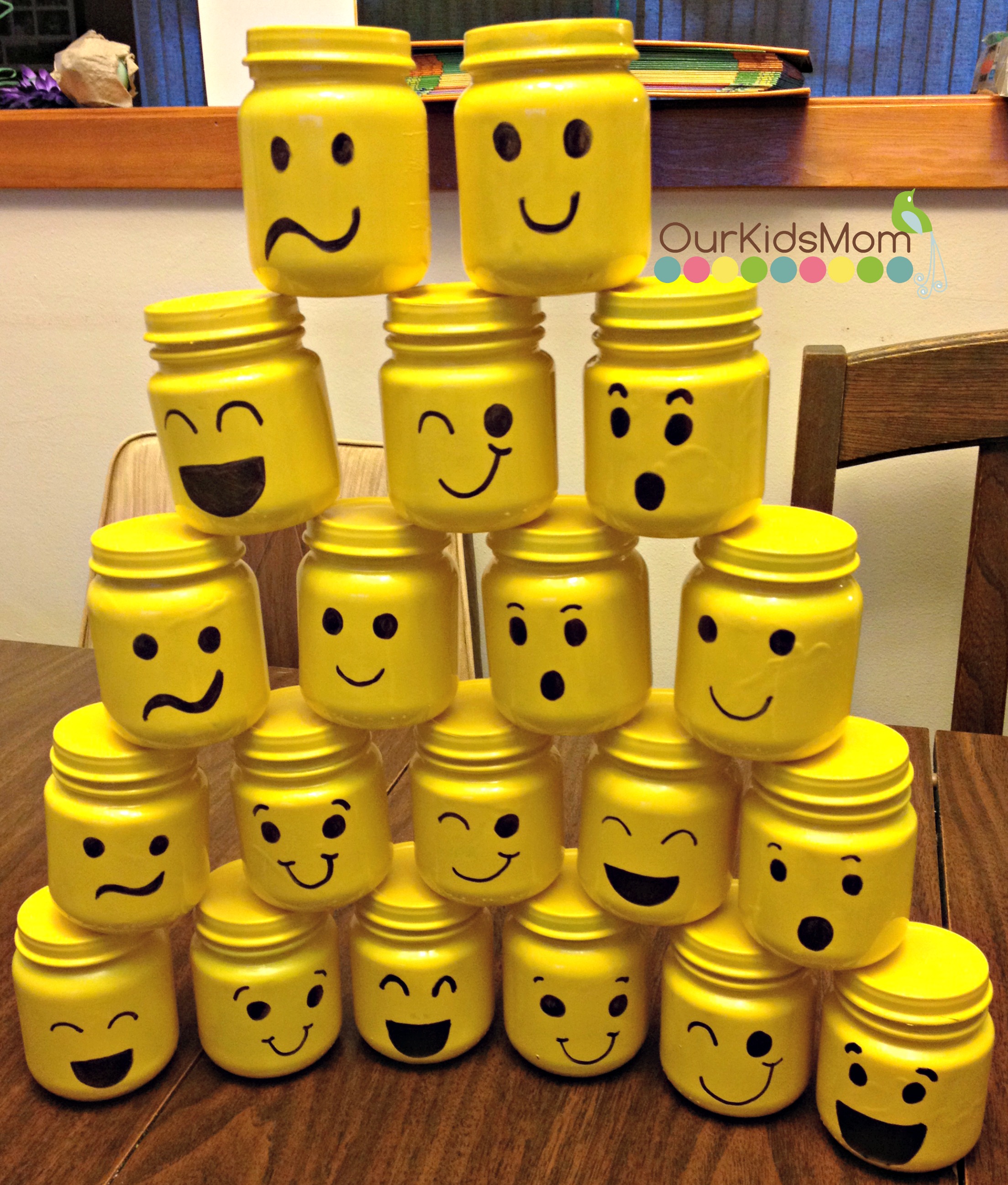 I made Lego men heads out of baby food jars. All it took was spray painting the jars and lids, then using a sharpie marker I drew on the faces. I filled the jars with Lego candies.
Yet another big hit of the party!


The marshmallow Lego men were I think one of my favorites out of the decorations.
To make these I used the jumbo campfire marshmallows as the head and then for the top nob on the top of the head I just cut a normal jumbo marshmallow into 1/3 and stuck it to the top. Then I stuck the marshmallow head onto a candy stick.
The next step… I melted yellow chocolate wafers and tried to dip the whole marshmallow into the chocolate. I found that it coated with too much chocolate on the head and it was pretty heavy.
Next I used a basting brush and painted the chocolate onto the marshmallows and it worked out perfect.
The instructions I saw for the marshmallow heads said to use edible marker to draw on the face. I tried the edible marker and it wouldn't draw on the chocolate. I also tried painting on food coloring gel, and it wouldn't dry so that didn't work either.
Then I made up some black royal icing and that worked perfect. The royal icing dries in no time and no smearing when I wrapped them.

I printed off different Lego characters and put it together to create a Lego coloring book for the kids. I like having things in the goody bag that isn't all candy. I also bought some Lego men crayons off ebay to go with their books.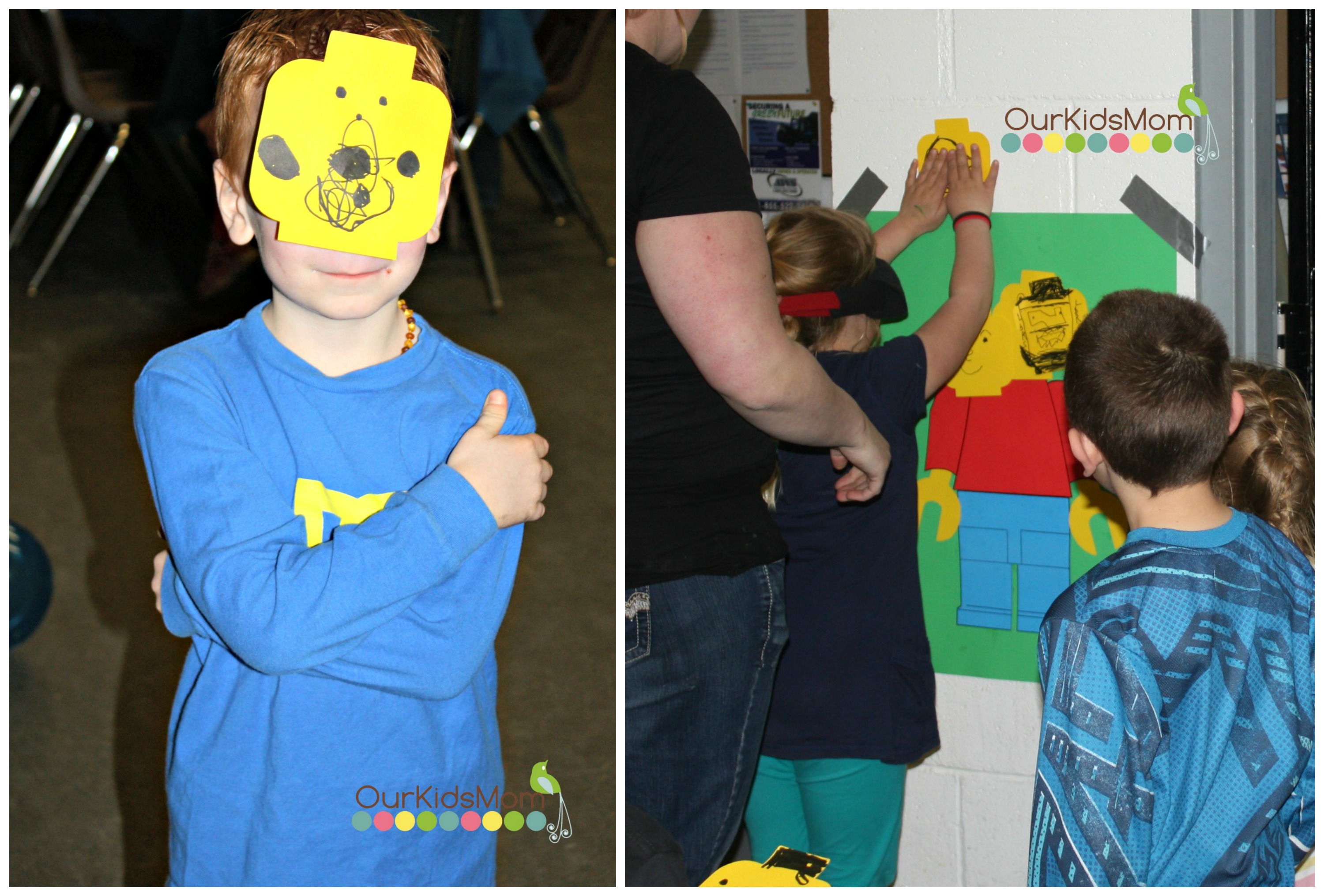 One of the games we played was pin the head on the Lego man.
I cut out Lego men shaped heads, and they all got a black marker to draw on their own faces. Then with a blindfold they got to try and stick it to the large Lego man on the wall.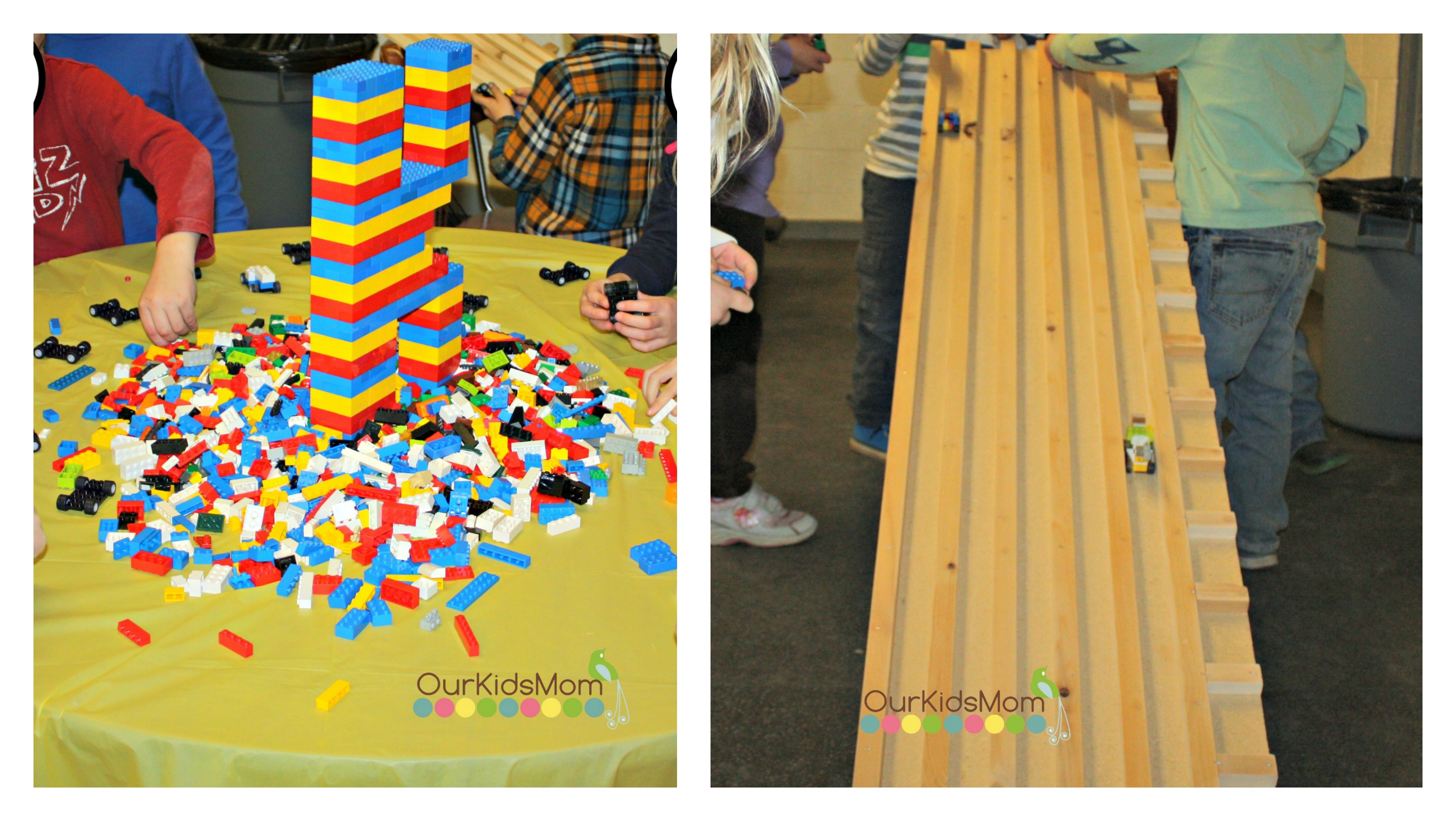 The biggest hit for the kids I think was the Lego building table.
Each child started with the base to a car and at the table we had a bunch of mixed Legos. There they could create their own Lego car (which they were allowed to take home).
My husband built a race track that the kids could race their cars.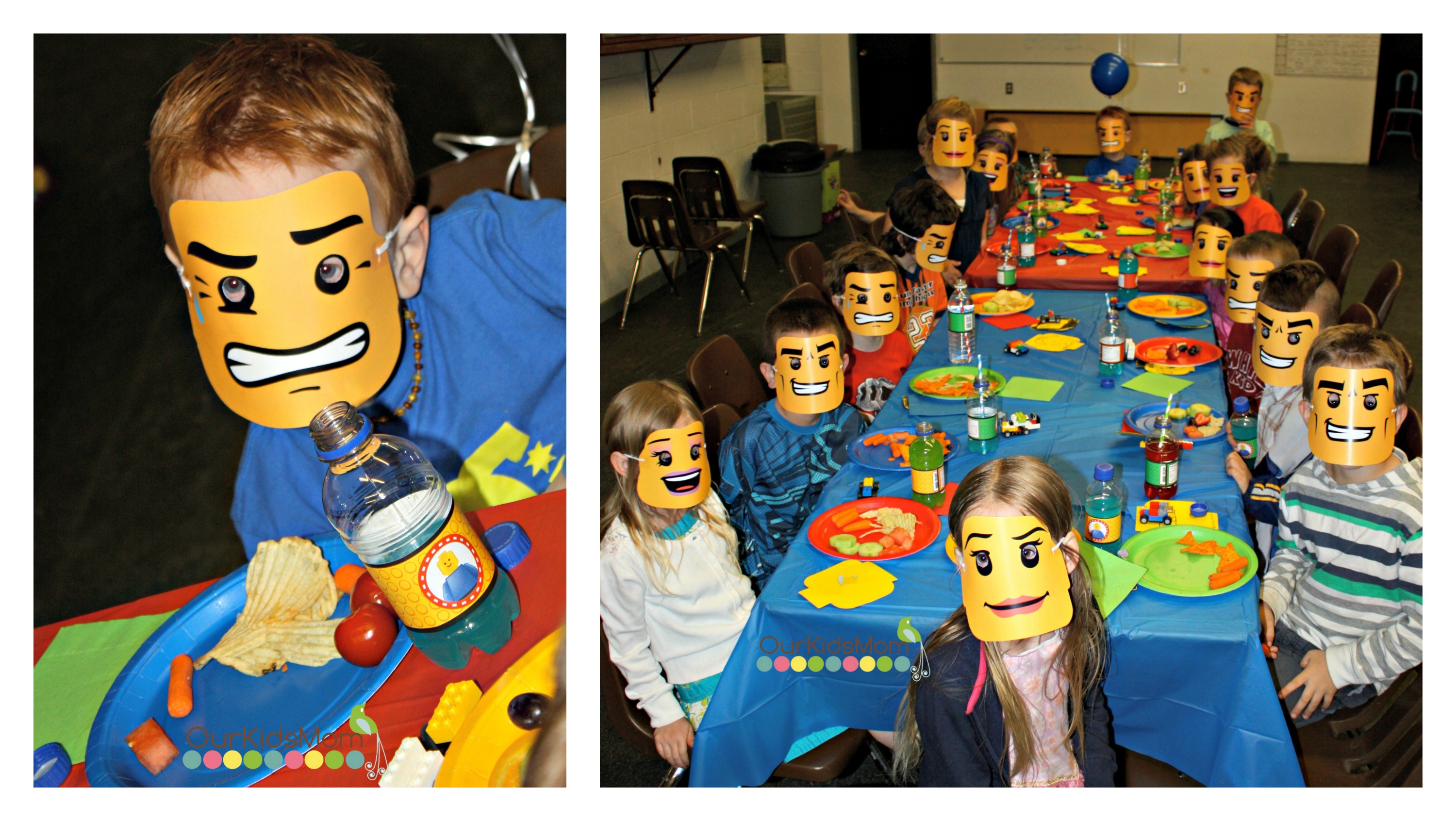 Each child got a Lego man mask as well to wear. They had so much fun being Lego characters. These I printed off online from Lego.com.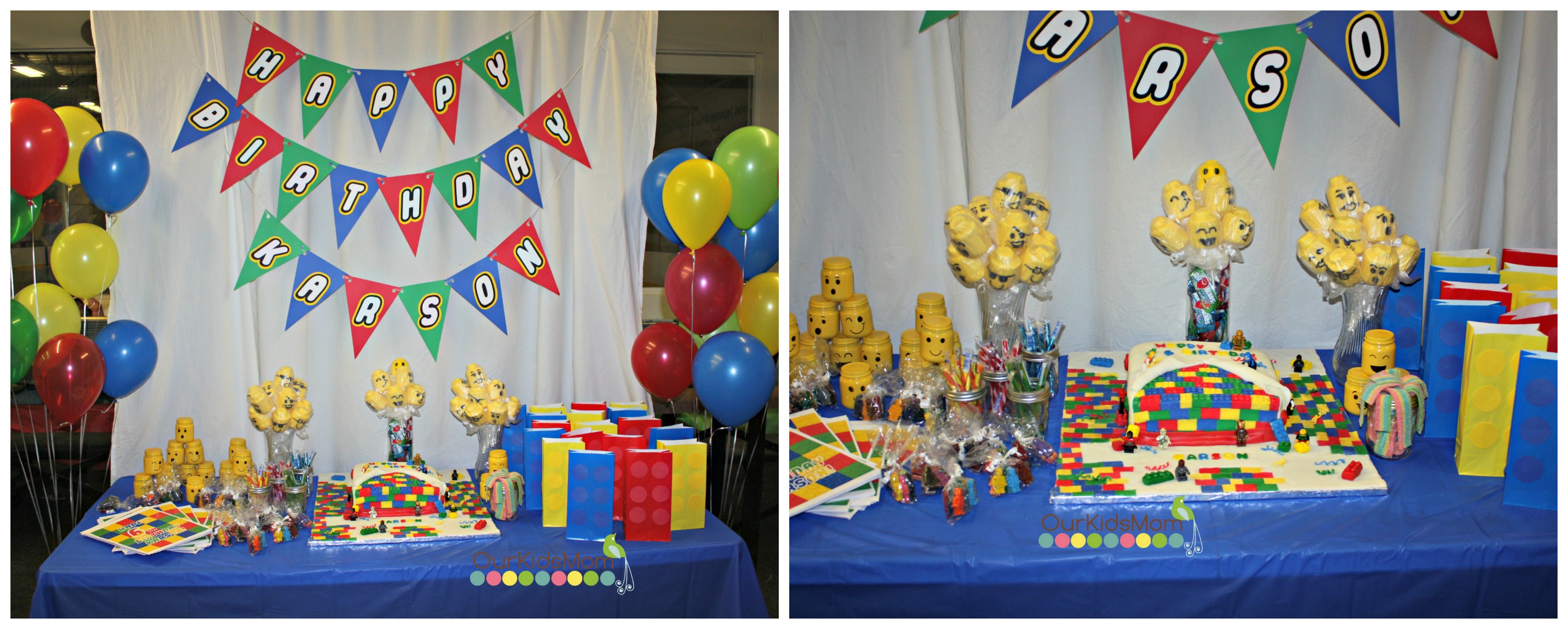 For the goody bags I found solid colored bags and then punched out 3/4″ circles and glued them onto the bag to make them look like a Lego brick.
I used these as decoration and then at the end of the party I made up the goody bags so the goody bag contents could be used as decorations during the party.
I found most of my printables online on www.halegrafx.com .
I was pretty happy with the end result of the birthday party and I must say I had a pretty excited little boy that day. Makes all the hours of preparation so worth it.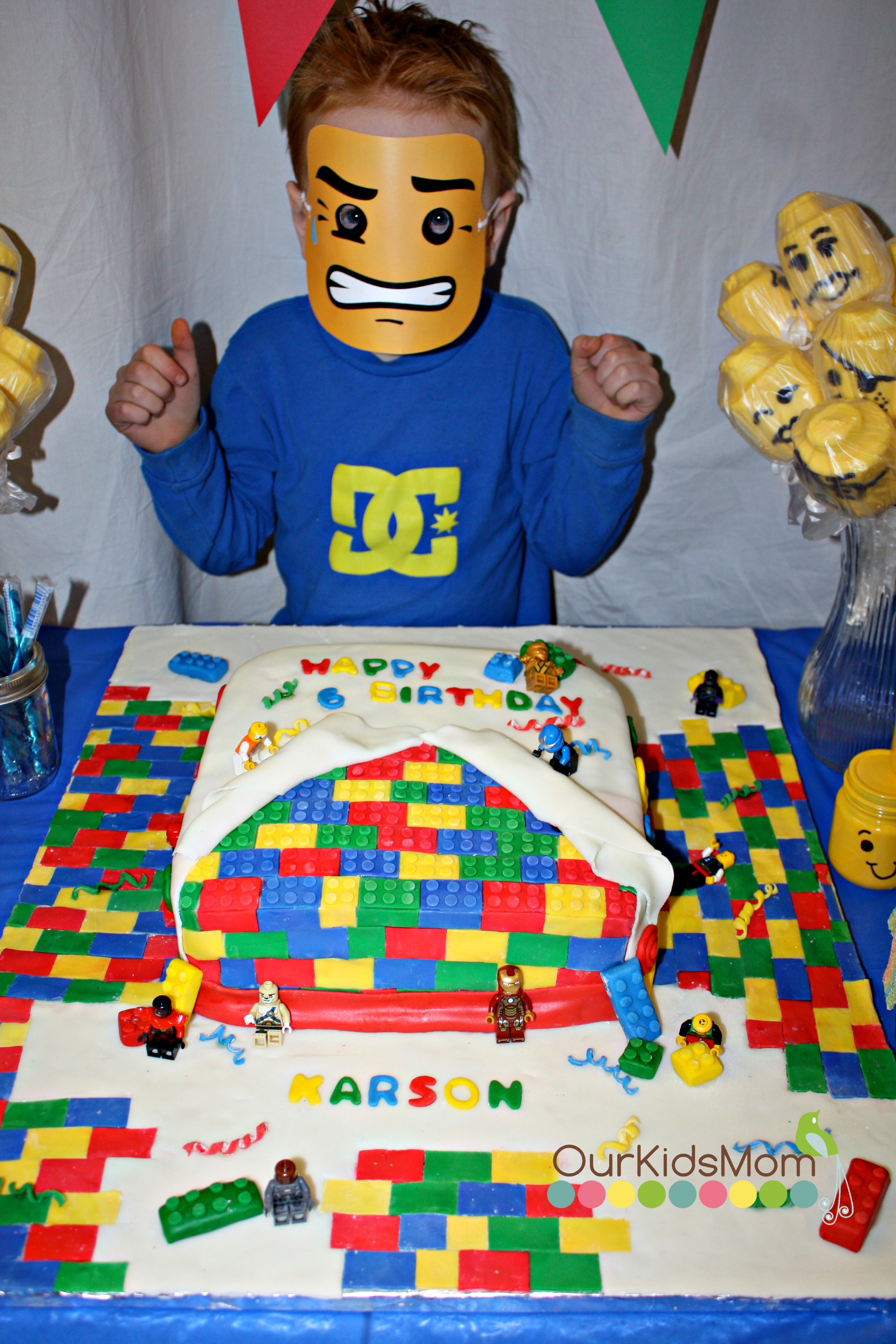 Like Lindsay's ideas? Pin them!