I don't typically make New Years Resolutions, but I like to take the New Year as an opportunity to make smart life changes that impact me, and hopefully my family, in a positive way. We have slowly been making food choice changes over the past year or so, but this year I intend to be more mindful when shopping.
Some of my plans include avoiding highly processed foods, more cooking from scratch meals, less eating out at "fast food" restaurants, replacing some of our convenience foods with homemade "cleaner" versions and offering more vegetables and fruits to the clan.
Last year I reviewed the Jack LaLanne's Power Juicer Express. In my quest for more veggies & fruit I've decided to start juicing again. The media has been very active the juicing conversation lately. I've followed Dr. Oz for quite some time now and I've seen several clips of him making his Green Drink so I decided that I would try it.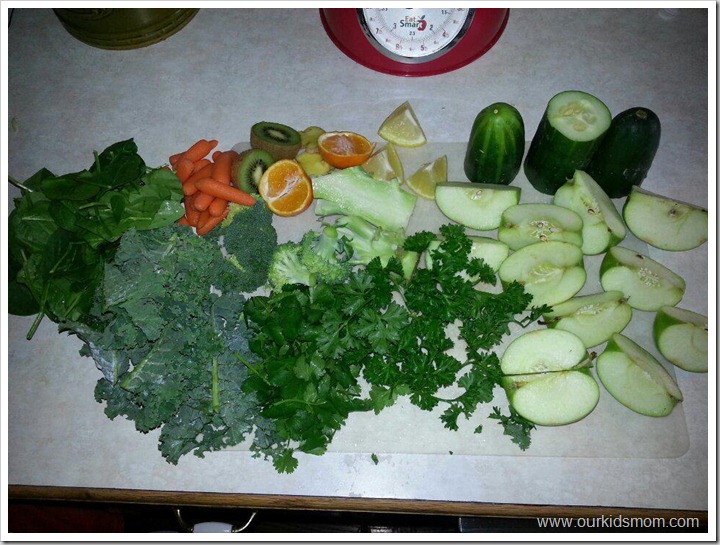 I've since added a few fruits and veggies and omitted celery (when added to the juice it made me gag). My green juice consists of spinach, kale, cilantro, parsley, broccoli, carrots, kiwi, oranges, ginger root, lemon, cucumbers and green apples. What you see in the photo above will juice into two large glasses for me (I put one in the fridge for a few hours later) and two smaller glasses for the kids. Yes, I said the kids. My two will fight over a glass of green juice and Ethan actually cried the other day when his spilled on the floor.
I find these drinks to be refreshing and tasty. I've only been drinking them consistently for a week now but I am already seeing a few added benefits:
I have more energy
I am thinking more clearly
I am sleeping well and not waking as foggy headed
I am feeling less hungry
I have more will power to avoid "bad" foods that I normally crave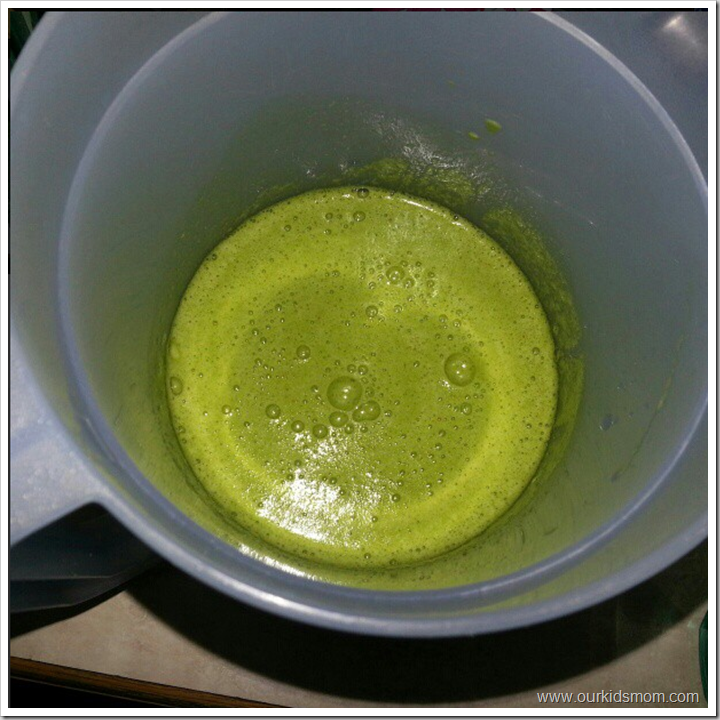 So why not just eat the fruits and veggies you ask? Most people find it difficult to eat as many veggies as they should in a typical day. If you are a carb type, you should eat one pound of raw veggies per 50 pounds of body weight per day. Juicing allows you to consume an optimal amount of veggies in an efficient manner.
Did you know that our many years of less than optimal food choices have limited our body's ability to absorb all the nutrients from vegetables? Juicing helps "pre-digest" them for you allowing you to absorb more of the nutrients instead of literally flushing them down the toilet.
Watch the clip below to see Dr. Oz talk about green juice.
A few years back Dr. Oz was on Oprah discussing turning back the clock and anti-aging. His original green drink recipe instructed to put all of the ingredients in a blender. This would be a great option if you don't have a juicer and then strain… if you can drink a blended version without gagging I say more power to you. I have only been able to do so after diluting it with water. This is the same recipe that he talks about in the above video but put through a juicer.
Ingredients
2 cups spinach
2 cups cucumber
1 head of celery
1/2 inch or teaspoon ginger root
1 bunch parsley
2 apples
Juice of 1 lime
Juice of 1/2 lemon
Directions
Combine all ingredients in a blender. This makes approximately 28-30 ounces, or 3-4 servings.
Whatever method you choose to juice, the health benefits are amazing. Getting your children involved at a young age will teach them that getting all of your fruits and vegetables in on a daily basis is important for healthy living. My kids love their green juice, but also other varieties of juice as well. Are they craving fruit juice? I always try to toss in a raw veggie like carrots. Try grapes, apples and carrots (seen below). I bet other than the color they would never know.