Joovy Single Cocoon Stroller
The Joovy Cocoon has been on my wish list for some time. I spend quite a bit of time outdoors with my children (unfortunately it's snowy here in Canada right now!) and I wanted to have a stroller that would be comfortable for them but yet protect them from the elements.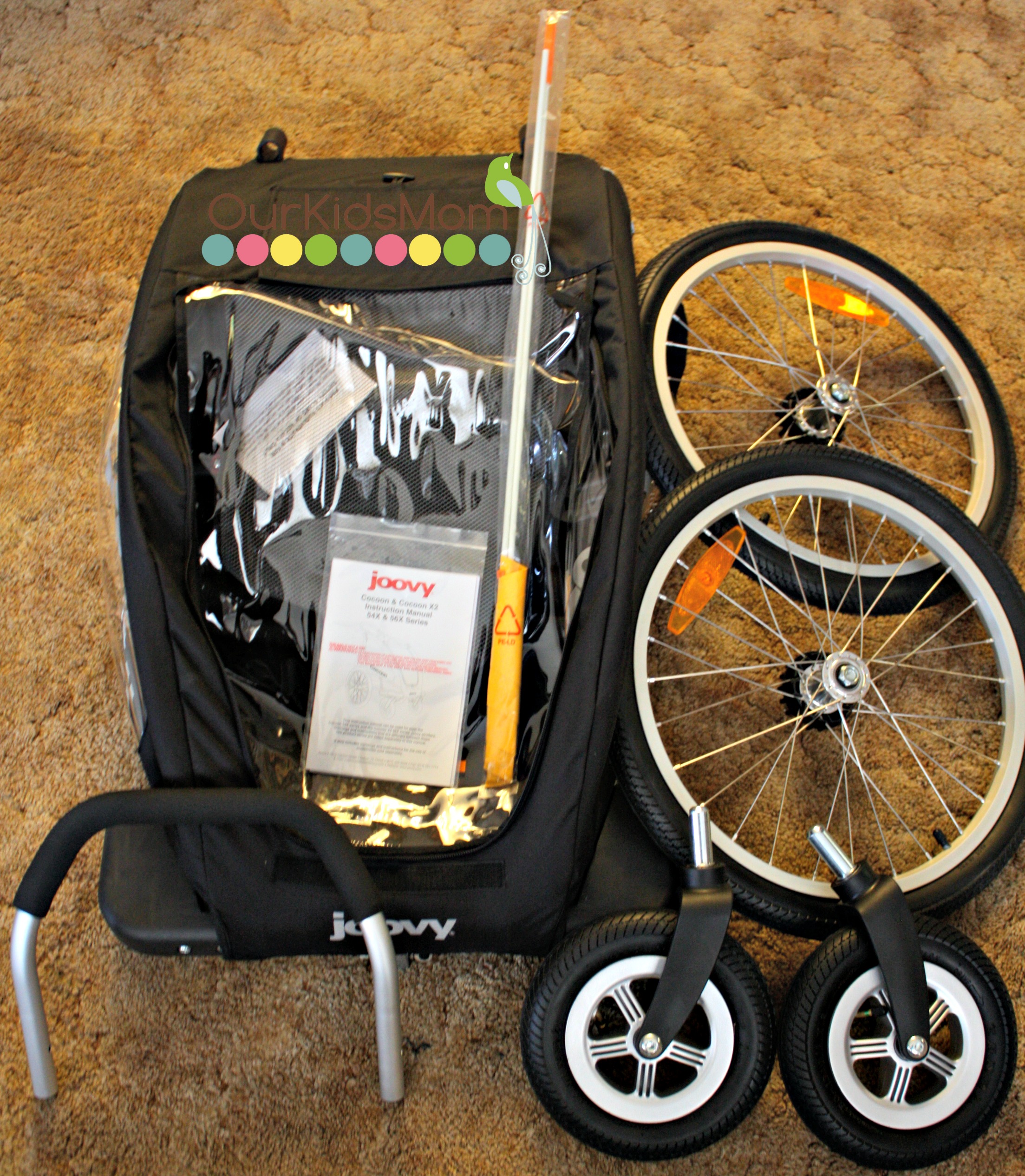 Out of the box there is a little assembly required. It took me about 10 min with the help of the easy to follow instructions to put the Cocoon together. The tires will need to be inflated when you receive it, but they are easy to slip on with a quick release for fast and easy assembly and removal. This is super practical for when you need to store it or put in the back of a car to take along with you. Popping the cocoon up was the most fuss I had with the assembly, which was only because I read the instruction wrong and I was trying to do it in the wrong order.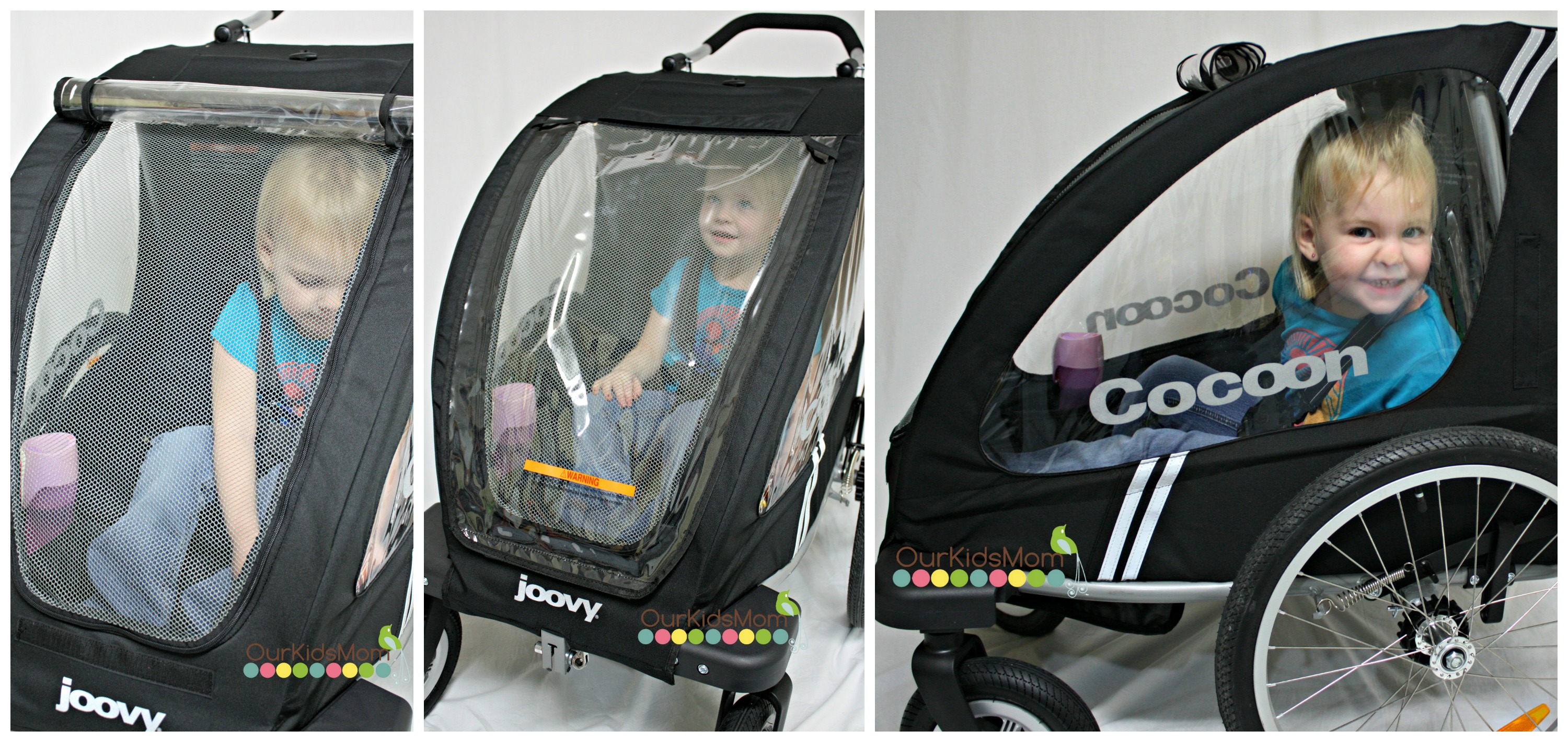 Once fully assembled the first thing I noticed was the nice large size windows for your child to see out of on both sides and in front of them. Your child enters through the large front window. There is a large mesh that zips the front window closed. The mesh is nice in the summer when the bugs are out and you don't want them bothering your kiddo but yet warm enough that you want fresh air inside for your child to enjoy. On the not so nice days that are windy or even raining there is a vinyl window that you can bring down to keep the bad weather out of the stroller. You child rides safely inside thanks to the 5 point harness that is fully adjustable at the shoulders to accommodate your child's height.

Both my 3 year old and my 5 year old love riding in it. Whether it's my 3 or 5 year old inside there is lots of leg room for them. There are 2 little pockets inside for them to bring along a couple toys or a drink and a snack. If your child is smaller then it is a great place to store a extra soother or your keys or even a cell phone.

The back of the stroller has a amazing storage space for when I make a trip to the store and buy some groceries. If all my groceries don't fit in the back there is ample room to put some in the front at my kids feet (note don't place the bread or eggs at your child's feet lol). I also use the back compartment for blankets, jackets, gloves, or hats. There is also a peek a boo window in the top to see you child while on the move.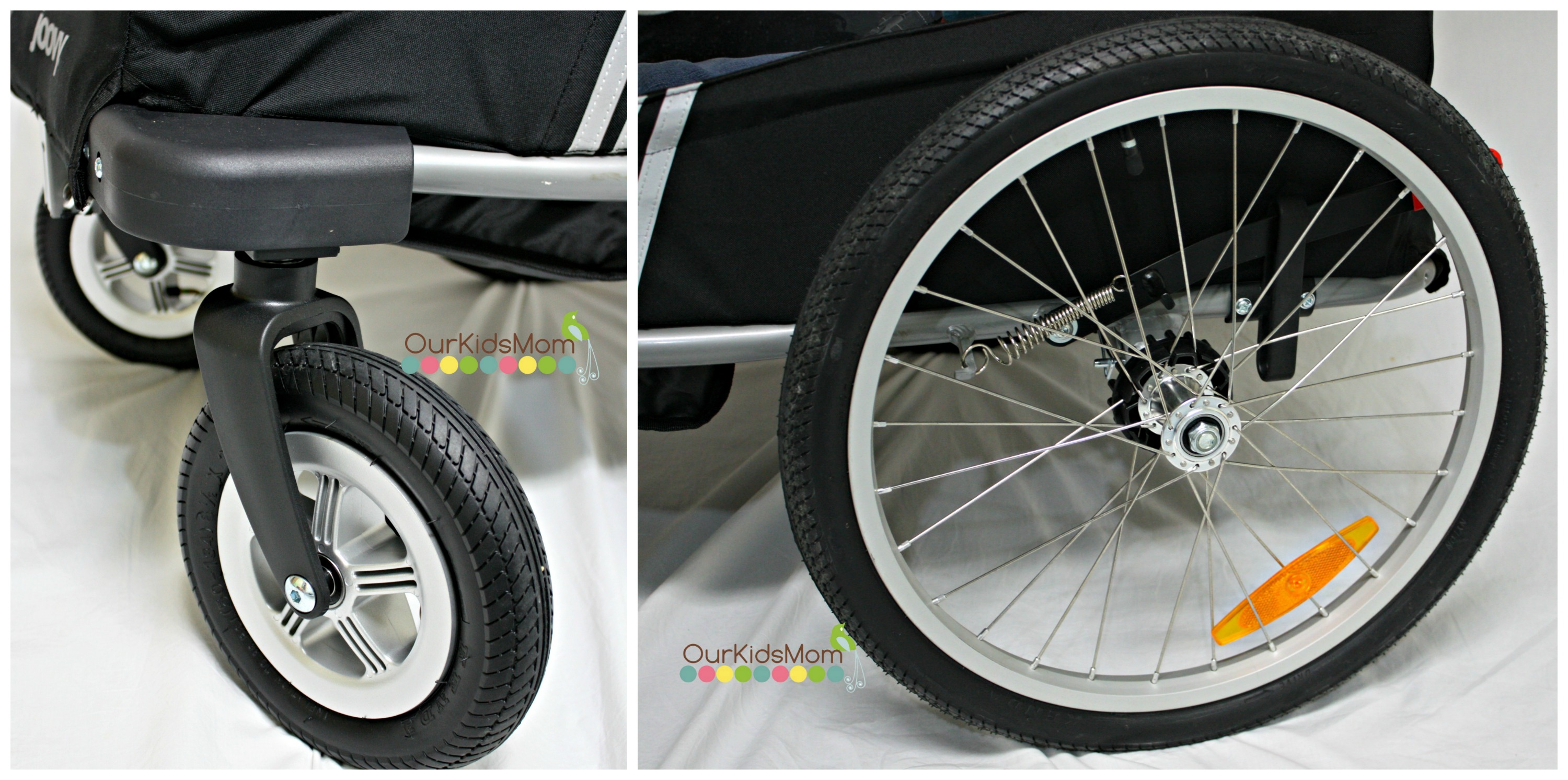 The front wheels are on a swivel which I find gives me easy and smooth maneuverability. The rear wheels are a large 20″ pneumatic tire which makes for a smooth comfortable ride. I find the stroller is amazingly easy to push… you hardly have to push at all.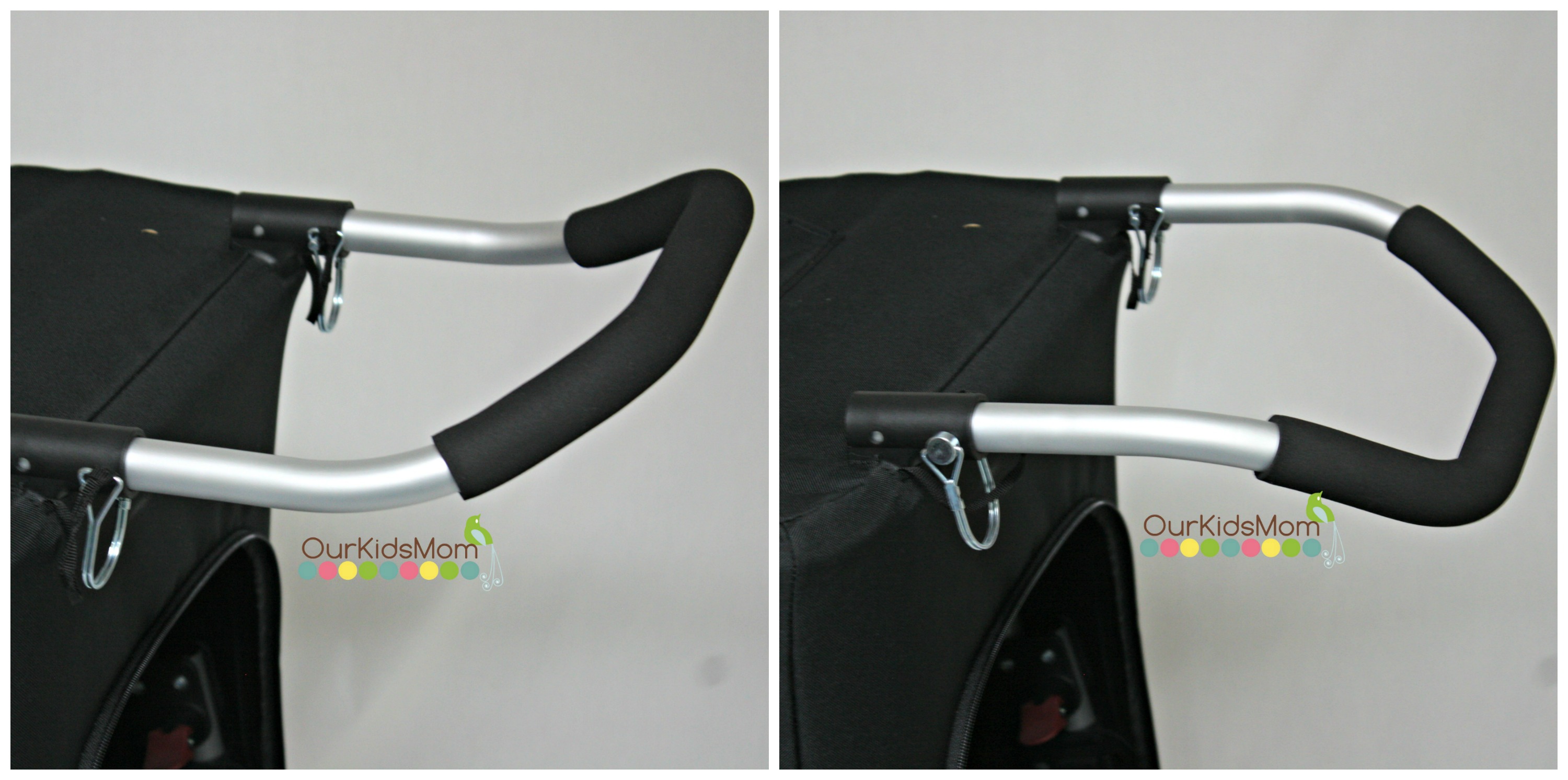 The handle bar I LOVE. Being taller I find some handles are too short. The Cocoon has you covered whether your taller or shorter because you can easily turn it around to make it shorter or flip it over again to make it taller. Thank you Joovy!
The single Joovy Cocoon will carry a child up to 60 pounds. My 5 year old is only 43 pounds, so he will be able to fit in it for many more years.




The Cocoon folds up pretty compact for the size of the stroller. I can fit the wheels and handle bar inside the stroller when folded up and zipper it closed to keep everything together. That way you don't have to search your trunk for where you put those tires.

The brakes for both tires are not connected (meaning they don't function together). To put the brakes on both tires you do have to manually put each one on individually. I don't find this is a hindrance or a pain at all. I find that the brakes are in a place that you can put them on quickly and easily with your foot without issue.
This is a great multi functional stroller. It is a seriously amazing stroller for everyday out and abouts. I have to add that the stroller does fit through doors with ease.
For more versatility you can purchase the fixed jogging wheel (sold seperately) for the joggers or you can also purchase the bicycle trailer attachment for the bikers. This is easily 3 strollers in 1!
I personally will be purchasing the bicycle trailer attachment so I can get rid of my other bike trailer and have fewer pieces of equipment to store. At $499.99 I think it's worth every penny for what you are getting. I very highly would recommend this stroller to my friends. Head over to Joovy.com and start shopping!
Connect with Joovy:
      Disclosure of Material Connection: I received one or more of the products or services mentioned above for free in the hope that I would mention it on my blog. I only recommend products or services I use personally and believe will be good for my readers. I am disclosing this in accordance with the Federal Trade Commission's 16 CFR, Part 255: "Guides Concerning the Use of Endorsements and Testimonials in Advertising." The opinions expressed in this post are entirely my own. Your experience with the product may differ from mine. The sponsor is responsible for prize fulfillment and will be shipping the winner(s) their prize(s). For more information read my disclosure policy.