Joovy Cocoonx2 Double Stroller With Jogging Wheel

The CocoonX2 is a double stroller-jogger-bicycle trailer all in one!
New Years is here… was one of your resolutions to be more active, get fit, maybe lose a little weight? I know mine was! One of my main contributors to falling off the resolution wagon is time. Time to get out and take care of matters without my children. Taking them for a walk turns into a slow stroll because they tire easily and their legs are so short (poor babies… bless them for trying to keep up with me!) Before the time change I was able to sneak out for an hour after my husband got home from work. Now it gets dark out super early and it scares me to to be out alone in the dark.
Joovy is here to help a busy mom like myself. With the Cocoonx2 I can get out when it's convenient with both of my kids. I don't have to rely on someone else's schedule anymore. Now that I have the Cocoonx2 I can bring along both kids (maximum weight limit is 100 pounds) for a leisurely or brisk walk… heck even a jog!
This double stroller has multiple uses, too! As is, straight out of the box, it's a double stroller. Purchase a jogging wheel and now you've got a jogging stroller. Like to bike? There is a bike trailer attachment (sold separately) that easily installs and now you have a pull behind!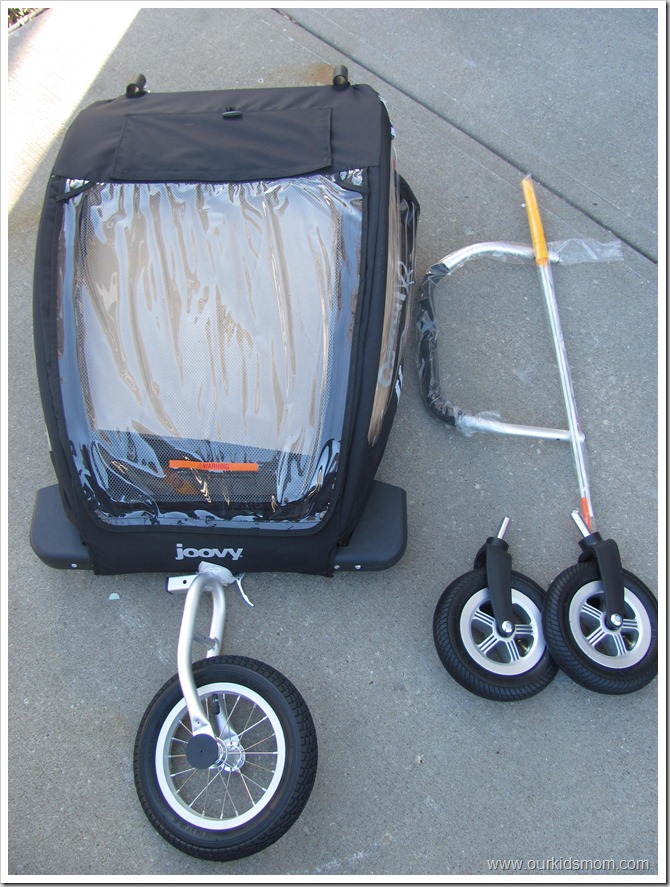 The photo above is of all the parts, straight out of the box. The larger wheel in front is the jogging wheel (sold separately). It only took a few minutes to install the wheel and handle and then I was ready to "pop open" the main compartment! The main unit is folded surprisingly flat (and stores that way as well) and there is nothing to assemble with it. I unzipped the front screen and removed the packing cardboard. With a couple of pushes on the bars the entire stroller was finished.
One of the main features that I knew would be appreciated on the Cocoonx2 was the front shield. The first photo shows the weather shield (rain and wind) down and secure. The second shows it rolled up and the screen open. These shields are invaluable in helping keep the kids warm and dry, allowing me to stay out as long as I had planned/needed.
The inside compartment is of utmost importance for my two. Emma is 5 and Ethan is (a big) 3, so I need room for them to be comfortable. As you can see, there is ample room for their bottoms and their legs. The seatbelts have the shoulder option (five point harness) for younger children. We unclipped these and use the waist and crotch belt. Notice on the sides of the compartment there are pockets for snacks, toys &/or sippy cups. I can't go anywhere without the kids asking for a drink. Now I don't have to stop to hand them one! The sides of the main compartment are also shielded with the same plastic used for the rain shield to help keep the weather out, but allow them to see everything and be happy. Bundled in their coats and blankets they remain warm and cozy while I work up a sweat.
Some of the options meant for mom include the peek-a-boo window in the roof. This allows you to take a peek inside to check on the kidlets without missing a step. Leave it open so they can see you, or close it to shield them from the sun. In the back of the stroller this is a large zippered compartment (called Joovy Family Gear) for the diaper bag, blankets, toys… anything! I was surprised at the amount of space available for storage. I plan on packing picnic lunches this summer. There is more than enough room for the cooler and diaper bag.
Another feature I was happy to see was the wrist strap. See the long cord hanging off the back there? It Velcros around your wrist and is there to help keep the stroller from getting away from you if you happen to trip (if you are a klutz like me).  There are a few reflectors for visibility found on the back and on the wheels and also two super heavy duty brakes (which with heavier children I am happy to see). The 20" pneumatic rear wheels offer a super smooth ride for the occupants, which means fewer complaints and longer rides

. I neglected to get a photo of it, but the handle offers two positions allowing for a taller adult to push the stroller without walking on the wheels. As most of the adults in our household are over 6 foot, this is a fabulous option.
Although it wasn't part of the review, I wanted to mention the optional parent organizer ($29.99) that I purchased to arrive when the stroller did. It is made of a nice thick neoprene fabric with 3 pockets for water bottles, keys… whatever you are needing the bring along. I would highly recommend purchasing it as an accessory!
The jogging wheel is a fixed wheel, which is taking a little while for us to get used to. With a little effort and a tip, the stroller turns nicely and fluidly and stays on a straight path with less effort. Even on rough terrain the occupants had a fairly smooth ride and the smiles remained. One last little touch that Joovy added was a safety flag. As a jogging stroller or a pull behind on a bike, it's nice to have visibility. As a "plain" double stroller, I might leave it at home.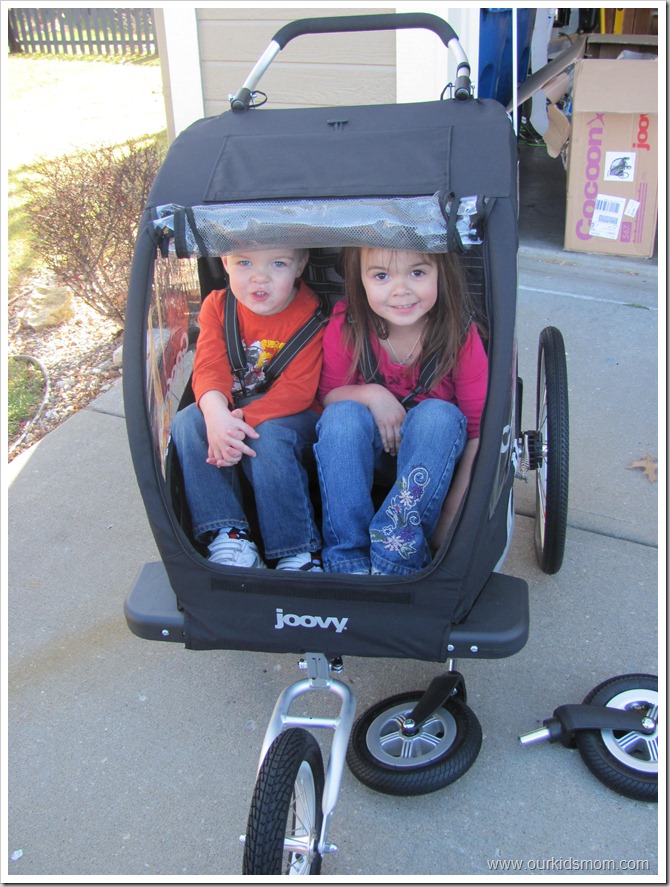 Here are Ethan and Emma sporting their new ride. They are leaning forward so they can see out of the front entrance, but even leaning you can see there is plenty of leg room (even with two larger kids).
I can't say enough good things about the Joovy Cocoonx2 Double Stroller. Although it is larger and bulkier than a "normal" jogging stroller it has the added weather protection combined with more room to move for the occupants. It does fold down rather compactly for storage but may take a little disassembling (removing the jogging wheel) to toss in the trunk. With a weight limit of 100 pounds this baby will be with us for a long long time. 
BUY IT:
You can purchase the Joovy Cocoonx2 Double Stroller for $549.99
and the fixed jogging wheel for $69.99
Connect with Joovy:
Disclosure of Material Connection:  I received one or more of the products or services mentioned above for free in the hope that I would mention it on my blog. I only recommend products or services I use personally and believe will be good for my readers. I am disclosing this in accordance with the Federal Trade Commission's 16 CFR, Part 255: "Guides Concerning the Use of Endorsements and Testimonials in Advertising." The opinions expressed in this post are entirely my own. Your experience with the product may differ from mine. For more information read my disclosure policy.