Joovy Caboose Too Ultralight Stand On Tandem Stroller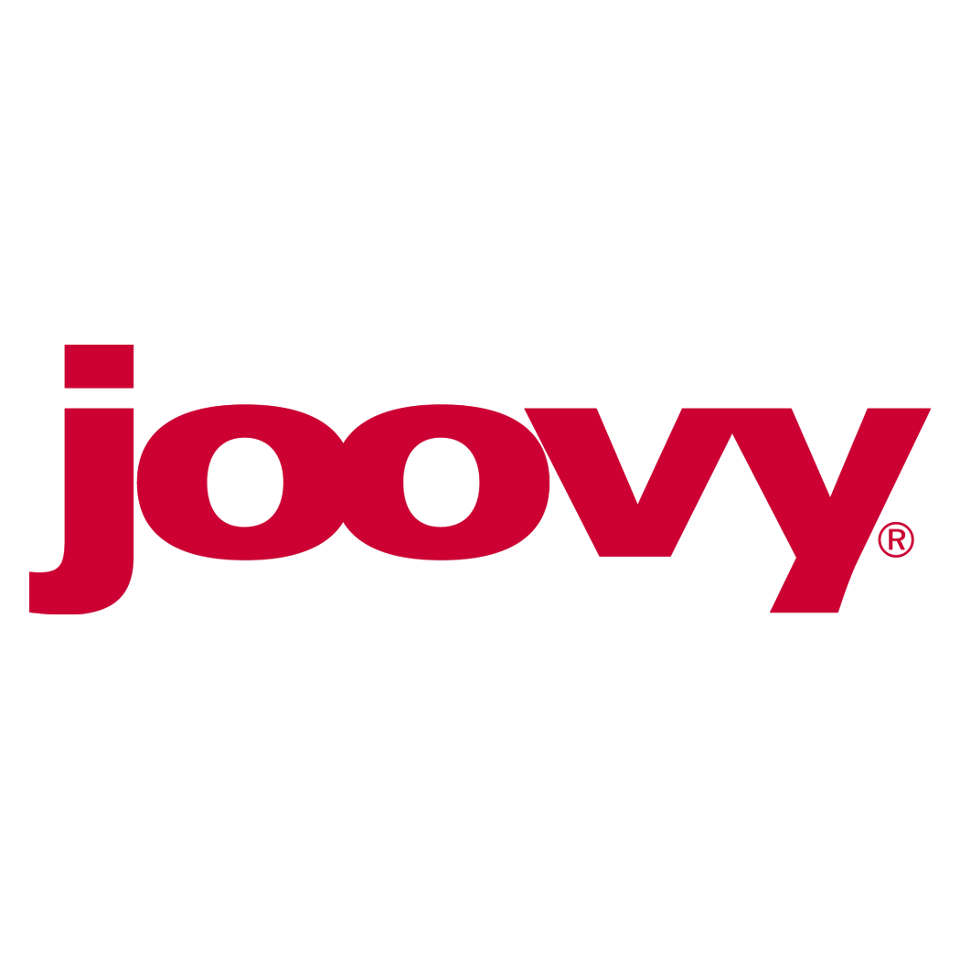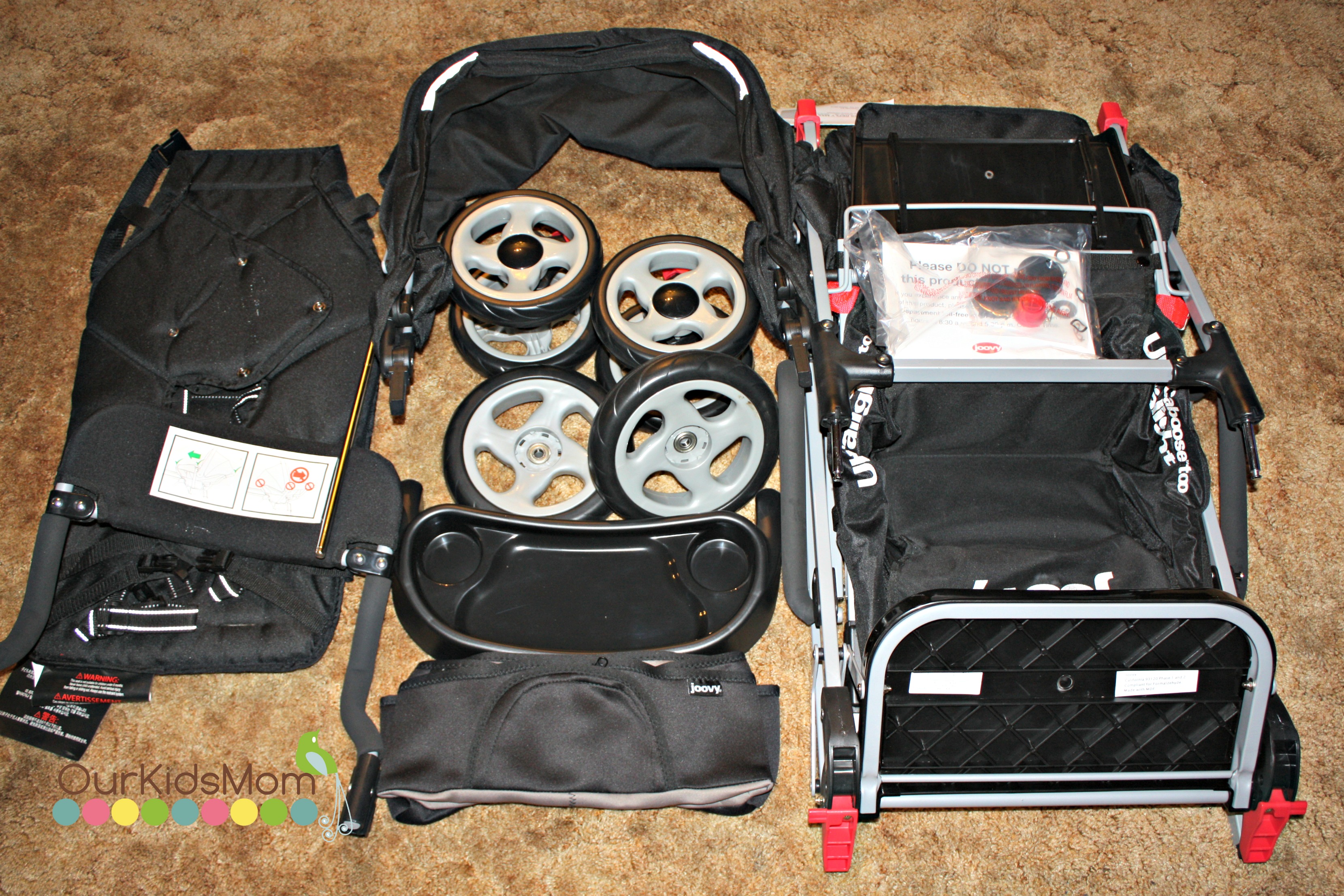 With baby number 3 on the way I have been concerned about how we will get around. I still need a stroller for my 2.5 year old daughter who feels that she is independent enough that she wants to walk, but not old enough to last a whole walk and eventually wants to be in the stroller. The new baby will be taking the primary seat in our stroller, so what am I going to do? 
No worries!  Joovy has my answer! 
The Joovy Caboose Too Ultralight Stand-On Tandem Stroller is a sit and stand stroller, but also it's a double stroller with two full sized seats. This stroller has been so amazing to work with and to learn all the awesome features it has that will meet all my needs when I'm out with little ones. With only minimal assembly upon arrival I was up and ready to go within a short amount of time.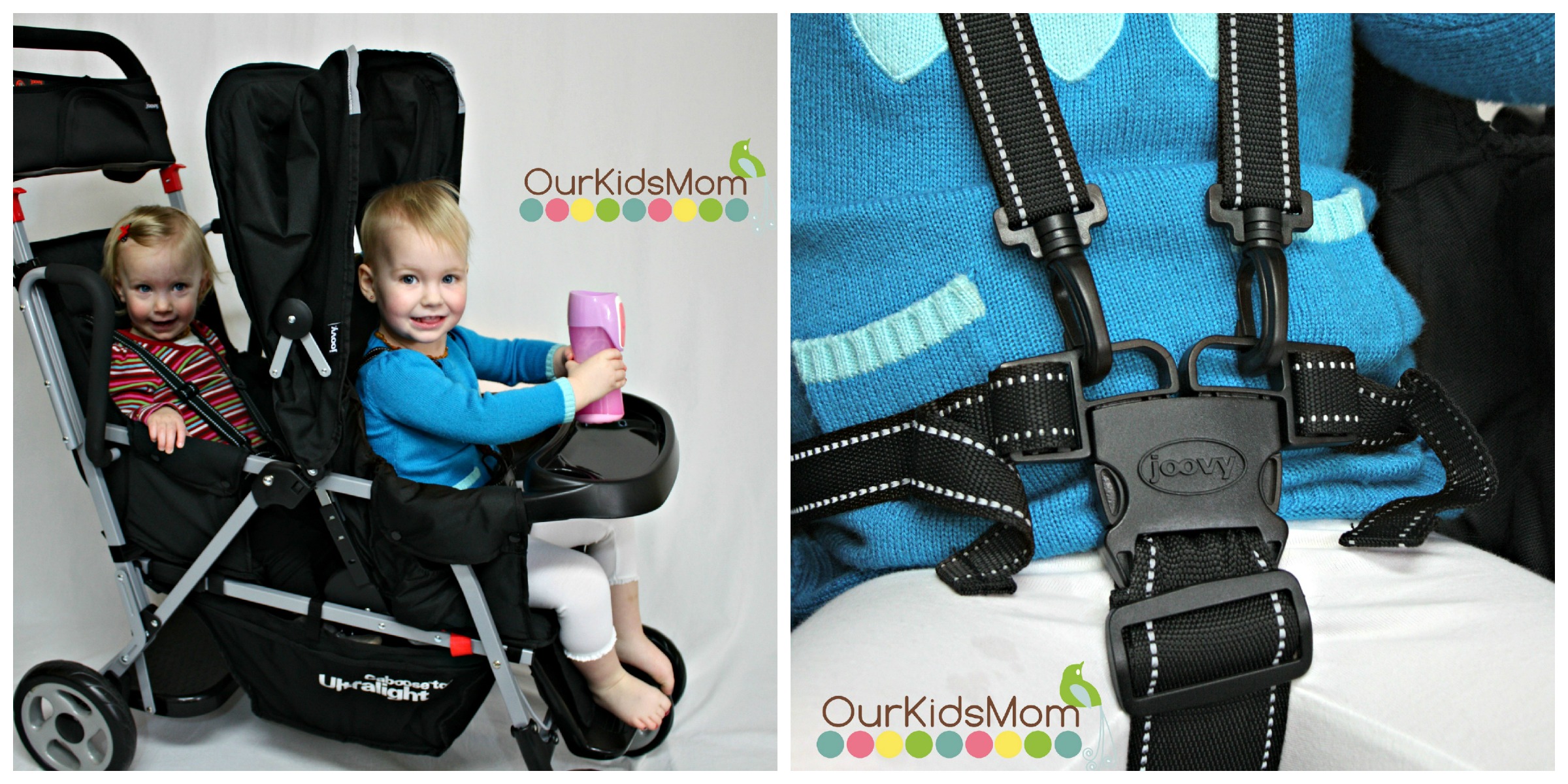 Option number one for this stroller is to have both full sized seats installed. Both the front and back seat are equipped with a 5 point harness to keep your baby safe and secure in the seats at all times. The front seat is good for 3 months + and up to 45 lbs. I'm amazed at this weight capacity because that means my 5 year old can still ride in the front seat if need be!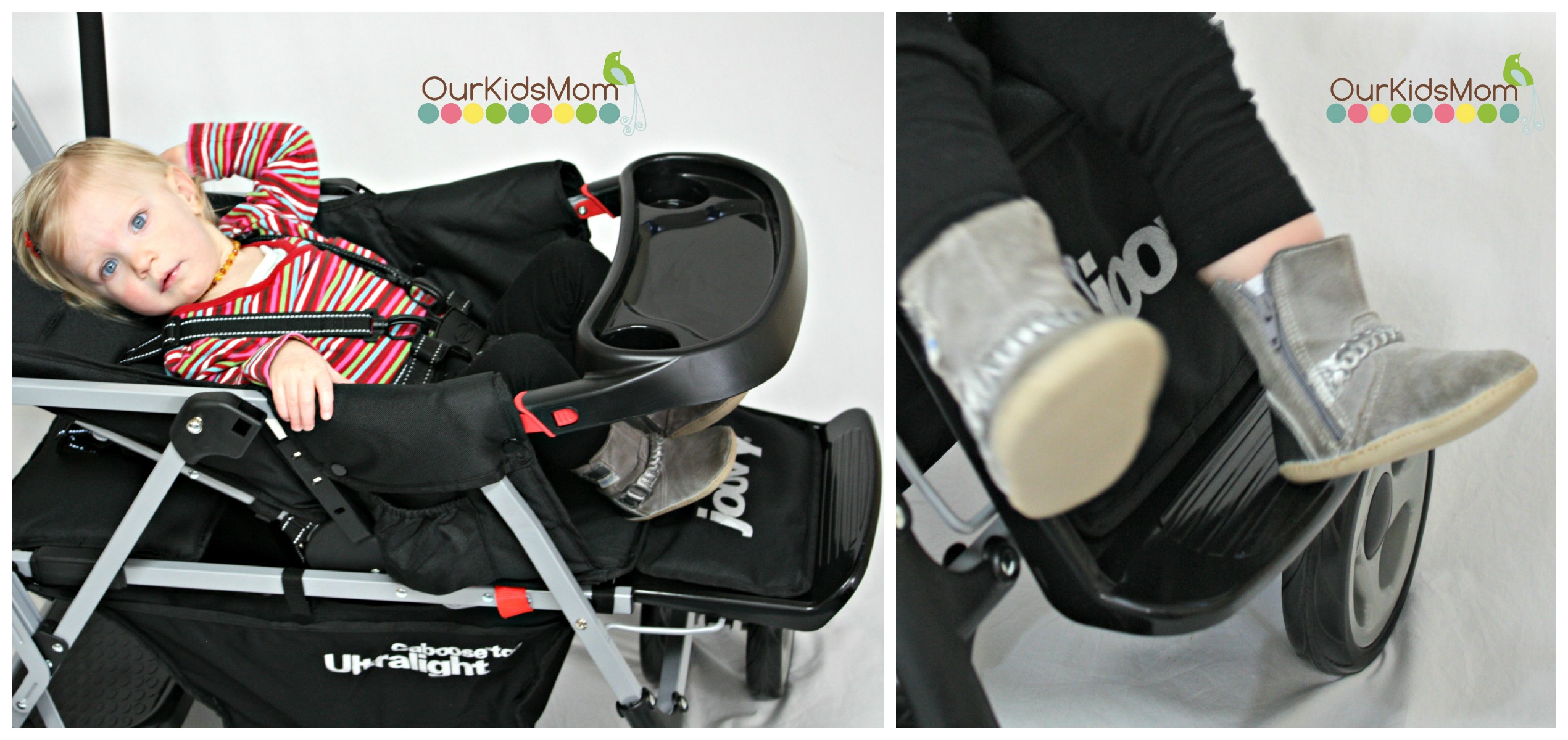 The front seat has a 3-position recline allowing your child in the front to lay pretty far back in the seat. It's simple to recline and great for when you're out and your child falls asleep. They can recline and still ride very comfortably. The front foot rest also has a 2 position choice for added comfort for your front rider. With the back seat on I found you can't recline the front seat all the way back without squishing the child in the rear seat, I would just use the first 2 reclining positions.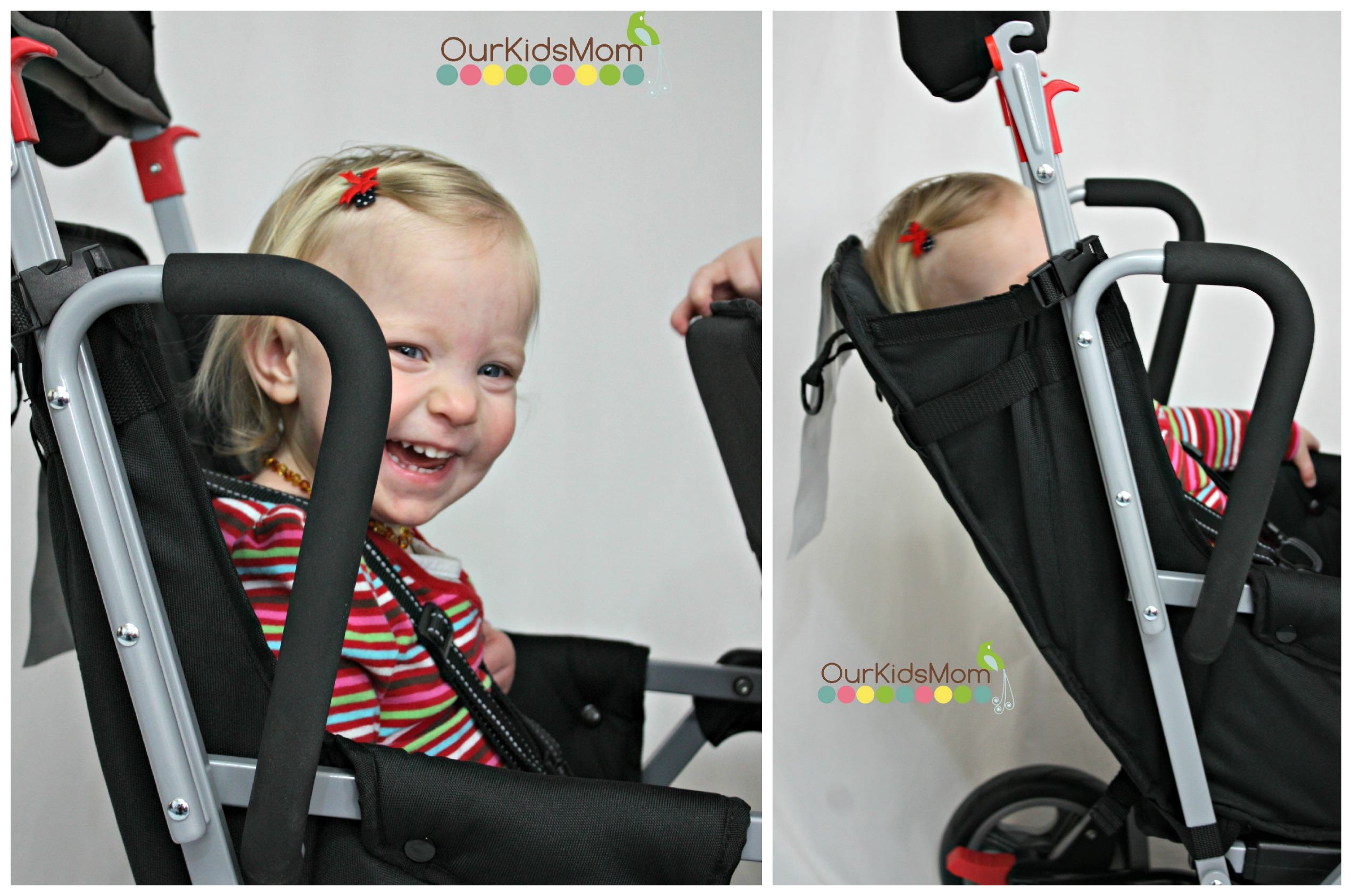 The rear seat, as I mentioned, has a 5-point harness and also features a 130 degree recline. This seat is designed for 6 months + and up to 45 lbs as well. Installing the rear seat is pretty easy once you have done it once and figured out the instructions. I did have a problem understanding what some of the instructions were referring to, but playing around with it I finally figured it out. The back seat doesn't recline as far back as the front, but if you have a sleeping child it is nice to have that recline to prevent the child's head from falling forward.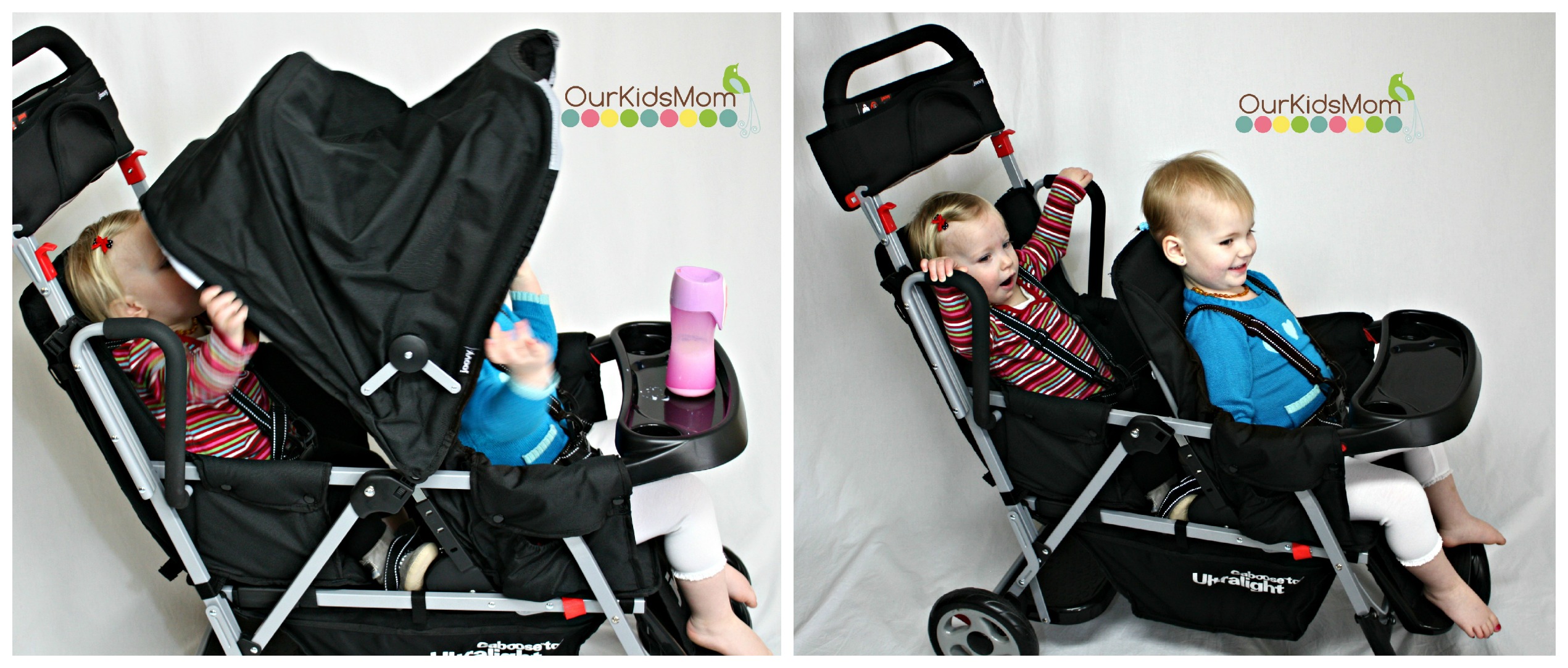 One thing I noticed with having two children in the stroller at the same time and using both seats is that when you use the full sized canopy, the child in the back can reach it and eventually grabs it and has fun playing and pulling on it to move it back and forth. If this is a problem the canopy is removable which will eliminate the rear child from playing with it.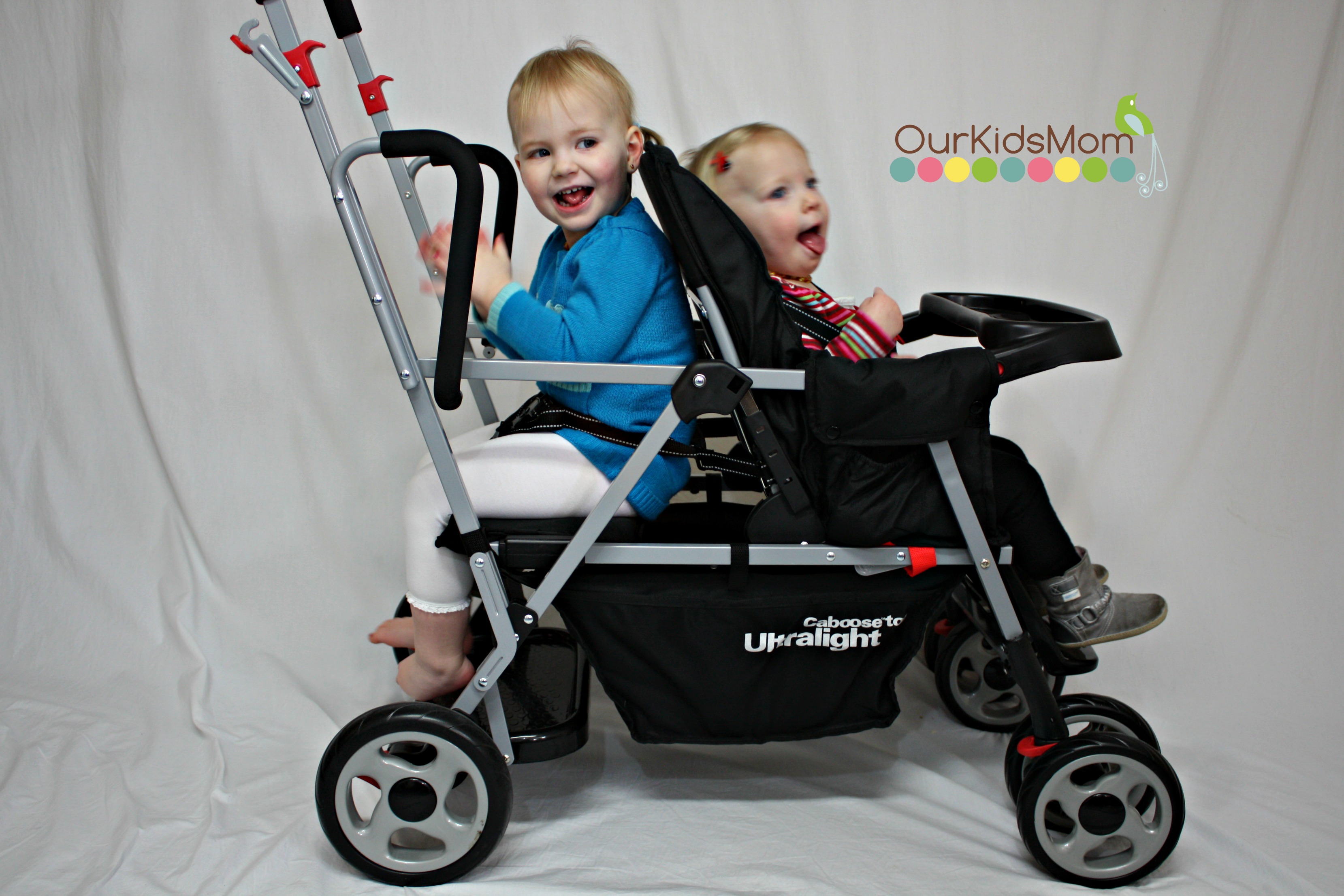 If you have an older child that still wants to walk but still wants back in the stroller for a couple minutes (with the repetitive back out over and over again), then removing the rear seat will give you a rear bench/platform that is designed for ages 2.5 years+ up to 45 lbs. The bench is equipped with a 3-point seat belt for added safety. The bench slides very easy forward and back depending if the child is sitting or standing. There are two straps that are tucked away under the bench that can be brought out and fastened around the stroller post to keep the child from sliding the seat back while sitting on it.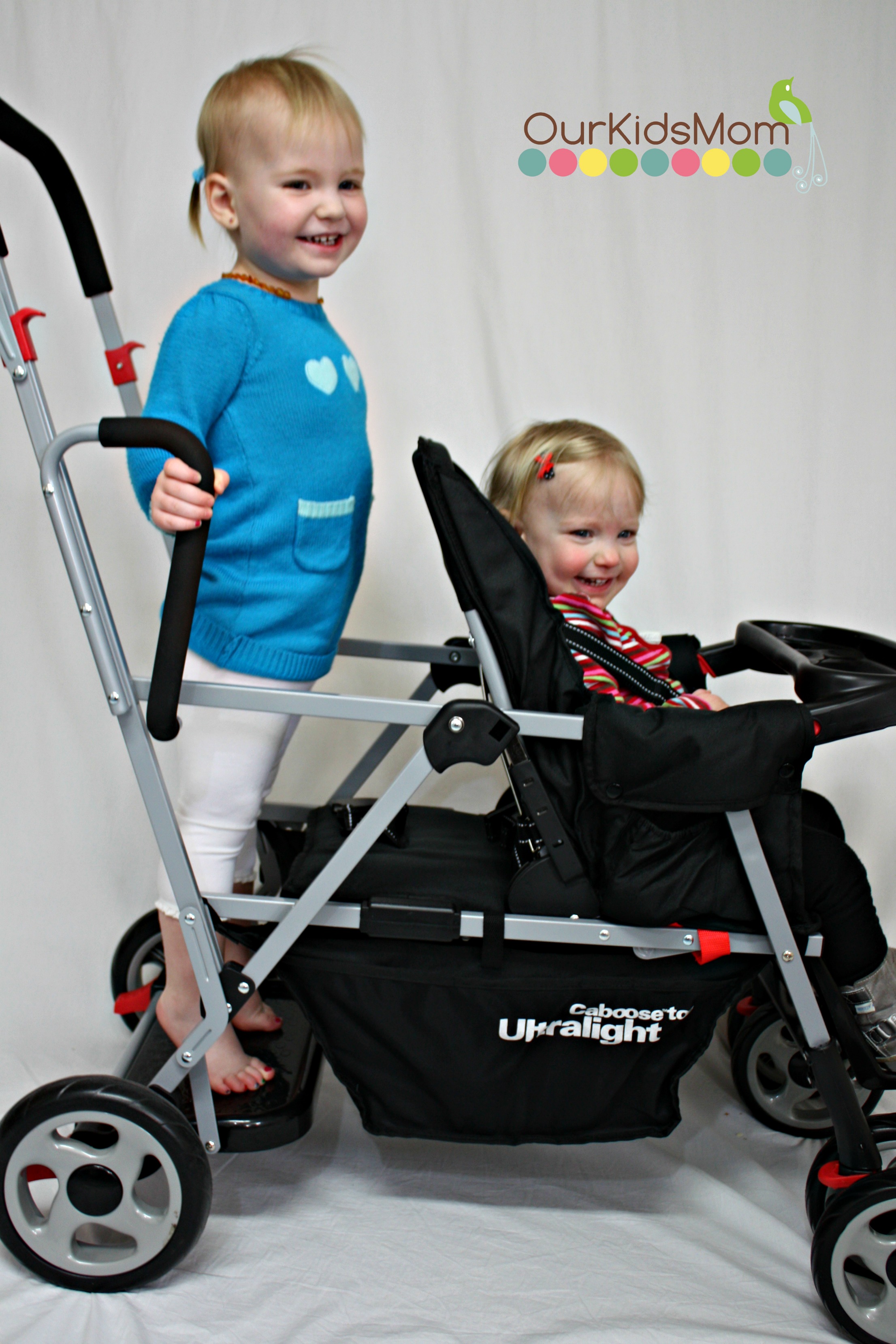 When your child wants to stand and ride then you can slide the bench all the way forward and there is a nice wide sturdy platform for your child to stand and ride comfortably. While standing there are two padded handle bars to hold onto on each side of the stroller. The standing position is my daughters favorite way to ride, she feels so big and feels like she has more freedom rather then being strapped in the stroller.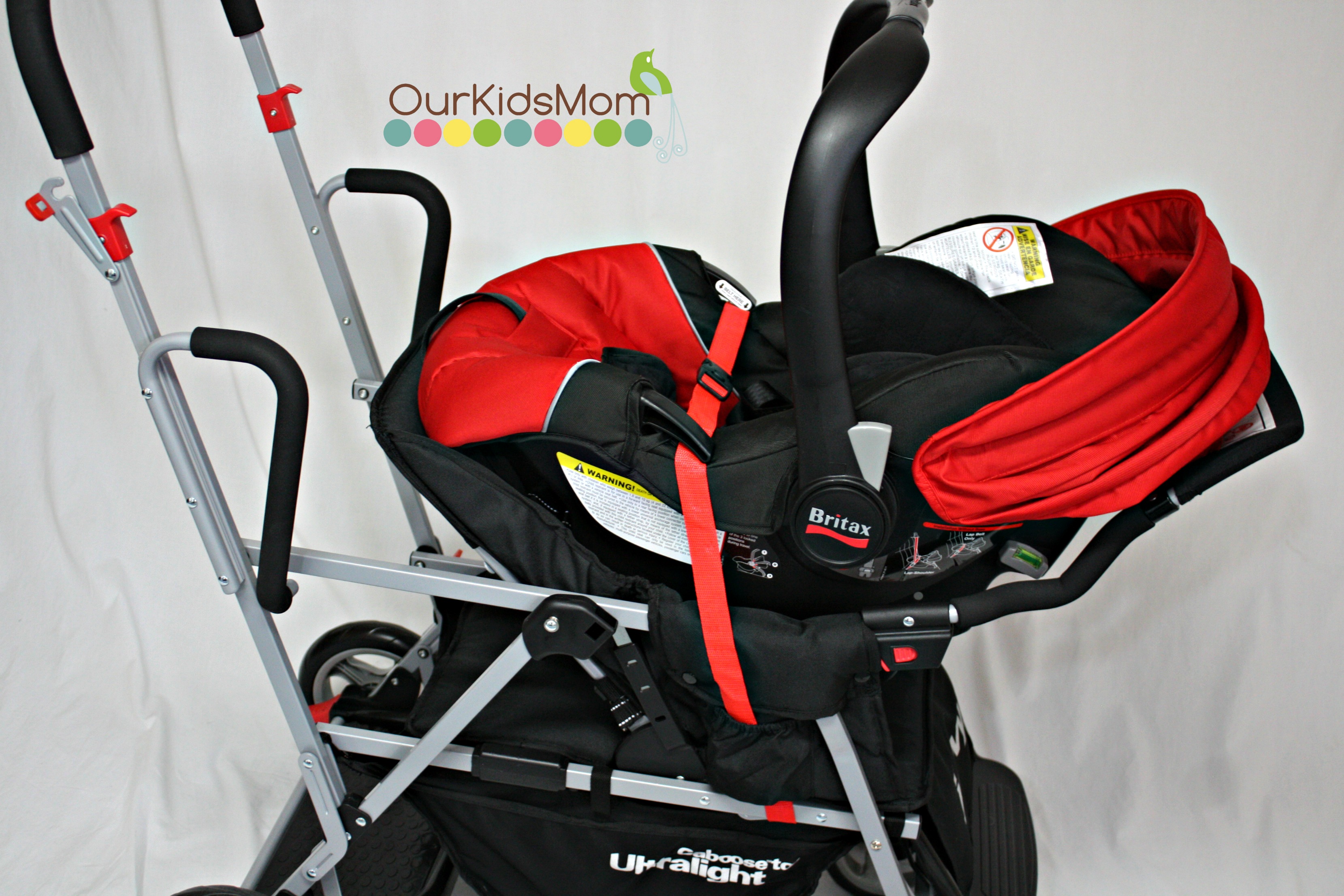 The stroller also comes with a universal car seat adapter to allow you to have your infant riding along in your baby carrier. The front child tray easily removes so you can clip on the car seat adapter. You simply recline the  front seat back to the second position and your car seat now sits perfect in the stroller. On either side of the stroller are 2 little pouches that store your car seat straps that you feed though the car seat, where you would put the car seat belt. The straps fasten together and your car seat is now secure and safe for traveling. While the car seat is on your are able to still use the back full size seat. I found it was easier to use in the reclined position to give the child in the back a little more room. For us, with the car seat on, it works better to remove the rear seat and use the standing position. Depending on the age of your children, there is a way for both your kids to ride comfortably.

Another great featurs of the Joovy Caboose Too Ultralight Stand-On Tandem Stroller is the great parent organizer that comes with the stroller.  This comes equipped with those needed and wanted pockets to put your water bottles and cell phone in. There is a zippered pocket for your change or keys as well. I LOVE all the pockets that are offered.
Under the stroller is a great sized basket to throw your diaper bag, blankets, diapers, or whatever you need to have along with you and a place to put them. The front wheels can be locked into position, or left unlocked for free motion of easy turning. The rear wheels have linked parking breaks, and also has all-wheel suspension.
There is a super easy trigger-fold deign with a lock to keep the stroller folded closed. This I found to be fast and super easy to fold up and to unfold it. When folded up it lays to a flat 10.5″. At 21lbs this stroller is a nice light double stroller. With the 2nd seat added it weighs in around 23 lbs.
I have absolutely fallen in LOVE with this stroller for it's ability to grow  with my family. No more needing to buy different strollers at each of my children's stages. Being able to accommodate 2 children with a combined weight of up to 90 lbs the maneuverability is incredible.
I would absolutely recommend this stroller to anyone who is looking for a great double stroller that will grow and adjust with your family. Joovy is a brand name in our house that I'm growing to love more and more with each product I try. Joovy is high quality and built to last, with safety in mind, and equipped with conveniences for us moms.  Joovy is the place to turn to!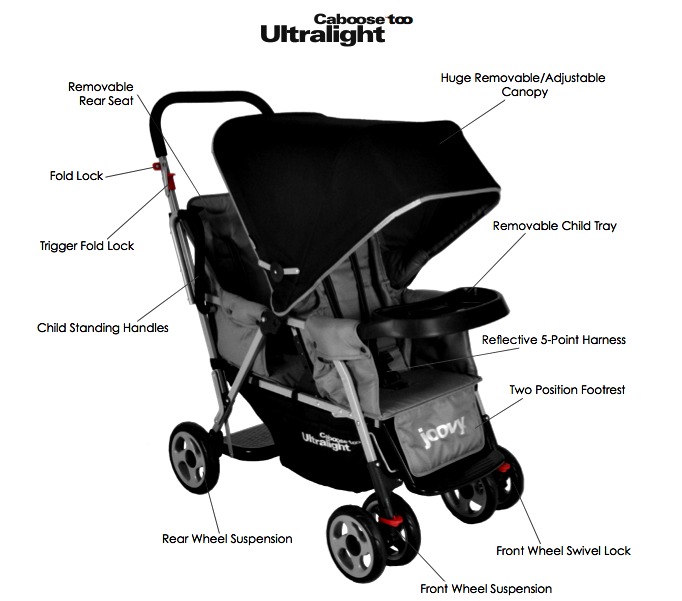 Connect with Joovy on Facebook and Twitter

BUY IT:
You can purchase a Joovy Caboose Too Ultralight Stand-On Tandem Stroller on a their website
Disclosure of Material Connection: I received one or more of the products or services mentioned above for free in the hope that I would mention it on my blog. I only recommend products or services I use personally and believe will be good for my readers. I am disclosing this in accordance with the Federal Trade Commission's 16 CFR, Part 255: "Guides Concerning the Use of Endorsements and Testimonials in Advertising." The opinions expressed in this post are entirely my own. Your experience with the product may differ from mine. The sponsor is responsible for prize fulfillment and will be shipping the winner(s) their prize(s). For more information read mydisclosure policy.