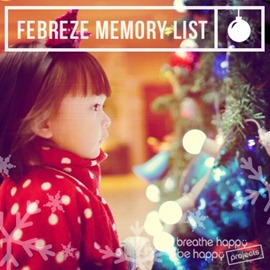 Last week Febreze asked What is your favorite memorable Holiday Decoration growing up?
I remember how tall my grandmother's tree seem to be… as a child I thought it was nearly 8 foot tall. It always made me smile. My grandmother passed her tree on to me when I got married. It still makes me smile, but it doesn't seem quite as big any more!
On December 3rd, Febreze started sharing their Memory List on their Facebook page to highlight the most popular memories from their fans.
Febreze wants to excite people for the holidays by hearing their fans most cherished traditions. The Memory list questions will be posted to Febreze's Facebook once a day between 12/3 and 12/17 so be sure to keep checking in!
Febreze will be collecting the Top 10 best holiday memories from their fans – tell them yours and they may add it to the list! Visit the Facebook page here and share your response. Some of the answers are pretty funny!

"I participated in a campaign on behalf of Mom Central Consulting for Febreze. I received a promotional item to thank me for participating"