Little Chefs Cook-Along | Feel Like A Kid Again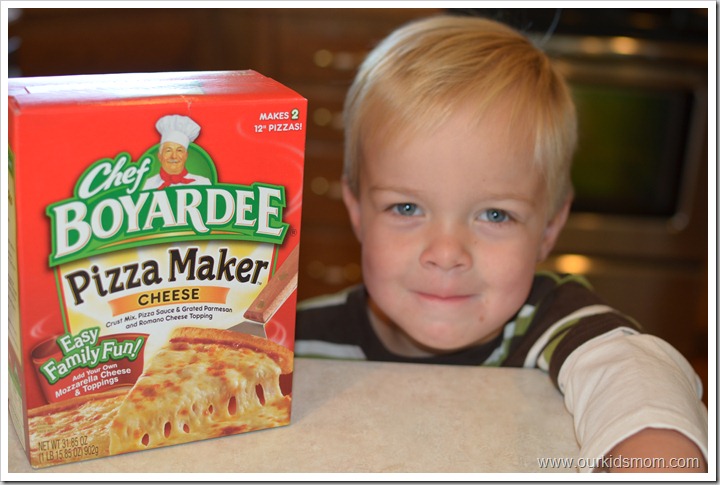 What is the Little Chefs Cook-Along?
It's A virtual Cook-Along called Feel Like a Kid Again, part of The Little Chefs Project series on The Motherhood.
The Little Chefs Project series consists of six Cook-Alongs, taking place every Thursday at 2 p.m. ET between October 11 and November 15, and each Cook-Along covers a different topic around cooking with kids. Feel Like a Kid Again addresses how you can feel like a kid again in the kitchen, and how your own kids bring back those memories for you.
When & where do we go to join in?
Feel Like A Kid Again is scheduled for Thursday, October 11, at 2 p.m. ET.  It will last 30 minutes.
To participate,  join us at The Motherhood. Log in using your member ID (if you don't have one, it's easy and free to sign up) and chat away in the text based comments. There is also be a video feed running during the half-hour Cook-Along.
About the class: Remember what it was like to cook with your mom or dad? Bring back those memories by getting in the kitchen to whip up your own childhood favorites with your kids – or have kid vs. adult cook-offs, sing songs, get silly, make a mess and more. Join us for great stories, delicious recipes for cooking with Chef Boyardee that the whole family will enjoy and tips for feeling like a kid again in the kitchen!
The Cook-Along is sponsored by Chef Boyardee, and it is hosted by The Motherhood.  You can visit Chef Boyardee online at http://www.chefboyardee.com/ or on Facebook at http://www.facebook.com/chefboyardee.
I'll be there with several other bloggers to co-host the class, and I hope you'll join us!  The fabulous people who will be co-hosting with me are:
 
Annie, Stowed Stuff http://www.stowedstuff.com
Carrie, Carrie with Children http://www.CarrieWithChildren.com
Connie, MiscFinds4u http://www.miscfinds4u.com
Heather, Our Kids Mom https://www.ourkidsmom.com
Janel, A Mom's Take http://www.amomstake.com
Leigh, Hines-Sight Blog http://www.hinessightblog.com
Pam, It's Time for More Coffee http://dakotapam.com
Tiffany, Stuff Parents Need http://stuffparentsneed.com
See how easy it is to cook with your kids and feel like a kid again!
Ethan was hungry and we both decided it was a great day for pizza. We typically make our pizza crust from scratch, but that takes a while and we wanted to eat now. Fortunately for us Chef Boyardee's Pizza Maker kit is quick and easy!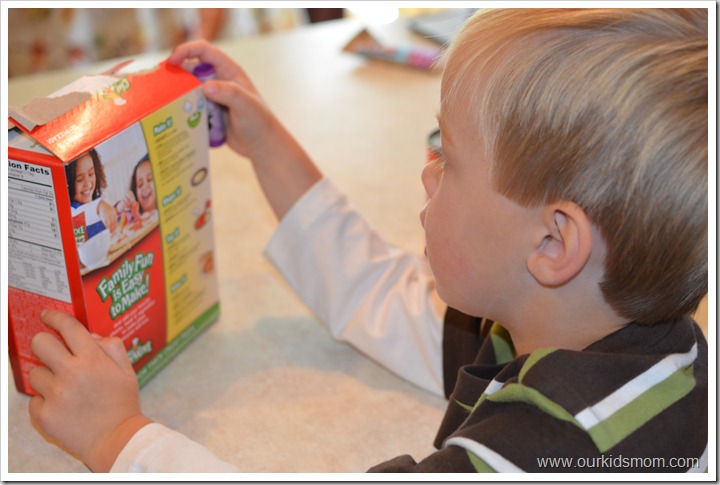 Ethan helped me check the directions to make sure we knew what to expect. We got our supplies together and started our dough. I love that this kit is simple enough for the kids to do almost on their own with adult supervision.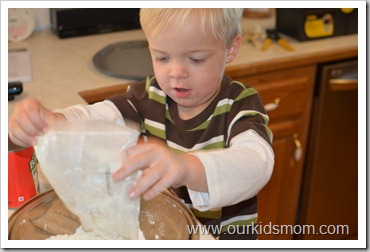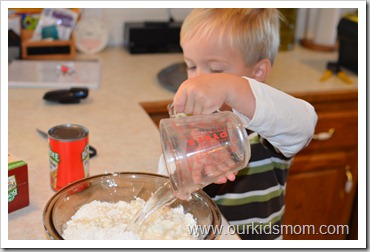 Ethan felt so big pouring the mix and water into the bowl all on his own. Amazingly, that is all it takes to make the dough! With a little help from Mommy he mixed the dough and water and then we set it aside for 5 minutes to rise. During that time we picked our toppings from the fridge.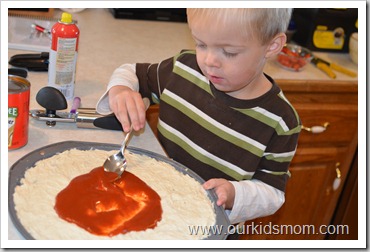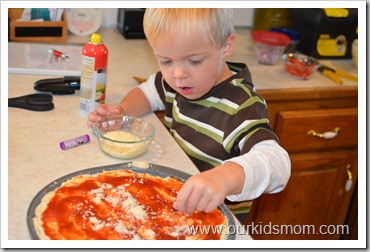 The dough was a little sticky and hard for a 4 year old to manipulate into the pan so I took over, but as soon as the dough was spread Ethan set to work on the sauce and cheese. At this point my husband walked in and watched for a bit. He told us a story about how every Friday when he was growing up his family would make pizza from a box (like Chef Boyardee's) and have pop. Watching Ethan enjoying himself brought back those fond memories… which is what Feel Like A Kid is all about!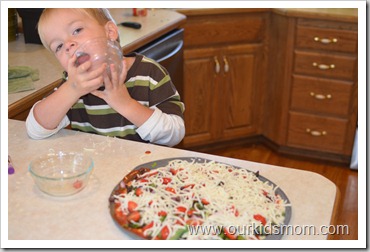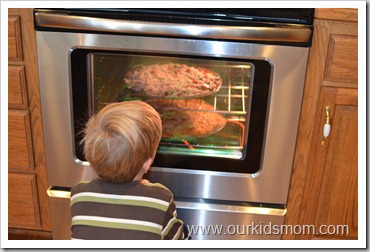 Ethan was completely invested in the pizza making process, including the clean up (he decided to start by licking the parmesan cheese bowl). He could barely contain himself as he watched the pizza cook and kept asking if it was almost done yet.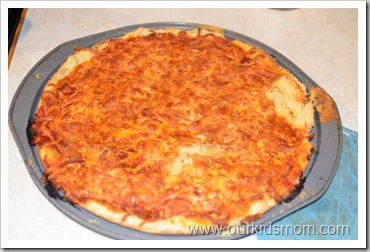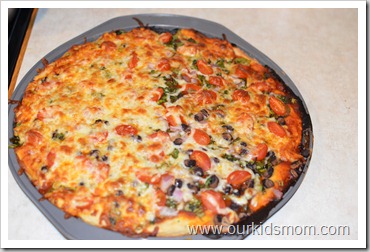 The beauty of making your own pizza is the ability to customize the entire, half, quarter… whatever part of the pizza for individual likings. As you can see, cheese is popular in our house. The other pizza is for the older population with cherry tomatoes, onions, spinach and Daddy's portion has black beans.
Ethan told me all the hard work was worth it as he munched away at his cheese pizza. He was pleased as punch that I let him have the one piece that he poured the parmesan cheese on (it's his favorite topping).
Disclosure of Material Connection: This post was part of a compensated Chef Boyardee program through The Motherhood. I only recommend products or services I use personally and believe will be good for my readers. I am disclosing this in accordance with the Federal Trade Commission's 16 CFR, Part 255: "Guides Concerning the Use of Endorsements and Testimonials in Advertising." The opinions expressed in this post are entirely my own. Your experience with the product may differ from mine. The sponsor is responsible for prize fulfillment and will be shipping the winner(s) their prize(s). For more information read my disclosure policy.