Jawbone UP | Fitness Food Activity Life Tracker
We received a sample for review purposes only. All opinions are our own.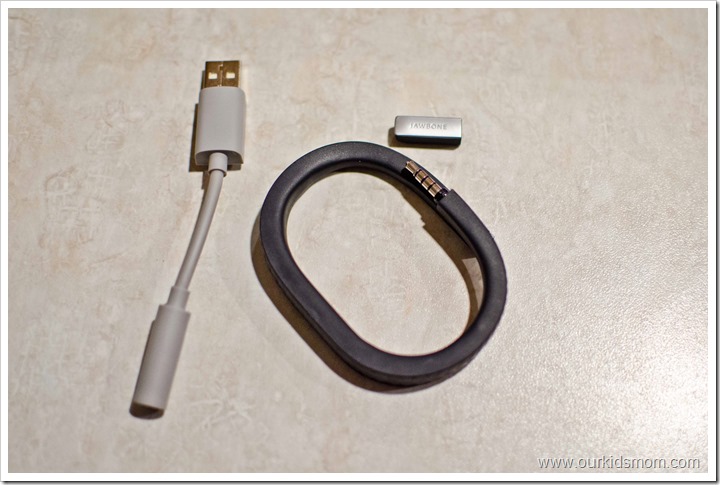 What exactly is UP™?
UP is a fitness, food, sleep and life tracker that was designed to fit seamlessly into people's lives. Real life. It's a thoughtful combination of engineering and design, custom-made for how we live—an intelligent computer wrapped around your wrist in the form of a wristband. It is comfortable enough to be worn 24/7 and the more you wear it, the more you track. The wristband tracks your movement and sleep silently in the background. Combined with your smart phone the app will display your data, let you add things like meals and mood, and delivers insights that keep you moving forward.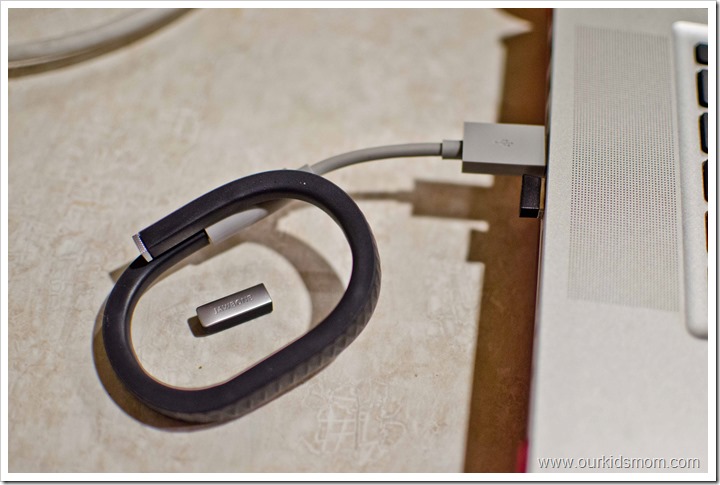 Charging UP is quick and simple. When fully charged, this little wristband has up to a 10 day battery life.

UP can tell you many things about yourself you've always wanted to know.  With UP you can track your sleep, activity, food and drink. With a large nutrition database as well as a built in barcode scanner you can create a big picture when it comes to your food intake as well as your activity levels.
Speaking of activity levels… do you work a sedentary job? UP can remind you when you've been inactive for too long so you can get up, stretch your legs and get your heart rate up a little.
UP can monitor your sleep pattern and wake you gently when you are in light sleep near your requested alarm time as well. Wake up refreshed instead of in a groggy sleep cloud.
UP is water resistant and can withstand showers, rain storms and even sweat from a heavy workout.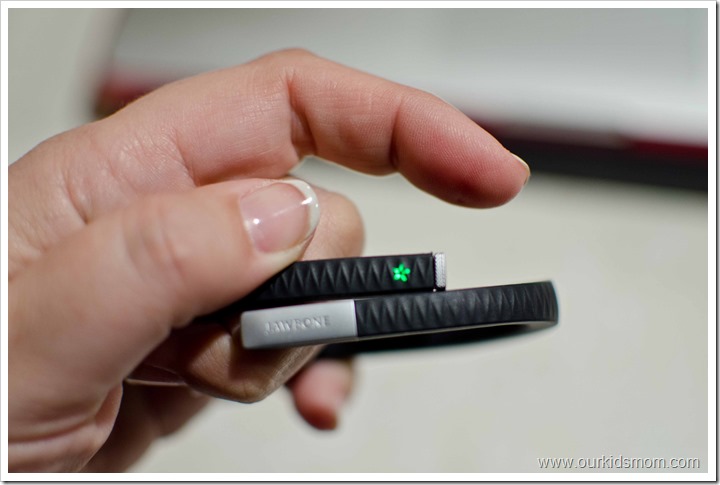 All of these features in this tiny little wristband.
My husband and I have been having fun tracking our sleep patterns. With a quick press of the button UP will tell you it's tracking your sleep or activity with a quick vibration. To stop tracking the activity simply press down again until UP vibrates again.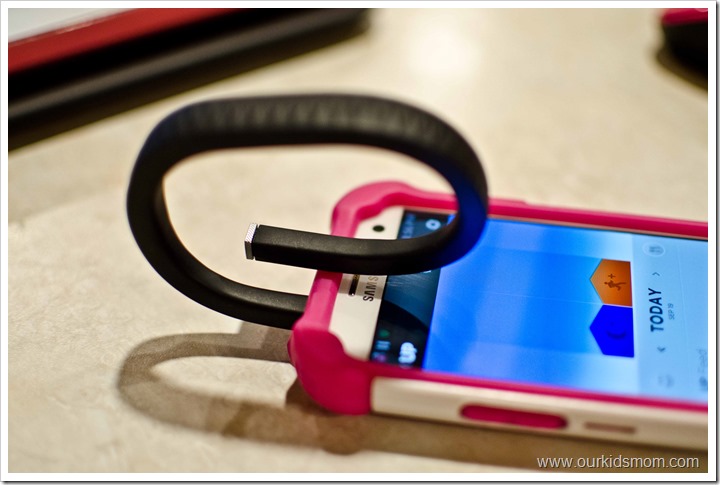 The UP wristband synchs with your iOS or Android device by simply plugging it into the headphone jack. The UP app will then give you a summary of the information received.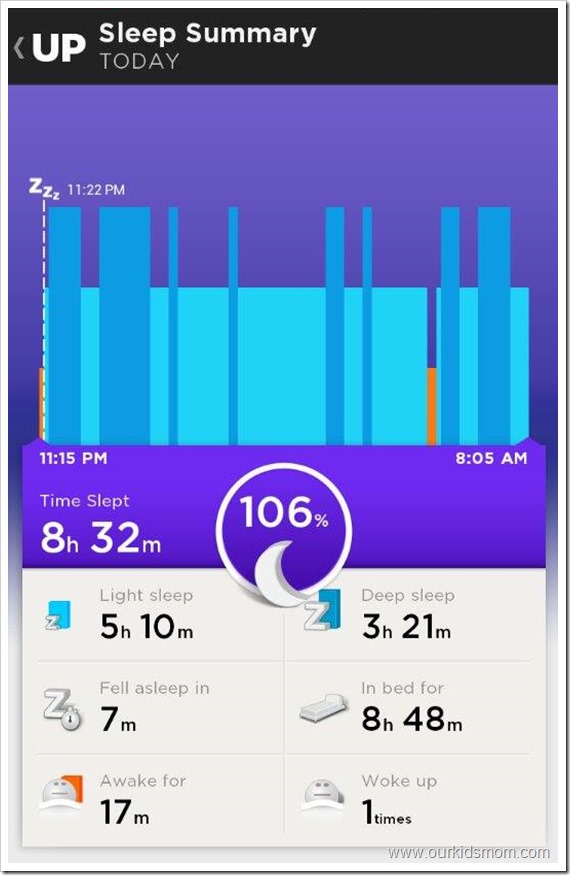 The screenshot above is a summary of one night of sleep. It's very interesting to see your deep and light sleep patterns as well as how many times you woke up. Ever have one of those mornings that you just can't seem to wake up even though you were in bed 8, 9, 10 hours? You may have had a bad sleep night and not know it!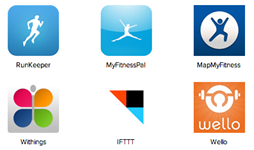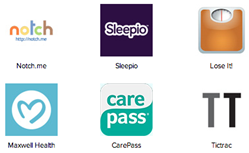 As I mentioned earlier, the UP wristband does more than just monitor your sleep. My husband and I like to use it to track our fitness goals and food goals. Pairing your UP app to another like My Fitness Pal you can get an overview of your food/caloric intake compared to your physical activity/calories burned. There are so many awesome combinations depending on your overall goal.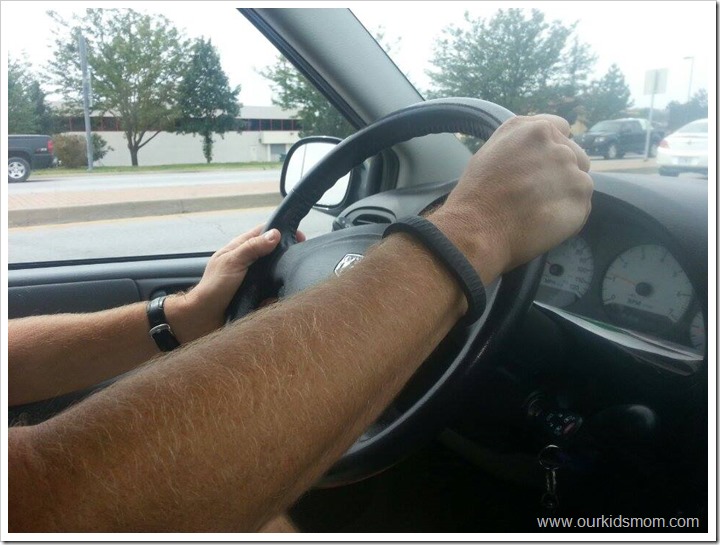 The UP wristband is an unobtrusive item that fits well into our lives. As you can see above, if you didn't know what it was you might think it was either just a bracelet or maybe someone was wearing their watch upside down. I like to flip it the other way with the silver pieces on top as that part of the wristband isn't as thick and looks a bit more feminine. If you are wanting a little more fun and spunk, UP comes in many colors to compliment your mood or wardrobe.
It's amazing that a small item like this wristband can do so many things. I love that you can keep track of your progress simply by plugging UP into your smart phone. If I could change one little thing, though, I would love to see bluetooth technology on future UP wristbands. I would even pay a little more for that feature so I could simply open the app, synch and not have to take the wristband off, plug it in and wait. I'm always worried I'm going to lose the silver cap for the tip of the wristband in the process.
BUY IT:
You can purchase UP by Jawbone at a Best Buy near you or online at Best Buy