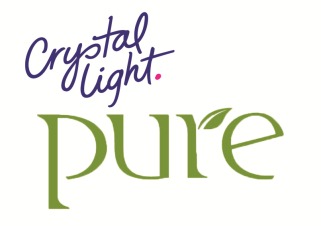 Crystal Light has made a sweet breakthrough in beverages with new, naturally sweetened Crystal Light Pure.  It gives women a new way to add delicious flavor to their water. In fact, women who drink Crystal Light drink 20 percent more water. (Based on consumption of tap, bottled, flavored water and prepared powdered beverages from Kantar Worldpanel Beverage Panel data).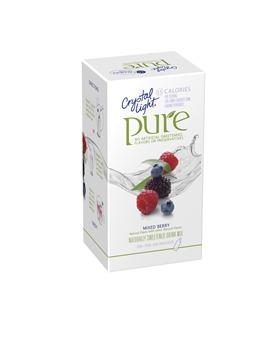 Oh joy, another drink mix… right? No!  What makes it different from other drink mixes?
Pure contains no artificial sweeteners, flavors or preservatives

Pure is sweetened with sugar and Truvia™, an all-natural, no-calorie sweetener derived from the stevia plant

Pure is colored and flavored with natural ingredients
Crystal Light Pure offers a naturally sweetened, great-tasting way for women to enjoy drinking the water they need and contains just 15 calories per 8 fl. oz. serving (one/half stick), compared to other leading fitness beverages which contain 10 to 50 calories for a similar serving size. (Compared to 10 calories in Propel, 20 calories in G2 and 50 calories in Gatorade per 8 fl. oz. serving)
Facts about Crystal Light Pure:
Each Crystal Light Pure packet will transform a 16.9-ounce bottle or glass of water into a light, refreshing beverage.

Available in five flavors: Grape, Strawberry Kiwi, Tropical Blend, Mixed Berry and Lemonade.

Two flavors (Grape and Strawberry Kiwi) contain electrolytes to help aid hydration during light physical activity when you consume one packet (two servings).  This makes it a perfect partner to add to your healthy, active lifestyle.

Crystal Light Pure flavors contain 4 grams of sugar per serving.
Crystal Light Pure comes in convenient On The Go packages.
I admit it, I am one of those women that just doesn't get enough water. I have good intentions, really, I do. Unless it is boiling hot outside, though, water just doesn't appeal to me.
Enter Crystal Light Pure…
I received several boxes of Crystal Light Pure to try. Like I said, I would much rather down a bottle of Diet Coke than drink water… but I gave it a shot! The first sip was a small one, but it caught my attention. Ten minutes later my first bottle of water was gone! The taste was light but tasty… not overwhelming like some other drink mixes can be. I can totally see how adding Crystal Light Pure to a bottle of water can help someone drink more water. Someone like me!
Connect with Crystal Light Pure:

Disclosure: I received product from One2One Network and Crystal Light Pure for review purposes only. This was not a compensated post. All opinions remain 100% my own.