Interview with Tom Hiddleston aka Loki
Saturday afternoon we were all given the opportunity to participate in a group interview with Tom Hiddleston. You will recognize him as Loki from Thor and now Marvel's The Avengers. I was excited to hear what he had to say about playing "the bad guy" and hear about his experiences making the movie The Avengers… but I was not fully prepared.
Why?
Because I was expecting Loki to enter the room…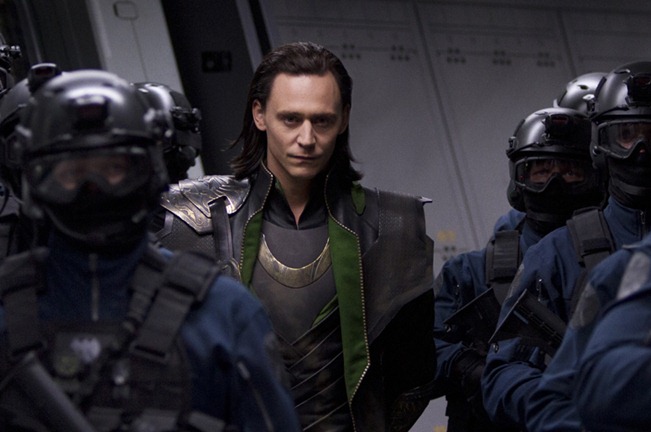 Instead of the dark Loki… in walked a handsome, charming, friendly, down to earth Tom with the accent to make any girl swoon. As this was our first interview of the afternoon most of us didn't know what to expect. Was he going to be guarded? Tight lipped?
He was completely the opposite and we knew this from the first second he walked in as shook each of our hands and asked our names (and repeated them… again, the accent *ahhh*) before he took his seat.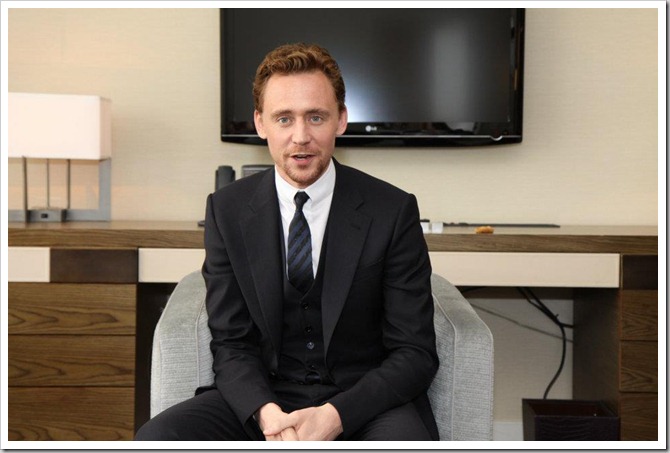 There were so many questions and so little time, but we did manage to get a few fantastic answers from him.
Do you prefer being a bad guy or a good guy?

TOM HIDDLESTON:  I love playing both, to be honest.  There are different challenges involved in both….   I am interested in flawed heroes and heroic villains.
Because I think nobody is — no one's all wise or all bad…  I don't believe in moral absolutes or moral purity… There's a Stanislavski question in his Russian acting training.  He says, the first question an actor has to ask about his character is "who am I?"

And a director I worked with in London said, actually, a more interesting way of framing that is — if you divide it into two questions — "Who do I want to be?" and "Who am I afraid I am?"  And most of us are running towards the first and away from the second. When you're playing the good guy, it's the first question: "Who do I want to be?"  I want to be good and virtuous and kind and decent and funny and — and generous and warm.
And if I'm a bad guy, it's, like, "Who am I afraid I am?"  Jealous.  Proud.  Angry.  Destructive.  And having said that, when you play the bad guy you do get to sort of cut loose.  I mean, it's not every day I get to fly around a — a satellite facility in NASA like it's my own personal circus…
Do you think your character is misunderstood in Thor?
TOM HIDDLESTON: In that film, he is.  In "Avengers" he's taken that misunderstanding and swallowed it whole and it's become kind of like maniacal and egotistical.  But yeah.  In "Thor" he's somebody who is in the moment, alongside the audience.  He's discovering the "why" of his life's story.
He's discovered that the narrative that he's been told of his personal history is — is a lie.  And — and so what happens is that his heart is broken, and that heart breaks kind of hard, and turns into something very angry and — and, uh, vengeful, unfortunately.  But I found that really beautiful, and that all came from, uh, Kenneth Branagh, actually. He found it fascinating to find the quality in Loki that was redeemable.  He wanted to — to have the audience believe until the last possible moment that Loki could be recruited to the good side.
 Are we going to feel that bad for you in this movie, or are you gonna – ?
 TOM HIDDLESTON: Yeah.  He does some pretty nasty things.  On one level, it was like, I knew I had to up the ante because there's seven superheroes that make up the Avengers, and, in order for the film to work, the film is the most redemptive, feel-good, kind of fist-pumping story.
And, in order for the audience to be pumping their fists for Iron Man, and Hulk, and Thor, and Captain America, they need to overcome a really big obstacle.  And, unfortunately, that big obstacle is me. [LAUGHS].   I hope I have retained a sense of his kind of emotional damage [like we saw in Thor].  There is a lovely scene with Chris Hemsworth where you see a glimmer of his — his vulnerability, but… he's yielded to the dark side, you know?

Marvel has such a huge following, so fans already have this picture in their heads, so, I mean, obviously, they have something now from "Thor," but now you're saying he's a little bit more maniacal?

TOM HIDDLESTON: Yes.  More than a little bit, I would say. [LAUGHS]
 
What were your reactions when you read the script and you realized that you had such a big role in this movie?
TOM HIDDLESTON: I did the happy dance.
You did?
TOM HIDDLESTON: I really, really did.  Yeah.  Yeah.  I wasn't allowed to tell anyone.  It was very top secret.  I had — I had — it came in paper form.  And most scripts come in electronic form now.  And they're all watermarked.  So if it ever leaves it has your name on it, but it was only in paper form, hand delivered.
And Joss told me — Joss Whedon told me I was going to be the only villain, but I really couldn't believe that I got the part, and the quality of his writing. 
******
As you can see, Tom is eloquent with his words and very insightful when it comes to his character Loki. He went on a bit about the special effects and using the green screen… how it required him to use his imagination and cut loose.
"You just have to imagine that. You have to use your imagination in a greater intensity. It's like a muscle, your imagination. It just has to work a bit harder."
I firmly believe Tom has mastered that art and I will have to admit that Loki was one of my favorite characters in the film. Could it be because I met and chatted with (I might add sat right next to) this amazing man? Naw… just take a look at the clip from the movie and you will get a short 1 minute glimpse into his amazing acting skills! I'm fairly certain the other 12 ladies in the interview would agree.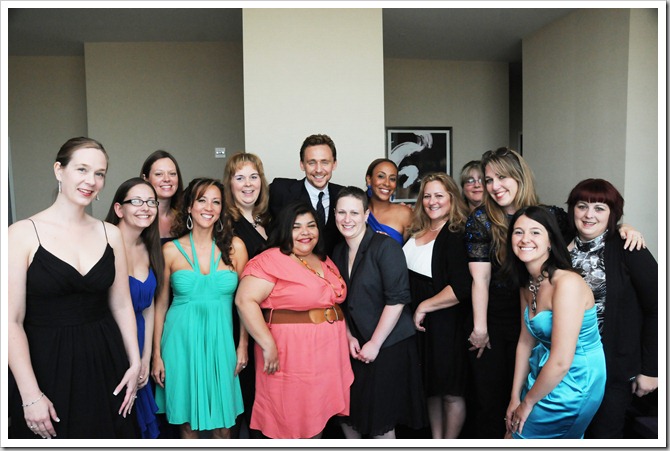 This is a short clip from Marvel's The Avengers… Loki is captured…
Check out all of my The Avengers coverage here.
Connect with Marvel's The Avengers:
You can follow the Twitter hashtag #TheAvengersEvent for current chatter!
Loki has his very own hashtags as well! #TeamLoki and #LokisLadies
*Disney/Marvel sent the kitchen supplies as part of their blogging event. I will receive an all expenses paid trip to New York City to attend this special blogger event. Any thoughts and opinions expressed in this post are entirely my own.*