Interview with Cobie Smulders aka Maria Hill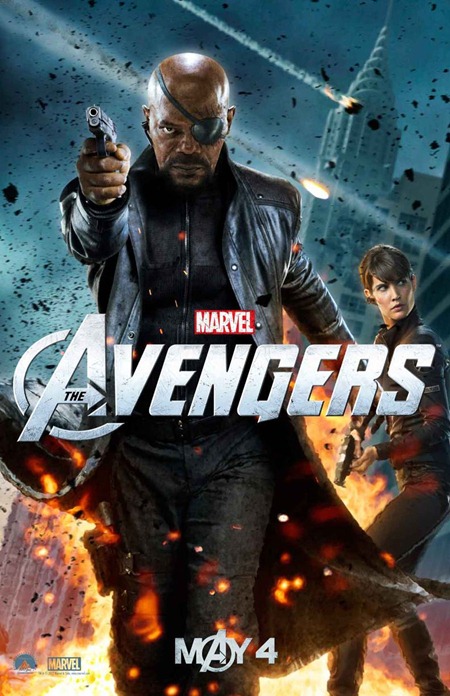 I have been a long time How I Met Your Mother fan with Cobie's character being my favorite tied with Neil Patrick Harris. When I found out I was invited to New York for The Avengers event and that we might have the opportunity to interview a few of the stars, my first reply was "Oh!! I hope we get to interview Cobie Smulders!". A couple of weeks later it was confirmed and I was beyond excited!
Cobie plays Maria Hill, second in command to Samuel L. Jackson's character Nick Fury as part of S.H.I.E.L.D.. After a little web surfing I found that not only is she "second in command", but they actually gave Maria Hill more of a meatier part for The Avengers than she had in the comic books.
I also found this…
Pretty good match, eh?
When Saturday arrived I had a couple of questions ready and headed to the Trump Soho Hotel and the 43rd floor. I could feel the anticipation in the room… and then she entered. Let me just say that not only is she as breathtaking, graceful and beautiful in person… but her personality is just as likeable as her characters are on screen (yes, I'm mainly speaking of Robin).
After a few comments about the breathtaking view and a little banter about what she was wearing (she even let us take a photo of her shoes) the movie questions began.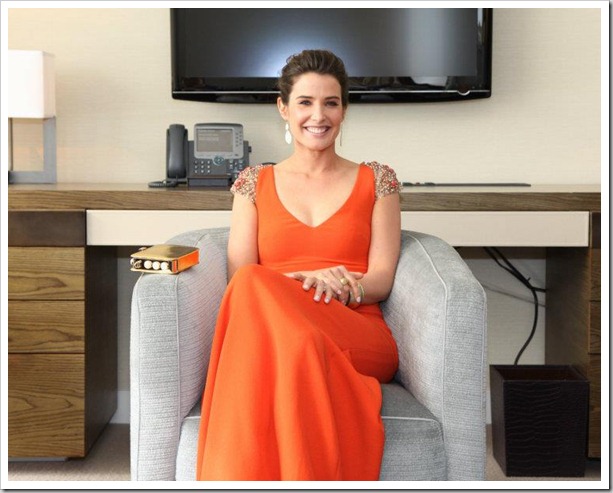 What's it like being one of the very few women in this movie?

COBIE SMULDERS :    It's been really cool, you know, it's, it's really cool that Marvel is bringing in these strong females.  And especially with Maria Hill, it's really cool to see a strong female that's in a commanding position.  You know, I was so intrigued by it, you know. Before I came and interviewed once and they were like, "oh… does she know, it's not that complex of a role… I don't feel like your character is very complex." It's like, this woman is like a high ranking officer! And she totally has like the hardest job in S.H.I.E.L.D.  And how did she get there?  That is to me is extremely interesting.  So, it's, it's been really cool to sort of add to the already, I mean, as with Scarlett as with Gwyneth that she'd be like  in an authoritative role. 
  
Did you do your own stunts?
 
COBIE SMULDERS :    I did.  I sort of chose to, to do it myself.  Only because it was such a-  especially for me going from How I Met Your Mother into this. 
  
The initial script that I got, it didn't even have what is at the beginning, which is this great car chase sequence. I have to do some of my own stunts and that wasn't in the, the first draft.  But I wanted to train in all different fields… to feel like at any point, I could take anyone down. [LAUGHTER] You know?  I wanted to be ready, I was like, tap me in tap me in. And so I probably really got on Joss's nerves. 
 
Because, you know, we'd be doing a scene and I even remember doing one scene with Sam and we were shooting somebody, we were shooting a bad guy probably.  And Sam… shot like three bullets… and then they would be like, "Okay, Sam you shoot three times, Cobie, you shoot once, and then Sam shoots two more times", and I was like, "What's that?"[LAUGHTER] "Why can't I, why can't I, give me, why can't I have, like give me one bullet, let me shoot twice, like come on! I've trained to do this." 
 
And then Sam was like, "All right, you can give her one of mine.".  [LAUGHTER] We shot a few more times… but I was really happy about that stuff, because I just- I really wanted to do as much as possible. 
  
Did you do special training for this?
 
COBIE SMULDERS :    I did I actually found this guy, really oddly, through my naturopathic doctor.  [LAUGHTER] It was- he's literally like he's doing my pulse and he was talking to me about the movie and I was saying I want to do all this training. I'm looking for a place to shoot, learn some martial arts and he's like, "Oh my gosh, I've got this great guy, Tom Mazzola, and he will totally help you out."  And he did.
He came to my house a couple times a week and helped me train. But then also I think the most important thing for me was getting comfortable around guns.  Because I've kind of feared them my entire life and I've never shot a real gun.  I've used prop guns on some sets and stuff. And I've also only even seen them, prop guns, up until I did all this training.  But he showed up at my house and he brought over a bunch of MGs… he was kind of mysterious. [LAUGHTER] Looking back, he was kind of like… I don't know how he got it, but he like had a semiautomatic and he had like a revolver and like he had all these weird different types of guns.  

 
What was your most memorable moment?
 
COBIE SMULDERS :    Oh gosh.  Um, oh one of the big moments… I mean there's so many.  Every single shot was really so big.  You know?  And so new, too.  Not just for me but for everyone.  But the first time that I showed up on the Hellcarrier set… It was a giant set that took up an entire sound stage.  There were about two or three stairways and once you were on it, it was like you were on this high tech new age ship.  And there was hundreds of extras in S.H.I.E.L.D. uniforms and there was everywhere you looked it would pitch. 
  
… And then the first time that Robert Downey and Scarlett and both Chris' and Mark Ruffalo… when they were all around the table for the first time that was a pretty incredible moment for me.  I was very quiet [LAUGHTER] So I was kind of timid.   …But it was filled with those kind of moments, because we shot in amazing locations.
 
Did you have any inspiration in creating your character? 
 
COBIE SMULDERS :    There was, you know, when I got the job, I scoured the internet for like hard copies of the comics that she was involved in which was a series that she had.  There was this one comic that I really… that I actually cut out and had with me. It was sort of a fade away and it was Maria at different ages and it's like Maria as a teenager and she's got like a split lip… from somebody yelling at her … and then like her as like a young officer…. and then her in the army and then her in S.H.I.E.L.D.  I sort of really had that and that just helped me keep in mind where this woman had been.  How much it's taken for her to get to where she is and how hard that has been.  And also, you know, she can maintain that sort of strength that she had.  That helped me a lot.  …Then also the training helped immensely, you know, feeling physically feeling stronger and harder, yeah. 
  
  Will you be doing more action movies? 
 
COBIE SMULDERS :    You know… I really enjoyed it, really enjoyed the training and I felt like I didn't get to do enough.  And I would love to do more.  …I know I'm going to. I hope to go on and do more of these Marvel films… it would be cool to take on  more, yeah.  
 
*****
What did I tell you? She is such a down to earth type of girl. She even mentioned she was nervous (who would have guessed?):
COBIE SMULDERS :    Oh, a lot of pressure, no pressure…  I'm still nervous, and we're done.  Yeah I mean it, it was, I was really nervous. I wasn't nervous in like the performance aspect.  …There's some big actors in this movie, you know, and it was really like intimidating, more than anything. 
  
Just an hour or so later on the red carpet I stood watching Cobie being interviewed by the press. As I watched in admiration she looked up and caught my eye. She smiled, waved and mouthed "Hi!" to me. I was beyond giddy. After the movie was over my exit (assigned) happened to take me right by her seat in the theater. She smiled wide and asked me how I liked the movie and was genuinely pleased when I told her it was incredible.
 
Cobie Smulders put it best…
"Oh I'm so excited for you to see it- it's really good, it's really good, and I'm not saying it because- because I'm supposed to. [LAUGHTER] It is really good."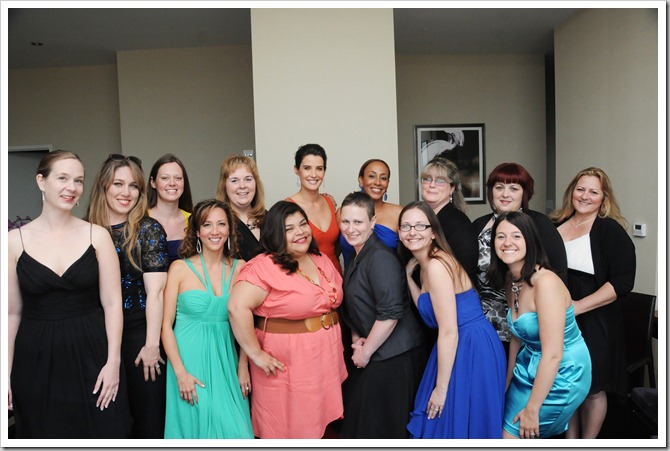 Check out all of my The Avengers coverage here.
Connect with Marvel's The Avengers in Theaters Friday May 4th:
You can follow the Twitter hashtag #TheAvengersEvent for current chatter!
*Disney/Marvel sent the kitchen supplies as part of their blogging event. I will receive an all expenses paid trip to New York City to attend this special blogger event. Any thoughts and opinions expressed in this post are entirely my own.*