Innotab 3s Wi-Fi Learning Tablet for Kids
VTech product, information, and additional gift pack have all been provided by VTech. All opinions are our own.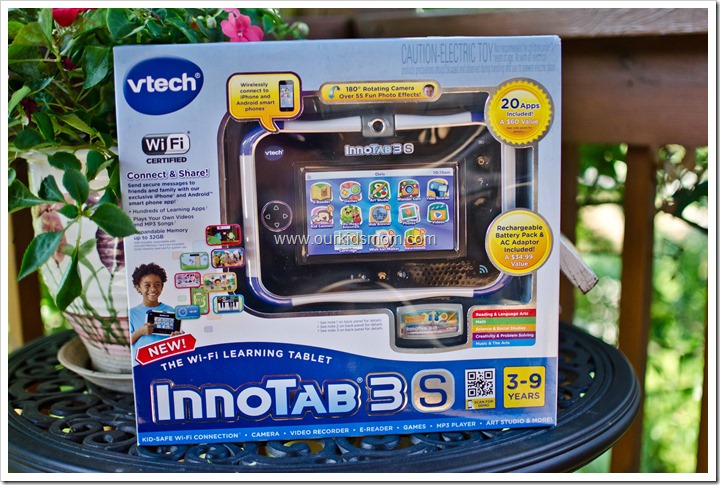 Ethan has become a master operator of all of my tablets. Between him and Emma I barely get any time with the tablets… or when they are given back to me the batteries are dead (not to mention the screen is full of children's apps).
VTech's solution to my problem is the InnoTab 3S. This Wi-Fi learning tablet offers age-appropriate learning games for kids with a few new ways to learn.
Some of the new features include:
* The Kid Connect Premium app offers enhanced VTech Kid Connect features by allowing kids and parents to exchange even more between the InnoTab 3S and smart phones2. With Kid Connect Premium, kids and parents can exchange voice messages, photos, drawings, texts and fun stickers.
* Kids can browse kid-safe and parent approved websites for even more learning fun.
* Some InnoTab 3S systems come bundled with a rechargeable battery pack and AC adapter.
* Wish List Maker lets kids explore hundreds of games, e-books, videos, music and send their favorites right to mom or dad's email. Apps download wirelessly right to the InnoTab 3S.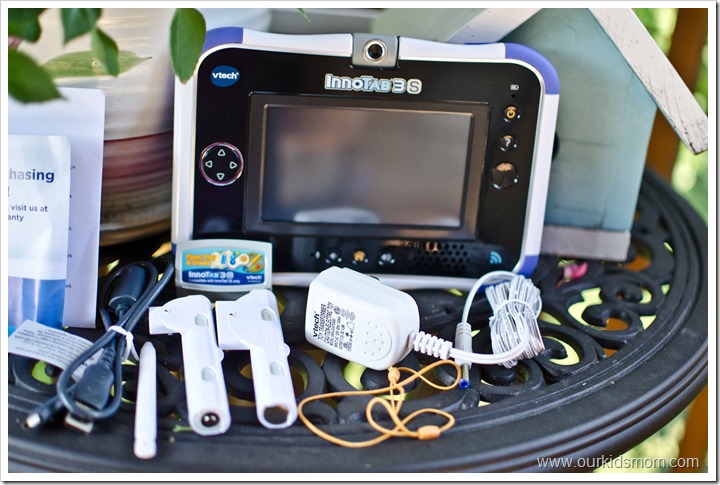 The InnoTab 3S is layed out a little different that the last versions. We now have a horizontal view (the old versions had the camera across the shorter side) and there are arrow buttons for scrolling. The other buttons are still there such as home, volume, power and the ? for help.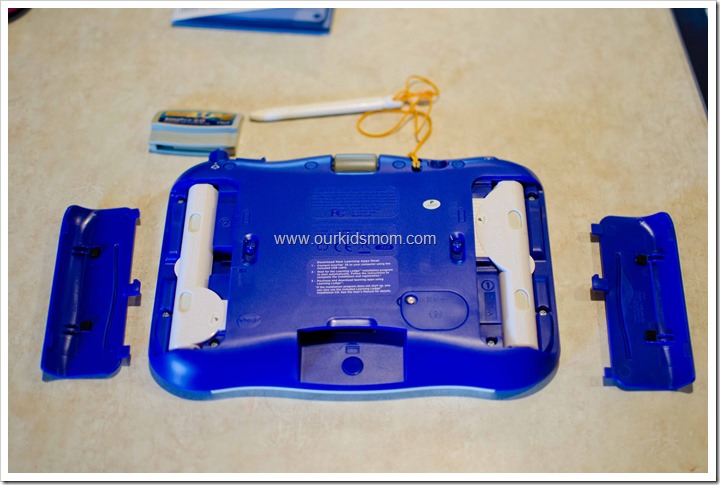 Our InnoTab 3S came with a rechargeable battery pack with AC adapter (a $34.99 value)! The rechargeable pack will last up to 9 hours non-stop fun. The charging takes place inside the system so there's no need to remove the batteries. This is fabulous news as Ethan and Emma can really go through the batteries with all of their electronic toys.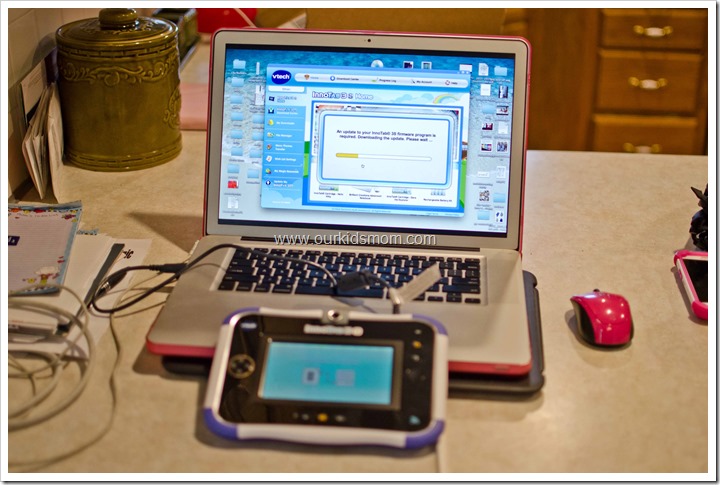 The initial setup takes place by connecting the InnoTab 3S to your computer and loading the Learning Lodge software. I highly suggest doing this step before gifting/giving the InnoTab to your child, as it took me nearly 30 minutes to update the system and choose our free app. I was almost positive Ethan was going to bust from excitement before it was ready to use.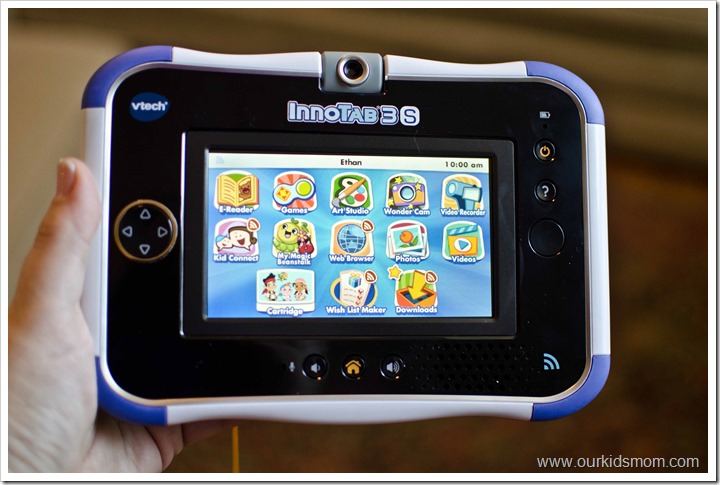 The InnoTab 3S comes equipped with a 1800 rotating camera and video recorder. Kids can take pictures and make amazing videos with the 2.0 MP camera with enhanced photo features! Using the Wonder Cam app your child can take silly pictures of themselves or their friends. Create funny faces and photo frames, fantasy effects and kaleidoscope creations with over 55 fun effects.
Some of the fun pre-loaded apps include:
* My Magic Beanstalk Game: Kids can play and grow their beanstalk over time. In this fun, interactive game, kids take care of their beanstalk by watering it to make it grow.
* Movie Maker: With Movie Maker, kids can become their own director, using their photos to create amazing movies.
* Browse the Web: Find even more learning fun online with our kid-safe browser. Using the InnoTab 3S, kids can securely explore age-appropriate websites approved by VTech's educational experts like Wacky Web Tales and Sports Illustrated Kids. Plus, the password protected parental control feature lets parents approve additional websites, set a daily usage limit, control which hour time slots kids can be online and view a history of all the websites they visited.
* Wish List Maker: lets kids explore hundreds of games, e-books, videos, music and send their favorites right to mom or dad's email. Apps download wirelessly right to the InnoTab 3S
* E-Reader:Go on reading adventures as stories come to life with interactive e-books. Your child will watch the story as it's read or touch the words one by one to read at their own pace.
* The Music app Let's You Play Your Own MP3 Playlist: Your child can listen to their favorite songs, import their own music, play their own playlist, and download albums from VTech's Learning Lodge app store.
* Calendar, Clock and Notes: Kids can keep track of their day with the calendar, clock and notes-just like Mom and Dad!
* Friends List: Keep friends all in one place on the Friends List! Keep track of birthdays and contact information.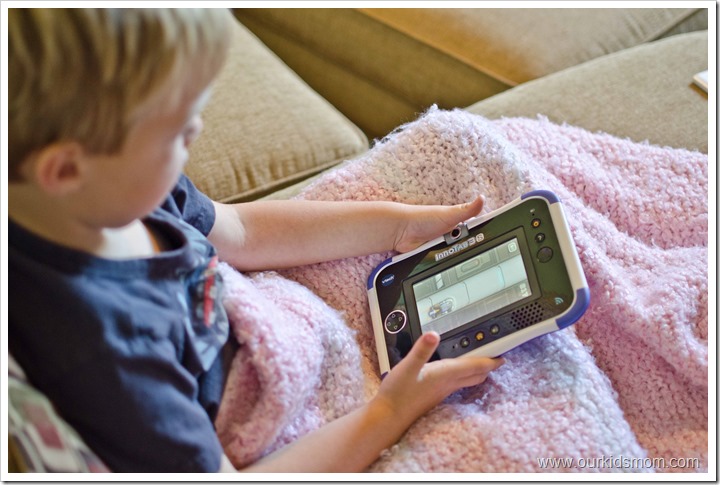 What I love about the InnoTab 3S is the expandability of it. You can purchase cartridges at the physical store, but the Learning Lodge offers downloadable apps (just like our tablets do in Google Play or the iTunes store) for a greatly reduced price. Most of the apps that Ethan was interested in were $2.99 or less!
For Ethan's free app that came with the tablet he chose the Switch and Go Dinos. This app has Ethan driving a car (by tilting the tablet) to achieve certain objectives.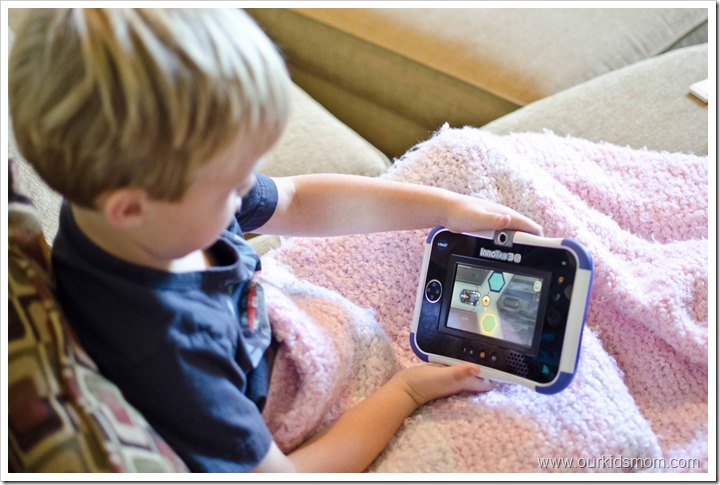 By tilting the tablet to the right he makes his car turn right eliminating the frustration of trying to manipulate a joystick/button. Ethan also likes that some of the apps have him blow near the microphone or make loud noises to interact with the game.
Ethan hasn't really expanded much into the new Wi-Fi features (he just turned 5) but I can see how much fun those would be for the older age range. His favorite activities as of yet are listening to music, making and playing videos and playing cartridges/apps. He also likes that when the batteries run out he can plug it in to continue to play.
I'm loving everything about the new InnoTab 3S. I love the new orientation (landscape), the sleek look, the new Wi-Fi features and the variety of affordable apps that Ethan is interested in. Most of all, I adore that Ethan loves the InnoTab as much as I do… leaving me to play with my own tablets for a change!
Connect with VTech Kids:
BUY IT:
You can purchase the InnoTab 3S at  http://www.vtechkids.com/brands/brand_view/innotab3s
WIN IT:
ONE OurKidsMom reader is going to win a VTech InnoTab 3S!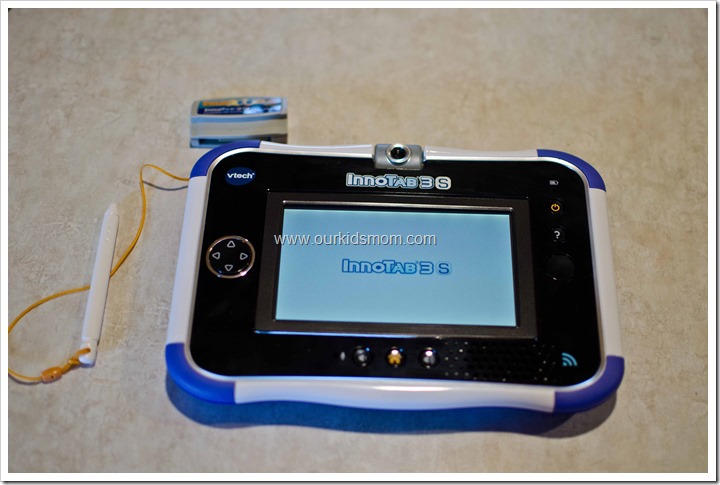 This giveaway ended at 11:59 PM EST on October 18, 2013.
          Disclosure of Material Connection: I received one or more of the products or services mentioned above for free in the hope that I would mention it on my blog. I only recommend products or services I use personally and believe will be good for my readers. I am disclosing this in accordance with the Federal Trade Commission's 16 CFR, Part 255: "Guides Concerning the Use of Endorsements and Testimonials in Advertising." The opinions expressed in this post are entirely my own. Your experience with the product may differ from mine. The sponsor is responsible for prize fulfillment and will be shipping the winner(s) their prize(s). For more information read my disclosure policy.