Inexpensive Disney Cruise Souvenirs 
Our family spent the holidays in style aboard a Disney Cruise.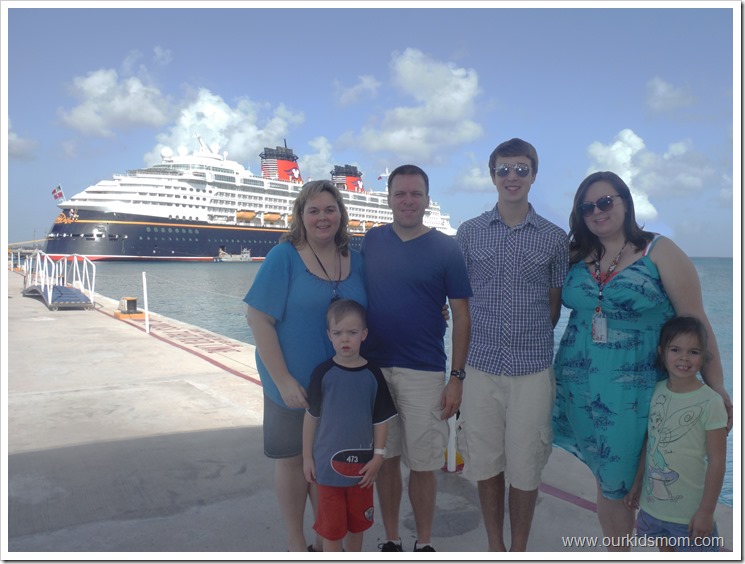 We had been planning this trip for almost exactly a year, scrimping and saving every spare penny we had to pay the balance off. It was hard work, but we did it!
Then I realized that our expenditures weren't going to stop at the cost of the cruise.
There were shore excursions, tips, and souvenirs in our future. Multiply all of those times six … sticker shock was setting in.
I did a little digging around on the DISboards and found out some information that a typical first timer might not know about… unless they were told by a friend or also read the DISboards.
Autographs are free.
Okay… ok. SO you knew autographs were free.
But did you know you don't have to chase down every single character to get them all?
First off… you are not limited to photo mats and autograph books. Think out of the box. Pillowcases, t-shirts, autograph bears… you are pretty much limitless unless the item is HUGE (which you won't want to lug on board anyway).
You will need:
1 bag of candy per item being autographed (optional)
I purchased two frames for the kids that already had photo mats in them. I was going to frame a photo for them after the cruise anyway, so this wasn't an extra expense. If you already have a frame you want to use, stores like Michaels sell photo mats that were designed for autographs.
I also purchased two Disney themed journals for the kids at the Everything is $1 store.
Sharpies are a must because they don't run, smudge or fade much. For Emma I purchased a multi pack of metallic Sharpies because I thought it would go along with her Princess autographs well. For Ethan I purchased a 3 pack that included black, red and blue… great for the Mickey gang.
Place your items to be autographed and the Sharpies in a Ziploc bag and wait for your embarkation day!
Once on board, head over to the Guest Services desk and wait in line. When you reach the head of the line, first ask about the character tea (also something I wouldn't have known about unless I read the boards) because tickets are limited for that

. Then tell them you have an autograph request. They will fill out the slip per your request… Emma's frame was princesses only and Ethan's was Mickey & Friends. Their autograph books were for all characters available.
So what's with the candy? Well, I also read that "the characters" especially enjoyed the candy and it is sort of "payment" for the autographs. It is not mandatory as I saw many Moms dropping off items without candy, but we were told at Guest Services that the team really appreciated it. These guys and girls work hard… 7 days a week, many with 12 hour shifts!
So that's it! You turn it in and wait.
There are benefits to this…
You don't have to chase down and wait in line for every single character's autograph.

The autographs are less messy (try signing something with a thick fluffy glove on and a mask on your face!)

Your item won't get messy, dirty, bent or lost.
Your last night on the ship the item will magically appear on the counter in your stateroom. I had read that I shouldn't expect my Sharpies to return with my items, but I received all of them back.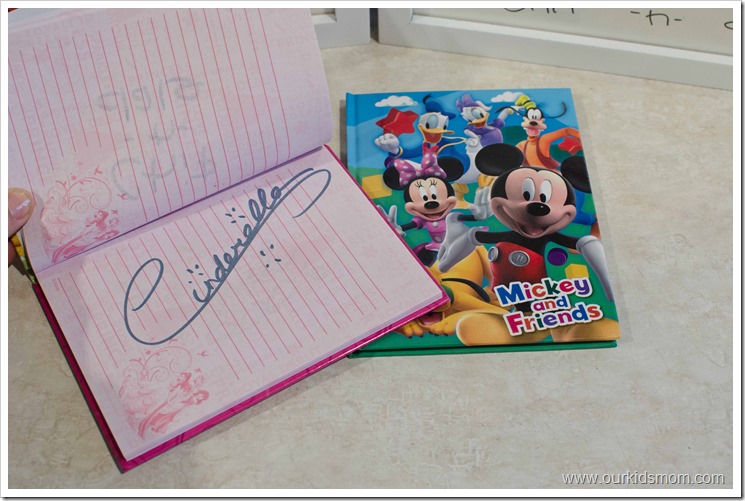 Voila! Inexpensive (and irreplaceable) Souvenirs!
When you get back home simply frame your favorite photos in the mat and you're done.
I have caught my two gazing at their treasures often … they are truly priceless.