Are you looking to give your bathroom a natural look? Incorporating limestone tiles into your design plan is one of the easiest, cost-effective ways to do so. Limestone has unique characteristics that add texture and warmth to any room it's used within.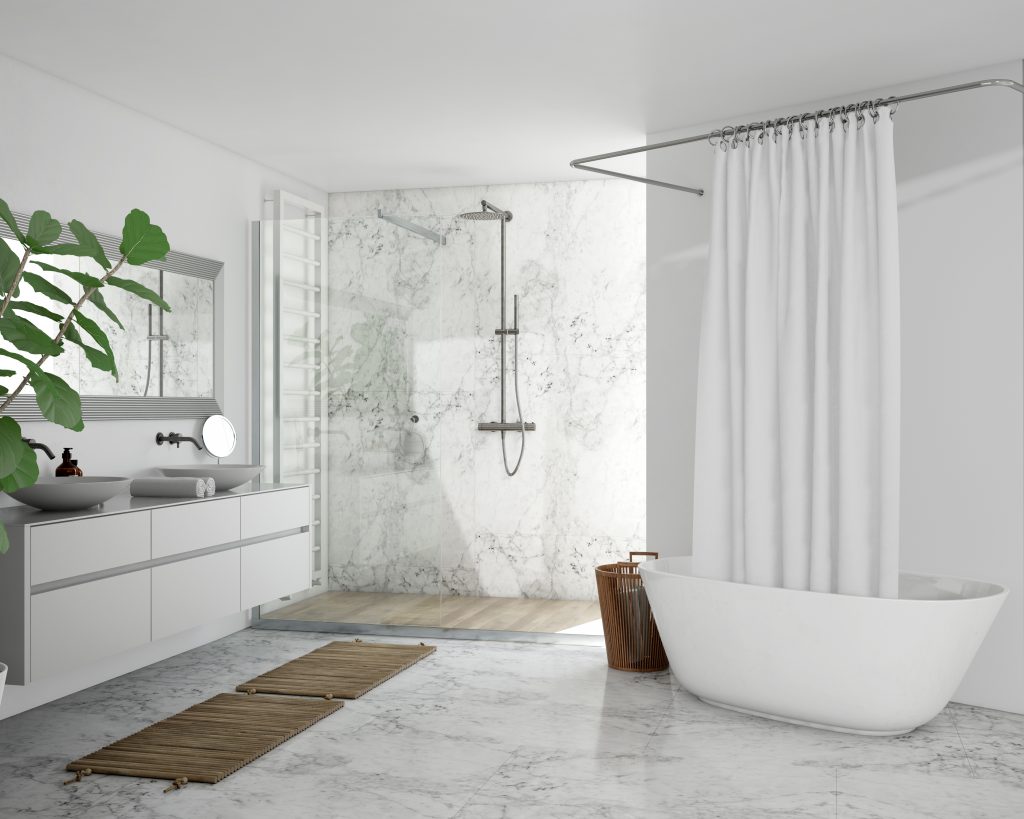 Image by alexandercho on Freepik
Whether you want a subtle yet elegant look in the guest bath or are hoping to transform the master bath with more expressive tones, limestone makes it easy for anyone on any budget to achieve their desired effect.
Read on to learn why incorporating limestone floor tile into your bathroom provides timeless beauty, with plenty of advantages along the way!
Introducing limestone – a natural and durable material for your bathroom
When it comes to choosing the right materials for your bathroom, it's important to consider both functionality and style. Limestone, a natural sedimentary rock, is an excellent choice for those looking for a material that is both durable and aesthetically pleasing. Its unique texture and natural variations in color make it a standout choice for bathroom floors, walls, and even countertops.
But beyond its striking looks, limestone is also incredibly resilient, able to withstand the everyday wear and tear that comes with a high traffic bathroom. Plus, it's eco-friendly and easy to maintain, making it a smart choice for anyone looking to design a bathroom that is both beautiful and sustainable.
Advantages of using limestone tiles in the bathroom
When it comes to bathroom design, choosing the right materials is crucial. And limestone floor tile may just be the perfect choice for your bathroom renovation. Limestone is a natural stone that is both durable and beautiful. It is incredibly versatile and can be used for flooring, walls, and even shower stalls.
Limestone tiles are not only practical but they can also enhance the overall aesthetic of your bathroom. They come in a variety of colors and patterns that range from subtle to dramatic, so you can easily find the right style to fit your décor.
One of the biggest advantages of limestone tiles is their durability. They are resistant to moisture, scratches, and heavy foot traffic, making them a great investment for any homeowner. Plus, they are easy to clean and maintain, which means you can spend more time enjoying your beautiful bathroom and less time cleaning it.
Selecting the right limestone tile for your bathroom – size, texture, and color
When it comes to selecting the right limestone floor tile for your bathroom, there are a few key factors to keep in mind. Firstly, consider the size of the tile. A larger tile can create a more spacious feel, while smaller tiles can add texture and interest. Next, think about the texture of the tile. Would you prefer a smooth, polished finish, or a more rustic, natural look?
Finally, consider the color of the tile. Limestone comes in a range of neutral shades, from warm beige to cool gray, so you can choose a hue that complements the other elements of your bathroom design.
By keeping these three factors in mind, you can select the perfect limestone tile to bring your bathroom to life.
Establish a Budget for the Installation and Maintenance of Limestone Tiles
Limestone tiles are a popular and beautiful option for flooring and other decorative purposes. However, when considering the installation and maintenance of limestone tiles, it is important to establish a budget.
Properly budgeting for this project can ensure that you get the best value for your investment and help avoid unexpected costs. Taking into account factors such as the size of your project, the cost of materials, and the cost of hiring professionals if needed, will help you create an accurate and realistic budget.
While it may seem overwhelming at first, establishing a budget for the installation and maintenance of limestone tiles can ultimately help you achieve the beautiful and durable space of your dreams.
Final touches – grout sealant and grouting techniques to achieve the desired look
Now that your tile is set just the way you want it, it's time to focus on those final touches that will make all the difference. Grout sealant is an absolute must-have to protect your grout from moisture, staining, and discoloration. Without it, your hard work could go to waste.
But when applying your sealant, make sure to read the instructions carefully and use a good quality product. The same goes for grouting techniques. Whether you're going for a uniform, clean look or something more natural and textured, technique is everything.
Take your time and make sure you're using the right tools to achieve those perfect lines and smooth finishes. When it comes to achieving the desired look, it's all about the details.
Research What Cleaning Solutions are Best for Maintaining Your Limestone Tile
Researching the best cleaning solutions for maintaining limestone tile can save you time and money in the long run.
While vinegar and acidic cleaners may seem like an obvious choice, they can actually cause damage to the stone. Instead, opt for a pH-neutral cleaner specifically formulated for limestone.
Additionally, using a soft-bristled brush or mop to avoid scratches and rinsing the tile thoroughly with clean water can help preserve its natural beauty.