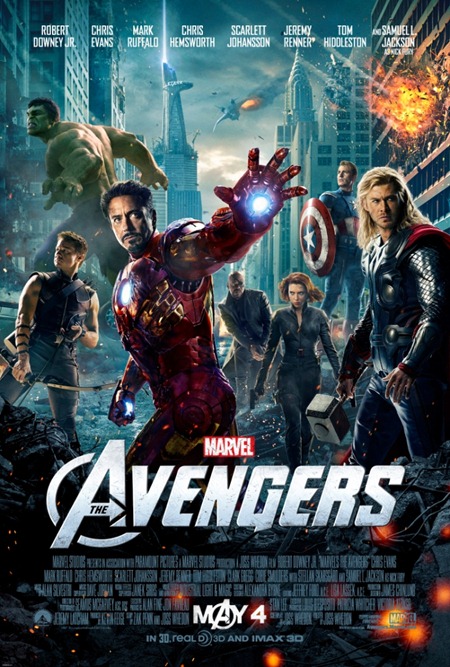 I still can't believe it… but I've pinched and double checked… it's still true!
I will be attending the final day of the Tribeca Film Festival at the red carpet screening of Marvel's The Avengers in New York City at the end of April!
Twenty-five bloggers will be attending and covering the event as well as possible interviews and more! I'm hoping to meet Robert Downey Jr., Samuel L. Jackson and I've heard that Cobie Smulders will be in the movie as well… I would love to meet her (maybe secretly flash her a "Robin Sparkles" t-shirt

)!
Starring Robert Downey Jr., Chris Evans, Mark Ruffalo, Chris Hemsworth, Scarlett Johansson, Jeremy Renner and Tom Hiddleston, with Stellan Skarsgård and Samuel L. Jackson as Nick Fury, and directed by Joss Whedon, Marvel's The Avengers is an engaging, character-driven story packed with action, adventure and special effects.
When an unexpected enemy emerges that threatens global safety and security, Nick Fury, Director of the international peacekeeping agency known as S.H.I.E.L.D., finds himself in need of a team to pull the world back from the brink of disaster. Spanning the globe, a daring recruitment effort begins to assemble the iconic Marvel Super Heroes Iron Man, The Incredible Hulk, Thor, Captain America, Hawkeye and Black Widow. Marvel's The Avengers is based on the ever-popular Marvel comic book series "The Avengers," first published in 1963 and a comics institution ever since.

 I was very pleased to see that the screening will be honoring the spirit of the Tribeca Film Festival. They are allowing MARVEL'S THE AVENGERS to celebrate everyday heroes from police agencies, fire departments, first responders and various branches of the U.S. military by giving them the opportunity to attend the screening and meet the cast. How awesome is that?! 
Now that reality is sinking in my thoughts have turned to what the heck do I wear?! You can bet I'm scouring the internet for some of the cutest dresses and will share my selection with you soon!
Connect with Marvel's The Avengers:
You can follow the Twitter hashtag #TheAvengersEvent for current chatter!
*Disney/Marvel is providing me with an all expenses paid trip to New York City to attend this special blogger event. Any thoughts and opinions expressed in this post are entirely my own.*