This post brought to you by IBEROSTAR. All opinions are my own.
In April 2015 I was honored to visit IBEROSTAR Paraíso Maya in Riviera Maya, Mexico.
After visiting a five star all inclusive resort, I've realized this is the only stress free/relaxing way to take a vacation especially if you are traveling with children.
Now you have the chance to visit as well!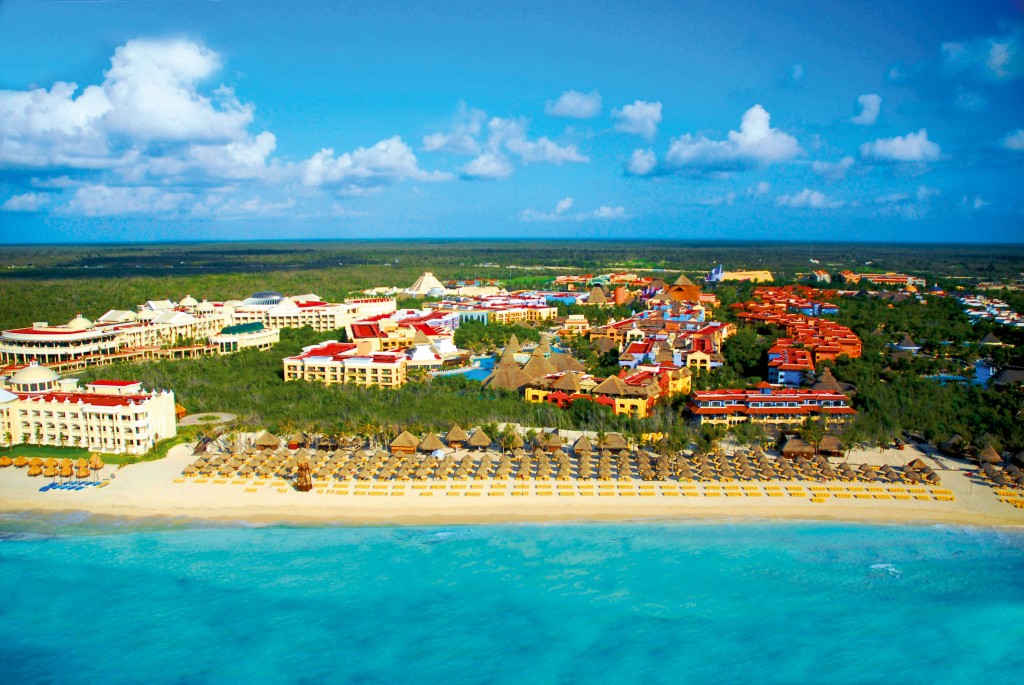 Continue reading & then enter to win a 5 night stay at the IBEROSTAR Paraiso Maya for your family of four or less!
When I visited I put together a list of reasons to vacation at IBEROSTAR Paraiso Maya – here are just a few!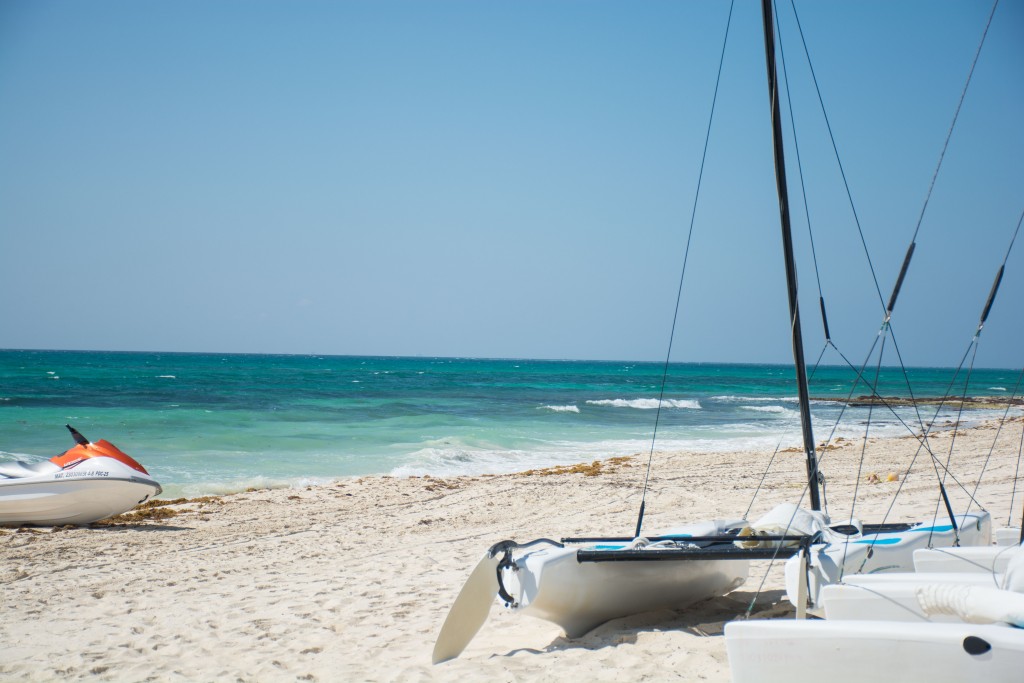 THE BEACH!
The surf and sand are always a big draw for me. The sand on these beaches is so soft and inviting. The surf was fairly calm while I was there but the sounds when coming in were so relaxing. The incredibly vibrant blue of the sky and greens of the water are so inviting. I could spend the entire day on the beach and be a happy girl. I saw many children enjoying their time digging, building, and burying things in the sand as well as splashing in the water.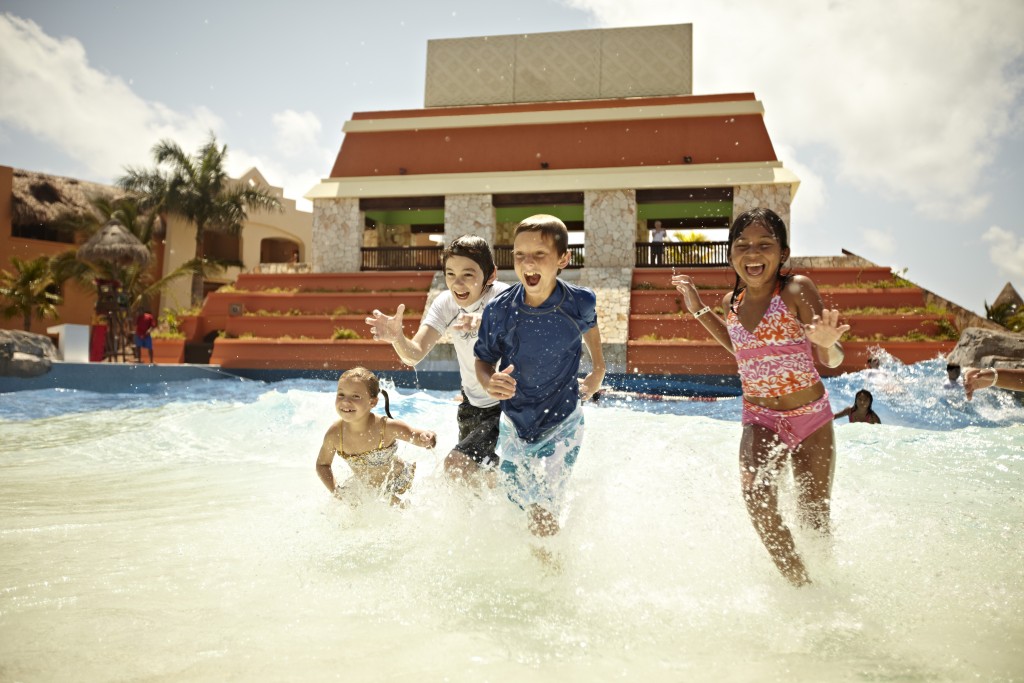 NINE POOLS AND A CHILDREN'S SPLASH PARK!
Does the sand annoy you? Is it difficult for you to relax while your children wander the beach? No worries! IBEROSTAR has a children's splash area that is shallow and tons of fun! If you want to get wet as well you have NINE pools (some with swim up bars) to choose from. Enjoy a waterfall, float on the lazy river or just bob around in the pool all day. The main pool also has fun activities throughout the day to get the party started.
FABULOUS FOOD!
After a long day of taking it easy nothing hits the spot more than a delicious meal. With two buffets and five specialty restaurants to choose from you can find anything from steak, to seafood, to an authentic Mexican taco meal! You will easily find quick meals like hamburgers and fries (on the beach, too) or sit down for a fun Japanese meal (with a show).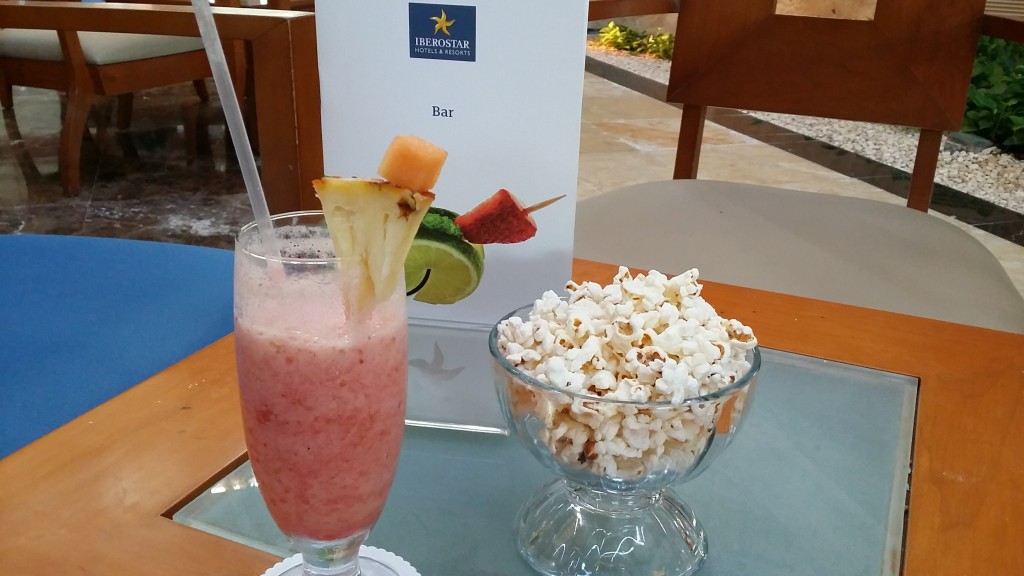 ALL-INCLUSIVE (free drinks)
Unlike the "all inclusive" benefits on a cruise, IBEROSTAR is truly ALL-inclusive. Drinks are unlimited and available for no extra charge. Visit one of the six bars for a before/after dinner drink (or just because). During our time at the Snake Bar they also served us fresh warm popcorn with our drinks. Drinks are also served with lunch and dinner. I didn't get a photo of it, but I also enjoyed the coffee shop as well. They serve everything from Americanos to Mochaccinos as well as fresh snacks like cheesecake and "back home" sandwiches… all included.
KID FRIENDLY!
I was impressed to find that IBEROSTAR Paraiso Maya has a room set aside for your children's feeding needs. For a very small nominal fee you have free access to this kitchen that is stocked with just about everything your baby/toddler would need. If you have a special need, be sure to request it before arrival so that it will be available for you when needed. This service is invaluable to traveling parents. Not only is it a hassle to transport baby food(s) but it can be a time suck at TSA. During my last flight I saw a family being detained while each and every baby food item was swabbed down for testing. 
ROOM SERVICE
Sometimes… you just don't want to leave your room. Long days in the sun can take it out of you. No problem! Room service is available for FREE.
THE ROOM
You don't intend to spend a lot of time in the room, but when you do you want it to be comfortable. The family suite is just that, very comfortable (check out our IBEROSTAR Paraiso Maya). Having a sitting area for the kids to play with their toys or eat their room service goodies at is invaluable. It makes it feel more like a second home instead of a closet with a bed in it.
ENTERTAINMENT
If you are looking for a little after hours entertainment you can always go to the evening show (changes nightly). There was a particular show that was a circus theme with fun high flying acrobatics. The Galaxy Club offers after hours entertainment for both teens and adults. The club was open from 8-10 pm for kids ages 4-17 and from 11 pm to 3 am for adults only.
KIDS ACTIVITIES
Traveling with the kids can be both fun and exhausting. Thankfully places like IBEROSTAR understand! With a kids and teen club available during the day you can grab a few minutes of grown up time while they enjoy kid oriented activities. During our tour we even ran into a kid's club employee that was there with a small group of children enjoying a little pool time!
WIN IT!
The five-star all-inclusive IBEROSTAR Paraiso Maya is the perfect place for a family vacation and now your family can win a trip there!
–          Giveaway winner will receive a 4 person family vacation for 5 nights at the IBEROSTAR Paraiso Maya. Winner must travel 1 year from the date the winner is announced. Flights are not included.
a Rafflecopter giveaway
COUPON CODE!
Not feeling lucky? Use this promo code and book now!
–          Promo Code: OKMFamily
o   IBEROSTAR Paraiso  Maya
o   Minimal 5 night stay
o   Booking Window: NOV 2 – 30, 2015
o   Travel Window: NOV 2, 2015 – APRIL 30, 2016
o   10% discount off best available rate