IBEROSTAR Paraiso Maya in Riviera Maya Mexico
Thank you to IBEROSTAR for helping me cross Riviera Maya, Mexico off my bucket list. All opinions are my own.
Mexico has always been a draw for me. It's so close to the United States, but yet I hadn't really spent more than a few hours at a time there while my cruise was at port. I was so excited when asked to spend a few nights at IBEROSTAR Paraiso Maya in Riviera Maya, Mexico May of 2015.
IBEROSTAR is an all inclusive resort that offers three levels of luxury:
IBEROSTAR Grand Collection: For those seeking the ultimate in all-inclusive luxury in an

adults only

atmosphere.
IBEROSTAR Premium Gold: These upscale destinations are ideal for couples and families who want it all. A picture-perfect setting for adults and kid-friendly hospitality for the children.
IBEROSTAR Premium: All-inclusive, family-friendly indulgence for couples and families who desire maximum fun at a maximum value.
In Riviera Maya you have five properties side by side… all at different levels. There is one Gold, two Premium Gold and two Premium. Amenities are shared depending on the level of the resort you are staying at. Viewing the list above, start at the level you are staying at. The reciprocity goes down. Only the Grand guests can experience everything at all of the resorts.  Premium Gold has all of their amenities plus those at the premium resorts available to them.
IBEROSTAR Paraiso Maya is a Premium Gold property, and even at a higher level it is still very affordable for a family vacation! With my family of six, I always have a difficult time trying to find the right balance of affordability and comfort. Comparing the pricing for seven nights at Paraiso Maya to the seven night cruise we booked for our family, Paraiso Maya was actually less expensive!
So, putting price aside… I put together a list of reasons to take your family to IBEROSTAR Paraiso Maya this year.
1) The BEACH!
The surf and sand are always a big draw for me. The sand on these beaches is so soft and inviting.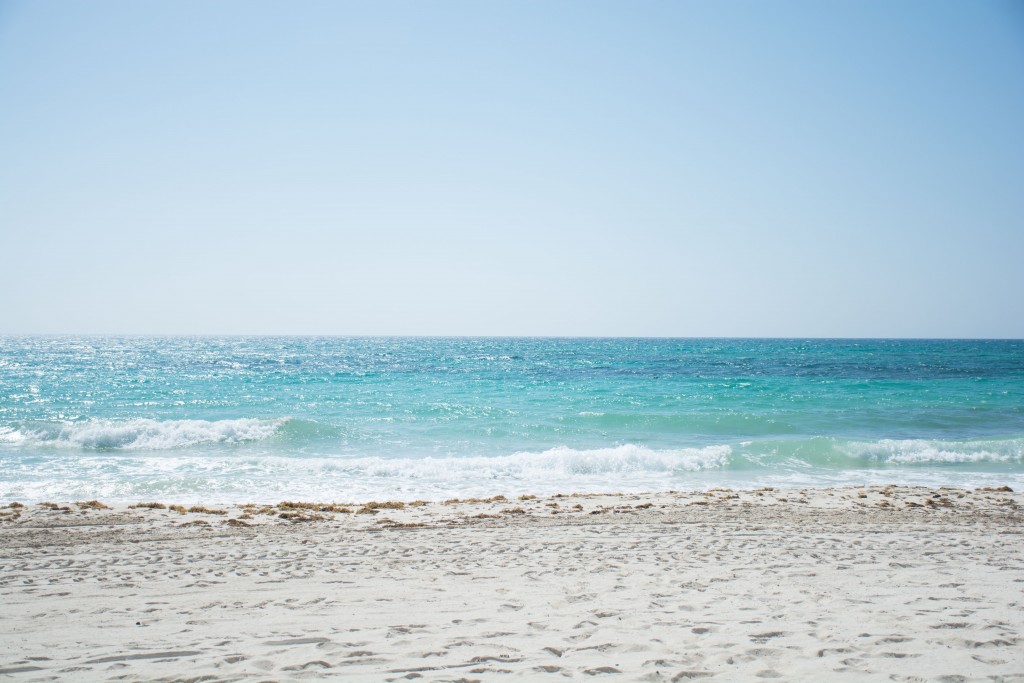 The surf was fairly calm while I was there but the sounds when coming in were so relaxing.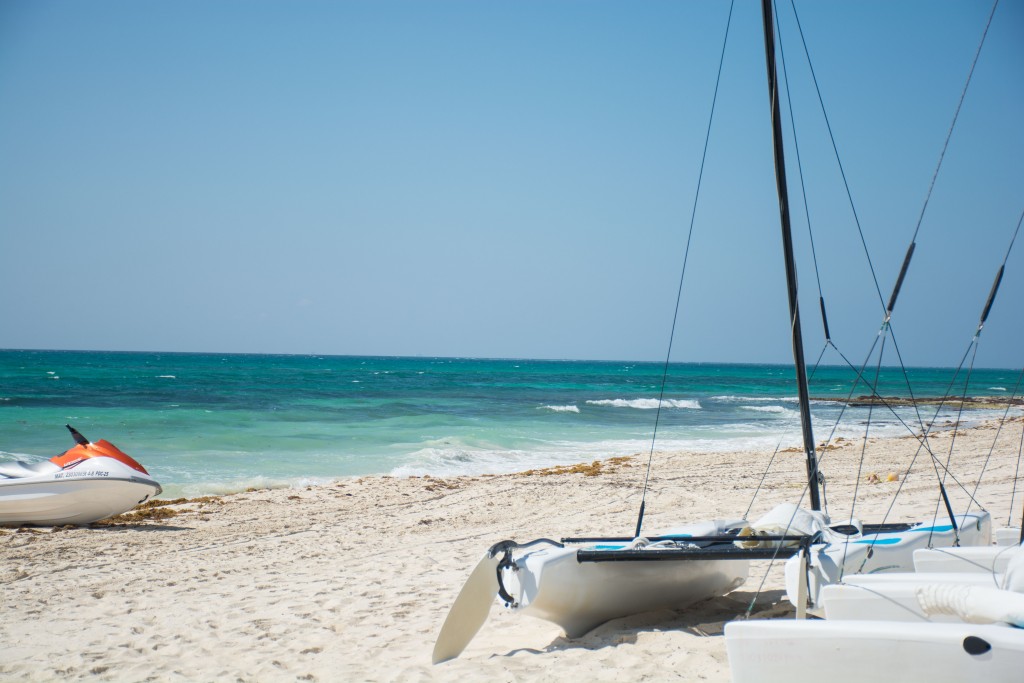 The incredibly vibrant blue of the sky and greens of the water are so inviting. I could spend the entire day on the beach and be a happy girl. I saw many children enjoying their time digging, building, and burying things in the sand as well as splashing in the water.
2) NINE Pools and a Children's Splash Park
Does the sand annoy you? Is it difficult for you to relax while your children wander the beach? No worries! IBEROSTAR has a children's splash area that is shallow and tons of fun!
If you want to get wet as well you have NINE pools (some with swim up bars) to choose from.
Enjoy a waterfall, float on the lazy river or just bob around in the pool all day. The main pool also has fun activities throughout the day to get the party started.
3) Fabulous Food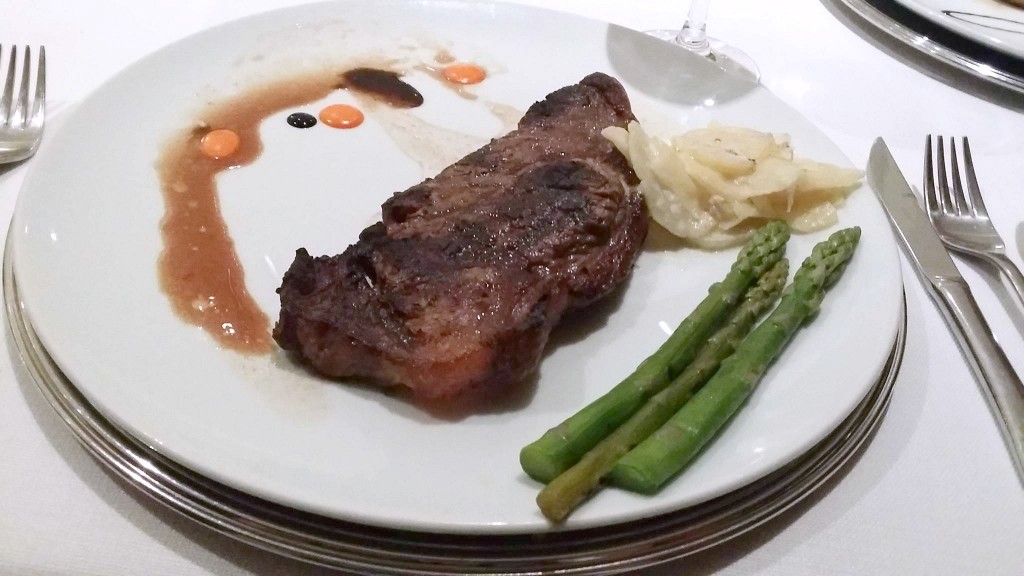 After a long day taking it easy nothing hits the spot more than a delicious meal. With two buffets and five specialty restaurants to choose from you can find anything from steak…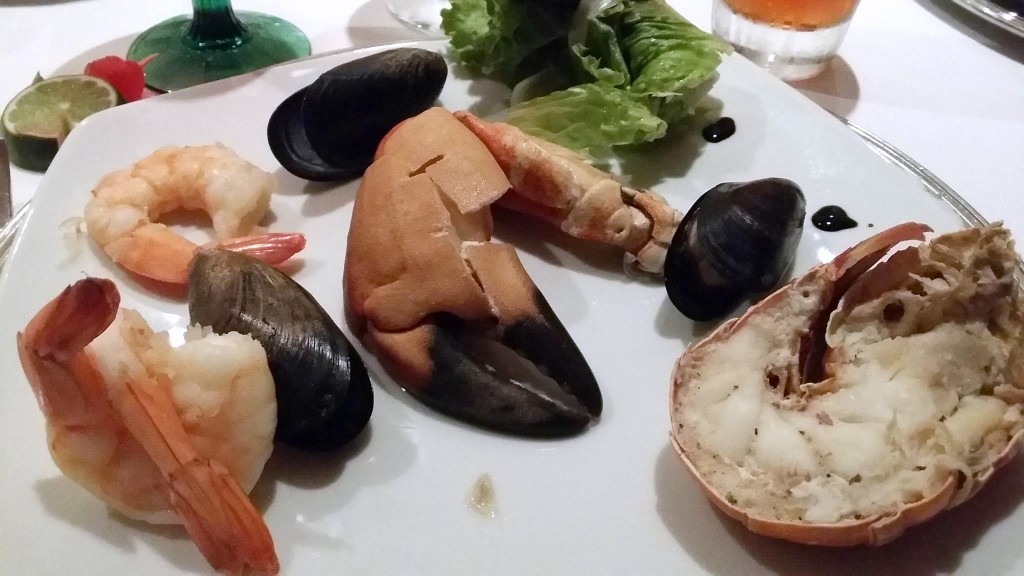 to seafood…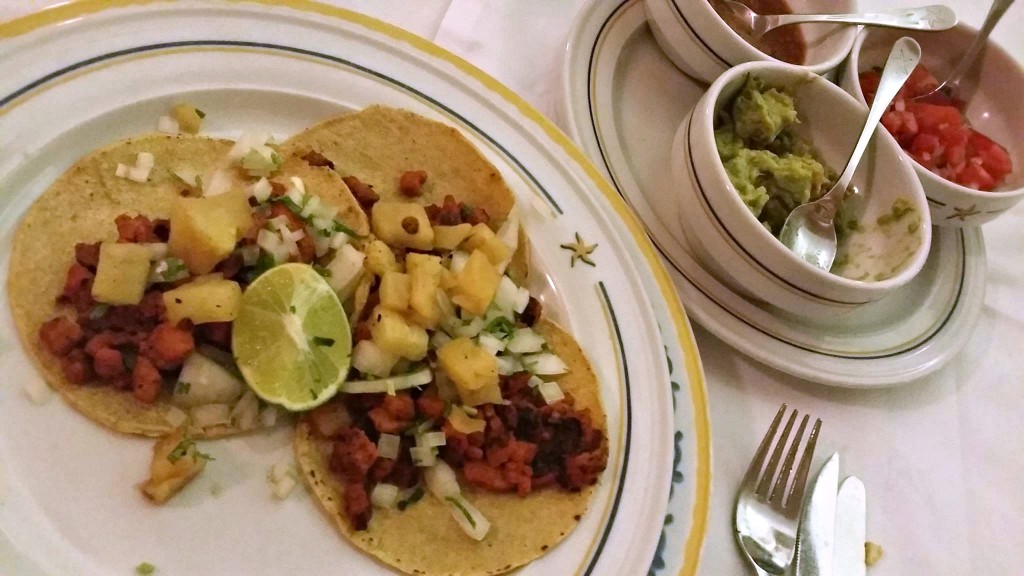 to an authentic Mexican taco meal!
You also easily find quick meals like hamburgers and fries (on the beach, too) or sit down for a fun Japanese meal (with a show).
4) Kid Friendly
I was impressed to find that IBEROSTAR Paraiso Maya has a room set aside for your children's feeding needs.
For a very small nominal fee you have free access to this kitchen that is stocked with just about everything your baby/toddler would need. If you have a special need, be sure to request it before arrival so that it will be available for you when needed.
This service is invaluable to traveling parents. Not only is it a hassle to transport baby food(s) but it can be a time suck at TSA. During my last flight I saw a family being detained while each and every baby food item was swabbed down for testing.
5) Room Service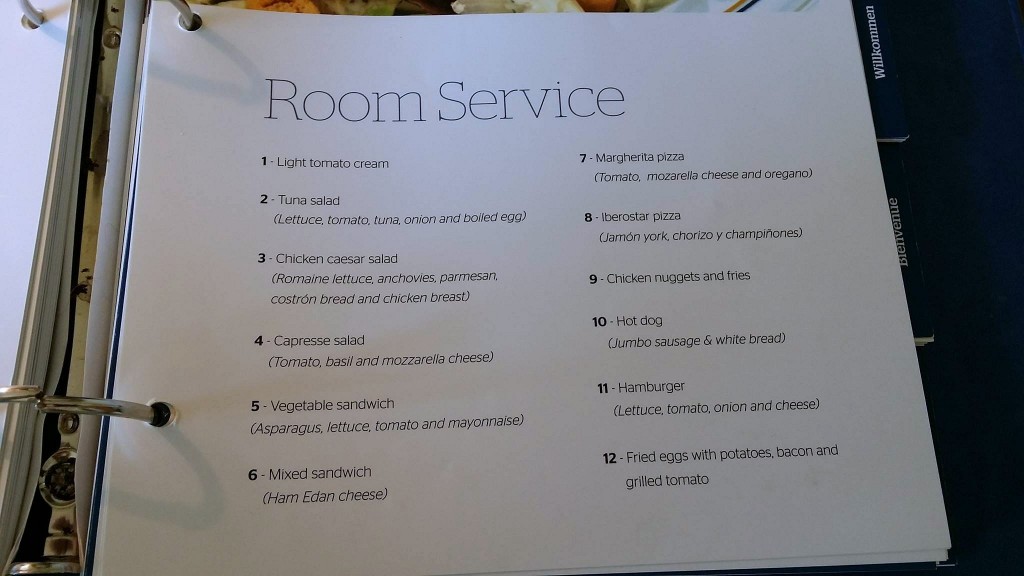 Sometimes… you just don't want to leave your room. Long days in the sun can take it out of you. No problem! Room service is available for FREE.
6) All Inclusive (free drinks)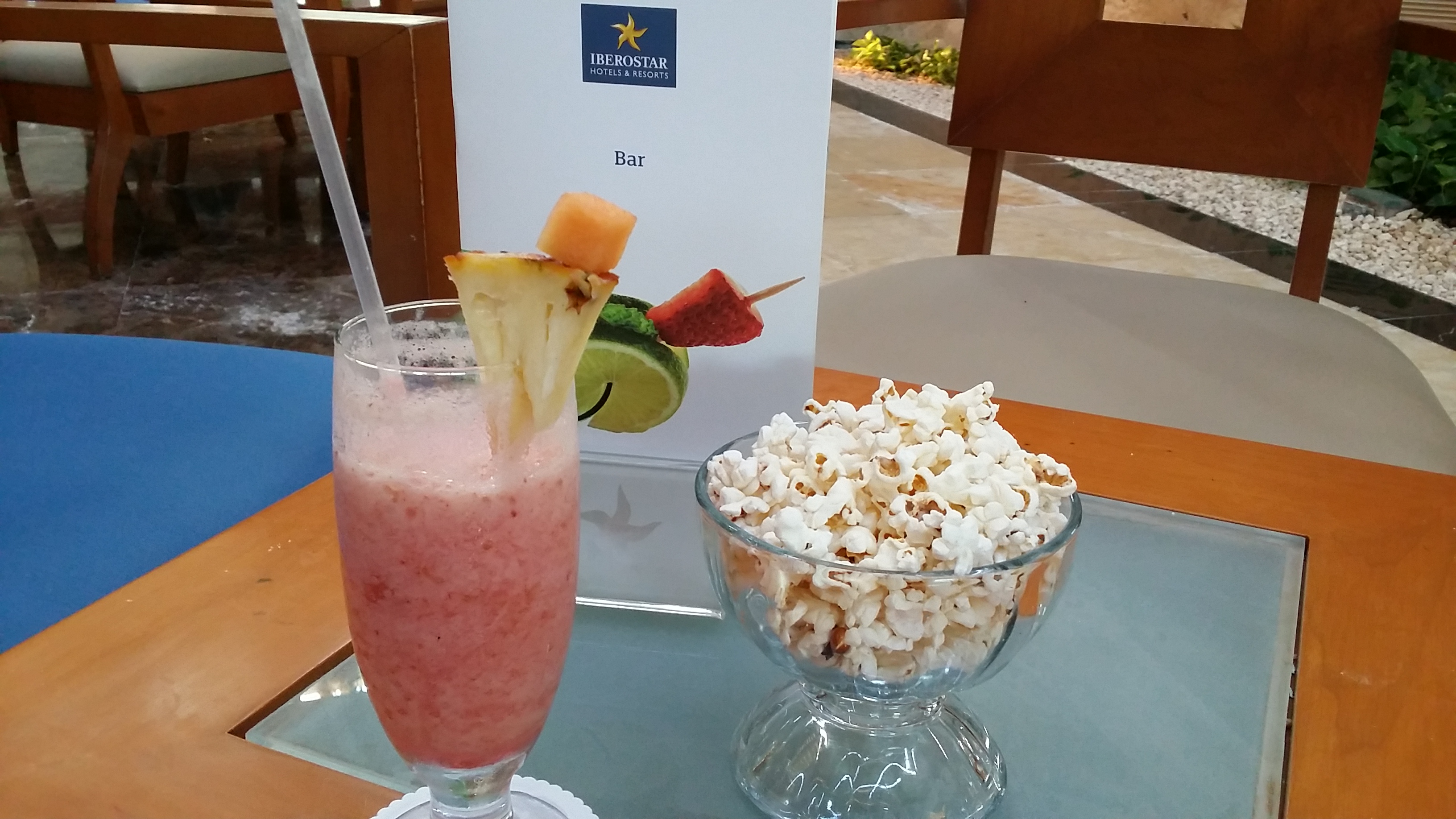 Unlike the "all inclusive" benefits on a cruise, IBEROSTAR is truly ALL-inclusive. Drinks are unlimited and available for no extra charge.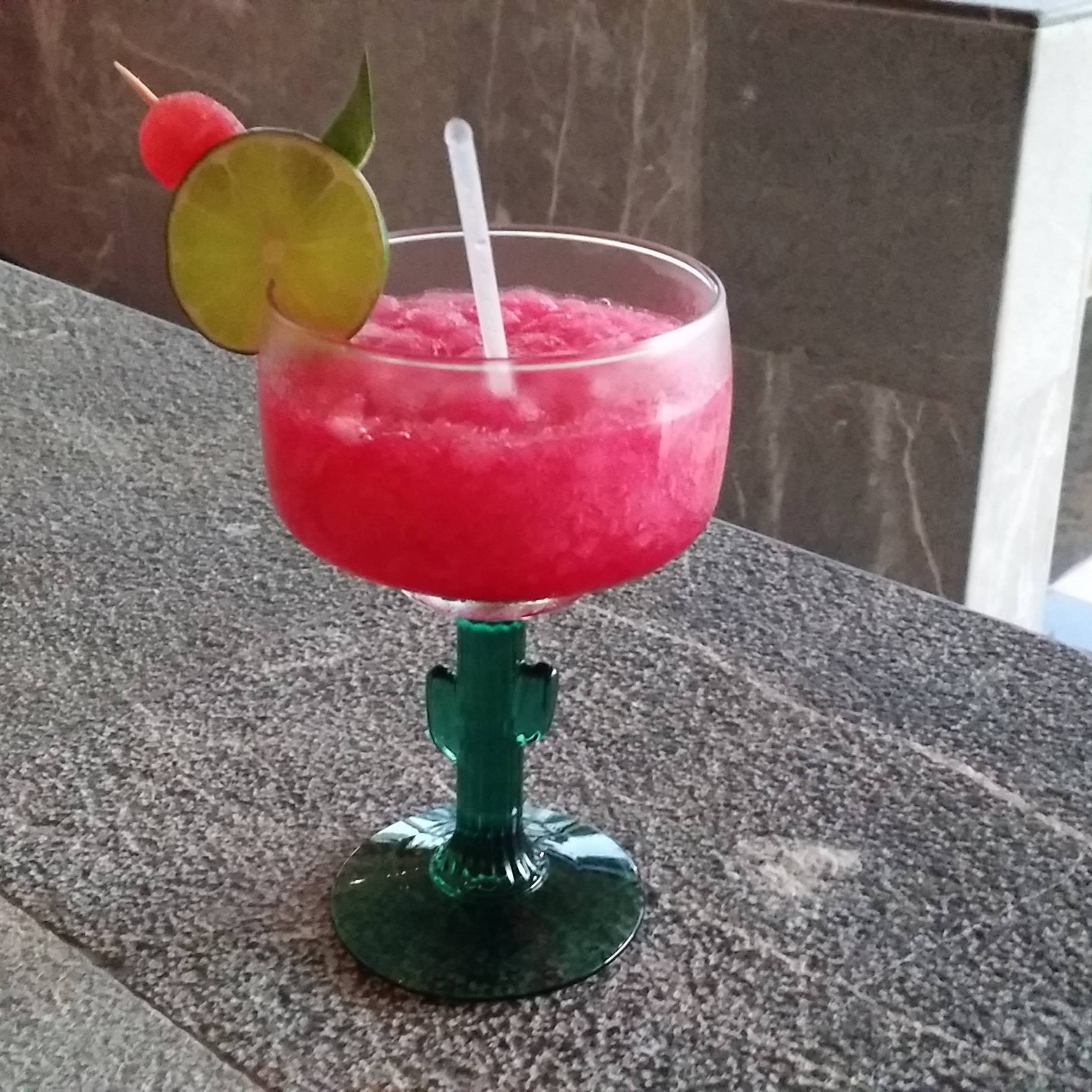 Visit one of the six bars for a before/after dinner drink (or just because). During our time at the Snake Bar they also served us fresh warm popcorn with our drinks. Drinks are also served with lunch and dinner.
I didn't get a photo of it, but I also enjoyed the coffee shop as well. They serve everything from Americanos to Mochaccinos as well as fresh snacks like cheesecake and "back home" sandwiches.
7) Wildlife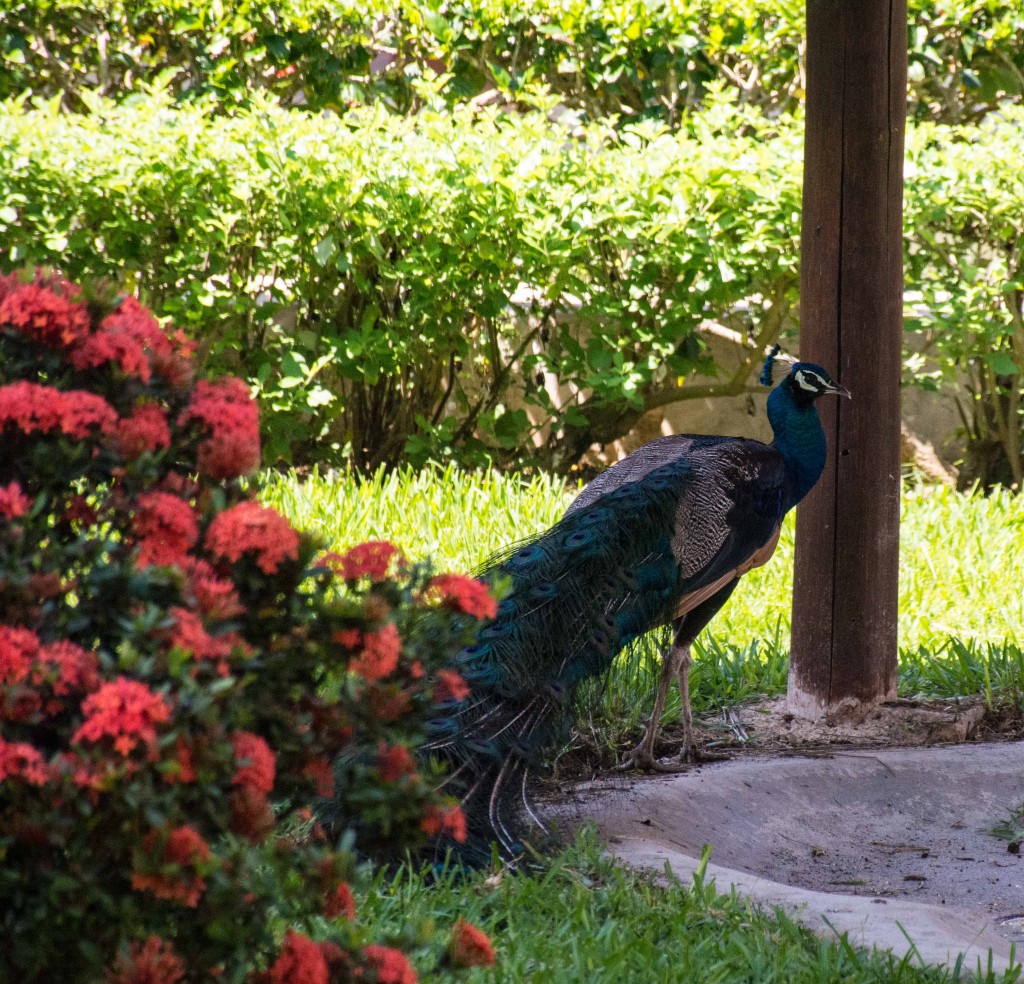 I first encountered this peacock on my way back from the beach. He freely walks around the property and often times will give you the full feather show.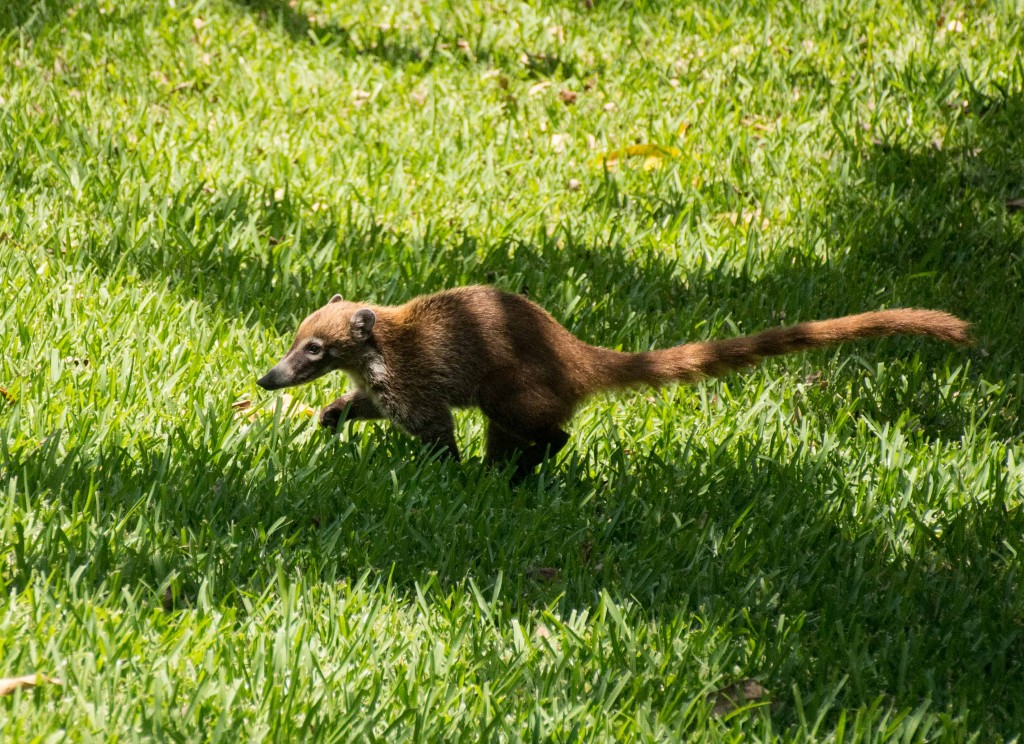 This little guy is a Caoti. He is a member of the raccoon family and you will find them traveling all over the properties in packs. They let you fairly close and are very enjoyable to watch.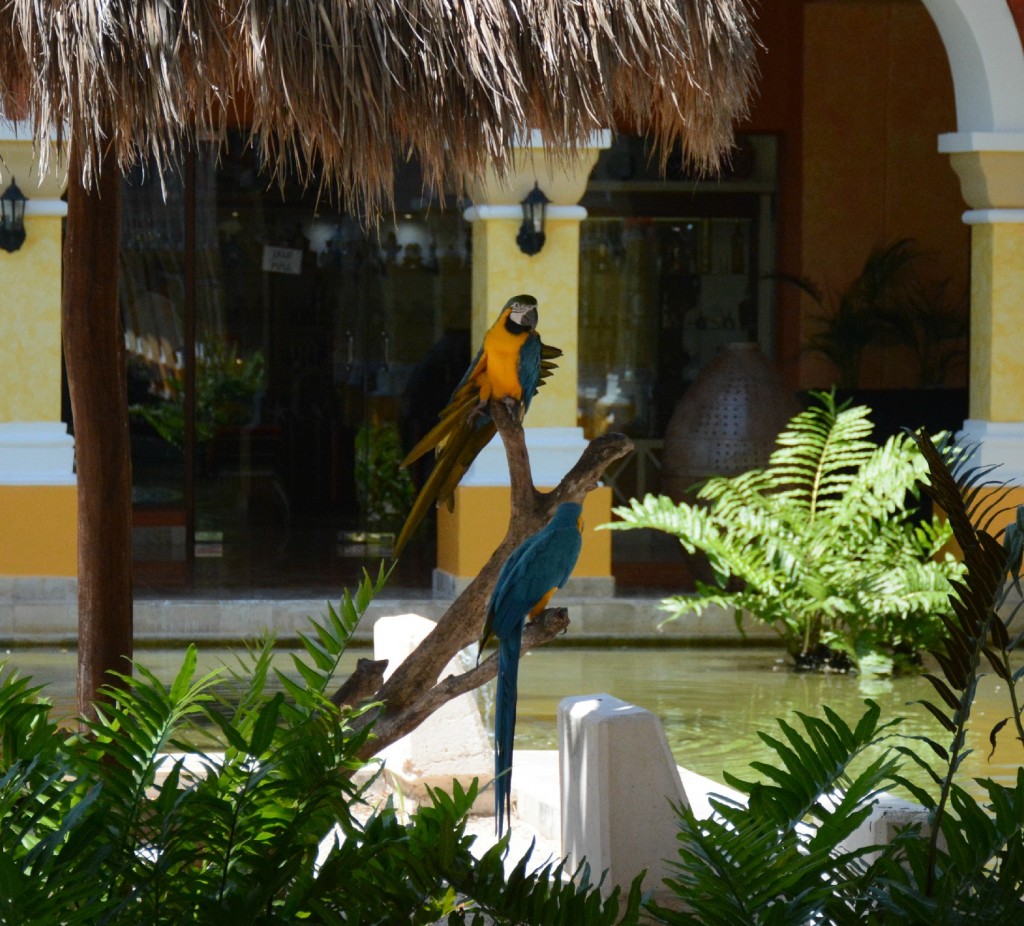 I love birds and this pair of parrots caught my attention. Just having them there made it feel exotic and tropical.
There were so many other animals we encountered during our stay. From local stray cats, a swan and flocks of birds on the beach to iguanas and flamingos.
8) The Room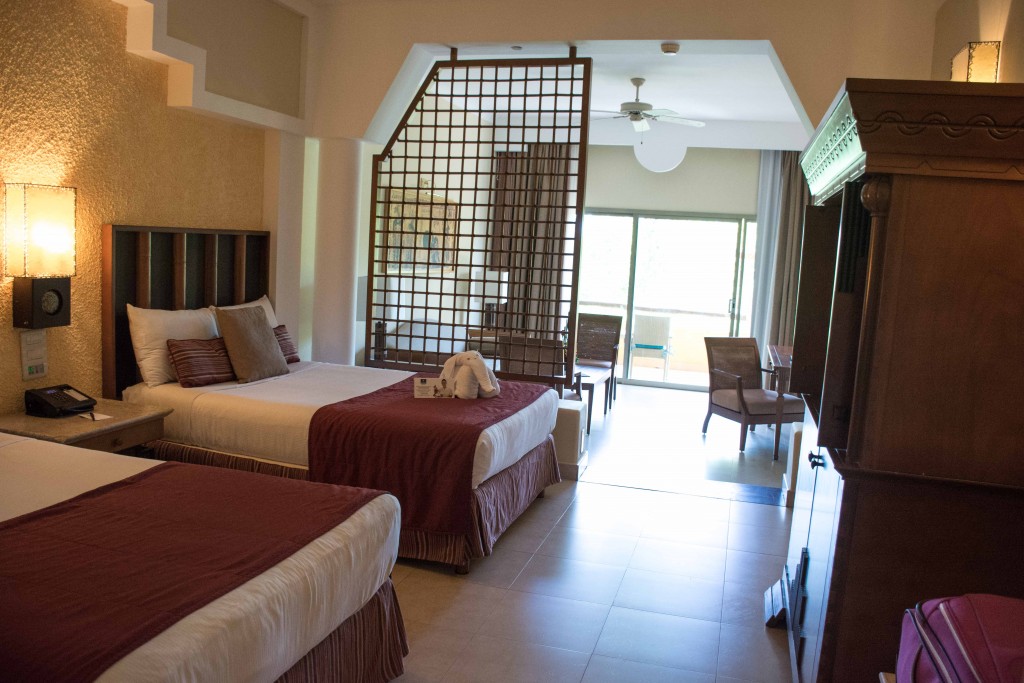 You don't intend to spend a lot of time in the room, but when you do you want it to be comfortable. The family suite is just that, very comfortable (check out our review of the family suite).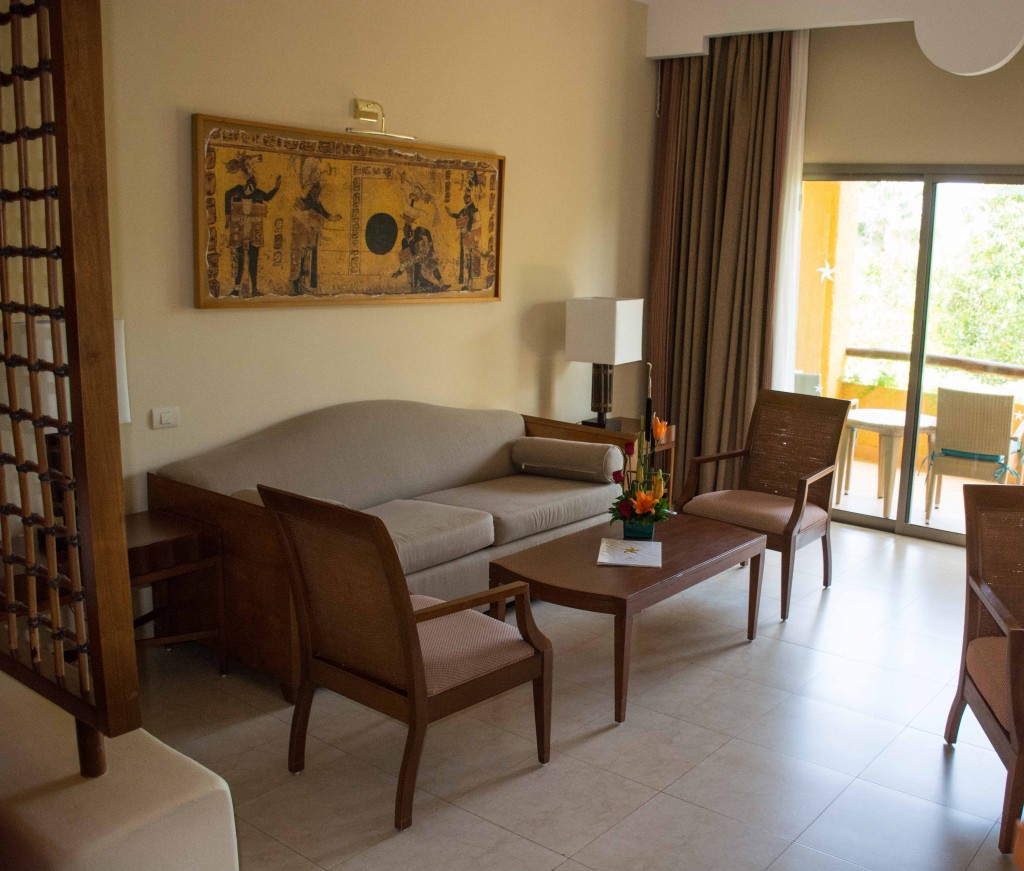 Having a sitting area for the kids to play with their toys or eat their room service goodies at is invaluable. It makes it feel more like a second home instead of a closet with a bed in it.
9) Entertainment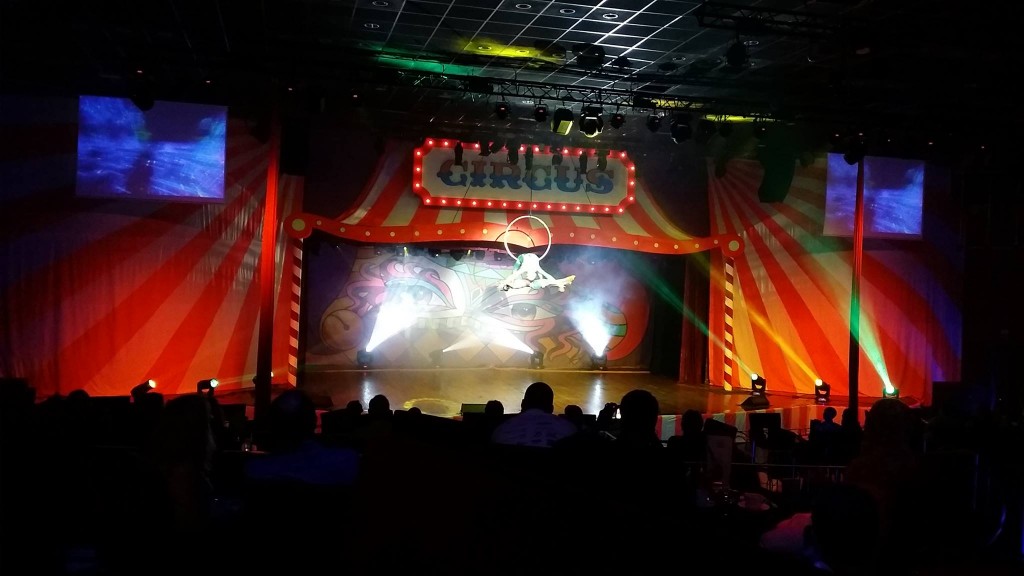 If you are looking for a little after hours entertainment you can always go to the evening show (changes nightly). This particular show was a circus theme with fun high flying acrobatics.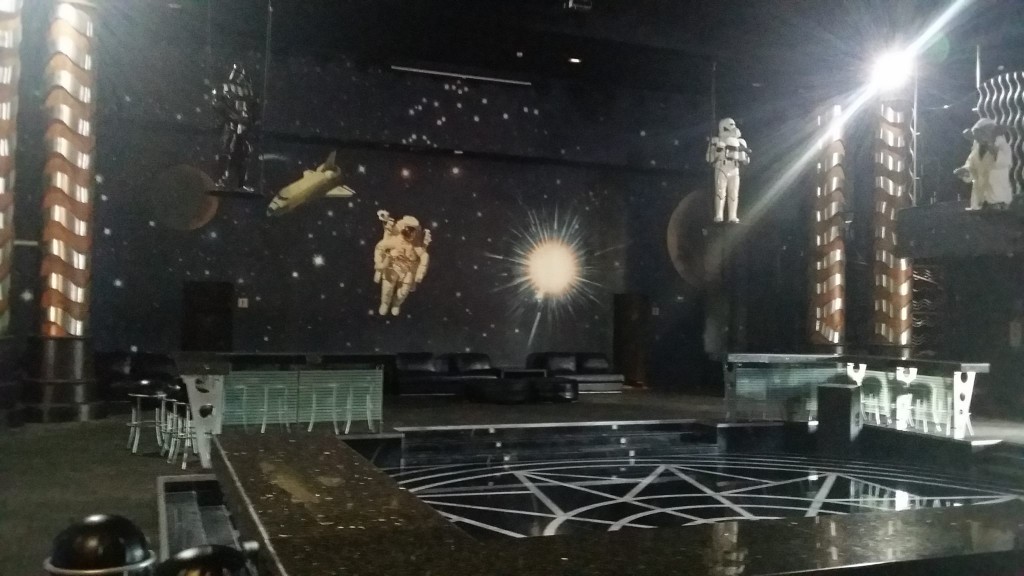 The Galaxy Club offers after hours entertainment for both teens and adults. The club was open from 8-10 pm for kids ages 4-17 and from 11 pm to 3 am for adults only.
10) Kids Activities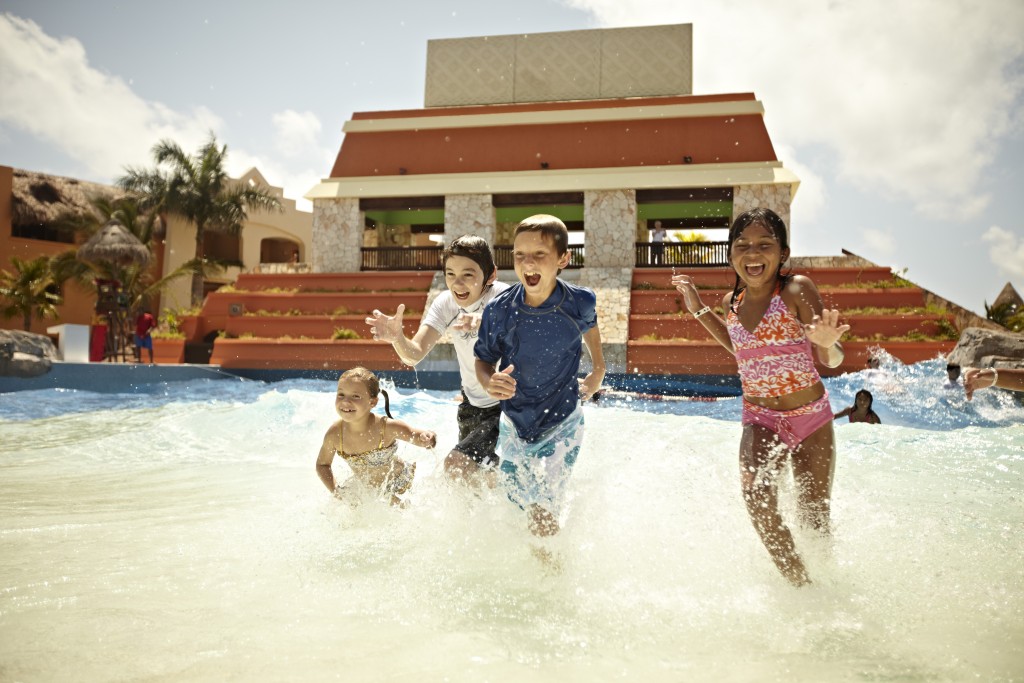 Traveling with the kids can be both fun and exhausting. Thankfully places like IBEROSTAR understand! With a kids and teen club available during the day you can grab a few minutes of grown up time while they enjoy kid oriented activities. During our tour we even ran into a kid's club employee that was there with a small group of children enjoying a little pool time!
These ten reasons are only the tip of the ice burg!
KIDS STAY FREE!
Before the rush of the holidays, why not enjoy a family getaway with a little extra savings this fall? IBEROSTAR Hotels & Resorts is offering a kids stay free promotion at select all-inclusive resorts in Mexico and the Caribbean. Escape the dropping temperatures with your family at IBEROSTAR Playa Mita on Riviera Nayarit's picturesque beaches or at the Splash Park. Or experience the untouched beauty of the Dominican Republic, where IBEROSTAR's hotels offer unparalleled amenities and plenty of family friendly activities.
When sharing a room with two adults paying full price, your child can stay free at select properties (at certain properties, up to two children can stay free). This promotion is valid when booked May 1 to December 23, 2015 for travel from August 16 to December 23, 2015. Blackout dates apply from November 21-28, 2015; during this period, regular children's rates will apply. Book your reservations through your preferred travel agent or operator, or by calling 888-923-2722 or visiting www.iberostar.com. Offer can be combined with other promotions— based upon availability and only valid for U.S. residents.
IBEROSTAR Hotels & Resorts currently offers 16 family-friendly properties in Mexico and the Caribbean. At IBEROSTAR, families will discover a wide spectrum of exciting and engaging activities to fill up their days. Parents can enjoy a relaxing day at the beach or indulge at the on-site SPA, as young travelers make friends at the specialty Kids Club and the Splash Park or enjoy video games at the Teen Club. There's never a dull moment!