IBEROSTAR Paraiso Maya | Junior Suite Walk Through & Review
Thank you to IBEROSTAR for sponsoring this trip. All opinions remain my own.
One of the first things I check when shopping for a place to take the family on vacation is room accommodations. Although we are not in the room all that much, comfort is important for the times are are in the room.
April 2015 I was honored to visit IBEROSTAR Paraíso Maya in Riviera Maya, Mexico. This is a family friendly all inclusive resort featuring five properties side by side. Depending on the rating, there are reciprocity benefits to staying at this particular destination. I will be going over this in the near future… for now I wanted to share my room… a junior suite in building 61.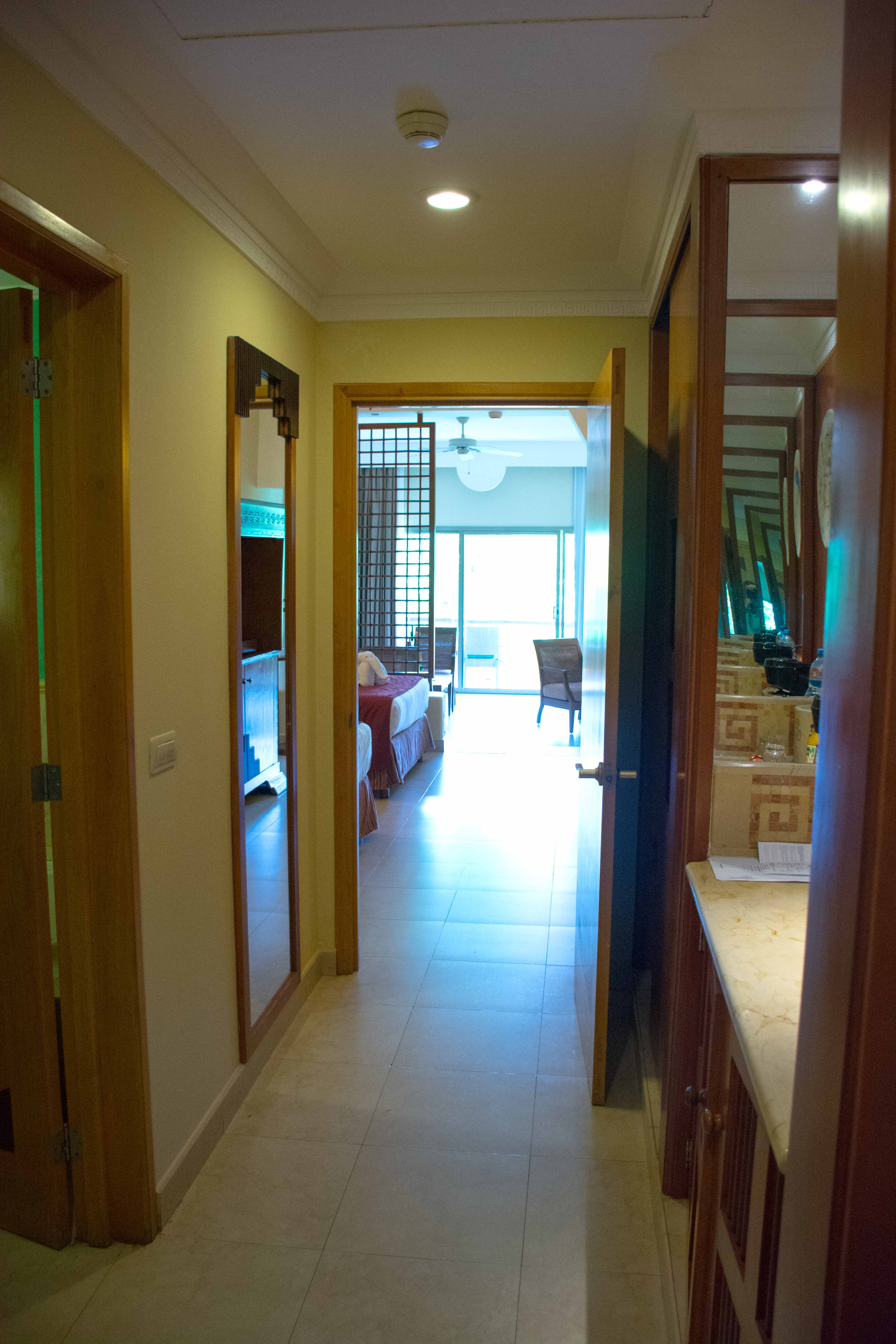 Upon entering you are greeted with a view of the entire suite. To the immediate left is the bathroom, to the immediate right is the first set of closets and the coffee maker/mini fridge area.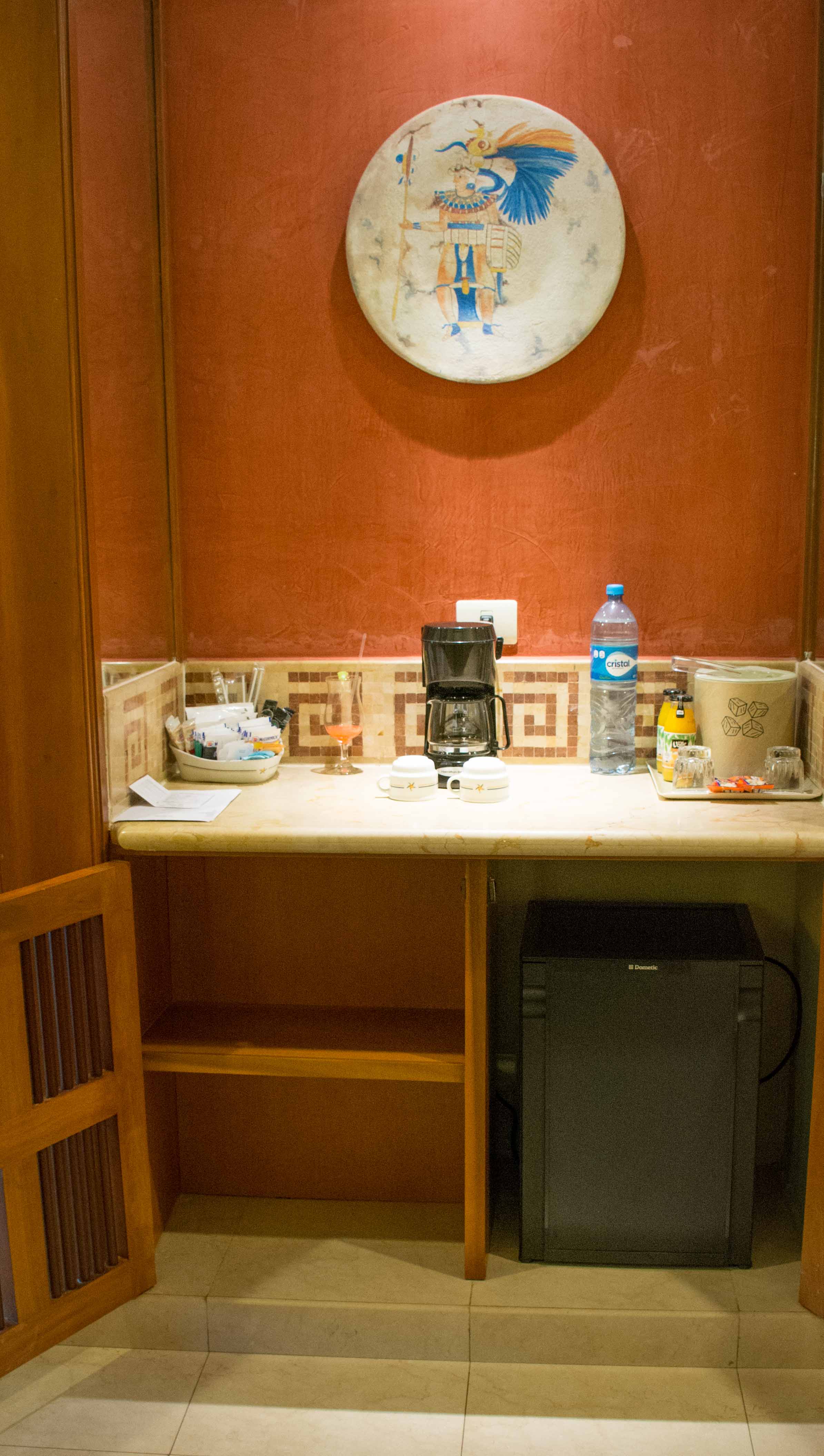 The mini bar has room for your own snacks from home (although there really is no need as food is available 24/7) and if offers a stocked mini fridge full of pop, sparkling beverages, water and beer. A couple of packages of peanuts were placed neatly on the bar for a nice poolside or beach side snack. All of this is part of the all inclusive package and was re-stocked daily during my visit.
The top of the bar offered the usual coffee amenities as well as tea packets and orange juice. Bottled water is a staple here at IBEROSTAR and the coffee tasted amazing in the morning with fresh water from the bottle.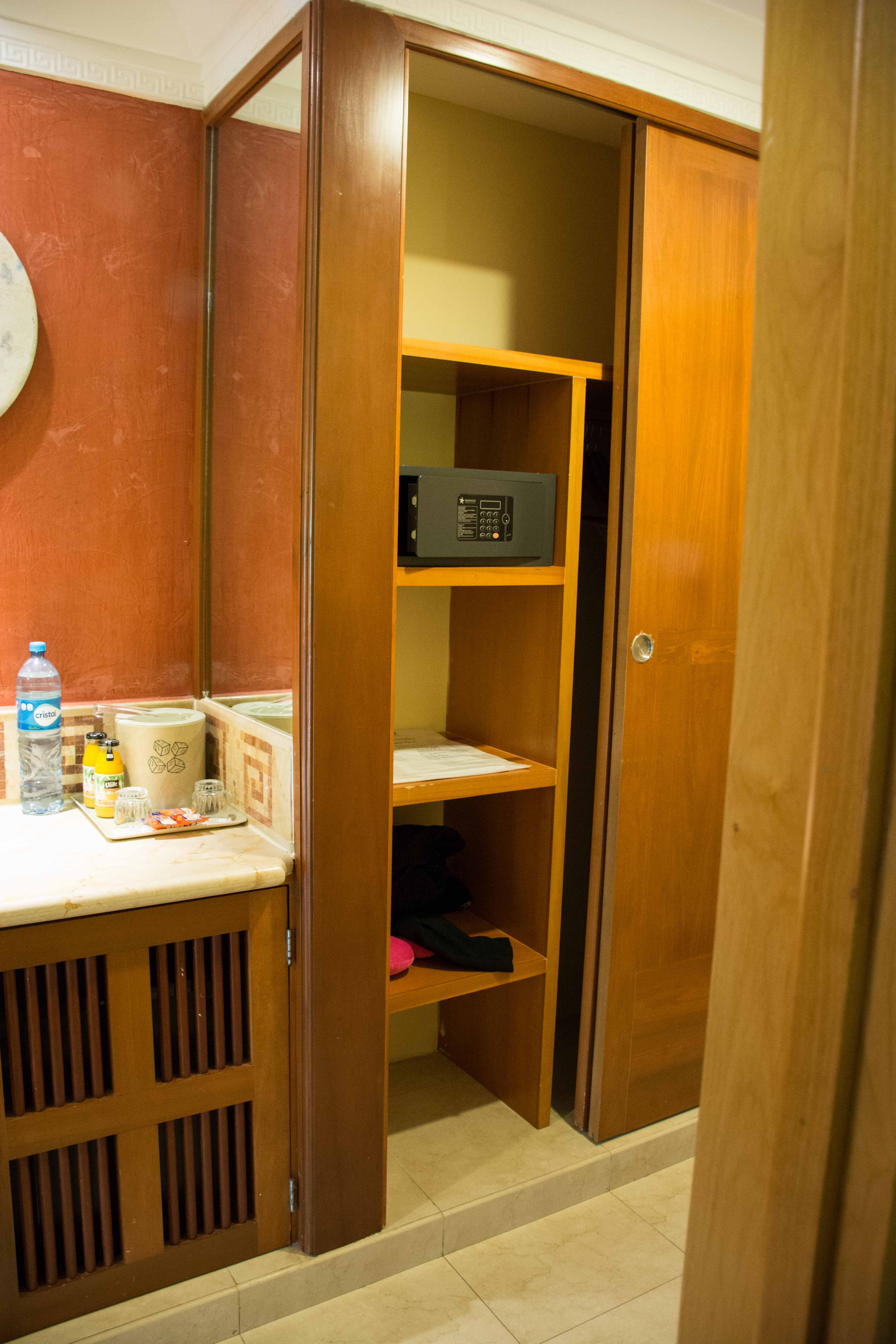 The first set of closets offered a safe, several shelves for shoes and other items you'd like to store. The other side of the doors offered 2 robes and a good amount of hanging space.
On the other side of the mini bar was another closet with more shelves and hanging space. More than enough for your party to empty their luggage and not live out of their suitcases.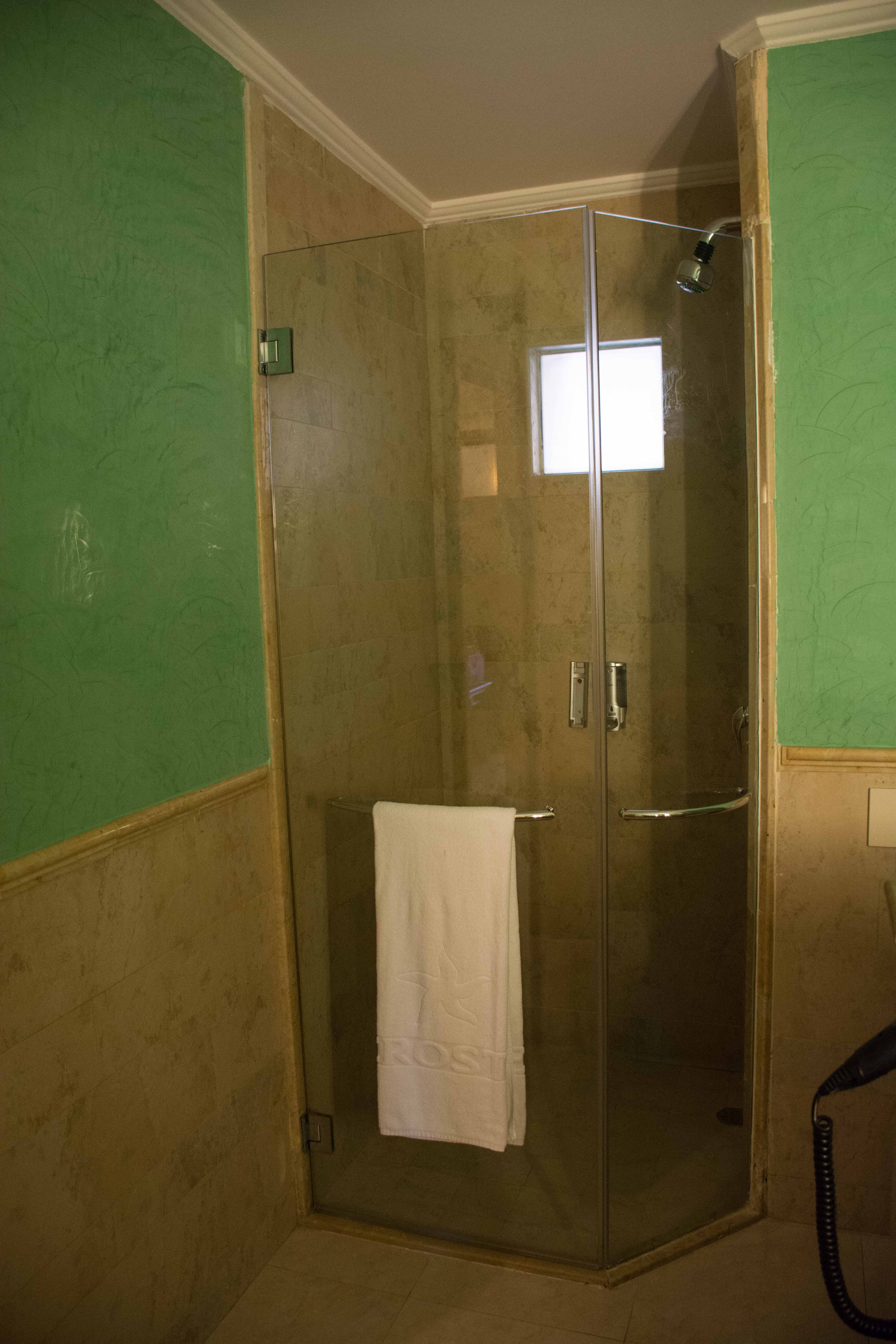 Upon entering the bathroom, a large glass enclosed shower was to the left as well as the toilet.
I was very pleased with the shower during my stay. The water pressure was spot on, the temperature was never an issue and I had plenty of room to put my feet on the wall to shave my legs without cramping up (swim suits ladies lol) .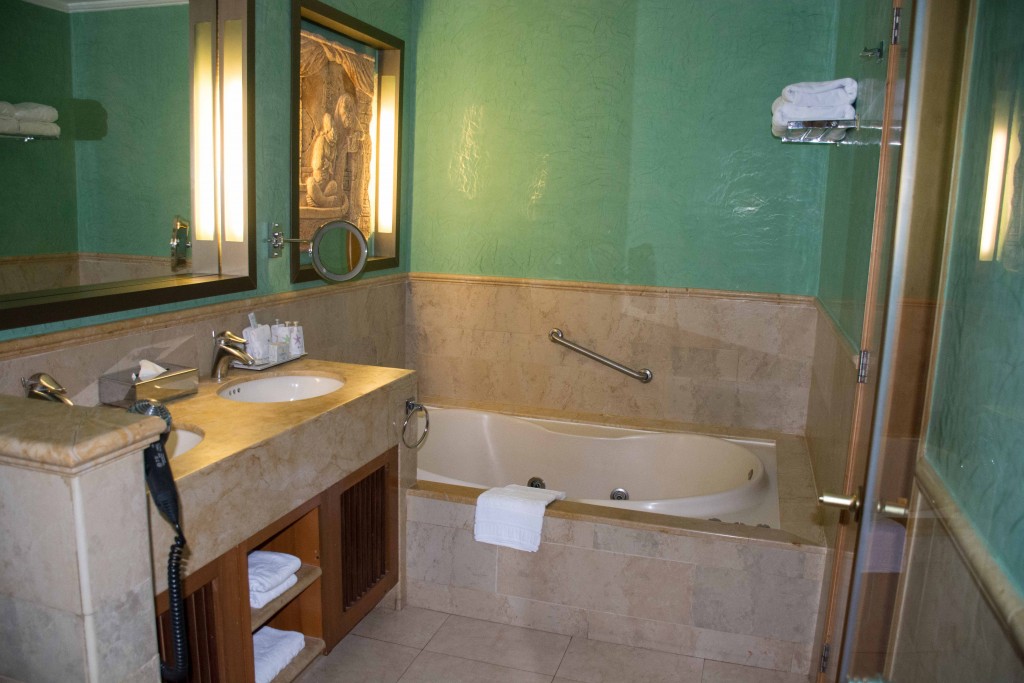 To the right is a very spacious jacuzzi tub and a beautiful set of double sinks. You will find the hair dryer, a daily supply of shampoo, body wash, lotion, a bar of soap and a mending kit for your convenience. There is plenty of room in the cabinets to store your toiletries if you like to keep your area tidy.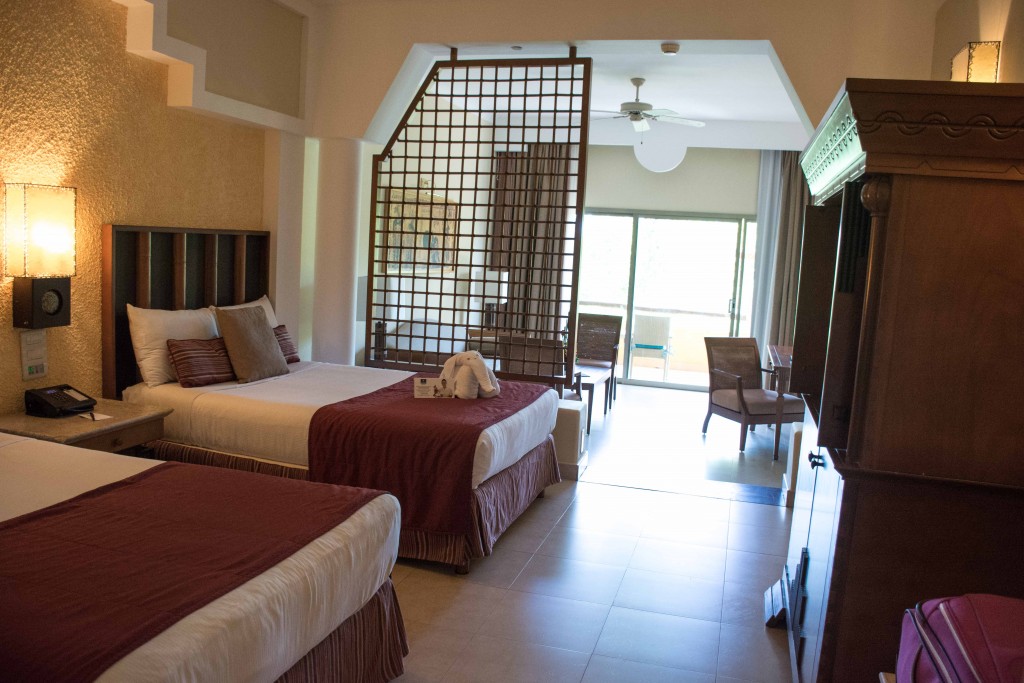 The bedroom was spacious and included a decent sized bedside table, a television, a butler to lay out your nice clothes for dinner and a place to put your suitcase while unpacking.
Notice the towel animal? This is the first resort I've been to that surprised you on a daily basis with a new animal. I typically have only seen them on cruises, but my kids would get a huge kick out of this.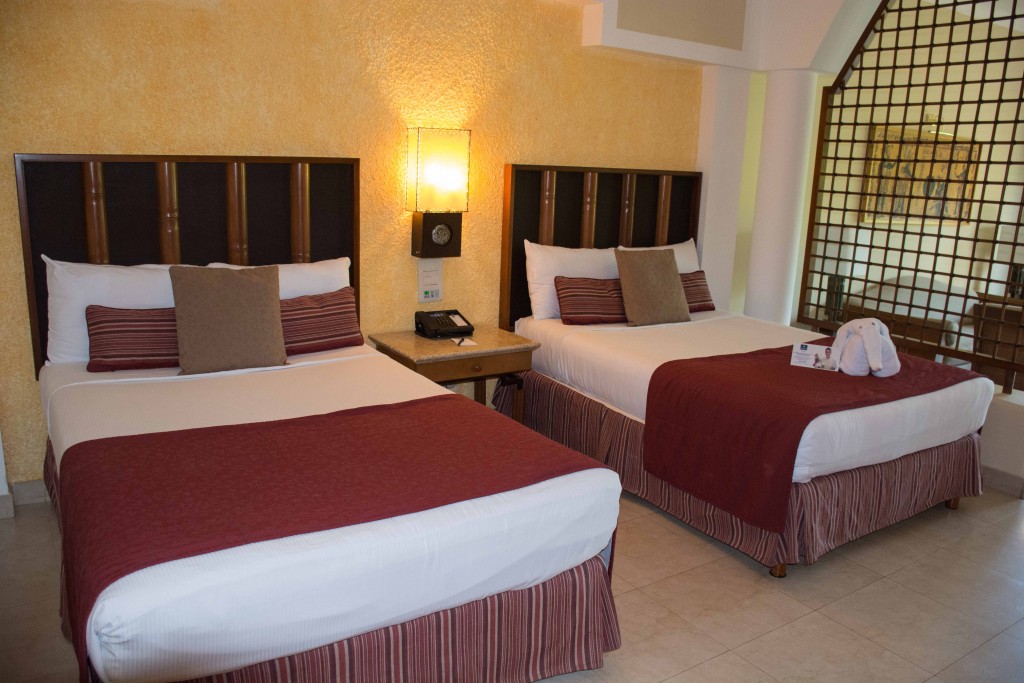 This particular suite offered two double beds and a pull out couch. Some of the other attendees had a large king sized bed and a pull out couch. If you have a large family like I do, adjoining suites are available and the accommodations would consist of one of each of these rooms.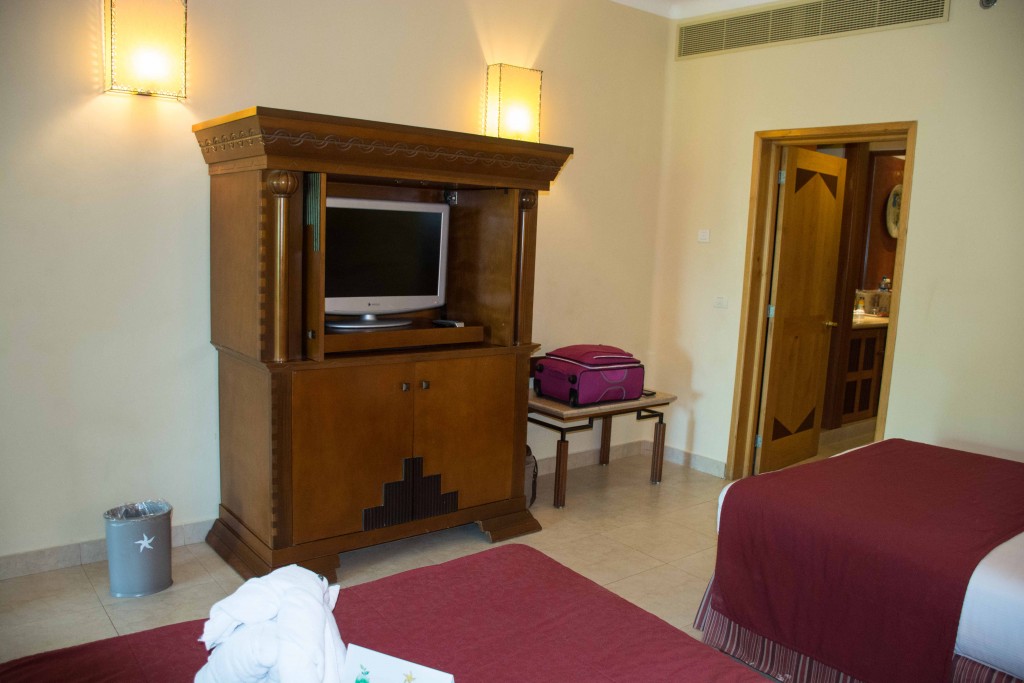 The television armoir was a nice touch. Instead of just putting a television on the wall or on top of a chest of drawers, you can now close the television up and insist on a tv free vacation.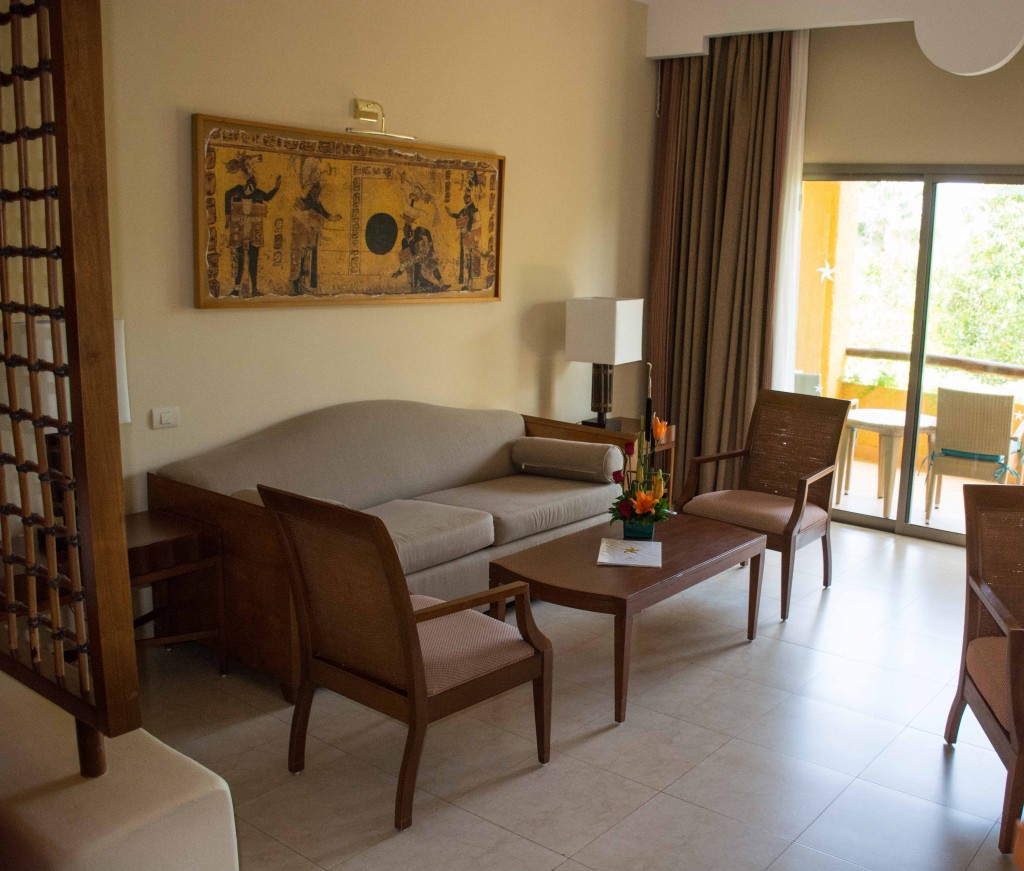 The final room in the suite is a sitting room that includes the pull out couch, 2 side chairs and a coffee table. To be honest I was so busy during my stay that I wasn't able to partake of this area but I could see my family sitting around it discussing our plans for the day or enjoying a little room service before bed.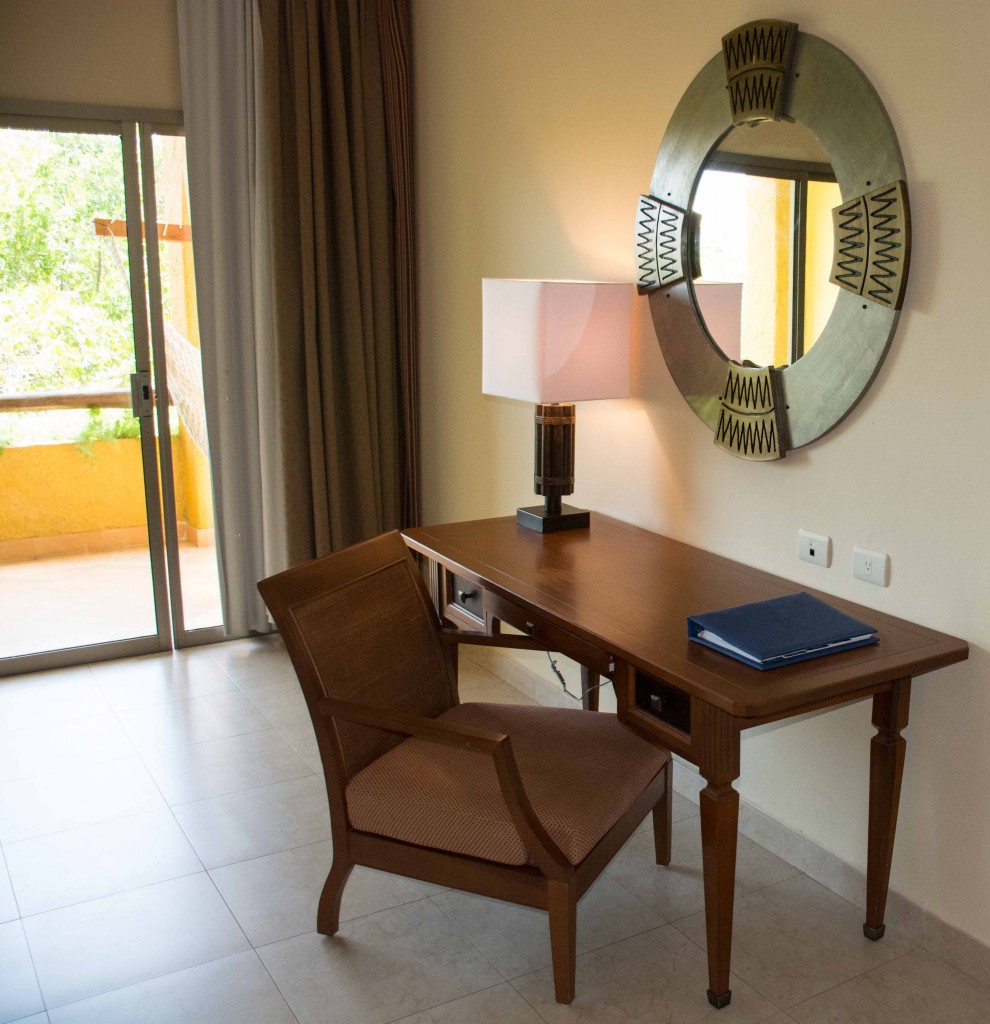 On the other side of the sitting room you will find the desk/chair that you are wanting to avoid on such vacations ( 😉 ). Unfortunately I did need to plug my laptop in to do a little work during my stay, but because of the free wifi at Paraíso Maya I was able to get online and get it done rather quickly. This would also be a good area for my younger children to sit and enjoy a snack at. Avoiding floors full of crumbs is a typical activity on our family trips.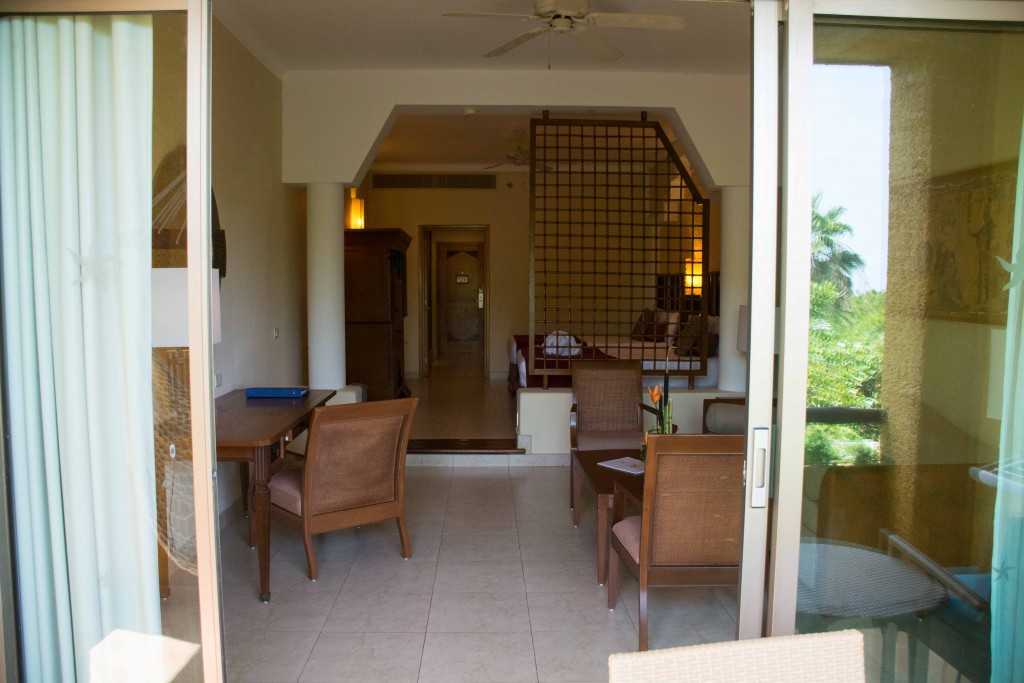 From the deck looking into the room you can get a feel for just how large this room is. Although rated for only four, I could venture a guess my family of six would be more than comfortable in here.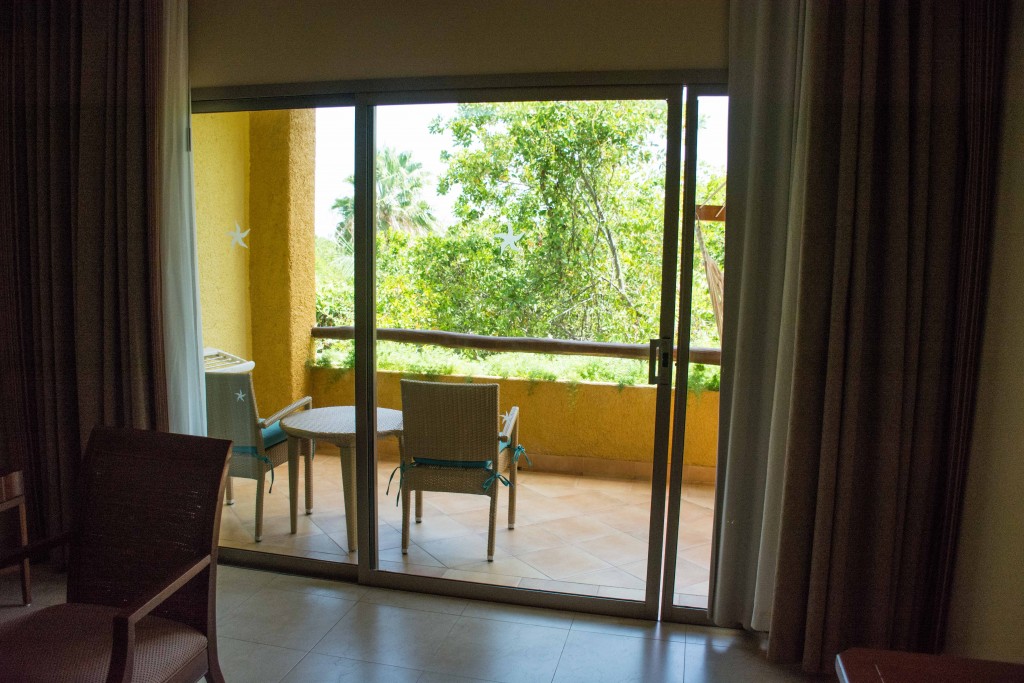 The balcony was immediately inviting as I was checking out my room. A good view is always a plus when relaxing with your cup of coffee in the morning while trying to "get your head on". It's also a fabulous place to take a few seconds to yourself and turn off the noise that traveling with the family brings.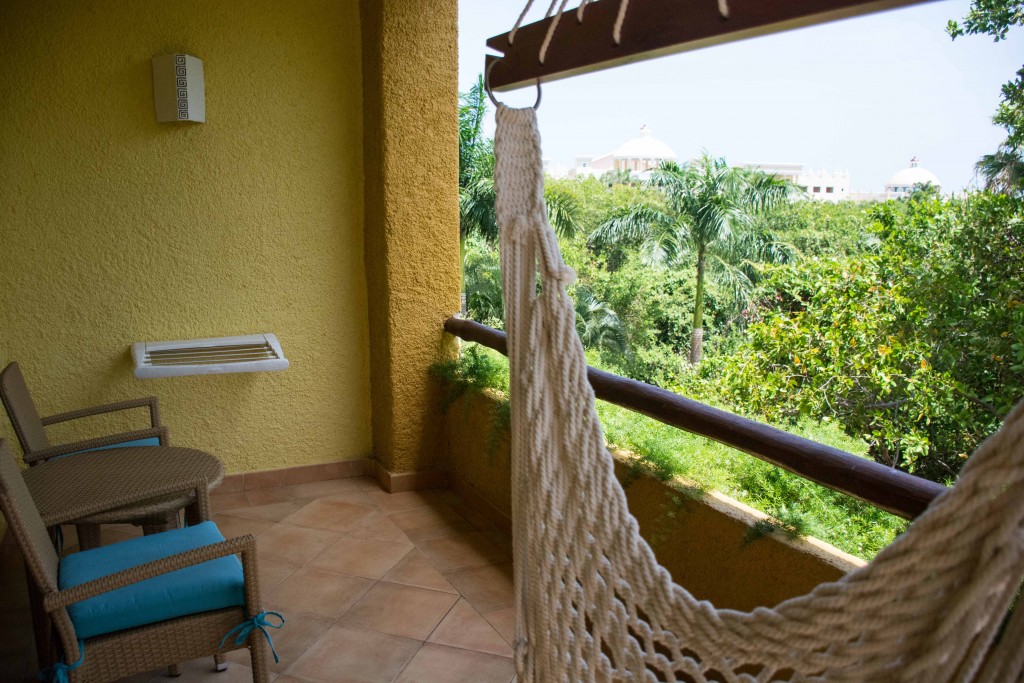 Our balcony had a place to air dry swim suits, two chairs and a table, and a small hammock.
The view was breathtaking. Although somewhat blocked by tons of green foliage… it was green and beautiful. I loved seeing (and hearing) palm trees blowing in the wind mixed with the nature sounds of several birds and nearby water.
I spent three nights at IBEROSTAR Paraíso Maya. During this time I enjoyed the turn down service (with mints and a flower), daily towel animals (even in the bathroom.. it was holding my toothbrush and toothpaste), a fresh sweep of the room (I admit to dragging in sand in my shoes more than once), daily restocking of my favorite beverages (coffee and water please!), and a tidy clean room. I didn't have a single complaint and have raved on and on to my family about this room. We have been searching our planners for a date when we can all visit. Three days was just a taste!
Want to see more? Check out the video below for a complete walk through!
You can find more information about IBEROSTAR Paraíso Maya in Riviera Maya, Mexico on their site.
Fall 2015 special:
Before the rush of the holidays, why not enjoy a family getaway with a little extra savings this fall? IBEROSTAR Hotels & Resorts is offering a kids stay free promotion at select all-inclusive resorts in Mexico and the Caribbean.
PIN IT!