I <3 iCarly Collection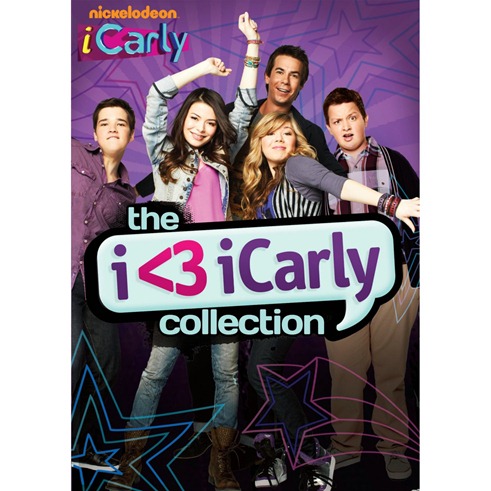 Three times the laughs and three times the fun are packed into iCarly: The I <3 iCarly Collection!  Join Carly and her friends as they journey to outer space, prepare for an exhibition match against a teen fighting champion and uncover secret kisses and crushes.  This three-disc DVD includes fan favorite episodes and specials from Season 2 and Season 3 of iCarly.  Nickelodeon's groundbreaking hit liveaction series stars Miranda Cosgrove as Carly, the host of an incredibly popular teen web show.  iCarly recently picked up two blimps at the Nickelodeon's 2011 Kids' Choice Awards for "Favorite TV Show" and "Favorite TV Sidekick."  Created by Nickelodeon Home Entertainment, and distributed by Paramount Home Entertainment, 
iCarly: The I <3 iCarly Collection Episode Synopses:
iCarly: iSpace Out
An eccentric billionaire asks the iCarly gang to perform the first live web show from outer space and they must go through a series of tests to make sure they're fit for space travel.  Back at the loft, a mysterious little girl visits Spencer.
Sam reveals she used to compete in pageants and convinces Carly to compete against her long-time rival in the Miss Teen Seattle pageant.
iEnrage Gibby
When Gibby discovers Freddie and his girlfriend in a compromising position, he vows revenge and challenges Freddie to a fight.  Meanwhile, Spencer's art career really takes off when the local paper incorrectly reports his death.
When Carly, Sam and Freddie agree to make a music video for a pop star who's trying to make a comeback, they discover that the pop star is out of shape and untalented.  Meanwhile, Spencer has trouble dating a woman when he discovers she's Gibby's mom.
When Sam ends up in jail, Carly and Freddie vow that the web show must go on.  They try to enlist Spencer's help at the last minute, but he has a date he can't cancel.
Carly believes Bigfoot exists and convinces her friends to embark on a search to prove it.
iSaved Your Life (Extended Director's Cut) When Freddie saves Carly's life, Carly falls in love with him. Meanwhile, Sam and Spencer compete against each other in a paintball game called Assassin.
Carly and Sam become crazy competitive when helping two aspiring filmmakers in a video contest and end up questioning their friendship.
When Sam accidentally reveals to Carly that she and  Freddie shared a secret kiss, Carly confronts them both about why they never told her. Meanwhile, Spencer goes to prison to teach an art class to convicts.
Freddie tries to prove that Melanie, Sam's twin sister, is just Sam in disguise. Meanwhile, when Carly tutors Spencer's nemesis, Chuck, Spencer tries to convince her that Chuck is evil.
Fed up with his mother constantly treating him like a baby, Freddie decides to move into his own place. Meanwhile, the gang starts a successful pet photography business and ends up in a feud with a rival studio.
iCarly: iFight Shelby Marx
iFight Shelby Marx
Things get insane when Shelby Marx, the best female fighter in the world, challenges Carly to an exhibition match.
Carly starts dating a new guy with a bad-boy rep and soon discovers a shocking secret about him.
Carly, Sam and Freddie find some look-alikes to trick Spencer so they can sneak out to a mixed martial arts fight.
It's the first ever iCarly Awards!  Carly, Sam and Freddie honor the top ten videos sent in to iCarly.com over the past year.
***
We have been without extended cable for a few years now. There aren't many shows that I can truly say that we miss… but iCarly is one of them. There have been a few times now since we've dropped cable that we have gone to a cabin for camping or a hotel for vacation. Nickelodeon is one of the first channels we check to see what is on and everyone is excited when a "new to us" episode of iCarly comes on!
Miranda Cosgrove seems to be a genuinely nice person, a gentle & sweet personality, silly but soft spoken and just fun to watch. You can tell by the chemistry between her, Sam and Freddie that things off camera might get a little mischievous. Most of the time I love how "blonde" they made Spencer out to be… sometimes you just utter "REALLY?" though at some of his hair brained antics.
iCarly is one series we are glad to have on DVD and don't mind watching over and again!
BUY IT:
You can purchase the I <3 iCarly Collection for $17.99 (RV $24.99) at Amazon.com
WIN IT:
ONE OurKidsMom reader is going to win The I <3 iCarly Collection on DVD!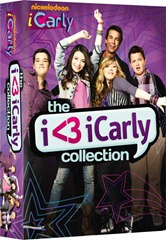 TO ENTER:
Simply follow the directions in the widget below. It's that simple.
COMMENTS DO NOT COUNT AS ENTRIES…
but they are still very much appreciated and adored :O)
Rules:
You do not have to be a blogger to enter/win. An email address is required to enter. The winner will be chosen randomly through Rafflecopter and contacted via email. A reply to the winning email is required within 48 hours before a new winner is chosen. One person entering per household please. U.S. only.
This giveaway ends at 12:01 AM EST on September 9, 2011.
Disclosure of Material Connection: I received one or more of the products or services mentioned above for free in the hope that I would mention/review it on my blog. I only recommend products or services I use personally and believe will be good for my readers. I am disclosing this in accordance with the Federal Trade Commission's 16 CFR, Part 255: "Guides Concerning the Use of Endorsements and Testimonials in Advertising." The opinions expressed in this post are entirely my own. Your experience with the product may differ from mine. The sponsor is responsible for prize fulfillment and will be shipping the winner(s) their prize(s). For more information read my disclosure policy.