HP ENVY 23 TouchSmart AiO Desktop Computer | #HPFamilyTime
I wrote this review while participating in a program on behalf of HP and received an HP desktop PC and other products as part of my participation.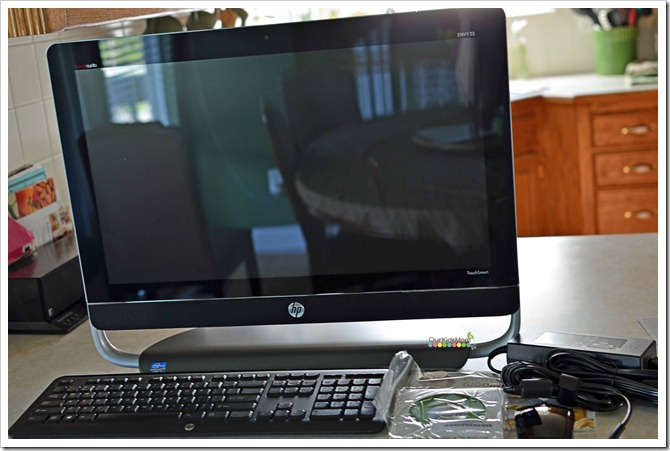 My children have been drawn to computers since they were old enough to sit up in my lap. It started with keyboard banging and has progressed to playing educational games on child friendly websites and various games we have downloaded. Unfortunately, we have a limited number of computers in the house that they are allowed to use. When HP asked us if we'd like to try the HP ENVY 23 TouchSmart AiO my kids were over the moon excited!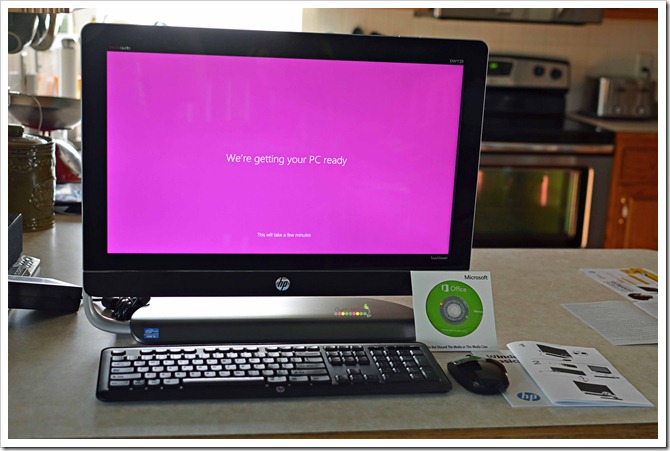 When the box arrived our first mission was to find a central location to put the computer. We wanted it in a place that was easily accessible for the family (and policed by mom) but could be tucked out of the way when need be. We decided on the buffet section of our kitchen counter. When in use, it sits nicely in the middle for the two children to share. When we need the buffet it slides easily under the cabinet with about an inch to spare… we tuck it up against the wall.
Set up was a breeze. It literally consisted of taking the unit out of the box, plugging the power cord in and turning it on. Yep! That easy! Windows 8 takes you through the process of choosing the language, time zone and signing into your Microsoft account (this allows the tiles to be "live"). There wasn't any special installation for the wireless keyboard and mouse… they just "started working". No rocket science involved, no computer geek necessary.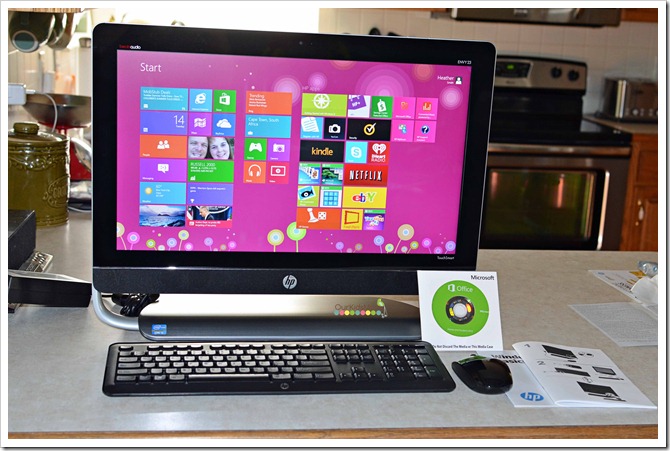 It's amazing how computers have evolved over the years. We have always owned towers with separate monitors and speakers. The HP Envy 23 AiO is literally all in one.
Here is what comes with the HP ENVY 23-d150xt TouchSmart All-in-One Desktop PC – C9D83AV#ABA 
– Windows 8 64

– 3rd Generation Intel(R) Core(TM) i5-3330S quad-core processor [2.7GHz, 6MB Shared Cache]

– Integrated graphics – Intel(R) HD

– 6GB DDR3 SODIMM Memory [2 DIMMs]

– 1TB 7200 rpm SATA hard drive

– Save $20 on Microsoft(R) Office Home and Student 2013

– No additional Security Software

– Slim slot load SuperMulti DVD burner

– 6-in-1 card reader, 2 USB3.0, audio

– No TV Tuner

– Integrated sound

– HP wireless keyboard and mouse with Win 8 keyboard

– No Game Console

– Wireless-N LAN card (1×1)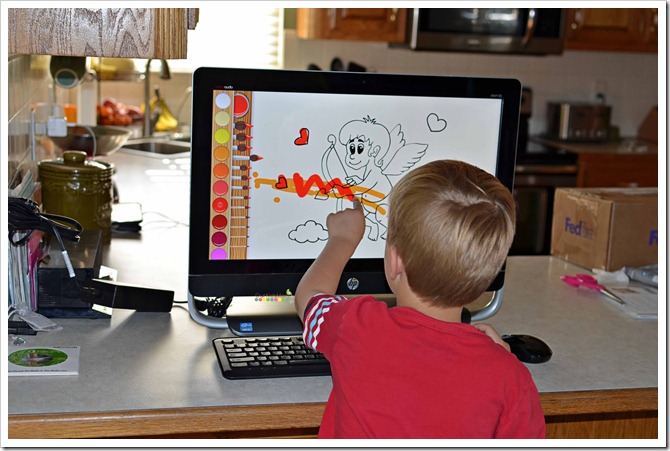 Computer screens have also evolved to incorporate touch. It is instinctual for my kids to want to touch a computer screen. My laptop is proof of that. Above is my son Ethan. He is going to be 5 next month. I had a few things to tend to before I could sit down and play with the HP Envy 23 AiO, so I opened up a painting program for him. With minimal instruction (I had to show him how to choose the color and paintbrush size) he was a painting fool.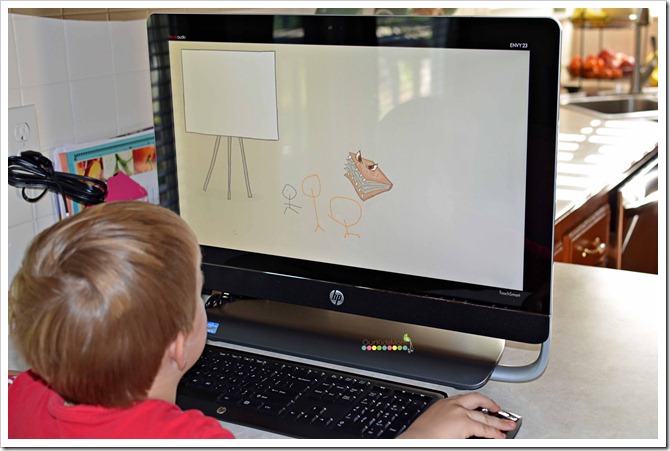 Mindless time passing isn't good enough for me… I try to focus on learning type games for the kids. We found the app called Stick Man that both children have been addicted to for several months now. They like to start over (and over) from the beginning… it hasn't grown old yet. Stick Man is a problem solving/critical thinking skills game. The children have to navigate "Stick Man" through different areas using tools like fire and rain to remove obstacles. As you can see, Ethan decided it was time to start a Stick Man game on the AiO. Being able to use touch instead of the mouse to navigate "Stick Man" around took the game to a whole new level.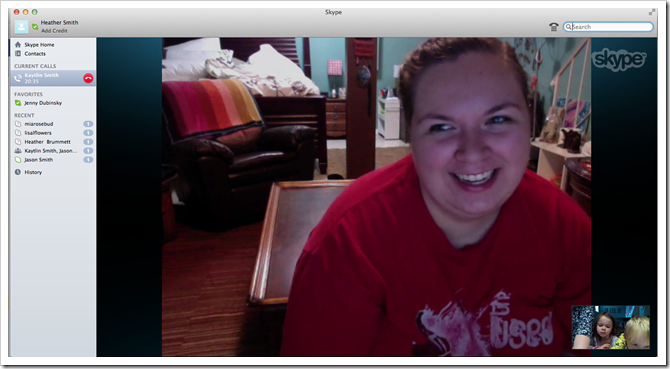 Our new HP Envy 23 Touchsmart AiO has brought our family together again in more ways than one. Not only are we playing games together… but it's allowing us to connect with family members outside of our home as well. My oldest daughter recently moved away to college. The kids and I have been having a difficult time with her being gone, so we asked her to Skype with us.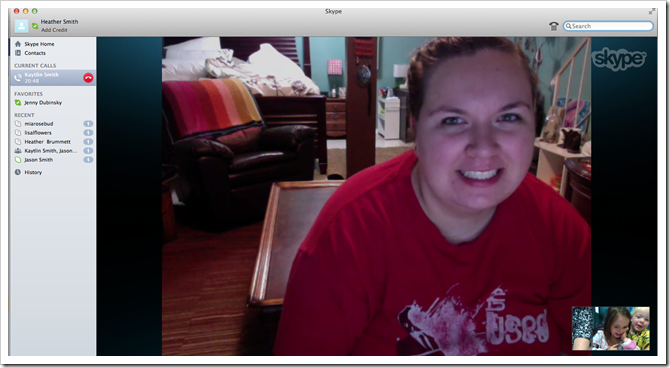 Being able to not only hear her voice crystal clear (the Beats audio on this thing is amazing) but seeing her beautiful smiling face on this massive screen made my heart happy. If only HP could find a way to allow me to hug her as well. That will never happen, but Skype has helped ease the pain of separation.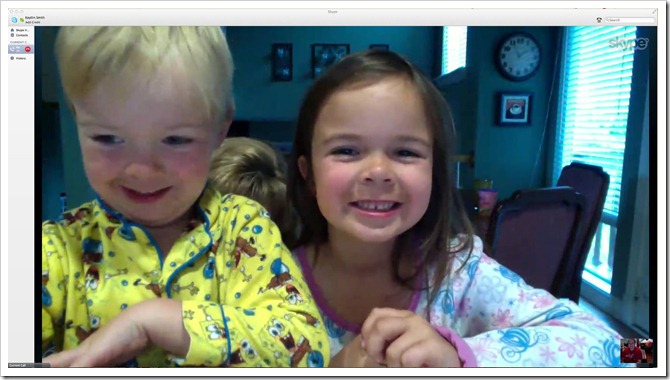 I was curious what the picture quality was that she was receiving on her end, so I asked her to snap a screenshot. Considering my monkeys don't like to hold still much (and it was rather dim in the house)… I think this shot was amazing! Just think of the possibilities… The HP Envy 23 AiO could help bring families together not only in your own home, but across the country with Skype! Now Grandparents can see their Grandchildren in real time while talking to them… no more missing them growing up!
I am already in big puffy

 love with our new family computer. I can't wait to share next time the fun things we've done together (as a family) with it!
 Check out how the HP Envy 23 Touchsmart is helping Missy's family enjoy the great outdoors together.
Check out how Missy uses her HP Envy 23 Touchsmart to help keep her family healthy.
See how Heather is sharing hobbies with her family on the HP Envy 23 Touchsmart.
I wrote this review while participating in a program on behalf of HP and received an HP desktop PC and other products as part of my participation.