This is an exciting time for new parents. Celebrating your baby's first holidays only comes once, and you'll want to be prepared to document as much as possible, so you won't miss anything and that you'll have plenty of events to document!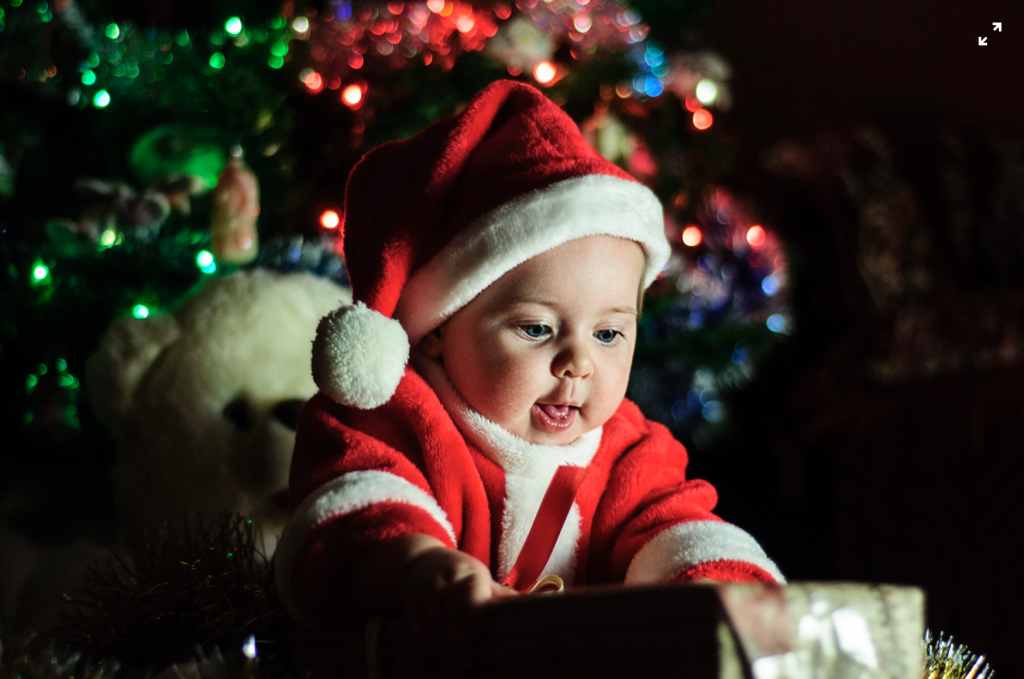 Christmas can also be a stressful time for first-time parents. There are so many choking hazards on that Christmas tree, and the holiday season is also a season when colds run rampant. Bundle up your little bundle of joy, and make sure that all the most tantalizing-looking Christmas decorations are far out of reach for your curious little one. 
With so much stimulation and family time, it's easy to get overwhelmed and focus too much on making the holiday perfect for everyone, so much that you might forget to enjoy it yourself. The whole family should be involved to ensure your baby's first Christmas is one for the scrapbooks. This is a time of wonder for your little one, and one they won't remember as they get older, so make sure you have all hands on deck for your baby's first Christmas presents. You'll want to remember it just as fondly.  
Baby's First Christmas Ornament  
This is an item that we can keep throughout our lives if we're careful, so it's nice to put a little thought into your baby's first Christmas ornament. It can also be a special moment when you put it on the tree together as a family. Some individual ideas for your baby's ornament could be personalized, such as your baby's photo could be in it or on it (whether it's a professionally shot photo or not), you could make the ornament yourselves, or you could be gifted the ornament from a close family member. Just be sure that the ornament is made of durable material, so it can be used in the Christmases to come. If you see one before Christmas that you particularly like, don't be afraid to buy! It will be special because it found you. You can order bulk ornaments online if you are looking for Decors to make your Christmas extra special.
Baby's First Holiday Outfit  
Your baby's first ornament can be used again and again as they get older each Christmas, but they'll only get one first Christmas outfit! Keep this in mind when you're shopping for the perfect one. Christmas is a holiday that can get a little messy. There's a lot of food to be had, and a lot of eggnog to be spilled. Because the holiday outfit is special, and will likely only be worn for one or two special occasions, don't spend a ton of money on it if you can help it. You'll want something nice that will stand out in pictures, but not something that could easily get destroyed, or worse, takes a lot of time and coddling to get in and out of! Do what you can to avoid a fussy baby. If you're not sure where to start, try Bitsy Bug Boutique.  
Baby's First Christmas Pajamas  
Your baby's Christmas pajamas will be easier to pick out, easier on the wallet, and something your baby can wear a few times before they grow out of it. When buying their pajamas, pick out something extra comfortable and warm for them. It's also cute to have a Christmas saying or a Christmas color scheme to make them really stand out, especially when you take photos on Christmas morning! Nowadays, there are so many adorable holiday-themed pajamas out there. You'll be hard-pressed not to find something you like. For those of you in the double holiday spirit, pick out a pair of pajamas for both Christmas Eve and Christmas Day. That way, you can keep the holiday spirit alive for as long as possible. 
Baby's First Stocking  
Like the first ornament, your baby's first stocking can be kept in the years to come. Because babies aren't quite aware of what's going on during their first holiday season, you likely won't need too big of a stocking for them the first time around (they won't be awake long enough or focused on unwrapping gifts for the most part). However, keep in mind that you might be able to keep this stocking for many Christmases, and it could be of very much sentimental value as your baby gets older. Find a stocking that best fits in with the family's, and one that will look perfectly suited to the mantlepiece. Every Christmas can be a reminder of your baby's first if you keep these items in good condition.  
Baby's First Christmas Photos  
This is perhaps the biggest part of your baby's first Christmas if you want it to be. Now that we have social media platforms to post photos of our little ones, professional photography sessions aren't as sought after. However, this is still a route you can take if you want to have photos you can keep in a frame, and not be subjected to an algorithm. The only problem is you'll want to have these photos taken before the holiday season is in full swing. Try and book your photos even before Thanksgiving, so you can confirm with a photographer of your choosing, and perhaps before prices skyrocket. You can choose to do these as family portraits or just portraits of your little one in a Christmas scene. These will be awesome to have in your home! Also, this is a great reminder that your little one was this cute when you need it during their teenage stage. 
Bonus: Make a Baby's First Christmas Time Capsule  
Making a time capsule for your baby's first Christmas can be a really sentimental and beautiful idea, as long as you can keep from opening it for the allotted time! Some choose to keep the box sealed until a milestone in the child's life, but you can also set the opening to after five or even ten years. Put in it some fond memories from the day, but not items you'll want to use each Christmas.