One of the most popular remodeling projects is the bathroom. Bathrooms get hard use, and everything wears out over time. It is nice to renovate this room to make it more attractive and updated for family members to use. But, don't waste the renovation budget on poor design choices, cutting corners on quality, or amateur work where professional work is required. Hire licensed electricians and plumbers as well as professionals for things like ceramic tile work.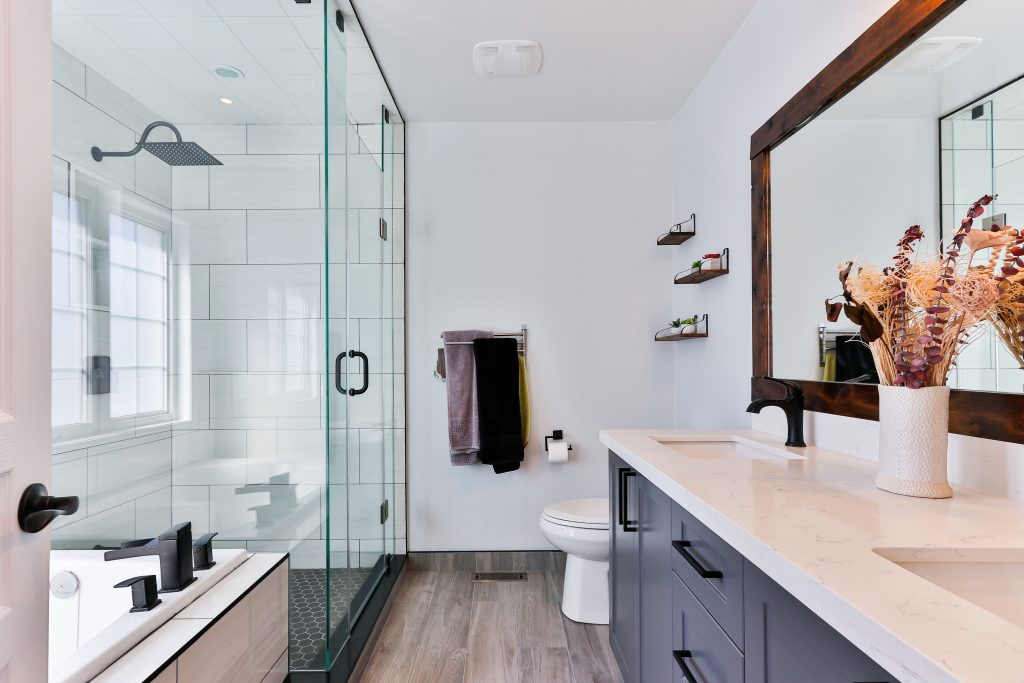 Getting and Keeping the Perfect Bathroom 
Once a family decides to spend the money renovating their bathroom, it is important to keep the bathroom well-maintained so all the materials used last longer. Keeping drains clear and running freely is one step in maintaining a bathroom. Cleaning the mirrors regularly helps them look better, and people to see themselves more clearly. 
The effort of maximizing your bathroom space is worth the time and expense. Bathrooms are often limited in square footage, but good design choices make every inch count and maximize storage space. Look at online design ideas, bathroom design magazines, and bathroom displays in design and building supply showrooms for good ideas for the new bathroom. These sources will show what the current design and color trends are. 
If possible, get professional help designing the new bathroom. Some bathroom design centers or renovation contractors have free design help available for their customers. 
Making the Most Of the Limited Space in a Bathroom 
Design experts have lots of great ideas for small to large projects to make bathroom spaces look larger and be more usable. A few ideas include the following. 
Make sure the layout of the bathroom is right. Plan the location of the sink, vanity, toilet, bathtub, and shower carefully. Purchase the correct size vanity and fixtures for the bathroom space.

 

Don't skimp on lighting for the bathroom. Bathroom lighting fixtures can be attractive and efficient.

 
Make sure to have enough ventilation and heating to make the bathroom comfortable.

 

Find clever ways to provide more storage.

Medicine cabinets and vanities with under-sink storage are good. Open shelving can add additional storage. Think about adding storage to the back of the bathroom door or over the toilet.

 

Get a bigger mirror for over the vanity to make the space seem larger.

 

Think about replacing a swinging door with a pocket door.

 

Use a simple, sleek color palette

, and consider using an interesting wallpaper. Light colors make bathrooms look larger.

 
Consider a glass shower door to make the space appear larger. Then take care to organize the things that are needed in the shower like shampoo, soap, and other toiletries. Shower caddies can be helpful for this. Wall niches are also provide practical storage in showers.

 

Use hardware and fixtures that are the correct scale for a small bathroom. This includes the light fixtures, towel bars, robe hooks, and sink and tub hardware.

 

Use baskets on shelves for neater storage.

 

Use ceramic tile and other waterproof surfaces and good floor drainage for easy cleaning and durability.

 

Consider installing a skylight in bathrooms without enough window light.

 
Add a few pieces of art to the walls to add interest.

 
The most important ideas of all are to keep the bathroom clean and organized. Don't clutter an already small space. Clean surfaces and walls look better and are healthier to spend time in. Having a place for everything and then keeping everything in its place helps bathrooms look larger and be more relaxing. Once a bathroom is renovated using good design ideas and professional labor, it will even increase the value of a home, and family members will enjoy using the new space.