Trying to get healthier foods into your child's diet is not always easy. Although some children love fruits and veggies because they are colorful, this isn't the case for every child. 
Some children will push away any healthy food when they are presented with a meal, which can be equally as frustrating as it can be disheartening. 
Should you worry about your child not consuming enough nutrients and healthy foods, here are some tips to improve their nutrition.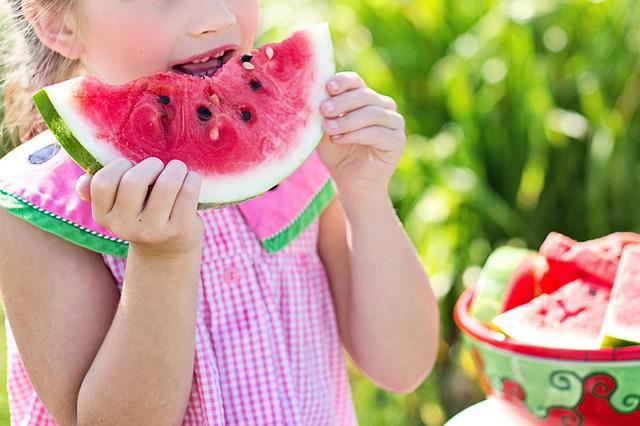 Girl Eating Watermelon – Free photo on Pixabay
Introduce vitamins
Although many people will assume vitamins are for adult consumption, they can be for children too. 
Giving your kids multivitamins will support their daily fruits and veggies intake. Should your children struggle with eating these foods, then a multivitamin will ensure that they get the nutrients that they need without having to force-feed them every day. 
Get them involved with cooking
While children are growing, they will require more and more nutrients and more and more calories to sustain good health and wellness. The right nutrition for kids is all about a healthy balance of the right foods and avoiding other foods. 
For instance, children should consume plenty of fiber, protein, fruits, veggies, grains, and dairy to support their growth. Although they might enjoy sweets and chips, too much sugar and sodium is not beneficial for their health. Hence, to encourage them to consume a balanced diet, it can be a great idea to get them involved with cooking. 
Getting them involved with cooking will not only allow them to have more of a say as to what they will eat for each meal, but it will teach them that healthy food is fun. You could ask them to choose a recipe and help you wash the vegetables before you prepare them. Then, you could give them the responsibility of fetching you herbs and spices to add to the healthy and wholesome meal to give it more flavor. 
While you are cooking, it can help to get them to taste different flavors that you will add to the meal. You might discover that they avoid your veggies because you use a herb that they do not like. Hence, you can swap the herb for an alternative that they do like, which will encourage them to eat all of their veggies. 
Make treats from scratch
Every human should treat themselves with yummy foods from time to time. Although it can be much easier to buy shop-bought treats, they are often loaded with sugar and sodium. Both of which, are not very beneficial to a child's growth or health. 
Therefore, if you make their favorite treats from scratch, then you will know exactly what is inside. You could even substitute certain ingredients from a recipe for healthier alternatives. For instance, you could swap the vegetable oil for olive oil or add superfoods to boost your child's nutrition. The children will not know what you have added to the treats and, therefore, will simply enjoy them without making a fuss. 
Moreover, when you do make treats – cookies, cakes, jelly – you should ask them to get involved. This will give them some extra cooking responsibility and allow them to have more fun with food. 
Packed lunches
School lunches can and should be nutritious. However, you do not know exactly what is going into each meal. Hence, it can be a great idea to make your child their own packed lunches. In doing so, you can control and monitor what they are eating each day to make sure that they are getting the right nutrition. 
Should they complain about a packed lunch because their friends have school dinners, then make sure to make it fun. Give them a fun lunch box, add your homemade cookies, and ask them what they would like for lunch to make it more appealing. 
Every so often you could treat them with the option of having a school lunch. Yet, if you make their packed lunches so yummy, wholesome, and fun, you might find that they are more than happy with sticking to eating their own packed lunch every day. 
In their lunches always ensure to include the required food groups to increase their nutritional intakes. 
These simple tips can instantly help improve your child's daily nutritional intake. Simply getting them involved and making your own yummy treats can provide easy solutions for ensuring that they feel more encouraged to eat the right ingredients. Ensure to make food fun so that they feel excited about it and happy to eat all of the right foods in their meals.